What went wrong? A look at the 5 worst trade deadline deals in Maple Leafs history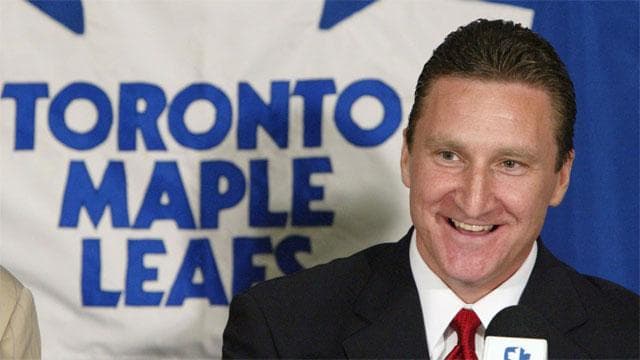 Losing on the ice can hurt for a day or two, losing in the front office can hurt for years. As we've seen countless times in the past, a single bad trade is enough to destroy a franchise's future for seasons to come.
With the NHL's trade deadline just a day away, at least a few teams are sure to make a move that will have everyone asking how the hell did that happen when we look back on it in a few years. The Toronto Maple Leafs are no stranger to such trades, and to avoid repeating the past we must understand what went wrong as we look at five of the worst trade deadline deals in Maple Leafs franchise history.
Since trades leading up to deadline day have become more and more common, we'll take a look at any trades that happen in the week leading up to the deadline while trying to figure out what went wrong.
#5
The Trade
On March 13th 1978, the Toronto Maple Leafs acquired Dan Maloney and a 1980 second round pick for Errol Thompson, a 1978 first round pick, a 1978 second round pick, and a 1980 first round pick. 
The Logic
Maloney and Thompson were both forwards, both the exact same age, and both putting up about .67 points per game that season. Just two years prior, Thompson became only the second ever Maple Leaf to score 40 goals in a season while playing on a line with Darryl Sittler and Lanny McDonald.
The only thing Maloney had over Thompson was size and the ability to throw down. Maloney was four inches taller and to this day is considered one of the greatest fighters in NHL history. Essentially, the Leafs paid out two first round picks and a former forty goal scorer to get someone who could punch their rivals in the mouth better than anyone else.
Hockey in the 70's was weird man.
The Result
The Leafs were fourth in the conference before the trade and remained fourth in the conference when playoff time rolled around. Toronto would make it to the semifinals before getting swept by a Canadiens team in the middle of their most recent dynasty.
Fortunately for Toronto, those draft picks didn't end up being more than depth players or this whole trade could have been up there with one of the worst in sports history.
Did it make sense at the time?
It sure doesn't seem like it did. Sure, this trade happened over a decade before I was born, but even when considering that the NHL draft back then wasn't nearly as important as it is now, trading away two first round picks to add grit to your team is hard to justify. Especially when considering that the team already had Tiger Williams on the roster who was easily one of the NHL's most feared brawlers.
How much did this trade hurt?
The Leafs got away with one here. Hopefully they learned their lesson and never again traded away two firsts and a second to acquire a player that didn't solve any immediate needs.
#4
The Trade
On March 13, 2001, the Toronto Maple Leafs acquired defenseman Aki Berg from the Los Angeles Kings in exchange for center Adam Mair and a 2001 second round pick.
The Logic
The Leafs were sitting seventh in the Eastern Conference standings and looking to add some size to their blueline. The 6'3 Berg, just six years removed from being a third overall pick, was the team's lone deadline day pickup as they hoped a change of scenery could help him live up to his high draft status.
The Result
In the years that followed, Berg became that era's blueline scapegoat, paving the way for guys like Jake Gardiner and Ron Hainsey that Leafs fans would love to yell about. Things only got worse when that second round pick was used to select Mike Cammalleri who seemed to spend his entire career linked to the Leafs in trade and signing rumours.
While Toronto did end up sweeping the second-place Senators out of the first round of the playoffs, they fell in seven games to the Devils in round two. In eleven playoff games, the Leafs only scored more than three goals a single time, suggesting that it was offense they were lacking, not defense. Though Berg did play all eleven playoff games, it was mostly in a third pair role as he averaged only 16:31 of ice time in that postseason.
Did it make sense at the time?
Not really. The team actually had a pretty solid top four on defense already with Bryan McCabe, Tomas Kaberle, Danny Markov, and Dmitri Yushkevich. Shipping off a second round pick for a third pairing guy should always be seen as an overpayment.
It's hard to even justify it as adding size to the blueline as the team already had Corey Cross and Wade Belak, each of whom measured in at 6'5 and filled in the role of "big guy that hopes just standing there is enough" that Berg soon occupied.
How much did this trade hurt?
While Berg would never live up to the cost it took to acquire him, getting to sweep the rival Senators in the playoffs as a 7 seed took away a lot of the sting. Mike Cammalleri did have some excellent seasons but spent most of his career as a second line guy who seemed unable to stay healthy.
#3
The Trade
On March 5th, 2003, the Toronto Maple Leafs acquired winger Owen Nolan in exchange for center Alyn McCauley, top prospect Brad Boyes, and a 2003 first round pick.
The Logic
The Leafs were going all in.
The team had made it to game six of the Eastern Conference Finals the year before and could still taste how close they had gotten to their first Stanley Cup since 1967. The past four seasons all saw the Leafs make it to at least the second round, and both management and fans figured they were just a few pieces away from being able to end that cup drought.
At the time of the trade, Toronto had the fourth best record in the conference, and second in the division behind only an Ottawa team that the Leafs had bested in each of the three previous postseasons. The Maple Leafs were sure they could compete with anyone, and were looking to go for it.
The Nolan trade was just the beginning, over the next week leading up to the deadline, Toronto would also acquire Glen Wesley, Phil Housley, and Doug Gilmour adding plenty of veteran experience to a team that already included stars such as Mats Sundin, Alex Mogilny, Tomas Kaberle, and Gary Roberts.
The Result
Disaster. Going all in did not pay off in any way.
Gilmour got injured on his first shift, Wesley suffered an injury of his own, and Phil Housley's own injury kept him sidelined until the playoffs where he couldn't shake off the rust. Owen Nolan performed solid during the remainder of the season putting up 12 points in 14 games but absolutely disappeared in the playoffs managing only two assists over seven as Toronto lost to the Philadelphia Flyers in the first round.
The next year, Alyn McCauley would nearly match Nolan's production, scoring 47 points for the Sharks. Five years later, Brad Boyes had a 43 goal season for the Blues and followed it up with another 33 goal season the year after before injuries derailed his career. Mark Stuart was selected with the first round pick, who spent much of the next decade as the kind of reliable defenseman the Leafs lacked.
Did it make sense at the time?
It was a big price to pay but luring a former San Jose Sharks captain over to Toronto would prove to be so exciting, it became a tradition for the franchise.
Toronto had a team full of star players that were quickly aging and the fans could feel that their window would be closing soon. With Belfour having a career resurgence during his first year in Toronto and a ton of star power up front, deciding to go for it definitely felt like the right move at the time.
How much did this trade hurt?
7.5 playoff droughts out of 10.
The Maple Leafs franchise spent much of the next decade watching players and picks it traded away come back to haunt the team. Going all in to acquire veteran talent meant suddenly there were no prospects or picks left in the cupboards for the future. After again losing to the Flyers in the second round the following season, Toronto wouldn't make the playoffs again until 2013 as it struggled to rebuild with an aging core and a lack of young talent to build a team around.
#2
The Trade
On March 13, 1996, the Toronto Maple Leafs reacquired Wendel Clark alongside Mathieu Schneider and D.J. Smith in exchange for Darby Hendrickson, Sean Haggerty, Kenny Jonsson, and a 1997 first round pick.
The Logic
The fans still really loved Wendel Clark and wanted him back after seeing him traded away less than two years earlier. With Toronto sitting seventh in the Western Conference, but only six points back of fourth they decided to go for it and made this blockbuster trade a week before the deadline to bring back Clark and upgrade on defense replacing the promising, but still developing Kenny Jonsson with veteran Mathieu Schneider.
Having Wendel Clark, Doug Gilmour, and Mats Sundin all on the team together was like a crossover fanfiction dream come true for Leafs fans, and it definitely got everyone as excited as the annual Goku vs Superman rumours.
The Result
Toronto actually did go on a bit of a surge after the trade, collecting 17 out of a possible 26 points and ended up clinching fourth in the conference to secure home ice advantage in the first round of playoffs. Unfortunately, home ice wasn't enough and the Leafs lost in six games to the St. Louis Blues, getting bounced out in the first round.
Clark and Schneider each played two more seasons for Toronto and though they played well when healthy, both struggled with injuries. Meanwhile Kenny Jonsson would become a staple of the Islanders defense for nearly a decade. Worst of all though, is during this time Toronto was still in the middle of learning that trading away first round picks for seasons that haven't started yet is never a good idea.
That first the Leafs shipped away ended up being the fourth overall pick after Toronto had a disastrous season where absolutely everyone spent time injured. When I say everyone, I literally mean the entire team. Mats Sundin was the only Maple Leaf to play 82 games that season, and we have to assume even he at least had some sort of emotional injury after watching his Quebec teammates win the cup in Colorado a year prior.
The Islanders used that fourth overall pick to select Roberto Luongo who would quickly become one of the NHL's best goalies while the Leafs would spend much of the next 20 years making terrible trade after terrible trade searching for a starting netminder of their own.
Did it make sense at the time?
It actually kind of did. The team was only two years removed from back to back Western Conference Finals appearances and there was plenty of reason to believe they were only missing a piece or two to help put them over the hump. 
Toronto had already used their 1996 first round pick that previous summer to acquire Dmitri Yushkevich, so trading away their 1997 first was a necessary price to pay in acquiring two players that upgraded the team's offense, defense, and toughness all at once. Both Clark and Schneider had several years left on their contracts so this was more than just an all in move for the season, it was an upgrade to the team's core as a whole.
No one could have predicted how much injuries would destroy the team over the next two years and that the first rounder they traded away would end up being top five. The Leafs were ready to win and thought their window to do so was wide open.
The only problem is that while the team absolutely got better, even if they did beat St Louis in round one, Toronto would have had to face off against Detroit in round two, and then Colorado in round three. Two teams that were loaded with far more talent than Toronto had, and would win five of the next seven cups. While the Leafs cup window may have been opened, Colorado and Detroit had opened up a cup dock-loading zone instead and were backing in a truck to drop off all their rings.
How much did this trade hurt?
9
Rask for Raycroft's
out of 10
While seeing a team draft one of era's most dominant goalies with a pick you traded them hurts, there were other moves that hurt the Leafs goaltending situation far more. Curtis Joseph and Eddie Belfour would spend much of the next decade providing solid goaltending for the Maple Leafs, so it wasn't until after those two were gone did the carousel of mediocre goalies begin and the real pain of losing out on Luongo was felt.
#1
The Trade
On February 27, 2007, the Toronto Maple Leafs acquired centre Yanic Perreault and a 2008 fifth round pick from the Phoenix Coyotes for Brendan Bell and a 2008 second round pick.
The Logic
Hoping to make the playoffs in a weak Eastern Conference, the Leafs acquired veteran two way forward Yanic Perreault hoping his ability to play defensive hockey while also putting up 20 goals per season would  be enough to bring the team to the postseason after missing out a year prior.
The Result
Despite going 9-6-2 with Perreault in the lineup, the Leafs still failed to make the playoffs, famously falling a point shy after the Islanders beat the Brodeur-less Devils on the final game of the season to vault over Toronto for eighth in the conference.
While Brendan Bell never amounted to much, moving down three rounds in the 2008 draft proved to be a costly mistake for the Maple Leafs. With the fifth round pick Toronto selected Joel Champagne who never made the NHL and didn't even last a full season in the AHL. Meanwhile, the second round pick they shipped off eventually made its way to Nashville where it was used to select future Norris winner Roman Josi.
Did it make sense at the time?
Not at all. At the time Toronto sat 10th in the Eastern Conference, three points out of a playoff spot and for some reason decided to be buyers at the deadline. Even if Toronto did manage to fight its way into a playoff spot, they likely would have immediately been knocked out by the juggernaut Buffalo Sabres who would finish tied for the NHL lead in points with the Detroit Red Wings before eventually losing the the Senators in the Conference Finals who in turn lost to the Ducks… Yes, all of those teams were once very good apparently. It's hard to believe, I know.
What made the whole situation weirder was the Perrault trade was the
only trade
the Leafs made leading up to deadline day. Getting a middle six forward was not going to be enough to vault a team from sitting outside a playoff spot into possible contender status, and it cost Toronto one of the best defenseman of the past decade.
How much did this trade hurt?
10
Brett Lebda's going -3 in a 7-3 win
out of 10
Despite the trade, the Leafs would still miss the playoffs for the second year in a row, beginning a drought that would last until 2013. A few years later Josi would establish himself as one of the NHL's best defensemen while Toronto spent most of the next decade struggling to find six players who even knew how to skate backwards.
What makes this trade so much worse than the others is there was absolutely no need for it to happen. Toronto made a trade just for the sake of making a trade, and it cost them a Norris Trophy winning defenseman. Every year at the deadline there's at least one team that decides to go for it and become buyers that has no business doing so. The problem is, that team is usually sitting sixth or seventh in the conference, not
tenth
like Toronto was. 
This nonsensical move did nothing to help the team and the effects of it are still being felt over 14 years later. All things considered, it's easily worst trade deadline move in Toronto Maple Leafs franchise history.