What you need to know about the Leafs next trade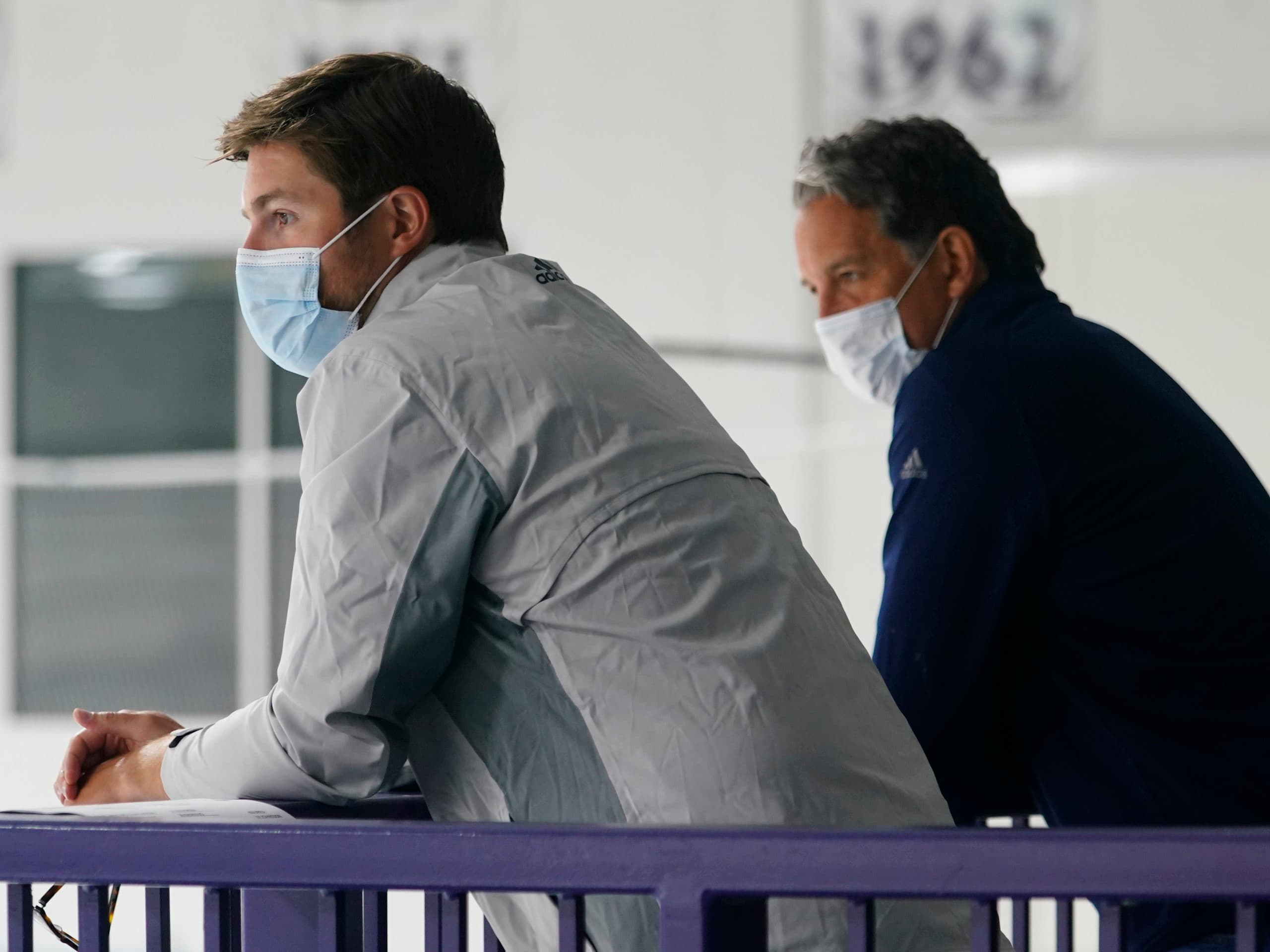 Photo credit:John E. Sokolowski-USA TODAY Sports
Hi folks!
We spend a lot of time talking about who the Leafs should target and not nearly enough about what the Leafs have to trade back. Consider this post a quick primer on what you need to know when you are coming up with the perfect "who says no?" trade for Twitter.
Cap Space
The easy answer is to say the Leafs have none, and that's the most correct answer. Of course, by now you know things are far more complicated than that and as things sit at this exact moment the Leafs have $4.4M in long term injury relief space available. They need to get that number back up to $4.6875M to activate Matt Murray, and the most likely scenario is they will be reactivating him. Returning Joseph Woll to the Marlies gives the Leafs enough room to pull that off, and that leaves Toronto with around $500k of space. If the Leafs can get someone to retain salary on a league minimum deal, they could pull that off and be completely set. That's me being silly. They can do more than that based on the fact they have recently had Joey Anderson and Jordie Benn clear waivers. They both can be demoted to the Marlies (or non-roster) and leave the Leafs with around $2M of possible additions to bring in without sending anyone out. And of course, with salary retention, that could mean bringing in a $4M cap hit.
Waivers
It is more than likely we've seen the last of the Leafs waivers activity between now and the trade deadline, but we'll explore a couple of the extreme options anyway.
As I mentioned above both Benn and Anderson can now be sent down to the Marlies, that means the Leafs at most can reduce their lineup to 21 players, still one player more than they'd be required to carry. There is the potential for additional cap flexibility if they further want to dabble in the art of demotions.
Zach Aston-Reese is a player that comes to mind. If the Leafs feel that Joey Anderson, Bobby McMann, etc. can offer enough of what ZAR does to risk losing him on waivers, Zach could be another option that would free up an additional $840k for the Leafs to use.
Conor Timmins is very much unlikely to be waived in a world where teams are claiming Kasperi Kapanen. Timmins two year commitment beyond this year isn't likely to scare off anyone and it's not worth the risk of attempting to get him through waivers for cap purposes.
Alex Kerfoot would only offer the Leafs $1.125M in cap relief, but that might be enough. Do the Leafs want to take the gamble that they could keep Kerfoot and hold him as an option for the playoffs and give themselves a little bit of cap room by demoting him? A Kerfoot demotion gives the Leafs over $3M total to use at the deadline and between retention and double retention, there is a lot the Leafs could do with taking the gamble on a player who might be easier to waive than to try and find a trade partner given his modified no trade clause.
The last one is a similar option that would clear waivers easily, and that's Matt Murray. A $4.6M commitment for next season is a lot to pick up on the waiver wire and for the Leafs, putting Murray in the AHL for a few starts down the stretch might not be the worst thing as it could get him back up to speed for the playoffs if needed. It's just a matter of if the Leafs want to go with Woll the whole way or want to bring in some help for Samsonov.
To be completely honest these options aren't going to come to fruition, especially with a GM who can be loyal to a fault. So let's look at the next thing that needs some consideration.
No trade clauses
Trade Kerfoot. Trade Holl. Trade Murray. Great ideas, all of them have 10 teams they can't be traded to. That's a bit of a problem because there's a pretty good chance that when they put their 10 team lists together they looked at who wouldn't be a playoff team and who would have the cap room to take them on. In short, none of these guys can be dumped in Arizona. They probably can't be dumped in Chicago either. Teams like Vancouver, Nashville, Columbus, etc. that have been sneaky bad will remain options, but there is still the small matter of wanting something back from the team that they can be sent to or simply having to pay a price to make salary disappear. That's part of the reason why I like the waivers option when it comes to Murray and Kerfoot. Holl, well… I'd just keep Holl no matter what.
A few other NTC/NMC of note, TJ Brodie, Morgan Rielly, John Tavares, and Jake Muzzin all have full no trades or no movements, and Wayne Simmonds has the same 10 team NTC that Kerfoot, Holl, and Murray do.
The small matter of what other teams want from the Leafs
The top tier seems pretty simple. If you were to build out what teams would ask for from Toronto when looking for a player like Timo Meier, it would probably be the 2024 1st, Matthew Knies, and Rasmus Sandin. These are probably the top tier assets that the Leafs have, and while I doubt Toronto has any interest in combining them and risking losing them all, it seems plausible that one of these three, maybe even two of these could be on the move before the trade deadline.
After that, it seems like the Leafs are down into the Topi Niemela and Nick Robertson tier. I never know whether or not Niemela belongs in that top tier or not, but it seems cruel to put Robertson in this class by himself. We'll throw Fraser Minten in this group as well despite the fact it pains me to talk about the Leafs moving on from a center prospect with size.
Beyond that comes the rest, there are plenty of prospects to fit most situations and the Leafs still have some picks left in the next three years they could part with:
| | | | |
| --- | --- | --- | --- |
| | 2023 | 2024 | 2025 |
| 1 | | X | X |
| 2 | | | |
| 3 | X | | X |
| 4 | | X | |
| 5 | X | X | X |
| 6 | X | X | X |
| 7 | | 2 | X |
Part of me would find it funny to see the Leafs head into the draft without a pick, but I guess their amateur scouting department would find it decidedly less fun.
Anyway, the point of all this is there are plenty of ways the Leafs can still do more between now and Friday afternoon, and with things escalating quickly in the Eastern Conference it would be a misstep to not try to upgrade one more time. With the Leafs not playing again until Wednesday it will be interesting to see if the Leafs choose to act sooner rather than later.
THE DAILY FACEOFF TRADE DEADLINE SHOW
Join us on March 3rd for the Daily Faceoff Live: Trade Deadline edition as Frank Seravalli and the panel break down all of the latest rumours, news, and rumblings from around the NHL. The show will be live on 
YouTube
, 
Facebook
, and 
Twitter
 from 12 PM – 4 PM ET to keep you up to date on all things trade deadline no matter where you're watching from.