What you need to know about Toronto Maple Leafs defenseman Mac Hollowell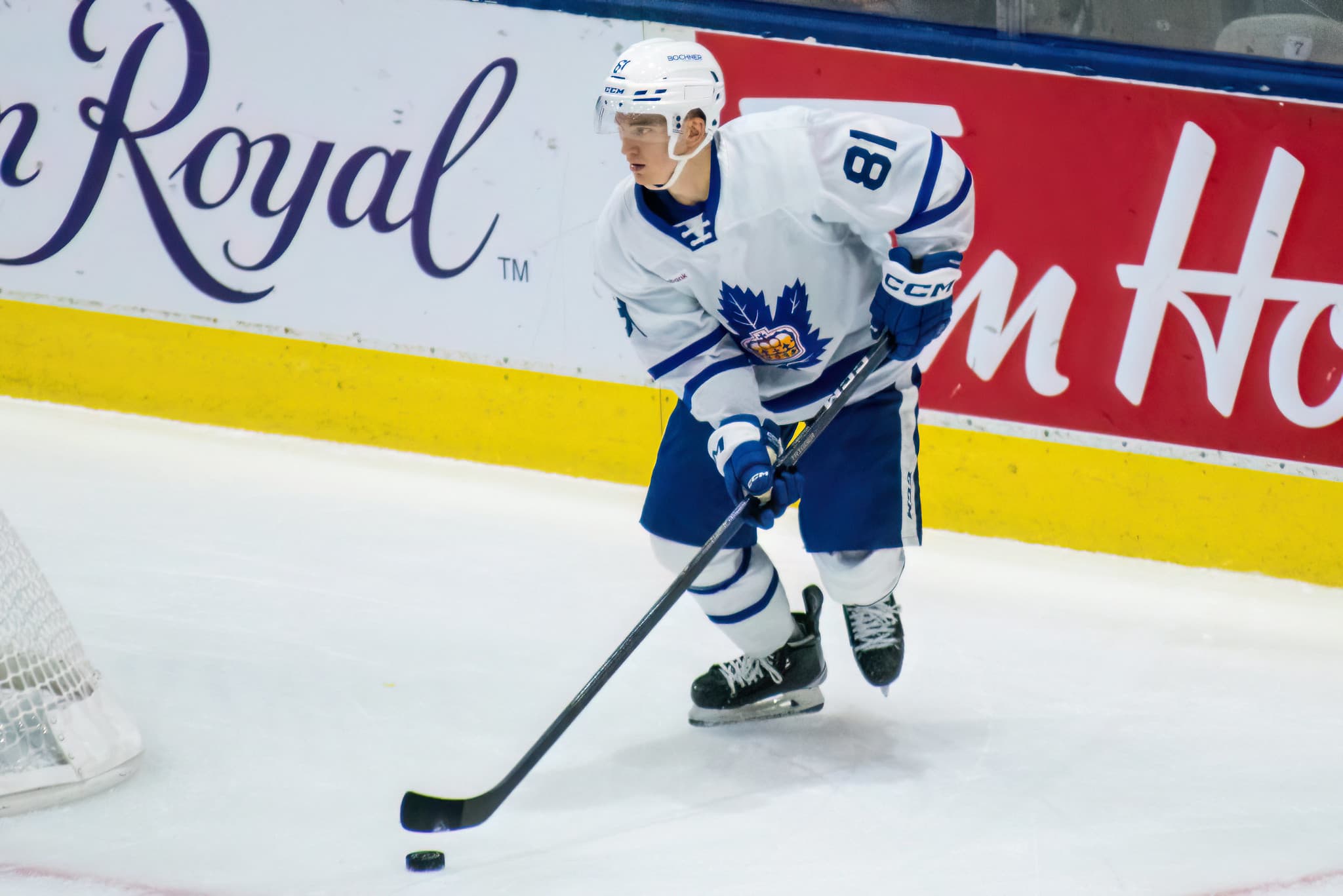 Photo credit:Steven Ellis/The Leafs Nation
Who doesn't love NHL debuts?
We're getting one with Mac Hollowell, who's expected to man Toronto's third line against New Jersey later tonight. With Morgan Rielly and Jake Muzzin out long-term, and no clear timeline for T.J. Brodie, the Leafs called up Hollowell and Victor Mete from the Marlies, with Hollowell skating with Jordie Benn on the third pairing during Tuesday's practice.
It's a long time coming for the 24-year-old, who made his AHL debut with the Toronto Marlies during the 2019 playoffs, with many of his defensive partners earning call-ups ever since.
Hollowell didn't take any shortcuts to the NHL. He was drafted in the 12th round in 2014 by Kyle Dubas and was taken by the Leafs four years later as an overager. He played a fifth year with the Greyhounds before turning pro in 2019, where he helped fill a role on Toronto's blueline during the playoffs. Hollowell then split the year between the AHL and ECHL, with him proving he was too good to be spending time with Newfoundland.
Hollowell was waived prior to the start of the season, but he's been precious to the Marlies ever since. He has nine assists in his first 11 games with the club and was even called up to the big club earlier after Jake Muzzin was placed on LTIR, but never played.
That's about to change.
At 5-foot-9, Hollowell is definitely undersized. But like many smaller defenders, he's a mobile puck-mover with good speed, something that's evident when watching him play at Coca-Cola Coliseum. He can hold his own physically in front of the net, but you won't catch him throwing crushing hits, either. He used to struggle without the puck in his own zone, specifically cutting off angles and forcing opponents to the outside. Hollowell is expected to play alongside Benn, who's got the physicality and the defensive awareness to hold the fort on the third pairing. That'll allow Hollowell to play the game more comfortably, and there's no reason to doubt he'll struggle moving the puck with the Leafs.
Hollowell will need one heck of a showing to cement himself as a future full-time NHLer. His lack of size, especially as a third-pairing blueline, means he needs to play above and beyond what's expected to make up for the difference. It seems like Hollowell will likely top out as a call-up candidate from time to time over the next few years, but he's got the makings of a good up-and-downer, at least.
Hollowell is set to become an RFA this summer, and he's likely someone the Leafs will look to keep around, even if it's just for the Marlies. Based on this season alone, it's hard to say he couldn't handle NHL action, at least in spurts. But the Leafs made big moves to address defensive depth last summer, and it's a big reason why it's not total mayhem that Rielly's out of the lineup for at least the next month.
Of course, Hollowell's NHL debut happens to be against the NHL's hottest team, the New Jersey Devils. They're chasing a franchise-record 14th-consecutive victory, with a scoring force that includes Jesper Bratt, Jack Hughes and Nico Hischier. Hollowell will be busy in his debut, but the Leafs have been rolling strong even with a makeshift blueline recently.
No pressure, kid.
ARTICLE PRESENTED BY ADIDAS
Get a gift with purchase for adiClub members, when you spend $100 or more, and members were rewarded for their purchase with a limited-edition T-shirt, or a Tote bag designed by a local artist. All prizes were on a first come first serve basis, while supplies last. The Adidas store is located on the first level at the bottom of the escalators in the Cadillac Fairview Eaton Centre and has a variety of special offerings in-store – from live music to guest appearances – the halo store will reflect Toronto's passion for community and diverse spirit and will continue to host pop-up events throughout.