What's next for the Leafs' blueline?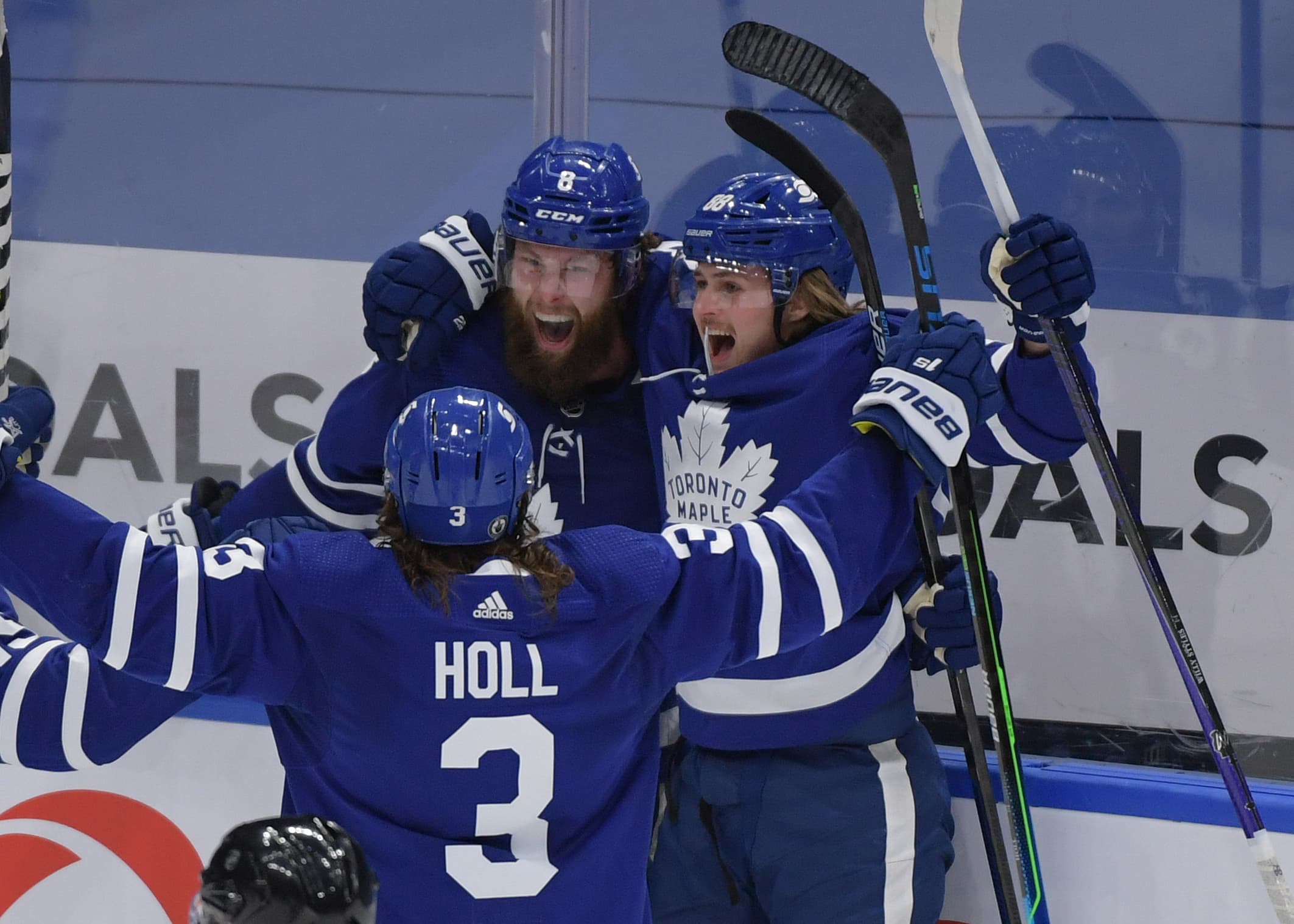 Photo credit:Dan Hamilton-USA TODAY Sports
It's been an interesting week when it comes to the Leafs' defensive depth. Things were off to a good start with the addition of Lyubushkin providing a bit of security, and potentially a bit of toughness on the back end. Then shortly after that, the Leafs lost Jake Muzzin for what will probably be the season, so this is probably a net loss except for all that sweet, sweet LTIR cap space to address the Leafs' roster shortcomings.
In the spirit of all of that, the question to the TLN is crew is "how do you see the defense group going forward with Lyubushkin in and Muzzin out?"
Michael Mazzei:
Right now, the Leafs should lean heavily on Rielly and Brodie carrying the boatload of the minutes in regards to the defensive core cause the other two pairs have too many question marks. The biggest x-factor could be the second pair as it has made a significant overhaul in less than a weeks time. Sandin seems ready for increased responsibilities and Muzzin's injury presents him a chance at a larger role. He struggled a bit with Liljegren but might find better results playing with Lyubushkin who seems to thrive alongside a more mobile defender. Should the duo find success, it could wind up being their second pairing down the stretch and lessen the need for a top-four defender. The third pairing can be altered however they see fit, but it seems apparent that one of Dermott or Holl (maybe both) will be dealt soon. In that case, moving one of them to add some more insurance defensively could be the move the Leafs go with at the deadline. But again, this all hinges on how the second pairing does, so these next few weeks will be very fascinating to say the least.
Mark Norman:
Coming into the season the Leafs D corps, which Kyle Dubas left largely intact from last season, was looking pretty steady. Their top 4 of Rielly/Brodie/Muzzin/Holl was established and the plan was to have Sandin/Liljegren/Dermott play the revolving door game for bottom pairing duties.

Well here we are 5 months into the season: the second pairing of Muzzin/Holl has cratered, Sandin has played his way into the top 4, and the Leafs went out and acquired Ilya Lyubushkin to try to inject some additional defensive responsibility into the lineup. Right now the Leafs have just three reliable defencemen: Rielly, Brodie, and Sandin, with the jury out on Lyubushkin after just two games played.

I think Lyubushkin's play is going to significantly impact whether Dubas makes a big play or simply tinkers with his blueline. If he brings stability to a second pairing with Sandin, the Leafs can once again run a solid top 4, with Muzzin/Holl seeing easier minutes.

While the Leafs will welcome Muzzin back with open arms come playoff time due to his reputation and the belief he can return to form when fully healthy, there has to be some concern about Justin Holl's play this season. While his underlying numbers are decent, it's his propensity for big gaffes that has prompted some to wonder if he is trustworthy enough to roster in a playoff game.

Holl's decline in reliability was unforeseen and has likely complicated the Leafs' plans for the deadline. I don't get the sense they're willing to expend the assets that are required to get one of the big name rentals on the market, but absent a

trade

 for an impact player with term he likely goes the cheaper route of grabbing another third pairing option.
Joseph Zita
Before the start of the season, I didn't really expect the Leafs' defense to look how it has looked as of late, and I'm sure others would agree on that with me too. When you look at last year's defense to this year's defense – which is basically the same as this year just minus Zach Bogosian – you would probably think Toronto would replicate the season they had last year. Well, clearly that hasn't been the case and we're witnessing firsthand a small handful of players on the backend struggle. For starters, you have Jake Muzzin and Justin Holl who just haven't been able to replicate the season they had last year and it's clear as day that they've struggled the most out of everybody on this defense.

If we're being honest right now, the only defensemen that have been consistent all season long so far and have been good have been Morgan Rielly, TJ Brodie, and Rasmus Sandin. Other than those three, I feel like everyone else has either struggled all year or has had certain stretches where they've struggled. With the recent acquisition of Ilya Lyubushkin and the LTIR move which now puts Jake Muzzin on the shelf for the foreseeable future, Toronto's defense looks even more all over the place besides their first pairing of Rielly – Brodie. Right now we've seen them roll out Rielly – Brodie, Sandin – Lyubushkin, and Dermott – Liljegren.

However, I feel like a 

trade

 for a top-four defenseman or at least a top-six defenseman that you could feel comfortable putting in a top-four role at times is inevitable for this team given the uncertainty of Muzzin and now that his cap hit is on LTIR. You have a handful of potential targets for Toronto, whether it's a Mark Giordano, Hampus Lindholm, John Klingberg, etc or if you want to go the cheaper route and target a guy like Justin Braun, Luke Schenn, maybe even a Collin Miller depending if Buffalo's price has dropped since then. It's kind of hard to picture what the defense could look like come 

trade

 deadline because you don't know if guys like Justin Holl and Travis Dermott are going to remain a Leaf and you also don't know who Kyle Dubas and company are going to target to bring in before the deadline.

As of right now, I don't mind what the defense pairings have looked like for the last couple of games. You keep Rielly – Brodie as your top pairing, Sandin – Lyubushkin was pretty solid for the two games they've been together and I think it's time for Sandin to try and showcase he can play in the top-four and take on a bigger role. For Dermott – Liljegren it's whatever. Dermott clearly hasn't shown enough to have a spot in the top-four and I feel like he's best suited as a 5/6 guy, but once everyone is healthy on this Toronto team and if/when they bring someone else in, Dermott has more than likely lost his spot on this roster as a bottom pairing guy or even the seventh defenseman for that matter.
Nick Barden
I think when you look at the Maple Leafs lineup, there'll be a lot of tweaking in the near future. Not with the top pairing, but with the two others. Sheldon Keefe will be looking to see who fits with who, while Kyle Dubas is looking for the right 

trade

 partner.

I'm really interested to see if Toronto can pull off a move to acquire someone like John Klingberg or Hampus Lindholm. I don't think Jake Muzzin should have the responsibility of a second-pairing role again this season because of the concussions. If the Maple Leafs can acquire one of those two, it'll help their defence, making it a lot stronger.So, until then, I think we'll see Keefe try a bunch of different options until Dubas finds the correct fit.
Ryan Hobart
Until a move shakes itself out, I'm pretty sure that Lyubushkin is the 7th best defender on this team, with Muzzin out. 8th best when he's in. I don't mean to be dramatic, but although Travis Dermott's season has slowed of late, on aggregate he's still a good player overall and had a really strong start to the year. Meanwhile, Justin Holl's season started pretty slowly but has been great lately. Timothy Lilkegren and Rasmus Sandin have shown that they clearly belong and deserve the opportunity to play and get stronger and more experience. Rielly and Brodie are Rielly and Brodie.

All that said, I think the top pair stays the same. The second pairing will be Rasmus Sandin and Holl, and the third pairing will be Dermott and Liljegren. Lyubushkin will get playing time, and I don't think he's a bad addition to the team, but I just don't see him fitting in the roster full time right now, when everyone but Muzzin is healthy.
Dylan Murphy
I think we need to get comfortable with the idea that Sandin is the 2nd pair left D for both now and the foreseeable future. I don't expect Jake Muzzin to return before the playoffs if he returns at all. His health and life beyond hockey need to come first.

As for the rest of the defense, I think these next few weeks are going to be critical. If Lyubushkin can hang on the 2nd pair with Sandin, then the only move I'd make is a depth D who can step in on the 3rd pair alongside one of Dermott or Liljegren (as much as our managing editor Jon would hate this, maybe the player, in that case, is Luke Schenn.) And if Lyubushkin is most effective as a 3rd pair D, then he takes the aforementioned depth role and you find someone to slot in on the 2nd pairing, or maybe even the first, and bump Brodie down.

The odd man out in my opinion is Justin Holl. You feel for the guy, his underlying numbers suggest he's better than he looks but he's clearly going through a tough season, and at this point, he has made himself a non-option. More so than any other member of the team's defense, when he makes a mistake, it's a capital B Big mistake. You simply cannot have a player making 2 million as your 7th or 8th D, so I think he's going to be moved.
Jon Steitzer
It feels strange to say it, but the Leafs' roster is generally strong. Even with Muzzin out, the drop-off from Muzzin's play this year to what the Leafs will get by rotating Dermott and Holl into the lineup isn't particularly steep. That said, it would still be great if the Leafs could replace what they had from Muzzin last year, and one of the best ways to get that might be to let him properly recover for the remainder of the season.
The Leafs are in a comfortable spot for the remainder of the regular season so that affords them the opportunity to see what Sandin and Liljegren can do in bigger roles, and give Lyubushkin a chance to get acclimated to the Leafs' blueline. It's not a bad situation.
As for the trade deadline, well… whether it's a forward or a defenseman the Leafs' best bet seems to be overloading their lineup on high-end talent and they can do that. The best option is the player that either costs the Leafs the least but gives them the most, or going with a good player with term, and giving the team more flexibility beyond just this season.
Tell us what you think? How do you feel about the Leafs' defense and what would you do to upgrade it?