When it comes to Mitch Marner it's always complicated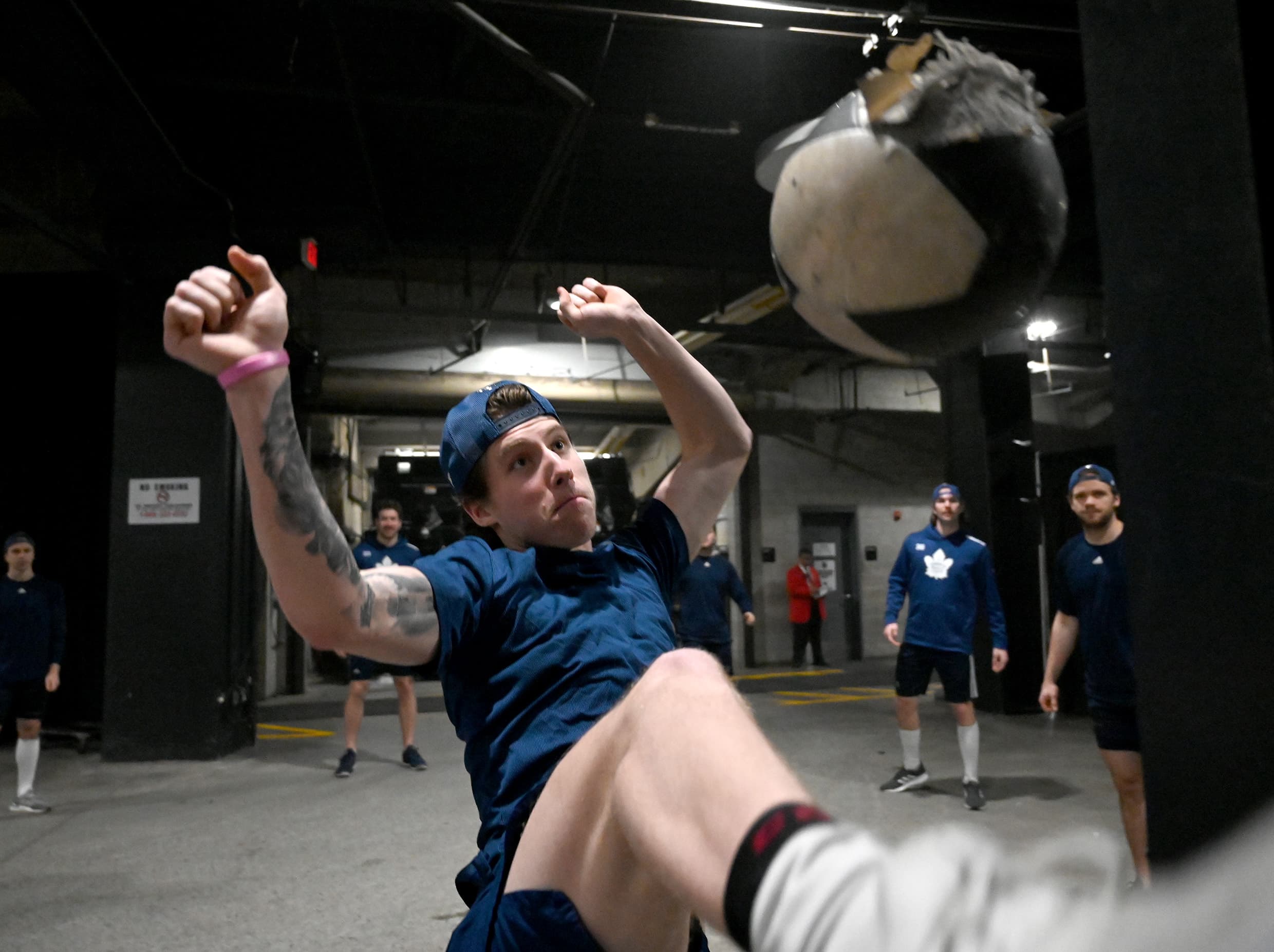 Photo credit:Jayne Kamin-Oncea-USA TODAY Sports
After the first round playoff exit last spring it seemed all but certain that there were going to be some high expectations attached to Mitch Marner and a demand for him answering his critics. Unfortunately, that hasn't happened and instead Mitch Marner has put up just one assist in the first four games, while averaging 22 minutes a night. Supporters of Mitch will point to the fact that the first three games were played without Auston Matthews. Critics of Marner will point to the fact that he was still playing with John Tavares, and as an $11M winger, it's not an absurd expectation that he produce some offense himself.
When it comes to offence, Marner's one point in the first four games is already up there with his biggest regular season slumps. Last year the longest stretch Marner went without a point was two games, he's already at a three game pointless streak. You would have to go back to February of 2019 to see the last time Mitch Marner went three games without a point, which points to the fact that he's struggling now, but should also serve as a reminder that once he snaps out of this, Mitch can be a model of consistency, it truly is a choose your own narrative situation here. And while I'll never make an argument that you shouldn't be holding Marner to a higher standard, his ability to produce points has never been in question, at least during the regular season.
The fact of the matter is Mitch Marner is a very good player by all reasonable standards. His shot differentials are positive, he's a top unit powerplay and top unit penalty kill player, he receives votes for the Selke, Hart, and last year was named to the NHL first All-Star team. All of these things point to him being a great player. If you want to go by the video on Marner, you can see his defensive acumen…
Marner reads the play incredibly well and fills the passing lanes well using his hand eye coordination to break up plays and send the Leafs up ice for worthwhile opportunities. Marner, frequently puts himself in the position of a third defenseman, and hilariously takes it upon himself to act as goaltender when the Leafs have an empty net. While being the furthest thing from a physical player, Marner has demonstrated the ability to add a ton of value as winger in each zone of the ice.
Understandably there is criticism of Mitch Marner's shot as well. It's not particularly strong, and he seemingly goes to great lengths not to use it. Marner has also established himself primarily as a perimeter player in the offensive end, and really playing the style of hockey that William Nylander has been unfairly criticized of playing. Marner can be overly cute with the puck, will seemingly go out of his way to find Matthews before taking the chance on a shot himself. From the video above though, you can see that the majority of the time that Marner did score last season it was from going to the high traffic areas of the ice, and often relying on his elite stickwork in the tighter situations than he normally operates. The fact that Marner generally shoots low has benefitted him on some of his distance shots as well.
Of course, passing and vision are the main reasons people love Mitch Marner. He seems to be able to put the puck on a platter for his linemates, and has the hockey sense to know where someone needs to be to put the puck in the net.
So far all of this lends itself to having a high appreciation of Marner. And honestly every Leafs fan should appreciate Marner. On a strictly skills and output level there aren't many players who play his position better than him in the league, and it's a luxury to have him. Of course with every player come warts, and with Marner the biggest one is the $10.93M elephant in the room. Marner's contract is almost impossible to live up to, even as a First All-Star Team winger. At that price there is desire for Marner to have a goal output to go with the assists. There is a feeling that he should be able to effectively drive his own line, and be a setup man for any possible Leaf, not just the league's premier goal scorer. His inability to do these things, which wouldn't really be expected of him if he didn't have that contract are both fair and unrealistic to expect of him. If you feel he needs to live up to his contract, I guess those are fair asks, even if they seem to be outside of Marner's abilities. If you just want to label Marner as overpaid, then it's unrealistic to expect him to step outside his abilities.
There is also the playoff factor, which is what I've purposely avoided talking about until now. For someone who has consistently been above a point per game player in the regular season, Marner has just one playoff year (2017-18) where he was point per game or better. Dropping from 1.22 points per game to 0.57 in the playoffs is going to rightly bring some criticism. At the same time though it's important to note that Marner had a 64.18 xG% and a 56.07 CF%, showing that his line was certainly driving the offense into the Habs end, just not achieving the results that are required for us to not throw him under the bus.
Add to the mix that Marner took some poorly timed stupid delay of game penalties, and for many Leafs fans that was enough for Marner to be dead to them.
To some extent the failures of Marner in the playoffs are the failures of Sheldon Keefe, especially with Tavares down, there wasn't any attempt from Keefe to make better use of the players he had to work with. He continued to trot out Matthews and Marner in the exact same fashion as he did in the regular season, against a team that saw that pairing 10 times over the course of the year and probably had a good idea what to expect from them. The predictability of the Leafs, and the lack of adjustments involving their star players was some of their undoing. If there is one thing that Marner hasn't been doing that needs to be tried over the course of this season is an attempt needs to be made to see if Marner can drive his own line and make middling players better.
As for me, the issue with Marner is entirely a dollars one. I'm not too concerned if he's living up to his contract or not, and frankly I don't think there is a lot more the Leafs can get out of him. When he's on his game, and he often is, he's one of the best players in the game. He might not be worth that contract, but he's worth a hell of a lot. That being said, having $11M tied up in a winger is a lot of money, and a lot of money that might not be as important to invest in a top pairing defenseman, top tier goaltender, or even split the money between a top tier 3rd line center, and a solid top six winger. It's not so much about having a problem with Marner, but having a problem with a $11M winger in general, and when the Leafs Nylander as a suitable top line winger, and worthwhile prospect pipeline for the position, I find myself being very comfortable with this being Marner's last kick at the can with the Leafs, no matter how well he does.
Though like I said, Marner is complicated and people not wanting to give up on top tier skill aren't wrong, and people being excited to see an enthusiastic local product play his heart out at the rink every night either. There's reasons to love Marner and reasons to be unimpressed by him at times as well. No player has a more complicated situation on the Leafs right now than Mitch, and while a lot of that is of his own making, at the four game mark of the regular season we can probably dial back the hyperbole around him and realize it is in all our best interest for him to snap out of his current funk.