Kyle Dubas' tenure has been one of patience, loyalty, and vision, and that's pissed a lot of people off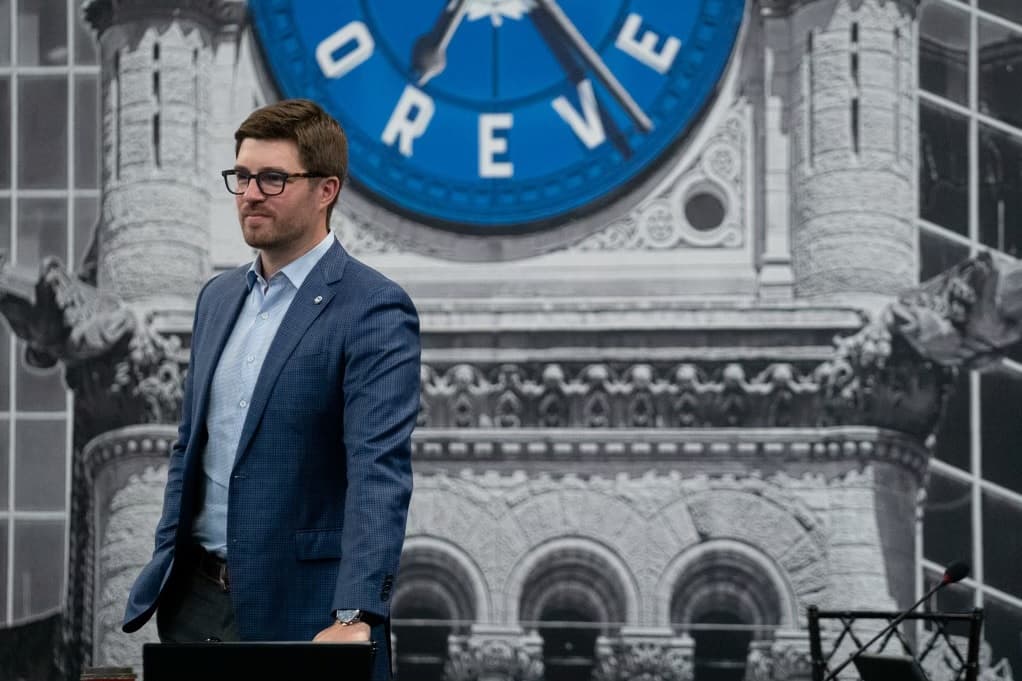 Photo credit:twitter.com/mapleleafs
This post is born of a somewhat regular conversation I seem to be having with other Leafs and with other hockey fans, and that's how do you feel about Kyle Dubas? I don't think it's something that's a straight forward answer for me, or a lot of Leafs fans at this point, so as we head into what could be the most critical days of his time as GM, I felt like rambling on the subject to the point my brain is exhausted.
When it comes to coaches and general managers it seems like there is a finite amount of time that you will be loved. There was a time when Leafs fans were over the moon about Brian Burke. He made big promises, he had recently won a Stanley Cup, and he presented himself as a straight shooter. That didn't last. There was a time when Leafs fans thought that by bringing in Mike Babcock that we had landed the greatest coach in hockey. He had Stanley Cup and Olympic credentials. He was going to get the Leafs back on track, and to some extent that's true, but then not much more and we turned against him.
With the exception of day oners who made up their mind to either love or hate Kyle Dubas unconditionally, it seems like we are very much in the summer where the honeymoon period is off for a lot of Leafs fans and real results are needed. Some could argue last summer was already that, but I think it's safe to say the majority of people upset with the Leafs results last season still largely had faith in Kyle Dubas to be the one to correct the issues, and that this past season was going to be the final exam for the Leafs core before having to shake it up. No, this seems like the summer where Leafs fans are truly beginning to turn on Kyle Dubas, and I guess I'm one of those people who needs to figure out where they stand.
Background in who loves and hates Kyle Dubas
There are always going to be the Dubas detractors. He's young, and therefore perceived as inexperienced despite spending his life in hockey from his childhood jobs around the Soo Greyhounds, to his short period as an agent, to his OHL management career, and beyond. There's some jealousy there to, and it certainly brings some awareness to our own shortcomings. I know when look at Kyle Dubas I can't help but think about all those times I could have applied myself more, worked harder, or not given up on my dreams so quickly. For some it's a tough thing to see a younger person achieve what you deemed impossible.
There's the misconception that Dubas doesn't like physical players, despite that obviously being wrong when you look at how he added Hyman, Muzzin, Bogosian, Simmonds, Clifford, and Foligno during his time as the Leafs GM, but also you can point to players like Darnell Nurse who spent his junior career with the Greyhounds, and the argument that Dubas doesn't want toughness in the lineup is silly. He values skill and believes skill will win 9/10 and while he's ultimately right, it's easy to produce a narrative that says he's wrong come playoff time too.
We could get into the Dubas makes his decisions based on spreadsheets, and doesn't watch the game, but entertaining that is pretty ridiculous. We'll touch more on evidence based decision making in a bit, but I think the belief that the eyes of anyone, or even our collective eyes are always telling us the truth is a dangerous path to go down, yet some want to believe going by eyes, gut, and heart are the path to a cup. Nonis, Burke, Fletcher, Lamoriello, Ferguson produce a middling track record for that approach as well. And it's likely that first iteration Fletcher, along with Quinn would have had a tougher time with their success if they had to play in the confines of a salary cap, so pining for the days of Quinn is wishing for a time that can't come again.
The other side of the coin
There also seems to be some misconceptions the other way. There's a belief that Kyle Dubas might be the only smart GM (or one of only a few). There's a belief that he's the only one with a firm roadmap or process for building the team that he thinks can win a championship. There's a thought that he's the only one trying new things and thinking outside the box, and for a while there seemed to be a belief that he is the only one who makes evidence based decisions. For many Dubas is high up on a pedestal because he is one of the people more visually bringing the concepts on analytics and tracking to hockey. His pay stars, and fill in the roster around them approach certainly has merits and it's disciples as well. And while I love a lot of the Dubas philosophy, I'm starting to wonder if a few things are broken.
The wins and losses of Kyle Dubas
Kyle Dubas certainly isn't short on successes. You can point to the fact that the Leafs have been a playoff team every year he's been a GM (technically Columbus kept them out of the playoffs last summer, but they did qualify as a playoff team.) You can point to a very solid draft track record which looks like there should be some hits outside just the first couple of rounds in addition to Sandin, Amirov, and Robertson looking like strong prospects. You can certainly say that Dubas addresses the needs of the team, bringing in players like Tavares, Brodie, Muzzin, and Campbell that have all addressed important needs. And when it comes to having a clear vision for the Leafs, it's 100% there.
The losses of Kyle Dubas are equally present. There hasn't been a playoff round won. That's the biggie. He's repeatedly seen star players walk to unrestricted free agency without a return. Key positions like backup goaltenders and third line centers have been a challenge to get addressed, and you could say that Dubas has faced a significant uphill battle in finding physical players who can play non-sheltered roles, and when it looked like he might have addressed that with Nick Foligno, he was immediately derailed by Foligno not being at 100% and either not being available to play or incapable of playing at the level you'd want him to.
There are legitimate concerns about the size of contracts that Dubas has handed out. There is also the issue that Dubas doesn't seem to be able to win trades, but rather completes them at a fair price. And while it's far more anecdotal than the other criticisms, the question can be raised if he's been accepted by the old boys club that is the closed community of NHL General Managers.
For me, the vision still outweighs any and all short comings, or at least I could safely say it did coming into this offseason. Now I'm shakier in my support of Dubas.
Where I have always differed from Dubas
While I like his pay your stars, fill in the rest philosophy, I don't necessarily agree with $18M locked up on two wingers. I'd say $20M on wingers in the top six is something I can get behind, but two at $18M is a barrier. It's been a barrier since the Marner contract for me, but while the resulting trades of Kapanen, Johnsson, and Brown, along with the decision to move on from Hyman were all still acceptable decisions, the Marleau being moved to unload a first still doesn't sit right. Nor does the fact that a Marner trade would have supplied the Leafs with important futures, and the cap space to backfill his position, and have a supply of high end entry level contracts that could be aiding in roster depth in the coming years.
I'd also argue that the way goaltending is viewed by Dubas doesn't sit right with me, and it's not a position that you give someone the luxury of playing their way out of trouble in. The decision to add David Rittich at the trade deadline was one of the more appreciated deadline moves, but I'm not sure if that makes up for the extended stretches of Garret Sparks, Michael Hutchinson, and Frederik Andersen getting chances to work out their game. Loyalty is great trait, but one that seems to be a bit of Kyle Dubas' undoing.
What's different about this summer and why are people turning against Kyle?
The interesting thing is that Kyle Dubas is still being very much the same Kyle Dubas. He's loyal to his players to a fault. He's dug his heels in on the value of his core. And he's preaching patience, confident that this team has just run into unfortunate scenarios for the past three seasons, and the Leafs just need a playoff run free of Kadri suspensions, quickly rebooted pandemic bubbles, or Tavares injuries. If everything goes perfectly, this team can contend and that the regular season numbers show what this team is capable of.
The problem for many of us come from the fact that we are not patient. Kyle can point to three rough results, and believe in the overall quality of the team, and has the luxury of looking at his record in isolation of everything that's preceded him. Of course the 17 years without seeing the second round aren't on him. The 54 year cup drought isn't on him. And all of our long held grudges against this team, are our own thing. They just make it hard to be happy with a GM with no sense of urgency.
There's also something to being committed to being locked into the Leafs core. Dominating the North Division creates some false confidence, and we've had a year on not directly comparing ourselves to Tampa Bay or Boston who have consistently outperformed the Leafs in the standings. There's the luxury of ignoring the steps that Florida has already taken, and while we can feel confident that the Leafs regular season results can still come out ahead of Montreal, Ottawa, Buffalo, and Detroit, eventually their futures will be nows, and Toronto will have to deal with a division that is consistently improving while the Leafs have dug their heels in on the same core, and are losing their supporting cast at the same time.
The frustration with Kyle Dubas is still very real, but at the same time I find myself drawing an odd conclusion. I don't really want someone else to take over for him. His vision is still one that is pointing the Leafs in a much more promising direction than we've seen in the past 17 years. He has his shortcomings, but while I wish Kyle Dubas would do the things I want him to do, I'd be terrified if it was someone like Jim Rutherford attempting to remake the Leafs roster with what they think would put the Leafs over the top. Basically I just want a slightly less loyal Dubas with a sense of urgency.
What does that mean for this season?
At least to me, for the next week, it comes down to seeing what Dubas means when he says he wants to win with this group. Are the players under contract on the Leafs roster 100% locked in or is there the possibility to see players move that aren't named Campbell, Brodie, Muzzin, Marner, Nylander, Matthews, and Tavares.
When Dubas says that he's going in a different direction with the supporting cast, we need to see what that is going to look like. Do the Leafs become a more physical team to play against? Does Dubas look for forwards who help deprive the opposition of chances? Does Toronto go back to an offense or bust approach with their forward group? We'll see.
How will Dubas manage starting from approximately $10M in cap space, and 4 roster holes, and actually upgrade from having Hyman, Foligno, Andersen, Galchenyuk, and Bogosian as key players who are departing.?
And with starting from that right now, how does he go through the next season with only a 1st, 2nd, and 7th round pick in the next draft, a deep draft, and add to their lineup if needed heading into the trade deadline for a deep playoff run?
The Leafs find themselves heavy on areas that need to be addressed, but incredibly thin on resources they are willing to move to address them, and that should make for an interesting year for a GM, who while he still has the support of people like me, has to be aware of the fact that this is a year where the results have to improve.
Whether Kyle succeeds or fails in this upcoming season, there's still important questions to ask. Those are if he's still the right man for the job and if the answer to that first question is no, who is a GM capable of building off of what Kyle has done and doesn't need to tear down what is solid starting roster. The fact that the second question is a hard one to answer could be a reason why Kyle Dubas still taking a patient approach.