Why the Leafs would have been wise to keep Sam Lafferty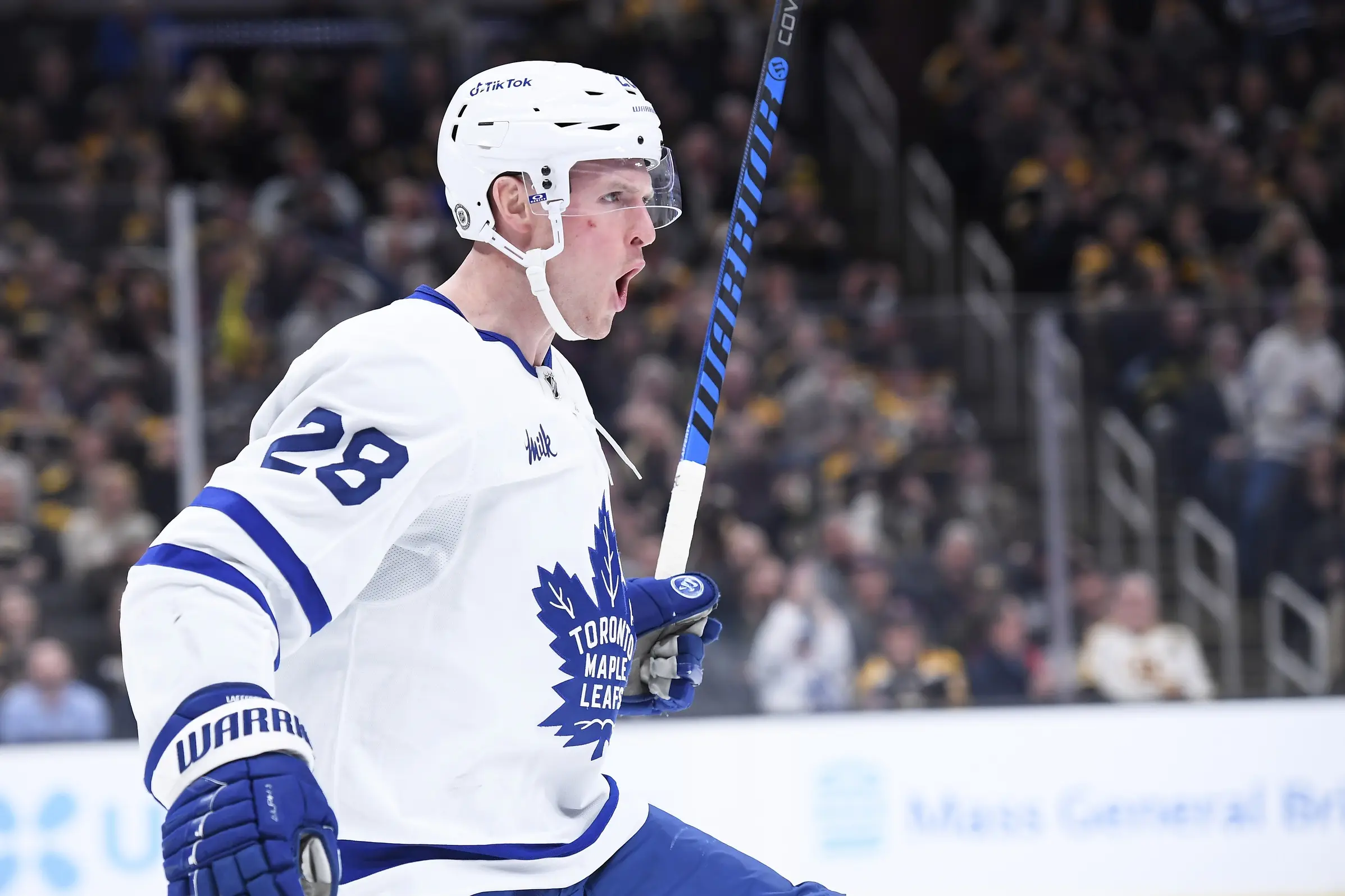 Photo credit:© Bob DeChiara-USA TODAY Sports
Gone before he ever really had the chance…the Toronto Maple Leafs traded Sam Lafferty to the Vancouver Canucks in exchange for a 5th-round draft pick. The speedy forward ended up being a salary cap casualty, with Noah Gregor and his league minimum salary seemingly ready to benefit. While I understand the notion of saving some money (Lafferty's cap hit is $1.15M), there were other options for Treliving and his team to get the Leafs cap compliant. I firmly believe that Lafferty was poised for a breakout season, and Toronto may have been wise to keep him.
I've been following Lafferty since his rookie year in Pittsburgh, and I've been fortunate enough to spend some time with him. After finishing up his collegiate career with Brown, Lafferty spent his first pro year in the AHL. The following season he broke into the NHL and played 50 games with the Penguins. He was a healthy scratch for parts of the season and also spent some time suiting up for Wilkes-Barre.
What most people don't realize is how difficult these times can be on young players without a solidified spot in the lineup. In organizations where their AHL affiliate is geographically far away, players are often put up in hotel rooms. There are some players, including Lafferty, who have had to live in a single-bed hotel room for an entire season(s). Away from home/friends/family, being called up and sent down, and spending lots of time on your own; it can be very confronting and arduous for young players in their very early 20's.
Lafferty spent the next season and a half battling to get into a stacked Penguins lineup before he was traded to Chicago for Alex Nylander. He had a strong finish to the season, playing in 46 games with Chicago, and finally established himself as a consistent NHL player. The PA native signed a 2-year, $1.15M at the end of the season.
With a 2-year contract and some stability in hand, Lafferty put up 21 points in 51 games and was leading the NHL in shorthanded goals before Kyle Dubas traded for him (and Jake McCabe) just before the trade deadline. If you break down the deal, Dubas essentially gave up a 2nd round pick for Lafferty.
Lafferty suited up in 19 regular season games and Toronto's 9 playoff games. He may not have played to his full potential every single night, but given his circumstances, would anyone have? Just ONE day after Toronto's regular season ended last year, and a mere few days before the playoffs kicked off against Tampa Bay, the 28-year-old became a father.
Having not been able to see his wife for over a month following his trade, Lafferty jetted off to be by her side, and the two welcomed their first child. Forget going from one of the worst teams in the league (Chicago) to Toronto, and playing lower in the lineup while attempting to rapidly develop chemistry with brand-new players. Forget trying to acclimate to a new city and country, let alone the pressure that playing in Toronto brings. Imagine… not being able to see your 8-month-pregnant wife for a couple of months, flying to see her for a day and witnessing the birth of your first child, then having to jet back to Toronto and suit up for the playoffs. Hockey can present some unique challenges, and given the aforementioned circumstances, I think Lafferty performed quite well.
I've been paying attention to Lafferty since his rookie year in Pittsburgh, and I've been fortunate enough to spend some time with him over the years. Lafferty, his lovely wife Madison, and their ~6-month-old beautiful son Hudson were all settled into their home in Etobicoke, along with their dog, Mo. Spending precious time with his family and being able to settle them in a new city/country could have proved invaluable to Lafferty's play this year.
The last (and only) time that Sam Lafferty had stability entering an NHL season, he was a bright spot on a very poor Chicago team. He put up solid secondary scoring while providing elite penalty killing, and was a highly sought-after player at the trade deadline. Had Toronto chosen to keep him this year, he would have once again entered an NHL season with stability, arguably the most stability he's had in his adolescent life.
It's difficult to quantify or measure the true effects of having a strong and stable life off the ice. In certain cases, it can pay major dividends. In Lafferty's case, because of a late-season trade and the birth of his son, I don't think we saw his absolute best hockey wearing blue and white. With a settled family and familiarity with his teammates/surroundings, I had Lafferty pegged as Toronto's breakout player this season.
Vancouver is getting a hell of a person, and a very effective player that I strongly believe can be a solid middle-6 forward in the NHL. The Leafs will once again ice an elite hockey team, and we'll never be able to truly realize/recognize the impact that Lafferty would have had, but I think the Leafs would have been wise to keep him in Toronto.