Why you can believe in a bounce-back season for Morgan Rielly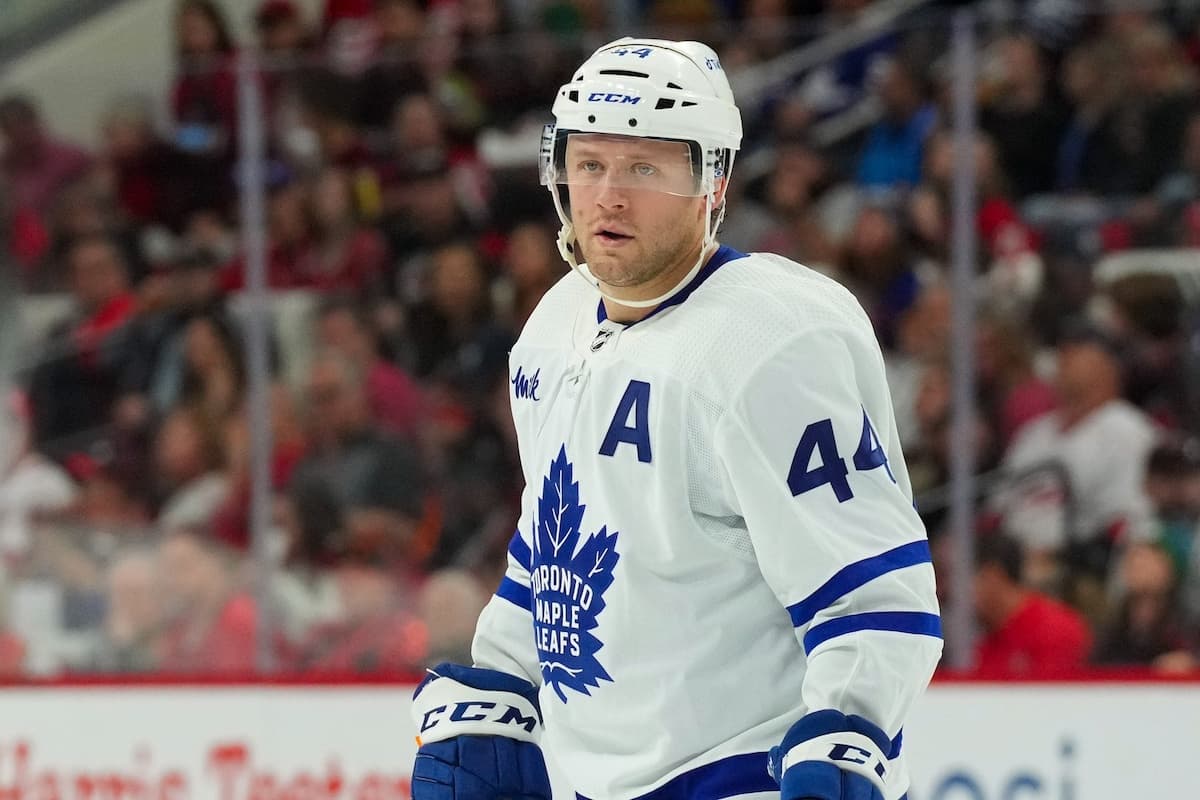 Photo credit:James Guillory-USA TODAY Sports
Up until the playoffs, the 2022-23 season was a tough one for Morgan Rielly. 
Fresh off a 68-point season in 2021-22 prefaced by an eight-year, $60 million contract extension that carried an average annual value (AAV) of $7.5 million, Rielly failed to live up to expectations during the regular season. His defensive shortcomings were exposed more often than not, due in part to a constant revolving door of defensive partners, his offense took a step back, and if all of this wasn't enough, he missed 15 games due to a knee injury in November and December.
He also managed only four goals, his fewest total since the shortened-2019-20 season, and it led to an end result of 41 points through 65 games. Through a tenure that's lasted ten years so far, with Rielly going into year 11 as a Maple Leaf, he's had some good years and some bad. The 2022-23 season was one of his more underwhelming ones, but that all changed as soon as the playoffs hit.
The former fifth overall pick turned into a different beast when the stakes were highest and was instrumental in the breaking of the Maple Leafs' 19-year first round curse. He scored the overtime-winning goal in Game 3 of the first round, the game-tying goal in Game 4, the opening goal in Game 5 to make it three straight with a tally, and also scored in Game 5 of the second round against Florida, the one they were eliminated in.
After playing with seemingly a new D-partner every night, whether that was Justin Holl, Timothy Liljegren, or T.J. Brodie, he finally found a comfortable role alongside Luke Schenn after the Maple Leafs acquired the fellow former fifth overall pick. Because Schenn was so reliable defensively, it allowed Rielly to comfortably play his game without having to worry about being the first man back. The end result was a somewhat short-lived run that saw him record 12 points in 11 games, good for second on the team. 
I have to be honest here, I've always had a soft spot for Morgan Rielly. In a Maple Leafs era where every couple of years we're forced to sit through coverage of contract negotiations with the team's biggest stars, he came in and shocked everyone by signing his extension. 
You might laugh at the prospect of a $7.5 million annual contract being looked at as a "steal" or "below market value" for Rielly, but given the contracts that certain similar defensemen have gotten in recent years, there is absolutely reason to believe that someone whose averaged a pace of over 50 points for the better part of the past seven years could have gotten over $8 million had he gone to the open market. 
Instead, Rielly signed his deal at the beginning of the 2021-22 season, slashing any talk about potentially trading him or having him walk for nothing at the end of the year. We're talking about a guy who made his debut when the team's first line consisted of James van Riemsdyk, Tyler Bozak, and Phil Kessel. A guy who averaged over 23 minutes a night as a 21 year-old on a league-worst 2015-16 Maple Leafs team. A guy who earned a letter on his jersey as a 22-year-old and embraced a much-too-early role as a veteran when the new wave of young talent including Auston Matthews and Mitch Marner entered the league. 
Regardless of what you think of him on the ice, this is a guy who loves the city of Toronto, loves the Maple Leafs franchise, and has left money on the table to stay a Leaf. If you're a fan, I don't know how you don't respect that. 
It might sound foolish to suggest a comeback season for Rielly during the same off-season where the Maple Leafs signed John Klingberg, another defenseman who plays a similar style and could end up taking power play minutes away from him. But I actually think the Klingberg signing is going to help him. First of all, we don't know for sure that he's going to be losing any power play time with the Swede in the picture, but even if he does, I still think the overall outlook of the 2023-24 defensive corps is going to work in his favour. 
Now, we obviously don't know what the d-corps is going to look like yet, but given Rielly's familiarity with Brodie and the likelihood of pairing an offensive-minded defenseman like Klingberg with someone more defensive-minded like Jake McCabe, I would say it's probably a fair assumption that Rielly will be paired with Brodie at least to start the season.
And in 2021-22, the season he put up 68 points, guess who Rielly spent over 800 minutes playing alongside, more than 500 minutes more than any other defenseman? Brodie. 
While the Maple Leafs had some decent defensive results in 2022-23, there were no established puck movers on the back end – the next highest-scoring defenseman was Mark Giordano, who had 24 points in 78 games. I suppose you could include Conor Timmins in that group, but his sample size was only 25 games. 
With Klingberg in the picture and the Maple Leafs having some extra offensive options up front to work with as well, Rielly won't need to be relied on for all of the offense coming from the point. Pair that with a full season ideally (hopefully) playing alongside somebody defensive-minded he's comfortable with, and I think there's legitimate reason to believe that he'll fare better next season, and if history repeats itself, he'll be a game-changer once the postseason hits as well.