With a win tonight in Game 5, the Leafs can make things super interesting: Leafs Tailgate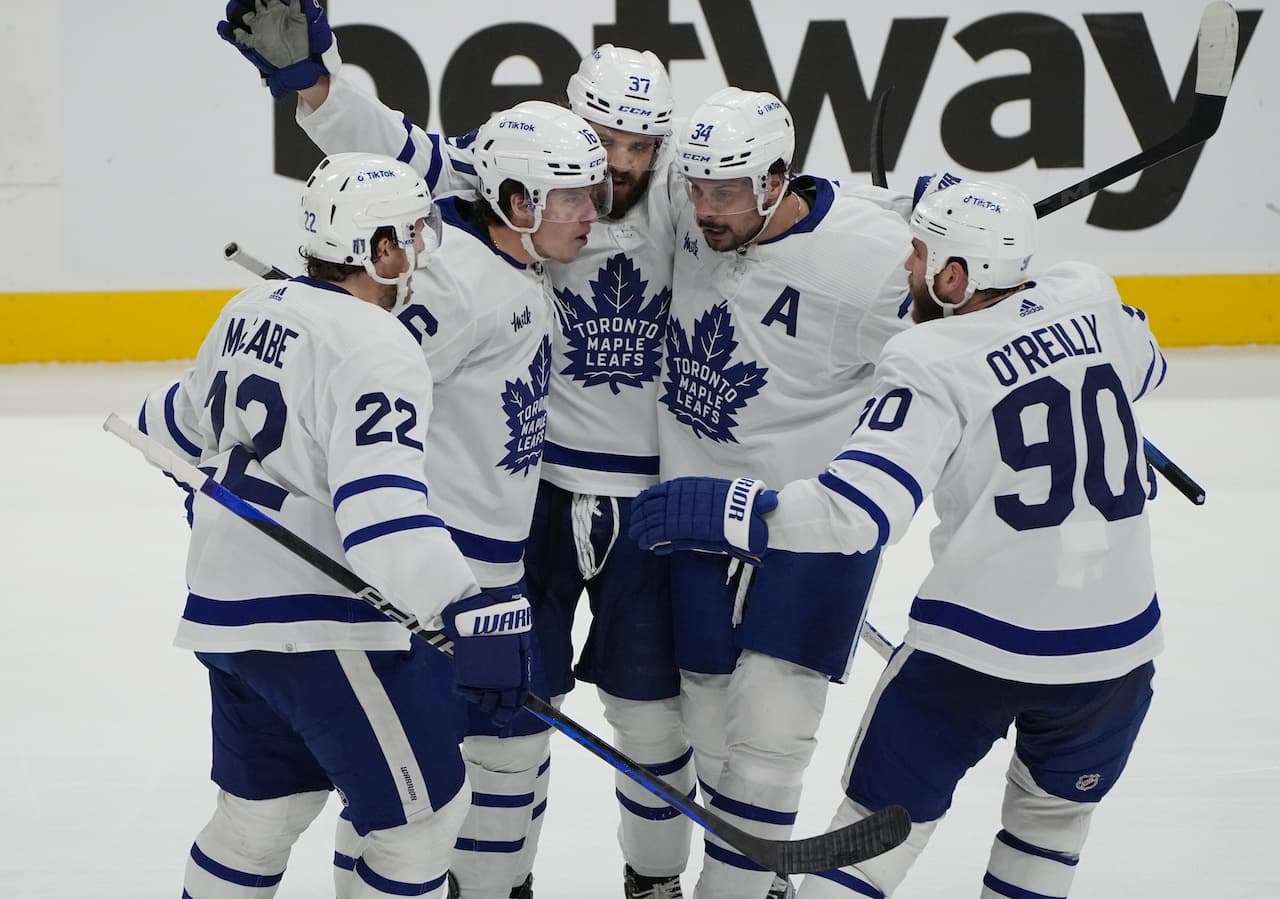 Photo credit:Jim Rassol-USA TODAY Sports
With their hard-fought 2-1 victory in Game 4 on Wednesday night, the Leafs completed part one of four in their journey to become the fifth team in NHL history to pull off the reverse sweep.
Tonight, down 3-1 in the series, they'll try to creep a smidge closer when they host the Florida Panthers for Game 5.
As if it were even up for debate, Sheldon Keefe confirmed on Thursday that Joseph Woll will make his second consecutive start in place of the injured Ilya Samsonov. The 24-year-old rookie netminder is coming off a 24 save performance in his first career playoff start.
The Leafs staved off elimination two nights ago in Sunrise behind 21 shot blocks and the Core Four finally hitting the scoresheet. Both William Nylander and Mitch Marner snapped seven game goalless droughts as Toronto lived to fight another day. Of note, through four outings, Auston Matthews and John Tavares are still looking for their first of the series.
The Leafs have scored two goals in six straight games. Meantime, Sergei Bobrovsky, who had a six-game win streak snapped with the Game 4 loss, has surrendered two goals in four straight appearances.
Weirdly, Scotiabank Arena has not be kind to the Maple Leafs this postseason. They're 1-4 through five home dates. That will need to change.
TIME: 7 ET (CBC, Sportsnet)
STARTING GOALIES:
TOR Joseph Woll – CONFIRMED (1-1, 2.45, 0.902)
@
FLA Sergei Bobrovsky – CONFIRMED (6-2, 3.00, 0.910)
PROJECTED LINEUPS:
Jarnkrok-Matthews-Marner
Kerfoot-Tavares-Nylander
Bunting-O'Reilly-Acciari
Aston-Reese-Kampf-Lafferty
Rielly-Schenn
Brodie-Holl
McCabe-Liljegren
Verhaeghe-Barkov-Duclair
Cousins-Bennett-Tkachuk
Luostarinen-Lundell-Reinhart
White-Staal-Dalpe
Forsling-Ekblad
Staal-Montour
Mahura-Gudas
3 KEYS TO VICTORY:
JUMP ON THEM EARLY
Ok, so now, the Leafs somewhat have Florida's attention. I know momentum doesn't carry from game to game, but I do think a hot start could go a long way tonight. If Toronto can somehow carry what they did in the second half of Game 4 to start tonight's contest, the sky's the limit. Most importantly, the big boys looked like the big boys. In a perfect world, Auston Matthews and/or John Tavares get into it early and the Leafs are off to the races. Also, what's with this garbage home record? They battled all season to get home ice, it's to make something of it. And it's Friday night. If you're going to the game, make some noise and get loud.
 KEEP THROWING THE PUCK ON NET
At some point, the dam will burst, right? As documented above, Toronto's scored two goals in six straight playoff outings. What has happened to this powerful offence? On top of that, Sergei Bobrovsky has surrendered two goals in four straight outings. Simply put, life does not make sense right now. If I'm Toronto, I'm continuing to direct everything to the net. In essence, take a page out of Florida's book and what's made them successful. I know they only scored twice in Game 4, but I thought the Leafs did a decent job of getting in the dirty areas. Again, at times, they're guilty of trying to be too pretty. I mean, just look at how Mitch Marner scored last game. The more shots you get, the more chances you have to score —plain and simple. Hockey's easy sometimes.
PROTECT THE HOUSE
All-in-all, it was probably the biggest reason the Leafs came away with the victory in Game 4. They were superb in front of Joseph Woll. 21 SHOT BLOCKS!? If that doesn't scream commitment to team defence, I don't know what does. Yeah, it's a painful way to win, but this time of year, it's all about sacrifice. Additionally, dots in, the Panthers didn't generate much and Toronto deserves a lot of credit for that. Long story short, if the Leafs keep playing defence like that, they'll have a good shot at sending this series back to Florida for a Game 6. Furthermore, they need to continue limiting the d-zone breakdowns —they did a decent job of that the other night, too.
AUSTON MATTHEWS ANYTIME GOAL
Discover Betano.ca
 – a premium Sports Betting and Online Casino experience. Offering numerous unique and dynamic betting options along with diverse digital and live casino games, Betano is where The Game Starts Now. 19+. Please play responsibly.
MITCH'S DISHES:
Order Mitch's Dishes now
, exclusively on Skip the Dishes! Use promo code TLN15 to get $15 off when you spend $30 or more on Skip the Dishes. If Mitch likes it, it's gotta be great! A portion of proceeds will be donated to the Marner Assist Fund to combat food insecurity. Skip is serving up game time eats to the GTA and Ontario with Mitch's Dishes, ready for you to enjoy during tonight's Leafs game!