With the end of the taxi squad a number of Maple Leafs join the Marlies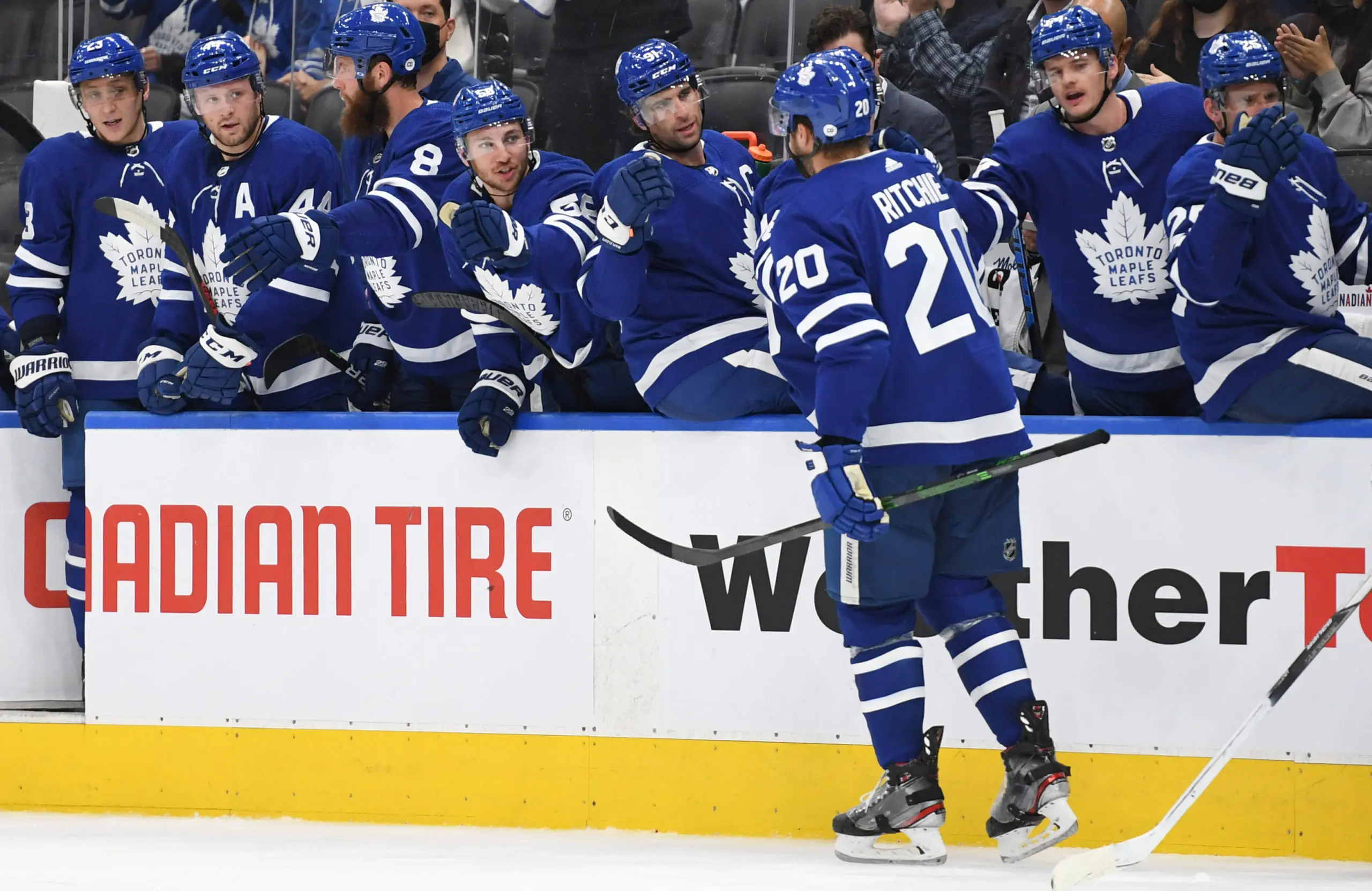 Photo credit:© Dan Hamilton-USA TODAY Sports
The taxi squad era in the NHL has likely come to an end. With the majority of the league no longer requiring COVID protocol due to positive test results and the All-Star break being the agreed upon end, the Leafs made the required adjustments according to
CapFriendly's Transaction tracker
.
In addition to the taxi squad changes, the Leafs made one other move…
So that's a lot of fire power an AHL team, and I suspect that a lot of quality AHLers will now be making their way to the Growlers in the ECHL as well.
Liljegren has shown a few warts in his game of late. He was looking okay with Jake Muzzin when given the opportunity, and was solid with Sandin in a third pairing capacity, but lately playing with Travis Dermott the areas of Liljegren's game that still require some work have stood out, and playing a game this weekend for the Marlies wouldn't be the worst thing for him to do.
The move also frees up some cap space and potentially lets the Leafs bank a few dollars before the trade deadline. With the NHL on hold for a few days, the Leafs have dropped down to the bare minimum of 18 players and 2 goaltenders on their roster.
The Marlies are scheduled to be on break until February 16th following their game against Rochester on Saturday. It seems likely that Liljegren will return to the Leafs for Monday, and might be a bit of a yo-yo for the Leafs on his off days given his waiver exempt status that only Liljegren and Sandin fully enjoy.
Ian Scott and Carl Dahlstrom joining the Marlies is pretty much as expected. It's also very likely that this is the first stop on Scott's voyage that will actually see him in Newfoundland and getting some ECHL starts soon.
The truly notables are Kyle Clifford and Nick Ritchie, who are probably aren't thrilled about an extended AHL assignment. Neither one has made a case for sticking with the Leafs, and with Muzzin being questionable for Monday, it's going to be Liljegren that gets the recall ahead of either of these players and the Leafs cap space will only allow for one player returning.
Clifford is probably at the point where he's going to be an AHL/NHL tweener, and bad puck luck aside, he hasn't been good for the Leafs or Blues this year. A couple of months of working with the player development department while playing for the Marlies could do him some good.
As for Nick Ritchie, well, I'm sure Kyle Dubas is spending a lot of time talking to Arizona about what it will take to get him off the books. It wouldn't be surprising if Ritchie is kept out of the Marlies roster on the weekend, and Toronto might use the AHL break to get things sorted out. (This is largely wishful thinking on my part.)
In the grand scheme of things this isn't overly impactful for the Leafs, and it's exciting that if Muzzin is ready to go, Monday could be the first night of the season that the Leafs ice their optimal lineup.