Woll down, Simmonds up and how it fits with the Leafs plans for Murray and Knies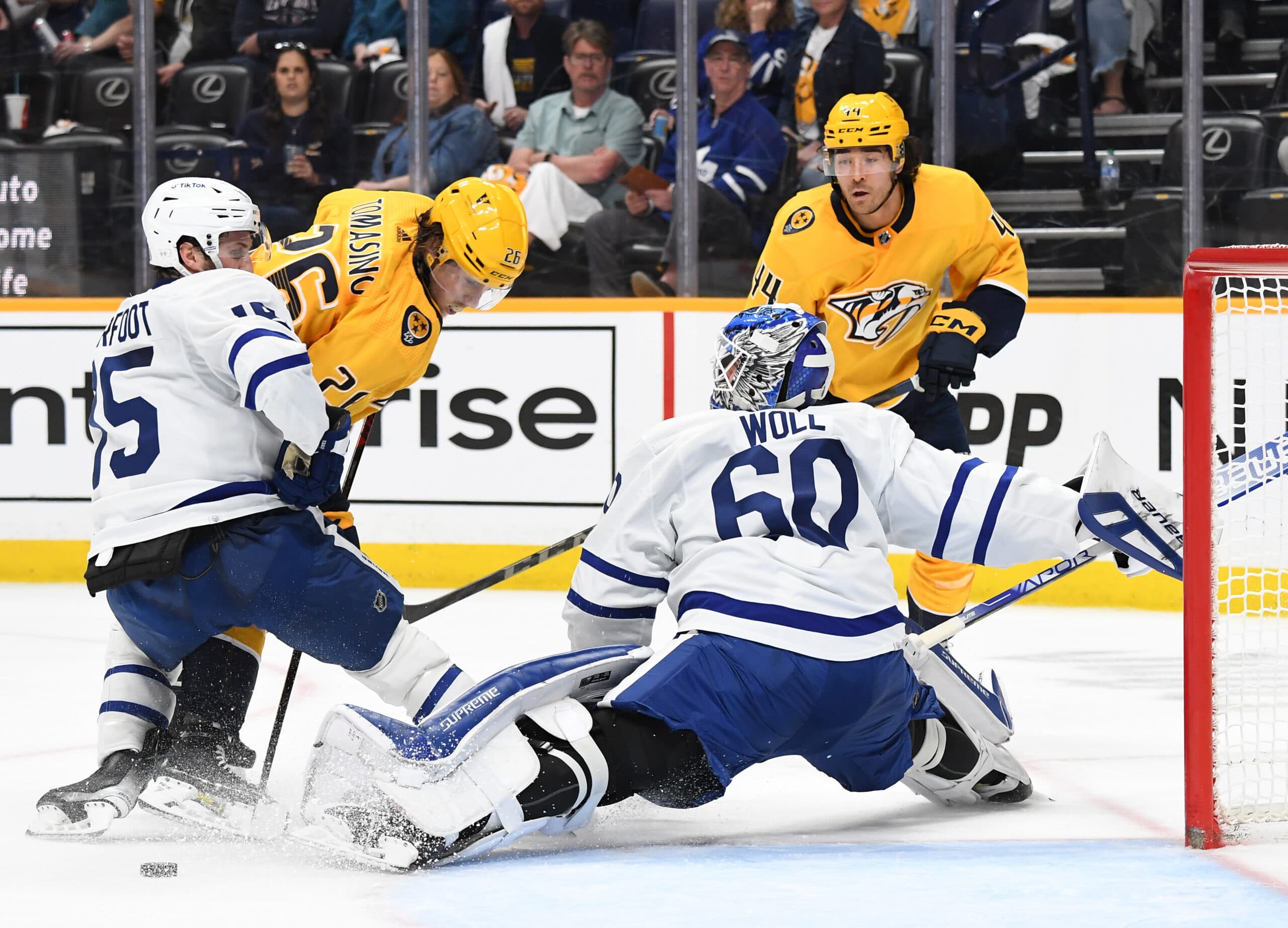 Photo credit:Christopher Hanewinckel-USA TODAY Sports
The Leafs made a couple of smallish roster moves tonight that seem like they could be quite telling for what is coming next for the Leafs.
The assignment of Joseph Woll is perhaps the most interesting piece of the puzzle here as it seems to inform three separate decisions, including the Wayne Simmonds recall.
At the surface level the decision to demote Joseph Woll isn't something that would be well received as his five starts year for the Leafs have shown a ton of promise and a rookie goaltender with a .932 save percentage seems like someone you'd want to keep around and test a bit further when Matt Murray has been a huge question mark. It seemed easy to give Woll the Saturday start and then move forward with the Samsonov/Murray tandem in order to sign Matthew Knies, but there is a bit more to it than that.
First up is the Wayne Simmonds factor. Assuming the Leafs don't see Simmonds as a likely option for them during the playoffs, Saturday's game is potentially Wayne's last home game as a Leaf. Toronto is trying to send him off in the most respectful way and that's why he was recalled. Simmonds can be demoted swiftly Sunday morning if needed to either recall Woll or to sign Knies.
Signing Matthew Knies certainly seems to be what most of this is about. Woll heading down gives the Leafs enough cap space to get Knies signed and play him. That has been the plan as far back as December so it seems unlikely that Knies is suddenly wanting to sign a contract without burning a year of his ELC and the Leafs are likely just as excited as ever to see what they have with him.
All that brings us around to Matt Murray. Assuming Matt Murray is in fact healthy enough to at least wear a ball cap on the bench, the Leafs are good to go at least until Monday or Tuesday when they will undoubtedly not want Samsonov playing in both games of a back to back only to go again Thursday night against New York. Even if the Leafs aren't ready to play Murray yet, they have to feel he's close enough they could use him in at least two of the remaining four games.
If things don't go well with Murray, Toronto will be in a very interesting spot. Potentially they could non-roster Knies and burn his contract year without getting him into a game, but that is less than ideal. Similarly they could waive Murray who is unlikely to get claimed and have enough space to recall Woll if needed as well. (An okay idea on paper, but the psychology of waiving a goaltender you might need right before the playoffs leaves a lot to be desired.)
Most likely this plays out in the least eventful fashion. Simmonds gets his game Saturday, Knies gets signed, and Murray is capable of handling two games.
The Leafs are at home Saturday night against the Canadiens before leaving on a three game road trip to end the season.