Are the Maple Leafs unlucky when it comes to finding the right standard for officiating?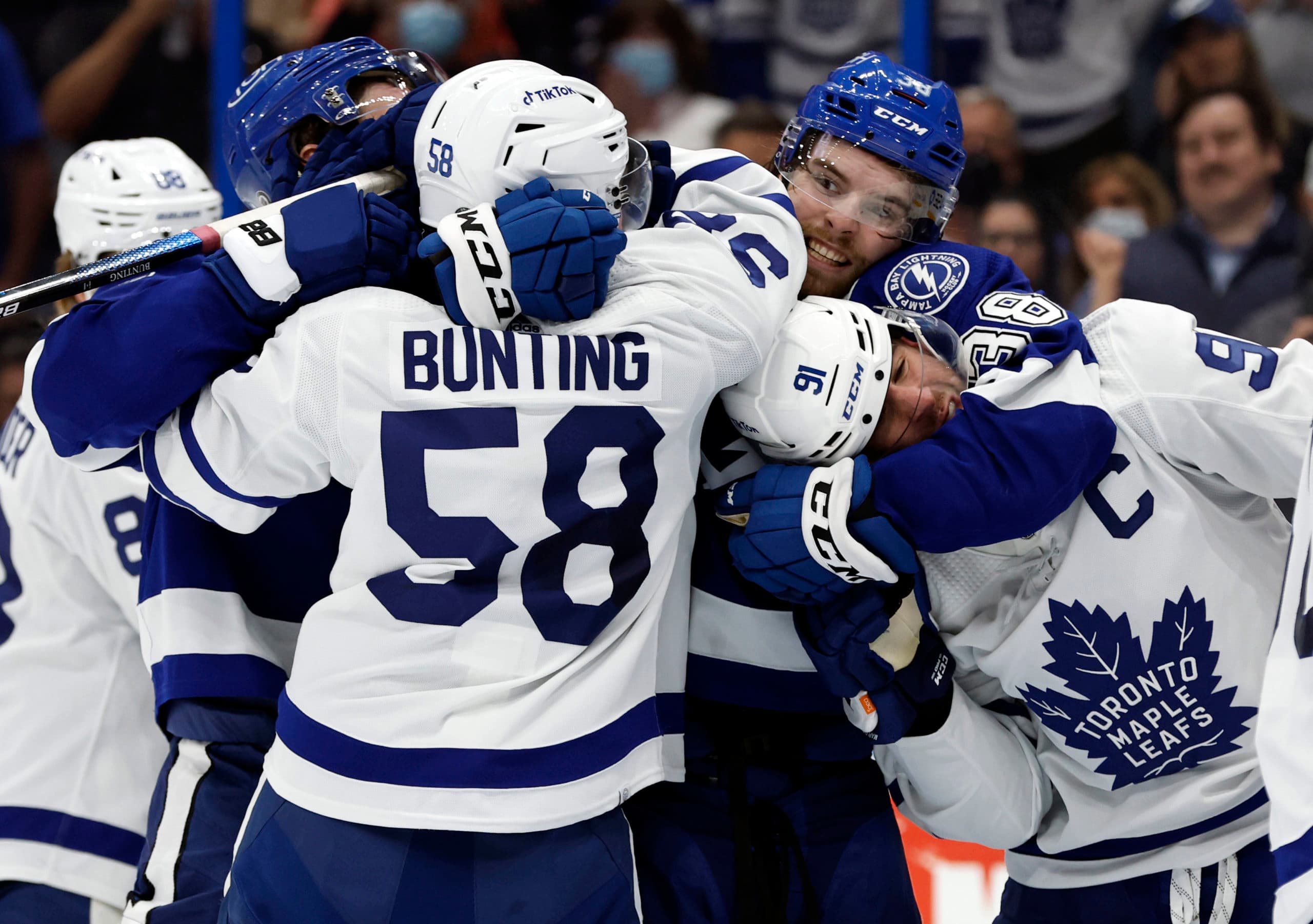 Photo credit:Kim Klement-USA TODAY Sports
The Toronto Maple Leafs are satisfied with the way they have played against the Tampa Bay Lightning at even strength. The only problem is they are using special teams a lot more than they expected.
"Around the league it's been a little bit of surprise, frankly, on how the games have been called," Maple Leafs head coach Sheldon Keefe said before his team travelled to Tampa for Games 3 and 4. "There's been a lot of penalties, a lot of power plays. I haven't followed or watched all the games but it seems like there's a real uptick in the calls early in the series."
The amount of penalty minutes in this particular series may not be a surprise given the good-old fashion line brawl that took place both teams' last meeting during the regular season.
On Apr. 21, The Lightning defeated the Maple Leafs 8-1 in a game that saw a combined 114 minutes in penalties. That prompted Keefe to anticipate what he expected to be a "borderline violent" series between both teams.
Game 1 certain lived up to that billing with 113 minutes in penalties dolled out and just 33:42 out of 60 minutes played at 5-on-5.
Although Game 2 was far less "violent", the Leafs took too many minor penalties and the game resulted in just 41:33 of 5-on-5 action. The Lightning took advantage with three power-play goals to defeat the Leafs 5-3 and even up the series 1-1.
"The penalties that we took kills the momentum a lot of times and they obviously capitalized," Auston Matthews said on Thursday. "The refereeing is being called tight around the league and that's something that we just have to consider and take into account when we're going out there and making sure that we're playing between the whistles and staying disciplined."
Are there more penalties being called?
The 33:43 of 5-on-5 play was indeed low, but 41:33 of Game 2 falls in line with what the Leafs' averaged in the first two games of their first-round series with the Canadiens last season.
As that series went on, fewer penalties were getting called and that has typically been the case as far as playoffs go. In Game 7 of Toronto's first-round defeat in 2021, there was a total of 52:46 of 5-on-5 time out of 60 minutes.
In addition to Keefe's assertion of more penalties are the types of calls. He says there have been interference and obstruction-type penalties you don't see being called so tight.
"That's created a different feel from what you anticipated coming into this series for sure," Keefe said.
In the past, Keefe's Leafs were all in on skill and perhaps that standard would have helped his 2020 Playoffs as Toronto's team was seen as far less physical than as it is today.
So now that some calls are being made by the book, do the Leafs have it wrong this time? Will the added physical presence do more harm than good?
Of course not.
As established, fewer penalties will start to get called as the series moves along, so long as the Leafs don't take particularly dumb penalties after the whistle. Those can be correctedIt was the lack of discipline that got to Toronto in Game 2 and that allowed the Lightning to find their legs.
"When you give a team like that too many touches, I think their top players start feeling better about themselves," Leafs defenceman Mark Giordano said.  
The Leafs should continue to stay physical as they learn what the standard will be going forward. That will allow them to focus on better 5-on-5 play and their power play, which sits at a paltry 10 per cent.
Whether that's enough to put Toronto over the edge in that series is up for another debate. But just because some hook and holds are being called more often shouldn't cause any second-guessing about the team's strategy.
The standard of officiating during the playoffs has been an issue for years. Newer fans of the game want to see offence and want to see the stars freed up. It's where the game is going. But a couple of games isn't enough to suggest we've react that point just yet.
The series will continue to get physical and fewer penalties are likely to get called it moves along.
POINTSBET IS LIVE IN ONTARIO
PointsBet Canada has officially launched in Ontario! Get a $25 free bet just for 
signing up right here!