Dermott could be moved before the expansion draft, and other trade insights from Frank Seravalli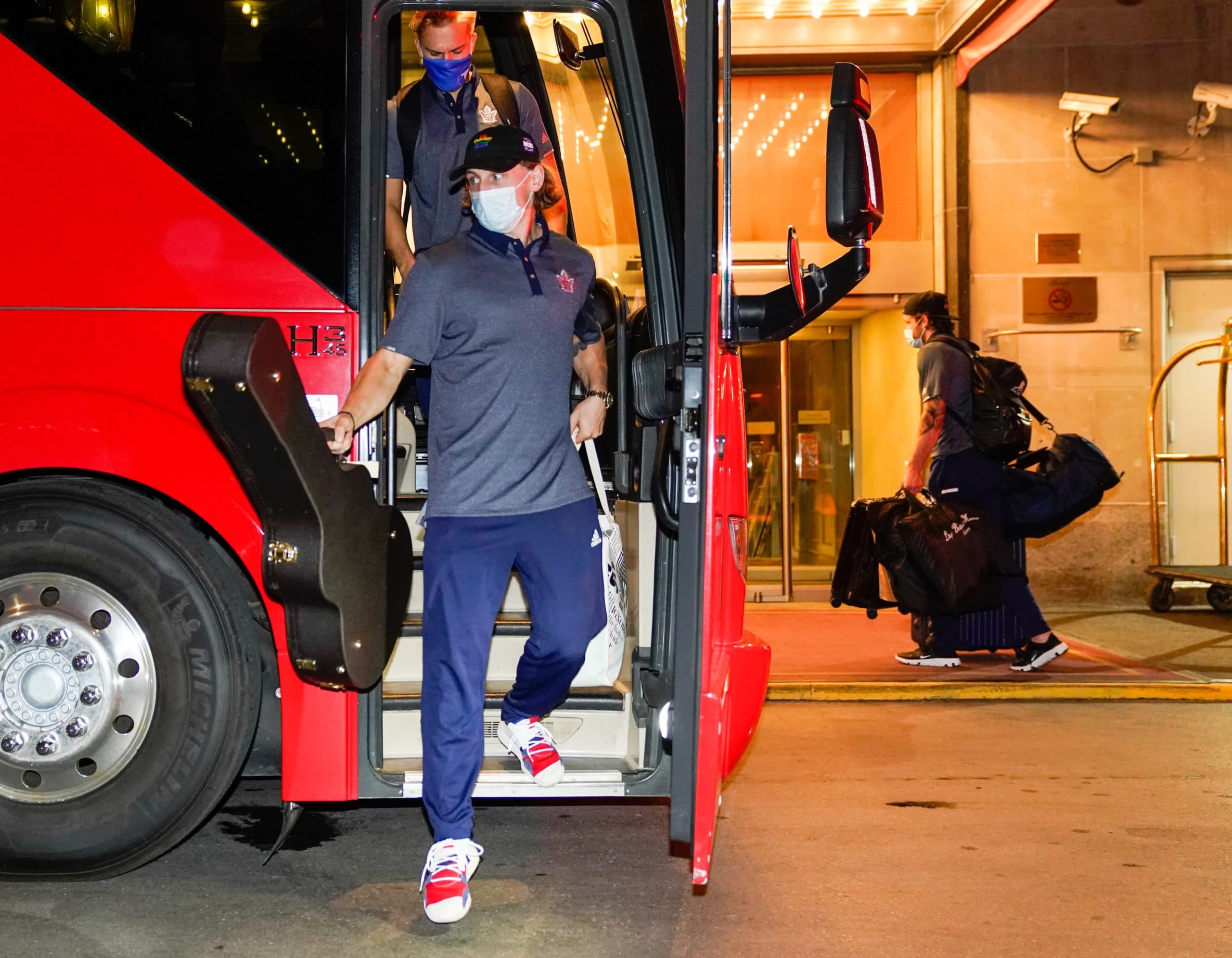 Photo credit:Toronto Maple Leafs Twitter Account
Seravalli on Dermott (who was 16th on his list):
Scoop: The Leafs are prepared for the possibility to lose a player like Dermott in the Expansion Draft. But they may also explore the trade market for him in the meantime. The question Toronto and so many other teams will be asking between now and July 21: Does it just make sense to cut our losses clean at one player? Or does making a side transaction compound the problem and make it two?
The thing about Dermott is that even if the Leafs went with a protect four defensemen and four forward model, Dermott absolutely falls on the outside of the four. (I don't think it's crazy to assume that it's Rielly, Brodie, Muzzin, and Holl being protected.) Even if the Leafs have an intent to make a change from those four defensemen, the intent is to make sure they get their value out of them in trade. Potentially making a move to shed a defenseman now might be viewed as a necessity and a full return for a player like Rielly or Holl might not be available. We'll be bold and assume that Muzzin and Brodie aren't going anywhere under any circumstance.
There's also the matter of Dermott being a restricted free agent, and an arbitration eligible one at that. The arbitration eligibility has to factor in as a concern for the Leafs as cost certainty is critical to fitting all their pieces together, tight against the salary cap even if we're not talking about a significant sum here. Dermott is the only RFA with arbitration eligibility, other than some Marlies, but we could see Denis Malgin and Nic Petan dealt with in the same fashion.
The move seems to be somewhat purposeful in driving the Kraken towards the idea of taking Alex Kerfoot in the expansion draft. The Leafs freeing up a $3.5M bottom six forward contract gives them a bit more maneuverability in their tight cap world, but won't exactly have them hunting big game. Just more medium game.
As for the return on Dermott, well, heading into the an expansion draft where you aren't looking for more players to protect, and given the current state of the Leafs entry draft situation, I'd suspect Kyle Dubas is looking for a draft pick. I'd wager a second would be a dream, a third gets it done quickly, and a fourth or fifth round pick might be the unfortunate reality of the expansion draft creating a buyers market for this type of acquisition. Still, something is better than nothing, unless want to dwell on the Leafs traded down to select Dermott and Bracco instead of selecting @Travis Konecny. If you see me you are entitled to one free kick to my shins for bringing that up.
Who might the Leafs want off of Seravalli's list?
If traded Dermott doesn't float your boat, some of the big game names on the list might be more to your liking.
@Warren Foegele is an extremely compelling name on the list, as there are a lot of traits and characteristics we associate with @Zach Hyman seemingly available at a cheaper price because he hasn't had the chance to fully show what he's capable of yet. His pending RFA (arbitration eligible) status may raise an eyebrow on the price for him, and if he goes to arbitration he could cost more than the Leafs are comfortable with or he might land on a short term deal taking him to unrestricted free agency. No matter the issues, it seems like putting in some work on this good Markham boy is in the best interest of the Leafs.
@Jake DeBrusk heading to Edmonton seems like a foregone conclusion, and the odds of the Bruins dealing a noted pain in the ass like DeBrusk to a team within their own division makes very little sense. On the other hand the Bruins don't have a lot of reasons to think a lot of the Leafs and they've got a pretty good track record of trading with Toronto. If Toronto antes up, DeBrusk might be available, but even writing ante up makes me get the sense bad things would happen here, even if I want DeBrusk in a Leafs uniform.
@Evgeny Kusnetsov is an interesting name on this list because that's a lot of talent sitting out there in a troubled package. There is no questioning his skill, but off ice discipline might be an uphill battle. Still, if he's being shopped, and the Leafs do decide to move on from Mitch Marner (I get it, it's not going to happen) Kuznetsov allows the Leafs to stay at essentially the same talent level while gaining $3M to work with.
@Dante Fabbro as a right shooting defenseman that fell out of favour come playoff time in Nashville is interesting, but I'm skeptical on how available he might be. There's a very good chance he's still part of what Nashville wants to do, and they'd rather move one of their bigger guys to speed up their rebuild, retool, whatever in order to compete again. Still if Fabbro is out there, he's worth considering because he'd really solidify the right side of the blueline.
Of course there are a lot of other names on that list that warrant a lot of talk. @Jack Eichel, @Dougie Hamilton, and @Sam Reinhart don't need their value explained. And players like @Conor Garland, @Rickard Rackell, and @Evander Kane have discussed as potential Leafs targets previously, so I'd definitely encourage you to check out the full post from Seravalli.
For now, we'll stay a bit more grounded in reality, and that reality is the Leafs appear to be considering their asset management steps heading into the expansion draft. Any larger plays might occur closer to the draft.