Hockey's a cruel sport sometimes…Leafs fall short in Raleigh: Muzzy's Muzings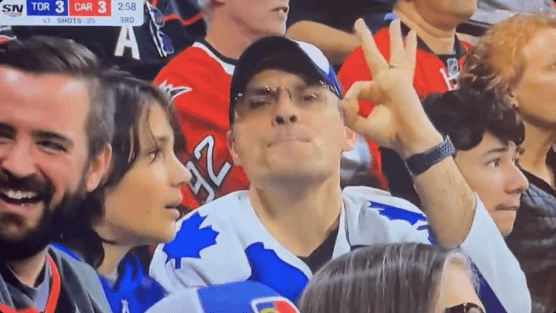 I hate moral victories, but in this instance, I'm deeming it acceptable.
Make no mistake about it, the Leafs deserved a better fate on Saturday night in Raleigh.
Sebastian Aho's goal late in the third was the difference as Carolina snuck by Toronto 5-3. With the loss, the Leafs fell to 2-2-0 on their five-game road trip, one that will conclude on Sunday night in Nashville.
After going down 2-0 just 10 minutes into the game, the Leafs pretty much dominated the rest of the way. Two points is two points, though. In the grand scheme of things, no harm, no foul for Sheldon Keefe and company. Tampa lost on Saturday afternoon in Boston, which means Toronto's still five points up on the Bolts with two games in hand for second in the Atlantic Division.
Auston Matthews had another monster outing. He potted goal No.35 and 36 and now has eight in the past nine games and 10 in 13. On top of that, he mustered a ridiculous 15 shots on goal, which tied a single-game team record. Get that dude a steak and a protein shake.
Meantime, Mitch Marner tallied an assist to extend his point streak to nine games. Ho-hum. Additionally, Calle Jarnkrok notched his 18th of the year and Morgan Rielly racked up two helpers. Matt Murray made 23 stops.
In total, the Leafs grabbed four of a possible six points (2-1-0) against the Canes in their season series with the Metro Division leaders.
MUZZY'S MUZINGS:
SLEEPY START
For the first time in nine games, the Leafs surrendered the first goal. That early 5-on-3 didn't help matters, that's for sure. Additionally, by the time they got their legs, they found themselves down 2-cobb in a hurry. I won't lie, that first 10 minutes was a tough watch. That said, I thought they finally started skating in the second half of the opening frame, and unsurprisingly, it led to an increase in scoring chances. Look, the Canes are a good team, and that's a tough barn to play in. You're not going to have it every night. Not that I'm giving them a pass, but it is what it is. Let's just get to the playoffs already.
MOMENTUM SHIFT
Again, the Leafs deserve a lot of credit for figuring things out after the tough start. After the Staal 2-0 goal, it was pretty much all Leafs for the rest of the night. Furthermore, there was actually 15-minute stretch in the game where Carolina failed to register a shot on goal and Toronto had 17 in a row. Talk about flipping the script! Who knows what happens down the road in the Stanley Cup Playoffs, but the Leafs had a ton of sustained stretches against the Canes throughout their three regular season meetings. In recent years, Carolina has played them really tough, so it was fun to see Toronto take it to them this season.
CALLE JARNKROK
The Jarnkrok-Matthews-Marner trio is starting to gain some serious steam. They were outstanding on Saturday night. Yes, we've seen every line combination imaginable over the past little while, but it's tough to overlook the chemistry that's been brewing in recent outings. As a whole, it's safe to say Jarnkrok has exceeded expectations in season No. 1 as a Maple Leaf. He's been fantastic. He's up to 18 points and 36 points, which are both career highs by the way. It's hard not to love it when the depth players chip in. In many ways, Jarnkrok has filled the same type of role that Artturi Lehkonen did with Colorado last year when he was acquired from Montreal around the trade deadline. Jarnkrok's versatility is such an asset.
NEED A SAVE
Sometimes you just need a save. And unfortunately, Matt Murray, who battled hard to fend off a hectic first period of work, couldn't find a way to make that save..on two occasions. Firstly, I think Stefan Noesen deserves a lot of credit for that second effort following the wrap-around attempt. That said – not that I'm Mr. goalie expert – but Murray was caught swimming on that play. I don't know what to say..that goal just stung. Additionally, the rebound control on the Aho winner was just dreadful. They were playing so strong and just couldn't get that crucial save when it mattered most. Ultimately, those can end being the difference makers come playoff time. Sorry if I'm being too harsh on Murray —it is what it is.
HIGHLIGHT OF THE NIGHT:
WHAT'S NEXT?
The Leafs will finish off their five-game road trip on Sunday night when they visit the Nashville Predators. Toronto took the first meeting with the Predators, 2-1, back on January 11th.