John Tavares and the Leafs have a chance to bury struggling Islanders: Leafs Tailgate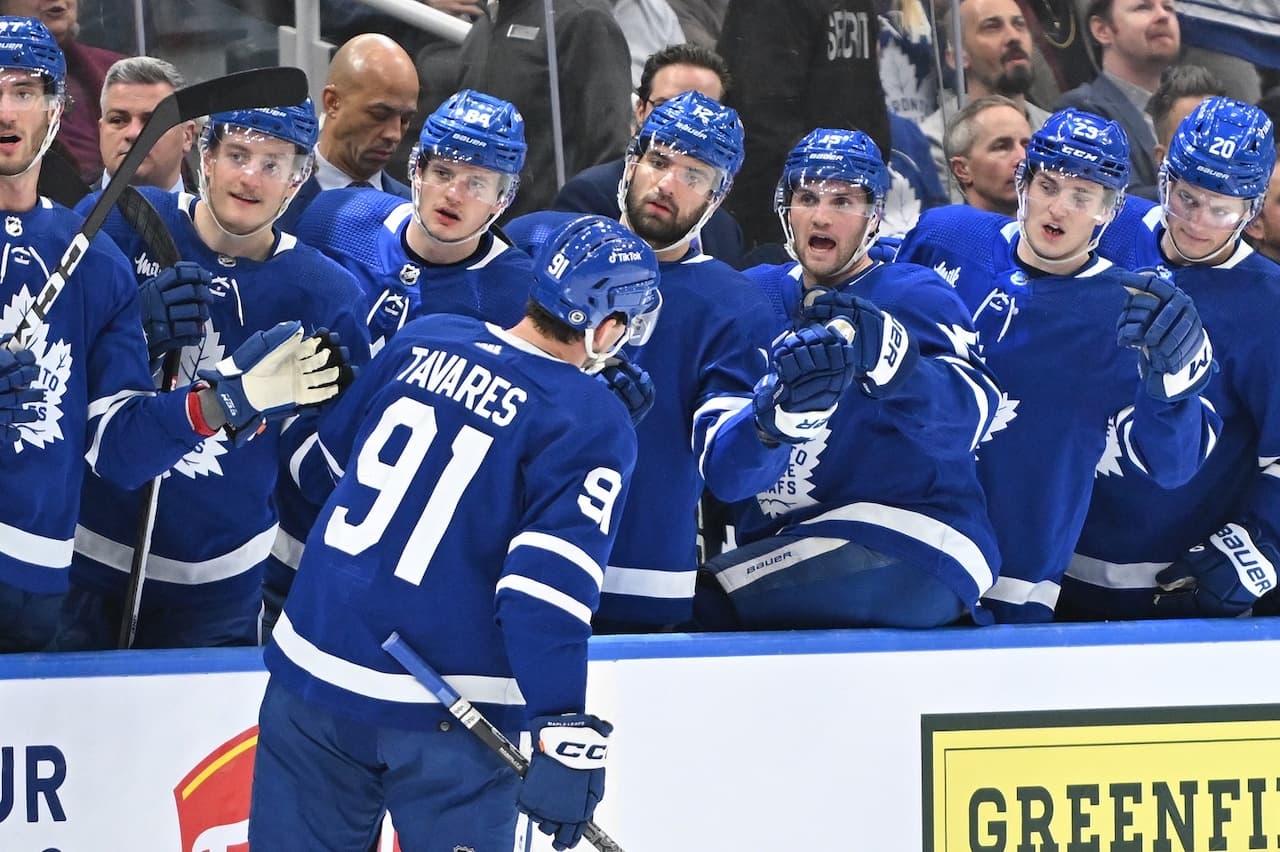 Photo credit:Dan Hamilton-USA TODAY Sports
Ilya Samsonov will make his third straight start and fourth in the past six games as the Leafs (28-11-8, 64 points) kick off a lengthy five-game homestand tonight against the New York Islanders (23-20-5, 51 points).
But seriously, what was that on Saturday night? Despite missing seven regulars – including Cole Caufield – Montreal still managed to beat the Leafs 3-2 in OT. That was ugly. I don't care how good Samuel Montembeault was, that just can't happen —plain and simple. Sorry, still have those Arizona games etched in my mind.
Anyway, this will mark the second of three meetings between Toronto and New York this season. Back on November 21st, Anthony Beauvillier scored the OT winner to give the Isles a 3-2 victory at Scotiabank Arena. If you remember, that was the game Morgan Rielly went down with the knee injury. By the way, he's still looking for his first goal of the season: 0-for-32.
Meantime, the Isles are in a bad way right now, so much so that were "Fire Lou" chants at UBS Arena on Saturday night. New York has dropped four (0-2-2) in a row and seven of the past eight (1-4-3). Currently, they sit three points behind Pittsburgh for the final playoff spot in the Eastern Conference.
TIME: 7 PM ET (SNO)
STARTING GOALIES:
NYI Ilya Sorokin – CONFIRMED (15-15-4, 2.37, 0.924, 3 SO)
@
TOR Ilya Samsonov – CONFIRMED (14-4-2, 2.22, 0.919, 2 SO)
PROJECTED LINEUPS:
THREE STORYLINES:
 5-GAME HOMESTAND
The Leafs have five games remaining until the All-Star Break/BYE week, all of which will take place at Scotiabank Arena. While it's unfair to call this homestand crucial, it's important to keep building on home ice in the second half of the regular season. Through 24 outings at SBA, the Leafs are 17-3-4. They've been outstanding. Furthermore, they need to keep banking points anyway they can get them, especially with Tampa breathing down their necks behind them. As I've stated time and time again, it would be ideal to have home ice in Round 1. I don't even want to think about them playing at Amalie Arena for a potential Game 7. No thanks.
ANOTHER JT REVENGE GAME
For the rest of time, John Tavares will be linked to the New York Islanders. Honestly, I can't believe it's going to be five years this July since he left Long Island for greener pastures. In nine total outings against his former squad, Tavares has tallied three goals and five points. Additionally, I think what adds some serious intrigue to tonight's meeting is the fact that the Islanders have been struggling. For all intents and purposes, Toronto has a chance to deliver a big-time blow to a non-divisional rival. For my money, Tavares has been fantastic as a Maple Leaf.
GOALTENDING
Personally, I'm looking forward to tonight's goaltending matchup between Ilya Samsonov and Ilya Sorokin. Furthermore, at this point, I'd say Sorokin's firmly entrenched in the Vezina Trophy conversation. In an inconsistent season for New York, he's been a big-time bright spot. To that point, it will be important for the Leafs to get some traffic in front of him. Often times, they're guilty of making life easy for star netminders, so I'd love to see them cause some havoc and chaos in front of Sorokin tonight. Muck it up if you will. Also, with 15 goals in their past nine outings, offence has been hard to come by lately for the Isles. If you're Samsonov, no freebies, please. Don't give them confidence.
BETTING:
(As of Noon EDT)
PROP PLAY:
John Tavares Assist (+115)