Leaflets: 10 Games, 10 Takes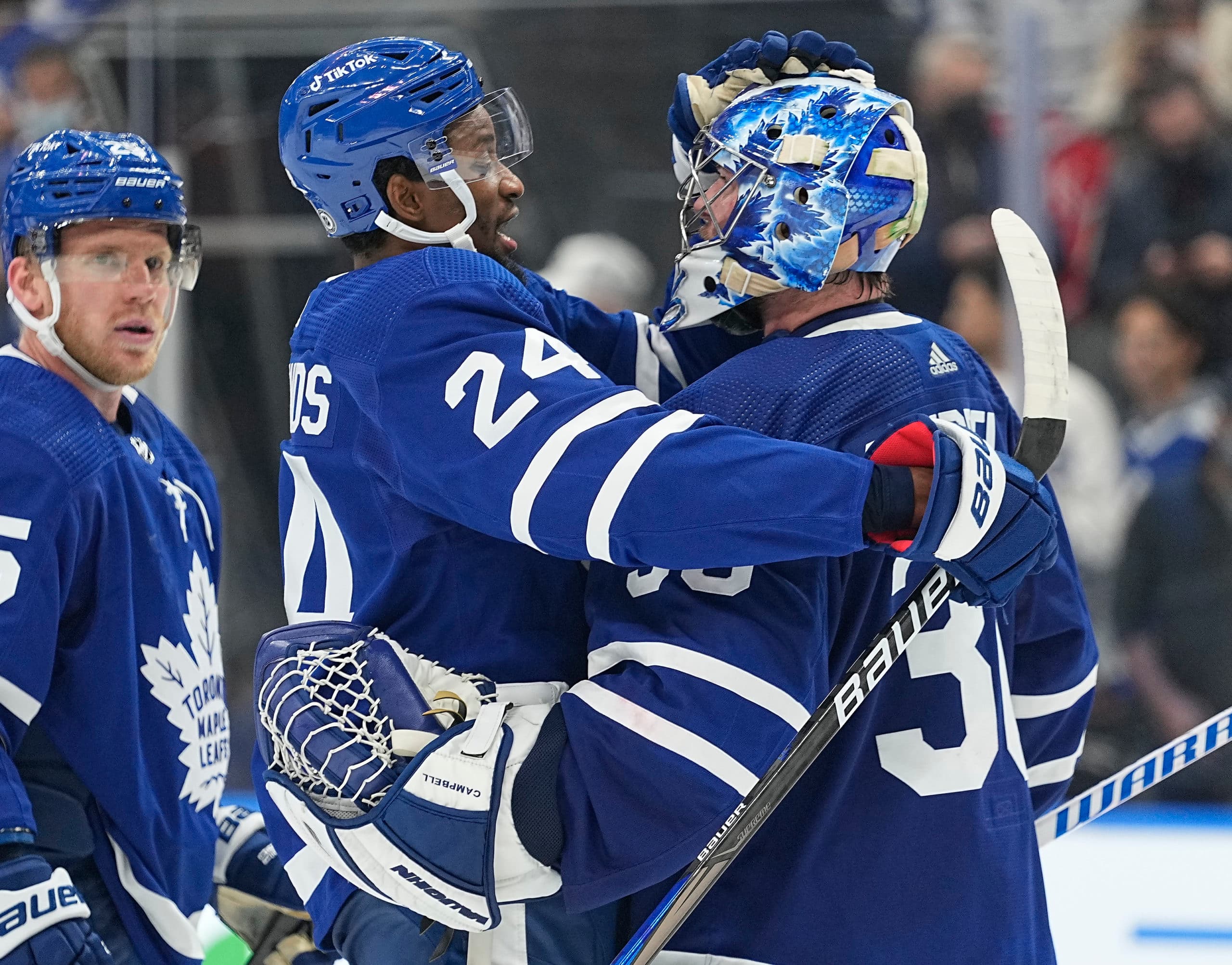 Photo credit:© John E. Sokolowski-USA TODAY Sports
Here we are at the magical 10 game mark that allows us to begin having opinions on how the season is going. The last three games have done wonders in bringing the Leafs back around to the okayish mark, and we're no longer panicking about a 2-4-1 team. Now they are the definition of average with a 5-4-1 record that is trending upwards. Of course there hasn't been a lot to be afraid of in the first 10 games when it comes to competition. The Habs team they played was missing Carey Price and others. The Penguins team (that blew them out) was missing Crosby, Malkin, Letang, and Carter. The Blackhawks didn't start Fleury, and Kane was out. The Golden Knights were without Stone, Karlsson, Pacioretty, Whitecloud, Patrick, and Tuch. Even the Red Wings had to leave Bertuzzi at the border because he values Facebook science over his teammates. Throw in the Tkachuk-less Senators, and it is painfully clear that the 5-4-1 isn't so much average as it is the bare minimum.
Since we're at the 10 game mark I feel it's about time to drop some takes based on the team this season and allow you to cyberbully me for them in the comment section. I'll try to include a few hot takes worthy of your scorn.
1. Move Ritchie up to the third line
It was painfully clear that Ritchie wasn't a fit on the top line. Ritchie didn't click at all with Marner and Matthews, and while the idea of adding some toughness to the top six seemed like a good idea, we really shouldn't be surprised that it was largely a repeat of what happened with the Wayne Simmonds top six experiment last season.
That resulted in dropping the $2.5M/yr winger down to the 4th line. And while contracts shouldn't dictate where you play in the lineup, it seems a bit too soon to completely give up on having Ritchie in the top nine at all.
Ritchie as a top six forward is something that needs to be earned, if he can, but placing Ritchie on the third line with a player he knows well in Ondrej Kase doesn't seem like a particularly bad idea. Nor does the idea of infusing a bit more toughness into the third line, as a Ritchie, Kampf, and Kase line could be very difficult to play against.
The catch of course is that Pierre Engvall has been playing the best hockey of his life and demoting him and taking him out of a situation that is working doesn't make a ton of sense either. Putting Engvall on the fourth line does nothing for him either, and breaking up a third line that has been one of the few consistent areas for the Leafs doesn't make a lot of sense at this point.
That being said, if there is anything that warrants breaking up the 3rd line, Ritchie is worth a look in that role more suited to his abilities.
2. All signs point to Jack Campbell getting paid
Good news: Jack Campbell might really be as good as last year's small sample illustrated.
Bad news: Campbell winning the starter job and having Mrazek's contract as the floor for his next contract means the Leafs are going to be dealing with an expensive situation in net.
That is a next season problem, and there's plenty of hockey left in this season so this is clearly a premature concern, but one that shouldn't be forgotten. If Toronto doesn't try to move on from Mrazek after this year there could be at least $8M-9M committed to goaltending, while the Leafs already have nearly $50M committed to five skaters as well.
While none of this is the end of the world, it should be noted that it is setting up a very interesting and team defining offseason for the Leafs. It may be too early for us to think about it, but I hope the Leafs front office is putting in their time on this topic.
3. Justin Holl has come back down to Earth
The Leafs bringing in Holl on an AHL contract and bringing him back around to his 2nd round draft pick potential has been one of the better things Toronto has done over the past few seasons. The Leafs not choosing to leave Holl unprotected in the expansion draft and costing themselves Jared McCann in the process might be one of the worst.
The reality is that Holl's step back this year isn't so much in his change in play as it is Jake Muzzin taking a step back in his ability. Muzzin looks rocky out there, and while Holl certainly complimented Muzzin last season, Holl's abilities aren't strong enough to compliment lesser Muzzin, and that's led to him being a scratch.
The thing with that is Justin Holl always seemed to be on the third pairing career path, and that's ultimately the best place for him and at $2M he's not a salary burden in that role either.
Much like putting Ritchie in a role that makes sense for him, putting Holl on the third pairing means figuring out what works best for the current roster incumbents as well. Dermott has looked fine in his increased responsibility, Sandin-Liljegren are fun together and it would be great to see that pairing develop together. Holl does seem to be the odd man out for now, but with the second period injury to Dermott that kept him out briefly, Holl might get a chance to return to the lineup.
4. Fixing the Defensive pairings (Holl continued)
So if we're looking at a new approach on defense, I'd argue that it's still a better idea to keep Holl separated from Muzzin until one of them gets back on track. And if Holl is returning, he's better off playing with Brodie.
Brodie has long been the defensive whisperer, improving everyone he plays with. Perhaps he can have that effect on Holl, and perhaps he has a positive impact on Dermott as well.
The other part meaning that Rielly and Muzzin would play together, in what certainly has a Keith and Seabrook vibe to it, minus the right handed shot. Potentially their differing styles can compliment each other, and rather than viewing them as a left side/right side pairing, I'd suggest Rielly has the high defenseman and Muzzin as the low one. Let's get some rover action out there.
5. Put Marner back with Matthews
I feel like this is an unpopular opinion, especially after a game that saw all four big offensive players contribute in meaningful ways, but a confident playmaking Marner is still the best option for Matthews, who genuinely seemed confused when Nylander was taking the shot himself on Monday night. Tavares might also play a little low, and in too heavy of traffic for him to be the outlet that Marner needs, and instead the Leafs can also benefit from separating Matthews and Nylander, who are clearly the two best players at driving offensive play at this point of the season.
Bunting also seems like he can provide that lower outlet for Marner, and Nylander has had good success with Kerfoot. Reverting now or in the near future seems like a reasonable call.
6. Resting Simmonds and Spezza
The idea was certainly part of the plan in the summer, that neither of these players would handle a full NHL schedule. And while 10 games in might be earlier than required to begin sitting them from time to time, the bigger issue seems to be coming from the fact that there are a couple of Marlies that it seems like it would be fun to see in Maple Leaf uniforms in the near future.
Kirill Semyonov has had a strong start with the Marlies and could certainly be a strong addition to the Leafs on road trips, giving Toronto another defensively minded forward to put out on the ice when the Leafs don't have last change. He's also shown he's capable enough offensively that plays won't die on his stick.
The other one that needs to be considered is Josh Ho-Sang, who while still has only played a handful of games, is demonstrating that he could be an affordable offensive option the Leafs need to consider exploring at some point. The catch being that he won't be waivers exempt like Semyonov, once he signs a NHL deal.
Ho-Sang would have to be a player that stays up with the Leafs and that complicates things, as does the fact that Toronto would have to make some decisions once Ilya Mikheyev returns and the Leafs would understandably want to avoid that.
Still, there's no reason why we can't take a look at Semyonov soon.
7. Morgan Rielly still makes sense for the PP1 even if you like Sandin a lot
A big part of the knock on Morgan Rielly, aside from some questionable decision making when defending on odd man rushes is that he lacks the traditional booming slapshot from the point on the powerplay, and in many ways is a redundant version of Mitch Marner out there. These are fair criticisms of Rielly on the powerplay, and honestly point to the fact that he isn't being utilized properly.
Back in junior, Rielly was rarely anywhere near the point on the powerplay and instead used him to pin down penalty killers in an even tighter space than the full offensive zone allows. With defenders constantly moving and chasing the play Moose Jaw was able to create openings quicker, move the puck faster, and capitalize more frequently on one timer opportunities. They were also able to create lanes that allowed players like Rielly to be able to skate with the puck a bit more.
Breaking from more of a shooting setup and instead overloading the opposition in a tighter east/west space than in a tight north/south situation seems like it could maximize Rielly's effectiveness.
Toronto can then run a far more traditional powerplay on the second unit.
8. I'm not sold on Sheldon Keefe
I think back to what we saw in the All or Nothing series that gave a small glimpse into Sheldon Keefe, and I think his strengths are evident. He understands the fatal flaws for the Leafs even when times are good, and has a good understanding of the rhythm of the game, and knows when things will take a turn. Those are important characteristics, and necessary for success in the NHL.
The knock I have on Keefe is he still doesn't really seem to know what to do with the information he has about things going sideways. I don't know if it is there isn't buy-in from his players on addressing what needs to be done, or the steps he takes are predictable or half measures that can easily be countered, but Keefe seems to be outcoached most nights.
I can't imagine any situation where Keefe doesn't get the full year to show what he can do, and admittedly I'm okay with that, but I also have to say the lack of sense of urgency out of Keefe when Toronto has struggled against weak opponents is concerning, and if Toronto isn't at the top of the league at the end of the year, upper management wouldn't be wrong to demand that Kyle Dubas make a change.
9. Jared McCann, Frederik Andersen, and Zach Hyman are doing very well
These are all good players and we should have expected them to do well.
Jared McCann's situation certainly stings when Leafs fans are far from happy with Alex Kerfoot and Justin Holl at any given moment, and admittedly this is the one that stings the most of the three players listed above.
Andersen's successful rebound I think really comes from him never doing well after Keefe took over behind the bench. Andersen was a solid netminder during the Babcock years, but like a light being turned off he couldn't click with Sheldon Keefe. Considering the solid years he gave Toronto, it is certainly nice to see him having success again, just maybe he could not do so well when he plays the Leafs.
As for Hyman, well, we knew the first couple of years of Hyman's contract were going to produce results that we'd be jealous of. Hyman's a great player and playing with McDavid he's bound to do numbers.
Of course we also know the condition of his knees, and we know that there isn't a good likelihood those knees will hold up seven straight seasons, heck, but the 40 game mark this year he'll probably need a few weeks off.
In closing, it's nice to see old favourites doing well, but man does that McCann situation still sting.
10. It's still a challenge to believe in this team
5-4-1 against weak opponents isn't awe inspiring. Nor is it comforting that the Leafs look good on paper. You certainly don't want a team that looks bad on paper, but right now the gap between what the numbers say the Leafs should be and what their results are is pretty significant.
Considering that the goal for the year is to move beyond the first round of the playoffs, it wasn't encouraging to see Toronto take only six games to lose four to start the season.
The past three wins seem to be more of a return to the status quo rather than seeing the Leafs truly establish themselves a top tier team in the league. With the Lightning and Bruins being the opposition for the rest of the week, there is a chance to build some confidence, but right now the Leafs still seem to be a giant question mark.