Leafs management endorses Marner and the status quo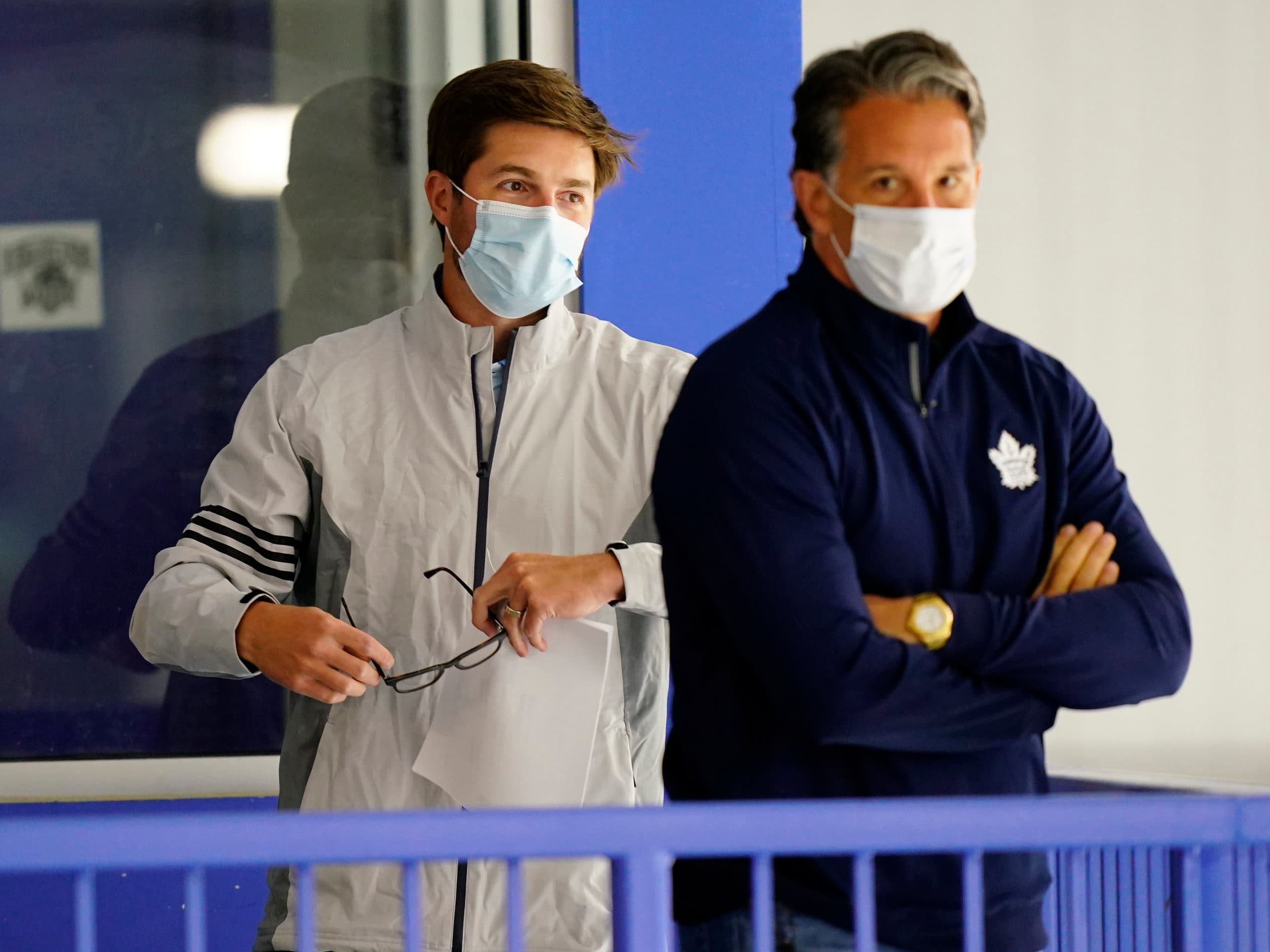 Photo credit:ohn E. Sokolowski-USA TODAY Sports
It's hard to imagine getting much out of a press conference ever. Still for good or bad, they exist, and on a day when Leafs fans wanted to believe that sweeping changes were on their way or at least an identification of what went wrong, we were instead treated to muted endorsements of staying the course with the players, coaches, and direction that has been laid out. After all, this team had a very good regular season, and things just went sideways in the last seven games.
Of course none of that is true. Things have been sideways for the Leafs at several times during the season. Things were absolutely sideways when they lost to a Blue Jackets team that was on the outside looking to the playoffs last season before beating the Leafs in the play-in round. The same Blue Jackets that will be picking fifth in the draft, have moved on from Dubois, Foligno, and Tortorella, and now have Seth Jones announcing his intention to not return. They were not a strong opponent, nor were the Canadiens this season, who seemed ready to can their GM and move on from their interim coach. I'm pretty sure as late as game four I saw tweets from Canadiens fans talking about trading a pick to Seattle so the Kraken would select Carey Price. This is not a fine, stay the course, things are bound to get better situation, and heading into a division that will feature the Lightning, the Bruins, the Panthers, the Canadiens that just beat the Leafs, and up and coming Senators team, a Buffalo team that now owns the first overall pick, and a team GM'd by Steve Yzerman, it's hard to imagine that even their regular season status quo will go over particularly well next year. Sweeping changes seem to be required, and that's why the comments from Shanahan, Dubas, and Keefe were so disheartening.
That doesn't sound like a core group that is going anywhere, and that's a bit of a problem. Of course, Tavares has a NMC and isn't going anywhere. Matthews, underwhelming series or not, you'd be insane to move on from, and of the big four, William Nylander is the closest thing they have to a bargain, so that leaves Mitch Marner as the name that not only Leafs management, but his teammates seemed to be lining up to defend. Arguably if the Leafs defended Campbell half as well as they defended Marner on Tuesday they'd be playing the Jets in a best of seven right now.
The thing is, even if you aren't hung up on Marner's performance in the playoffs this year, last year, or the year before that, or you don't take issue with his difficulty in driving play on his own line, or the lack of physicality or whatever, there's still the fact that he's $11M worth of winger that is a luxury the Leafs can't afford when they need to upgrade in other areas of the ice including building out a more competitive third line and benefiting from one more solid defenseman to put them over the top.
Frankly it's bizarre that this organization seems so comfortable with losing playoff series every year, but is petrified of losing a Marner trade, which in reality, they would lose. For all my criticisms of him, he is an elite playmaker that will land somewhere do very well complimenting another top talent. Unfortunately, Dubas would take some blame for whatever he does unless he somehow pulls off Marner straight up for Eichel. The Leafs need to lose the trade for the sake of flexibility. It's similar to the Marleau cap hit dump or the Kessel trade. Dubas has been very good at losing trades in order to move the team forward, and a Marner trade might be another example of that.
One of the things that needs to be considered is that we're a tad foolish to be taking Shanahan, Keefe, and Dubas at their word. Sure they seemed non-committal on every other answer they gave, but absolute on the core forward group, but it could be a ruse to keep the vultures from circling. It could be that we're two days removed from a situation they didn't expect to be in and their still figuring out what their next moves are going to be, or it could be they are still waiting for their votes of confidence from Shanahan's bosses before they can confidently assert what they'll be doing. The most recent major exit following a playoff blunder was Nazem Kadri's, and in his locker room cleanout day press conference, Dubas didn't make any assertions about Nazem returning, so perhaps we have to prepare for the fact that he's speaking the truth, and the organization has no interest in moving on from Marner.
So where does that leave us as Leafs fans if Marner is sticking around? Well, it leaves us with one hell of a regular season top line winger, and in a tougher division where regular season games will matter slightly more, that's something. It also leaves us with the Leafs attempting to overhaul a team that is losing 12 roster or near roster players to free agency, and another to the expansion draft. They'll have $12.5M (according to
PuckPedia
) to bring back or replace 8 roster spots. That includes having to backfill or sign Zach Hyman, Zach Bogosian, Nick Foligno, Jason Spezza, Alex Galchenyuk, and bring in a goaltender to replace Frederik Andersen. Oh, and they only have three picks in the draft (2nd, 5th, and 6th round picks). It's hard to see the path to improvement without doing something drastic.
After a series that provided fresh embarrassment for team that already had embarrassment in abundance, the lack of call for change is disheartening. Hopefully it was lip service until an actual plan is in place.