Leafs Prospects Poll: The fastest, strongest, and best of the rest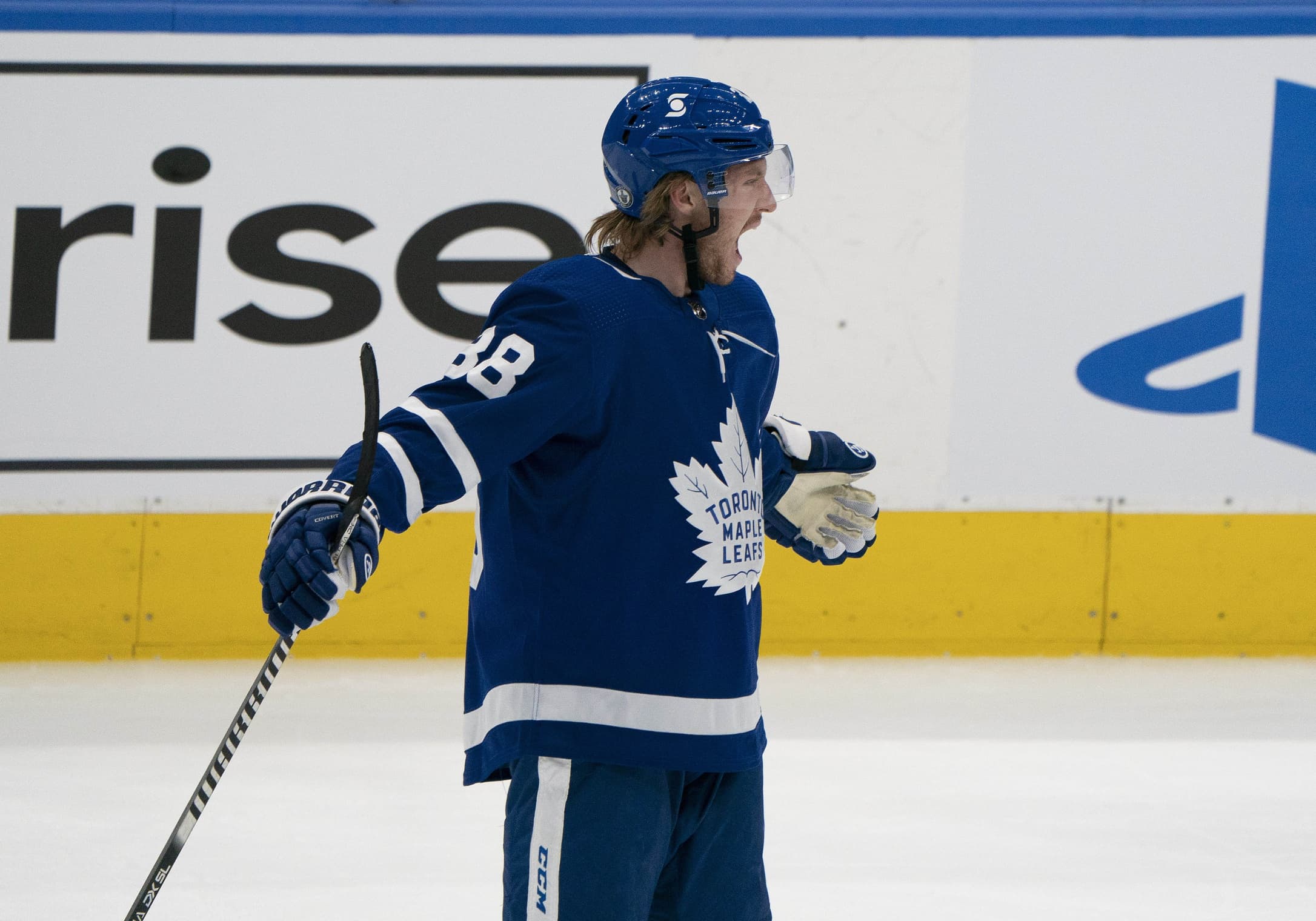 Photo credit:© Nick Turchiaro-USA TODAY Sports
So as you've probably noticed, The Leafs Nation is in the process of counting down our Top 20 Leafs Prospects. It's a lot of fun, and in a time when it's challenging to be excited about or even like the Leafs, the exercise of ranking the best Leafs of the future certainly put us in a good mood, and hopefully while you've been reading them so far, seeing players like Woll or Der-Arguchintsev who have some potential to impact players in the NHL ranked so low gives you hope that prospects still to come will justify some optimism about the organization.
That being said, while doing the rankings this year I didn't want it to be a straight forward just rank the prospects and be done with it approach. I've been known to keep things fresh, and this year we did a bit of a poll around some of the prospects as well. Okay, so that's not exactly fresh or original, but did lead to this supplemental prospect post for you to look at today, so it wasn't entirely bad.
Here are the nine bonus questions asked of our illustrious panel…
Best Longshot Prospect
Right off the top I'll admit I didn't define parameters around the questions. When asking for the best longshot prospect that meant absolutely every prospect in the system was fair game as a response. If someone views Rasmus Sandin as a longshot prospect, they were free to answer Rasmus Sandin. Thankfully no one did, but in case you don't see Semyon Der-Arguchinstev as a longshot prospect, I assure you that some of our panel did and were free to view him as such.
| | |
| --- | --- |
| Best Longshot prospects | |
| Ovchinnikov | 4 |
| Der-Arguchintsev | 2 |
| Miettenen | 2 |
| Rindell | 1 |
| Woll | 1 |
| Abruzzese | 1 |
| Villeneuve | 1 |
It's safe to say that Ovchinnikov sees a lot of love from our panel. First he was ranked 14th by our group as a whole, and now here he is being considered the best of the long shots. Perhaps the challenges with Ovchinnikov are due to the fact that there's never a guarantee that Russian players want to leave the KHL. Maybe the challenge is viewed as Ovchinnikov needing to be a dominant offensive player if he's going to be worth anyone's time, but at the end of the day, he received the most love, and frankly this list isn't overly surprising.
Biggest Bust Potential
We'll go right from the happiness of a longshot making it into someone with high hopes absolutely tanking their career. Again, this is on me for not defining bust, and I'd say with busts there was probably a need for additional clarification. At the very least there would need to be some elevated expectations associated with the player, not just who we'd see as one of the bottom prospects in the organization. Maybe we should have said they needed to be a pick from the first three rounds to qualify, but with our deregulated, free market approach to identifying busts, here's the list:
| | |
| --- | --- |
| Biggest Bust Potential | |
| Scott | 3 |
| Der-Arguchintsev | 2 |
| Liljegren | 2 |
| Ovchinnikov | 1 |
| Anderson | 1 |
| Kokkonen | 1 |
| Kizimov | 1 |
Personally I feel we're coming down a bit hard on Ian Scott who has had some unfortunate injuries, and really didn't have a lot of high hopes associated with him when he was drafted. Making the Canadian World Junior team and a stellar post draft year in Prince Albert certainly had some ready to consider that he could be the Leafs goalie of the future, and the past two years has walked that back a lot.
Players like Der-Arguchintsev and Liljegren are probably more suited to this question, as this seems to be a make or break year for Liljegren, and Der-Arguchintsev might have a hard time living up to his OHL and KHL numbers in the AHL.
Who plays the most games for the Leafs in 2021-22?
This is a pretty straight forward question and one that largely yields the results you'd expect. No one truly wanted to go off the board with a hot take proclaiming Mac Hollowell a surprise NHL regular.
| | |
| --- | --- |
| Who plays the most games for the Leafs this year? | |
| Sandin | 10 |
| Liljegren | 1 |
| Robertson | 1 |
I don't think it's any surprise that the plan is for Rasmus Sandin to be an NHL regular, and that's going to lead to the majority of the votes. There is a vocal faction in the TLN team that believes in Liljegren and thinks he could still be the standout defensive prospect, and of course, when you look at the Leafs forward situation there is always the possibility that someone like Robertson could come in and steal a full time job.
Best Skater
Again this question is pretty vague, so let's assuming that top speed, acceleration, agility, edgework, and all that good stuff was considered by everyone answering the question. The results certainly don't look like people were just looking at North/South speed.
| | |
| --- | --- |
| Best skater | |
| Amirov | 2 |
| Hollowell | 2 |
| Sandin | 2 |
| Liljegren | 1 |
| Niemela | 1 |
| Ovchinnikov | 1 |
| Anderson | 1 |
| Robertson | 1 |
Not a lot of consensus when it came to skating and I think there are different priorities each ranker had when it comes to looking at skating. For a player like Mac Hollowell this certainly establishes what his calling card is and identifies what is going to be what gets him to the next level. Other players here it seems to be another tool in already strong tool kits.
Best Shooter
This was our only unanimous answer, and Nick Robertson swept the vote. While players like Ovchinnikov, Amirov, etc. all have shots to be excited about, no one was going to hot take this category away from Robertson who will be reliant on this ability to nail down a job.
Most Useful Physical Player
I felt we needed the word useful in there and that's going to make it even more subjective. It's fair to say not everyone values players who skate at half speed, hit late, and spend more time fighting than paying attention to where the puck is. Others might not have any problem with that. Of course we want this to be the full spectrum of physicality, and if you love power forwards, vote for the power forward. If you love stay at home defensemen, vote for the stay at home defenseman. If you want a riled up lunatic to punch faces, well now is your chance to sing their praises as well.
| | |
| --- | --- |
| Most useful physical player | |
| Knies | 4 |
| Anderson | 2 |
| Rubins | 2 |
| Sandin | 2 |
| Liljegren | 1 |
| Tverberg | 1 |
Despite some variance, it appears we're a power forward supporting site. Rubins certainly shows promise as a traditional stay at home guy, and the vision of Sandin standing up for himself early in the playoffs has stuck with some and there are going to be people who feel his practical physicality is what best serves the Leafs.
Still, Knies represents a traditional power forward type player that has been absent from the Leafs prospect ranks for a while, and that's why he got the most votes.
Best Project Player
Who is worth the Leafs time in developing for the best reward? Who is going to have the best payoff after a few years of player development? Who is a raw talent worth paying attention to? Any one of those definitions would be something I'd expect from our voters.
| | |
| --- | --- |
| Best Project Player | |
| Gogolev | 3 |
| Rubins | 1 |
| Koster | 1 |
| Holmberg | 1 |
| Der-Arguchintsev | 1 |
| Scott | 1 |
| Abruzzese | 1 |
| Ovchinnikov | 1 |
| Knies | 1 |
| Voit | 1 |
While we were largely all over the board, the fact that the Leafs have signed Gogolev from his AHL contract last season to a SPC this year are signs that they want to see how they can maximize his later blooming abilities. Long prospect arcs have worked for Toronto in the past, as Pierre Engvall, Andreas Johnsson, and others didn't have speedy paths to the NHL. For that reason I was surprised Pontus Holmberg didn't get a few more votes, as he fits the long development project Swede storyline perfectly.
Best Player on an AHL Contract
Up until now we've talked exclusively about players who are on the Leafs reserve list, but alas, won't somebody please think of the Marlies, or the Growlers for that matter. Given that @Justin Holl, Kristians Rubins, and Pavel Gogolev have all earned NHL contracts following their AHL deals we can't rule out that there aren't other hidden gems in the organization waiting to emerge, and here are the players who might be next.
| | |
| --- | --- |
| Best Player on an AHL Contract | |
| McKenna | 3 |
| Hoefenmayer | 2 |
| Chyzowski | 1 |
| Gaudet | 1 |
| Douglas | 1 |
Gaudet certainly gets the former Soo Greyhound vote, but Noel Hoefenmayer who excelled in the OHL following his draft year, and the strong performance from McKenna last season has earned him some consideration as a star AHL contract guy. It's worth noting that the voting took place before the recent article on McKenna by Nick Barden, which does a good job of explaining why people are ready to believe in him…
Best Non-Prospect on the Marlies
It's time to consider the forgotten prospects or depth players. The ones who have slightly aged out, experienced out, or just seem like they meant for the call up life. The Leafs have some decent players in this regard and frankly this question was a hard one to answer. I changed my answer three times and still felt other names I hadn't considered at all are solid.
| | |
| --- | --- |
| Best Player 24 in the organization who isn't on the Leafs | |
| Kivihalme | 3 |
| Malgin | 2 |
| Brooks | 2 |
| Gabriel | 1 |
| Hutchinson | 1 |
| Menell | 1 |
| Clune | 1 |
It's me, one of the guys who said Kivihalme and feels bad for completely forgetting about Brennan Menell. I'll mask this in the fact that I want to believe that the Leafs time developing Kivihalme, and the fact that he's a better fit for more situations is the reason, but a big part of it was I completely forgot about Menell.
I appreciate the sentimental choices of Clune and Hutchinson, and Clune's role with the Marlies serves an important purpose, and in reality a Leafs goaltender injury could make Hutchinson the most important player on this list. That said, Malgin and Brooks also have an opportunity to grab roles with the Leafs out of camp or could be the kind of beneficial depth that puts the Leafs in a great situation at the end of the season.
Did we get this right? Let us know your picks in the comments below.