Maple Leafs may reunite John Tavares and William Nylander on the second line for the playoffs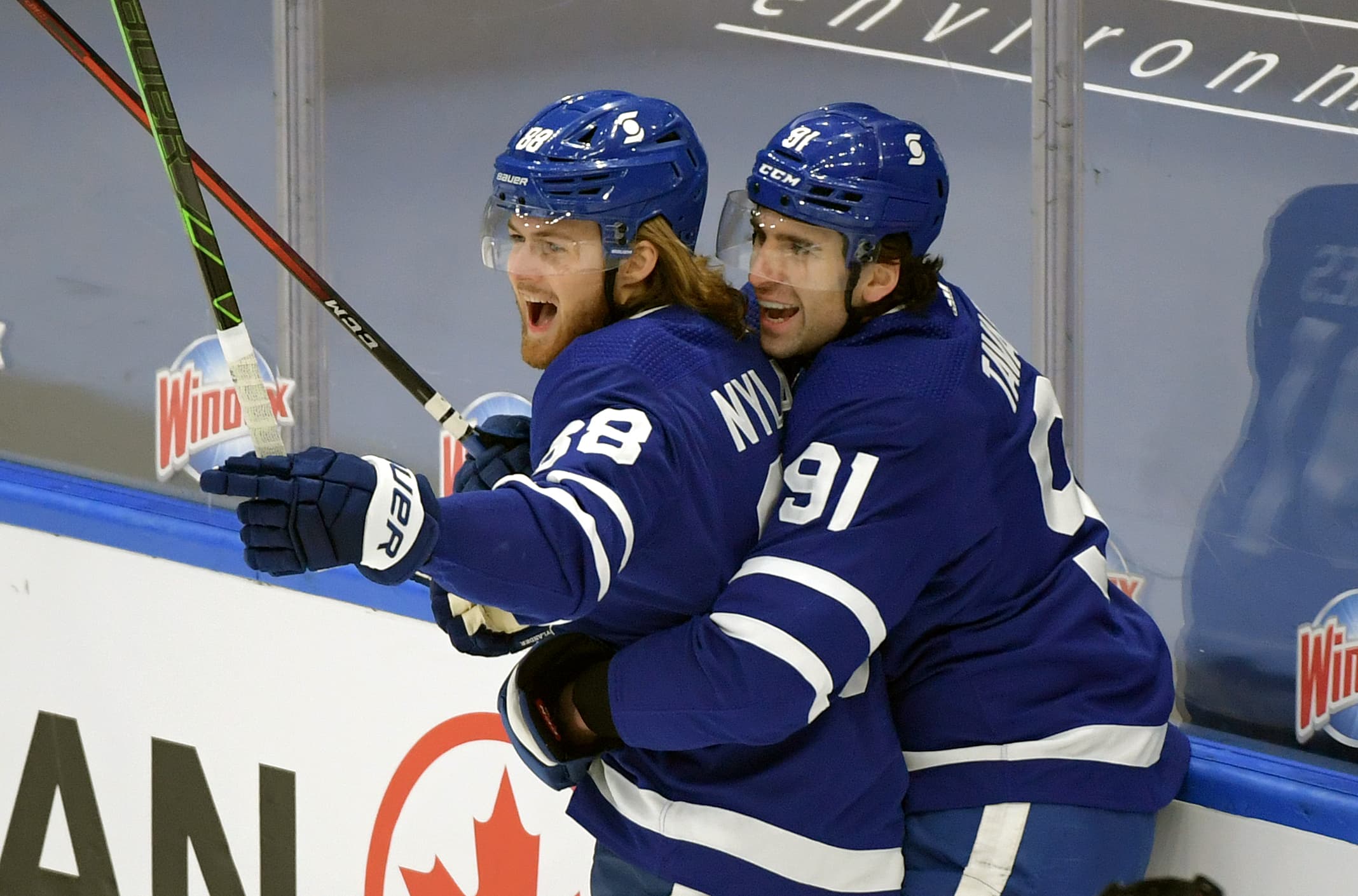 Photo credit:Dan Hamilton-USA TODAY Sports
Although there were times when the duo of John Tavares and William Nylander have struggled to score at even strength this season, Toronto Maple Leafs head coach Sheldon Keefe let it be known on Thursday that he was looking at possibly reuniting the skilled forwards on the team's second line for at least one look before the playoffs begin.
"We're looking that way here now but we'll see who is available to us," Keefe said following the team's first full practice since Apr. 15. "We've got (Michael) Bunting, we've got (Ondrej) Kase and all these (injury) things that do impact the lineup that do impact some of the decision I might make."
During Tuesday's 3-0 win against the Detroit Red Wings, Keefe reunited the pair after Tavares initially started the game with Nick Robertson, who was called up for the contest earlier in the day on an emergency basis.
Tavares with Nylander has always been Keefe's preferred second line duo, but there have been moments this season that forced change.
First there was the 2-4-1 slump to start the season. That forced Keefe to shake things up offensively by swapping Marner and Nylander to play with different centres. Once the ship was righted on that front, Nylander and Tavares skated together again.
But as the season went along, they struggled to put up strong numbers offensively, particularly at even strength.
In early January, Nylander was again shifted to the third line, but quickly reunited with Tavares midway through the second game apart. Last month, Nylander was demoted to the third line again after what he admitted was a weak backchecking effort on Canadiens defenceman David Savard that led to a goal against in a 4-2 loss to the Montreal Canadiens.
Since that game, Nylander has mostly stayed on the third line. But Keefe has found ways to move Nylander up at portions of the game. Most of those situations were late in periods or offensive-zone draws.
But the desire by Keefe to put Nylander back on the second line is understandable for a few reasons.
The Swedish forward was arguably the team's best player during the ill-fated 2021 first-round playoff exit against the Montreal Canadiens. He led the team with five goals and eight points.
Putting Nylancer back on a second-line may be the best way to replicate the forward's output.
The other comes from finding the optimal third line to go up against those difficult first-line matchups.
"The reason why we did what we did a lot of the things we did, not just related to John and Will is to give us additional options and flexibility," Keefe said. "We like that we have that and the players have adapted well to that, so it gives me confidence to make the decisions that I believe are right based on the information that we have and what's available."
Kase skated with the group for the first time since sustaining a concussion on Mar. 19, although he was wearing a red non-contact jersey, he did take part in every portion of practice with the exception of a one-on-one drill toward the very end. He filled in for Tavares on a line with Nylander and Ilya Mikheyev.
Tavares missed the skate for maintenance.
Should Kase get the all clear in time for the playoffs, that gives Keefe an effective third-line forward with a knack for finding the back of the net, further making Nylander miscast in the bottom-six role.
Bunting continues to skate and was on the ice with his teammates for some drills just before the formal portion of practice began.
He's been out with an undisclosed injury but the Leafs are feeling positive about his progression.
Kerfoot's versatility has the potential to dictate everything again
Another factor in all of this is Alex Kerfoot. Although Keefe liked how the forward performed with Matthews and Marner on Tuesday, he admitted that the loss of a player of his versatility and depth hurt the lines below them.
"I felt that when Kerfoot wasn't in our middle-six (forward group) I felt it was an issue for us," Keefe said.  "So that's where I felt the need to move Willy up there with John and have a different look that way.
Should Bunting get cleared in time for Game 1 on Monday, that would free up Kerfoot to play in the desired role and the Leafs could go back to the lines they had with Bunting in the lineup, or possibly reunite the second line of Kerfoot-Tavares-Nylander.
Like Nylander, Kerfoot also had a solid 2021 playoffs for the Maple Leafs with one goal and five assists. Both played together on the second line with Kerfoot moving to the centre position after Tavares was injured in Game 1.
"I feel comfortable in the playoffs," Kerfoot said. "I played a lot last year in the playoffs. If you're into the game and your playing more, you feel like you can make a bit of a difference. Maybe that's what I had my game going a little bit more and felt more comfortable."
Keefe has mentioned on a few occasions that he likes what Kerfoot brings to Nylander's game when they play together. And although Mikheyev has had some success up on the second line, it may be time to given the trio a look.
But like everything, it's going to come down to who is available and what can happen.
An injury to Tavares in Game 1 of the Leafs' playoffs in 2021 forced changes. Nick Foligno started the playoffs as the second-line winger they had hoped they acquired at the trade deadline a month prior, only to be dropped down to centre the fourth line due to injuries he disclosed after the playoffs concluded.
Health is going to dictate everything. But  Kerfoot's versatility is going to be counted on once again.
"He's so consistent, reliable and versatile in how he plays. He forechecks wins pucks back, he can make a play, defensively responsible and a very aware player for what's happening in the game," Keefe said of Kerfoot. "He's a guy that everybody wants to play with and that's part of why you see him moving around."
POINTSBET IS LIVE IN ONTARIO
PointsBet Canada has officially launched in Ontario! Get a $25 free bet just for 
signing up right here!