Maple Leafs meet the physical challenge of the Bruins but lose three players to injury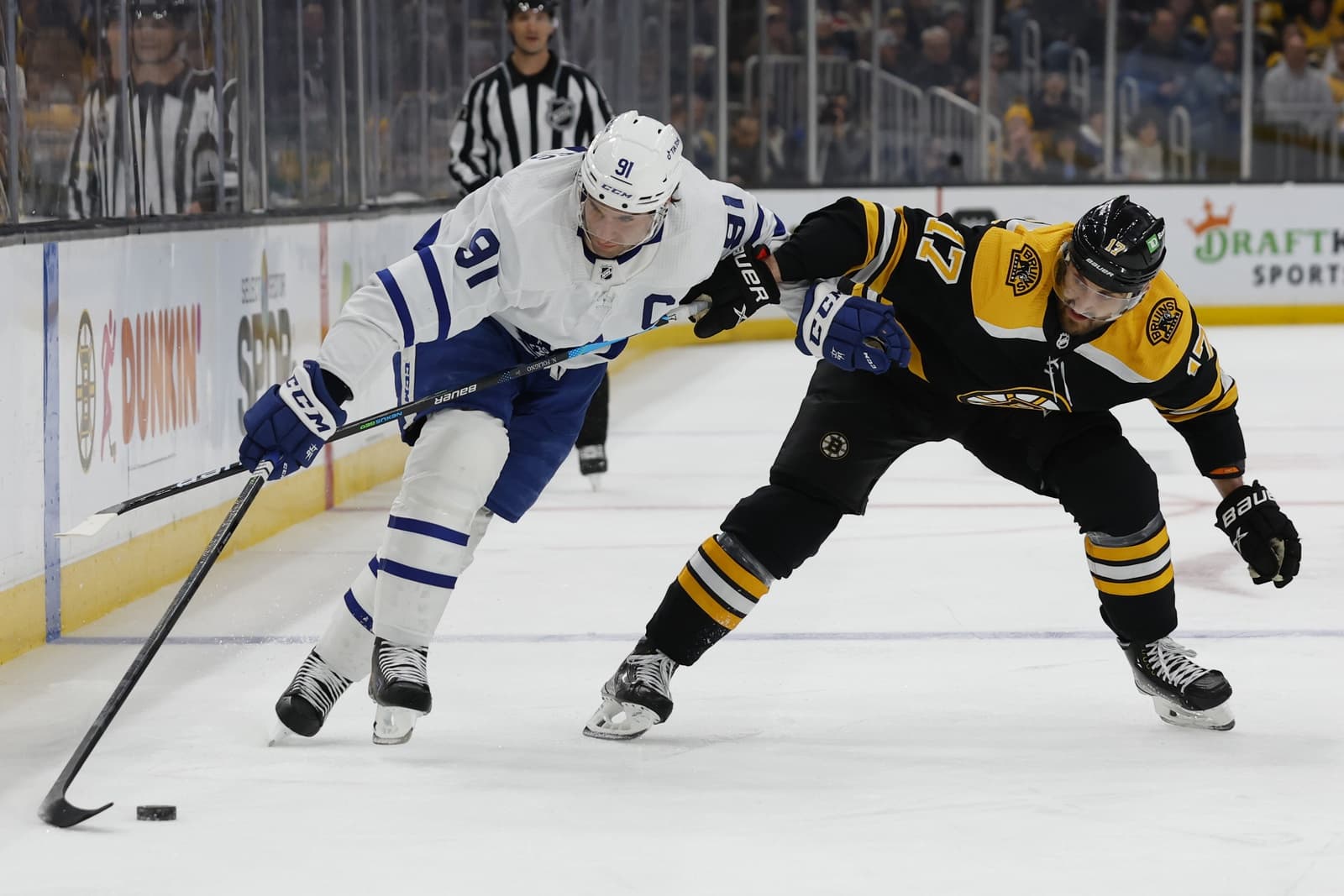 Photo credit:Winslow Townson-USA TODAY Sports
BOSTON – It had been 889 days since the Toronto Maple Leafs last visited TD Garden, but it was as tough a place to play as they remembered.
Even though the Boston Bruins didn't hurt them in the standings, their physicality took its toll on the Leafs.
The Maple Leafs defeated the Bruins 6-4 on Tuesday and while they managed to hang on for an important win in a heated race atop the Atlantic Division, they lost three players to injury.
Petr Mrazek suffered his third groin injury of the season early in the period. It's unclear the exact moment the goaltender was hurt, but after what appeared to be a routine save, he motioned to the bench and began to stretch his legs. When the faceoff came back to his own end on the next play, he was unable to continue and immediately left to the dressing room.
"We don't know the severity of it and we'll get a greater sense of what the situation is in the coming days," Maple Leafs coach Sheldon Keefe said. "It looks like he's going to miss some time."
It's a tough blow for the goaltender who appeared to show signs of finding his game again after posting a combined save percentage of .931 in wins against the New Jersey Devils and Florida Panthers.
Rookie goaltender Erik Kallgren came on in relief and made 23 of 26 saves to pick up his fourth win of the season.
The Leafs had a 6-1 lead at one point before Boston cut the deficit down to 6-4. The three Boston goals came when Toronto was down to just four defencemen.
Justin Holl left the game in the second period after he took a puck to the head when he was in a vulnerable position in front of the Leafs' net. Ilya Lyubushkin also left in the frame after he was the recipient of a punch to the head from Bruins forward Taylor Hall.
There was no update on their status except for the fact that they will be assessed in Toronto.
"I talked to Boosh afterwards," Rielly said of Lyubushkin. "I don't know what's going to happen with him but he seems to be doing ok."
Rielly skated with former regular defensive partner TJ Brodie for the remainder of the game while the pair of Mark Giordano and Timothy Liljegren held steady.
Brodie and Rielly reached logged over 25 minutes in ice time with Brodie leading the way at 26:05.
Fatigue could have been a factor and at one point Keefe said he had some forwards in the queue to ready to play defence had it been needed.
"Every time I looked down, the D looked comfortable and didn't seem like they needed it," Keefe said.
The Bruins and Leafs played on the edge. Canadian Olympic teammates Brad Marchand and John Tavares exchanged words at the end of the second period. Marchand received a 10-minute misconduct for his actions.
"He gave me a few cross-checks, I'm just going to keep playing," Tavares said.
Shortly before that exchange, Alex Kerfoot was shoved to the ice by Boston's Connor Clifton after celebrating David Kampf's goal that made it 6-1.
"I don't think it's necessary after a goal like that," Kerfoot said. "It was just a hockey play and it happened. I played against him (Clifton) in the past so I know him a little bit."
Auston Matthews scored his 49th goal of the season and is now just one goal away from becoming just the fourth Maple Leaf to score 5-plus goals in a season.
"I think we all know he's going to get 50 (goals)," William Nylander said of Matthews before the game.
What about 60 goals?
"That would be incredible," Nylander said. "If there's anybody who can do it, it's him;"
Colin Blackwell scored his first goal as a Leaf. Playing with the Seattle Kraken for most of this season, the Massachusetts native scored in front of family and friends in attendance.
"I haven't scored here since 2011 in high school, so pretty cool return home," Blackwell said.
Kerfoot and Rielly had the other Toronto goals.