The Leafs week ahead: Boston, prospect debuts, Campbell?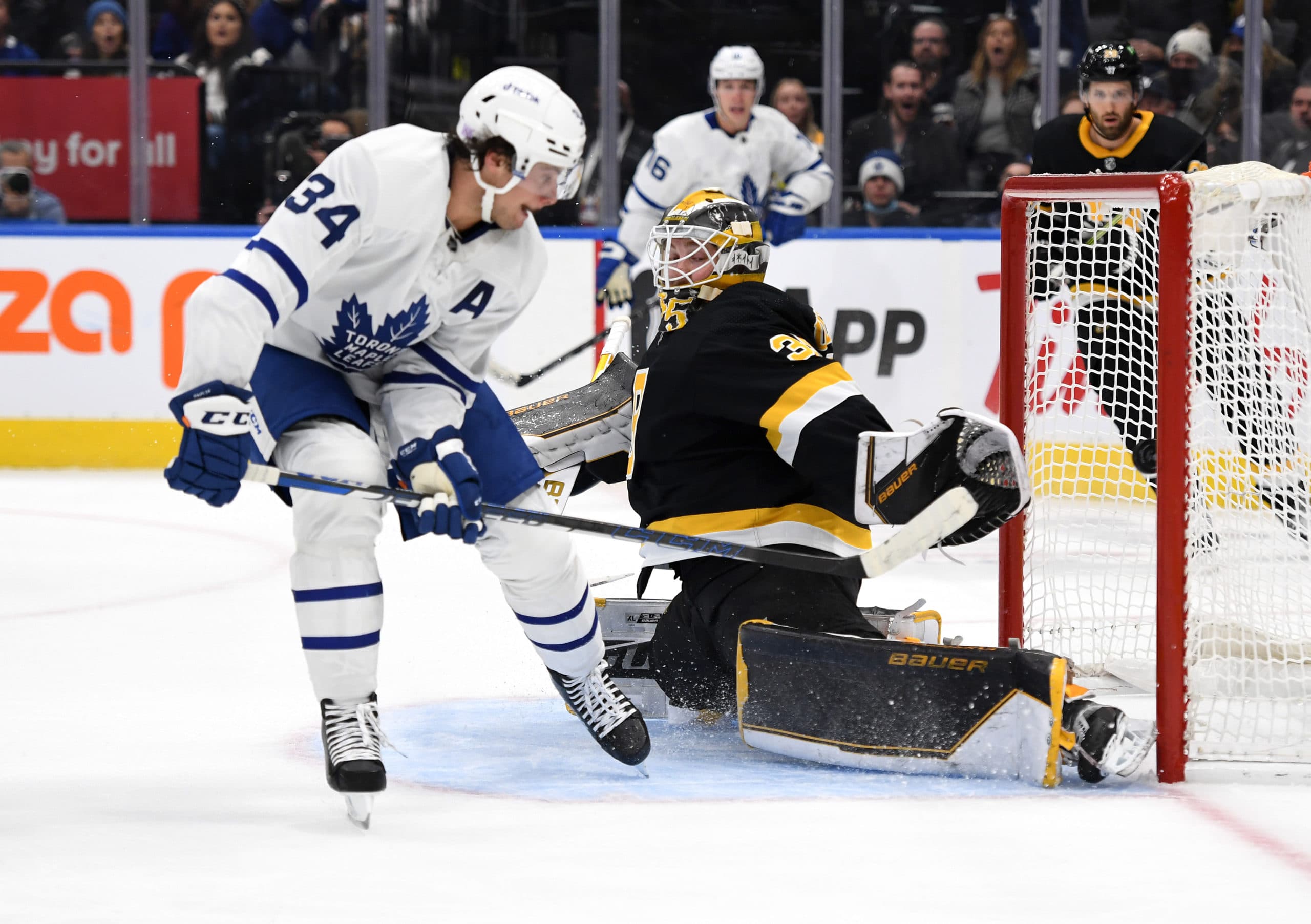 Photo credit:© Dan Hamilton-USA TODAY Sports
With the trade deadline in the rearview mirror, the Leafs coming off a disappointing loss to Montreal, and a rejuvenating win against Florida, it's time to set up the next week for the Leafs. March is coming to a close, and we are finally in the last month of the regular season. It's been a long way to get to exactly where we thought the Leafs would be. Comfortably in the playoffs, but not the top of the Atlantic. Good, but with plenty of room for improvement.
As we start the week, here are some things to keep an eye on this week.
Nick Abruzzese joins the Leafs
As first reported by our own Nick Richard, Nick Abruzzese signed with the Leafs this week to a two year entry level contract. The contract also allows for him to burn through the first year if he plays this season, and it appears he almost immediately will as Toronto has him traveling to Boston (presumably not just to use the MLSE jet to move Abruzzese out of his Harvard dorm room.) Abruzzese has had a big year, being the Ivy League player of the year, and playing for the American Olympic team, now he needs to slot into the Leafs' lineup, and it will be interesting to see what they do.
Abruzzese is a smart player, who can play at both ends of the ice, but he's going to need some sheltering. The fact that he's a center, a definite position of need for the Leafs, could see him get his start in that role centering his own fourth line to start, but the Leafs might also want to see what he can do with some sheltered shifts on Tavares' wing. Who knows, maybe we'll see a Harvard line of Blackwell, Kerfoot, and Abruzzese.
Having Abruzzese join the Leafs straight from college isn't as debatable of a decision as if the Leafs bring Matthew Knies into the fold. Abruzzese is already 22, turning 23 this season. Forwards worth anything generally get their shot around this time, so outside of the learning curve, hopefully, we'll see Abruzzese work as a fit for the Leafs' lineup that seems like it could still use one more producing forward.
Facing Boston
If facing Florida and Montreal wasn't enough, the Leafs stay in their own division Tuesday when they face the dragon that needs to be slain, the Boston Bruins. There will be no peace until the Leafs get that win in the playoffs, but a road trip to Boston is still something that you'd hope to see a strong effort from the Leafs and provide some glimmer of hope that Toronto can get the job done.
The game will also give the Leafs a first look at what Hampus Lindholm brings to the Boston lineup and the unfortunate reminder that Nick Foligno exists.
If the Leafs win against Boston, that's great, we all get to feel good for a little while. If Toronto loses against Boston, well, the narrative machine kicks into high gear and the next month turns into a summit on the Leafs will to win, their confidence, and of course, the level of toughness. The Bruins should be a terrific lesson on buying in, and all players doing what is needed to be done to win, but instead, the tired big bad Bruins narrative will rule the day, ignoring that the Bruins aren't actually that big.
Does Jack Campbell make an appearance this week?
Petr Mrazek might have bought the Leafs and Campbell a bit more time before bringing him back into the lineup, as Mrazek has been much more as originally advertised in his past two outings. Still, the plan was for Campbell to join the Leafs on the road trip to Boston, and that Keefe and the Leafs' doctors would be assessing Campbell's readiness to play. Using those vague timelines it seemed that we could see Campbell as soon as the Leafs' Thursday night game against Winnipeg, but in reality, the game against Philadelphia on Saturday seems more likely.
The hope has been that Campbell having the time to completely heal up from his rib injury would lead to him being a .900+ goaltender again. The bar doesn't need to be high. The Leafs just need NHL goaltending, not even league average goaltending with the strength of their offense. Campbell should be able to provide that, and with Mrazek possibly providing that too, the Leafs could look to be one of those rare teams that can make it through the playoffs without a hot hand in net. They just need a lukewarm one.
What else to watch for this week
Both Wayne Simmonds and Jason Spezza haven't been making strong cases for being every game players, and with little offensive production from either one of them, the door is certainly open for someone like Nick Abruzzese. If they can't have a strong showing this week, they might also find themselves competing against Matthew Knies for a spot in the lineup.
NCAA signings. Matthew Knies and his linemate Ben Meyers (pending UFA) have punched their ticket to the Frozen Four, and won't be available to the Leafs for a couple of weeks, but that doesn't mean that Toronto couldn't look at other options. Nick Richard had a breakdown of who to look at in free agency here.
What's up with Willy? While Tavares seems to be figuring his business out, William Nylander still hasn't been the complete player we've seen him to be at times this year, especially early in the season. The pairing has been broken up, but do we see them reunited, or does Nylander find chemistry somewhere else? Kerfoot-Kampf-Nylander could be interesting, and Engvall-Tavares-Mikheyev could both be work, while a Blackwell-Abruzzese-Spezza line could be equally fun.
The status of Jake Muzzin still needs to be a focus. Right now the Leafs have some flexibility with testing out different players in different situations, and the return of Muzzin means committing to a 20 player roster the rest of the way, save for emergency callups. It will be interesting to see if the Leafs get a good balance of testing out their roster with getting Muzzin back to being playoff ready.
Does Matthews hit 50 for real? Is this the week that we can stop talking about Matthews' pace over an 82 game season, and can now have him be a 50 goal scorer for real? I'd say it's possible, especially with a game against the Flyers on the schedule.