Maple Leafs' Ondrej Kase a 'game-time decision' for Game 1 against Lightning, Michael Bunting 'doubtful'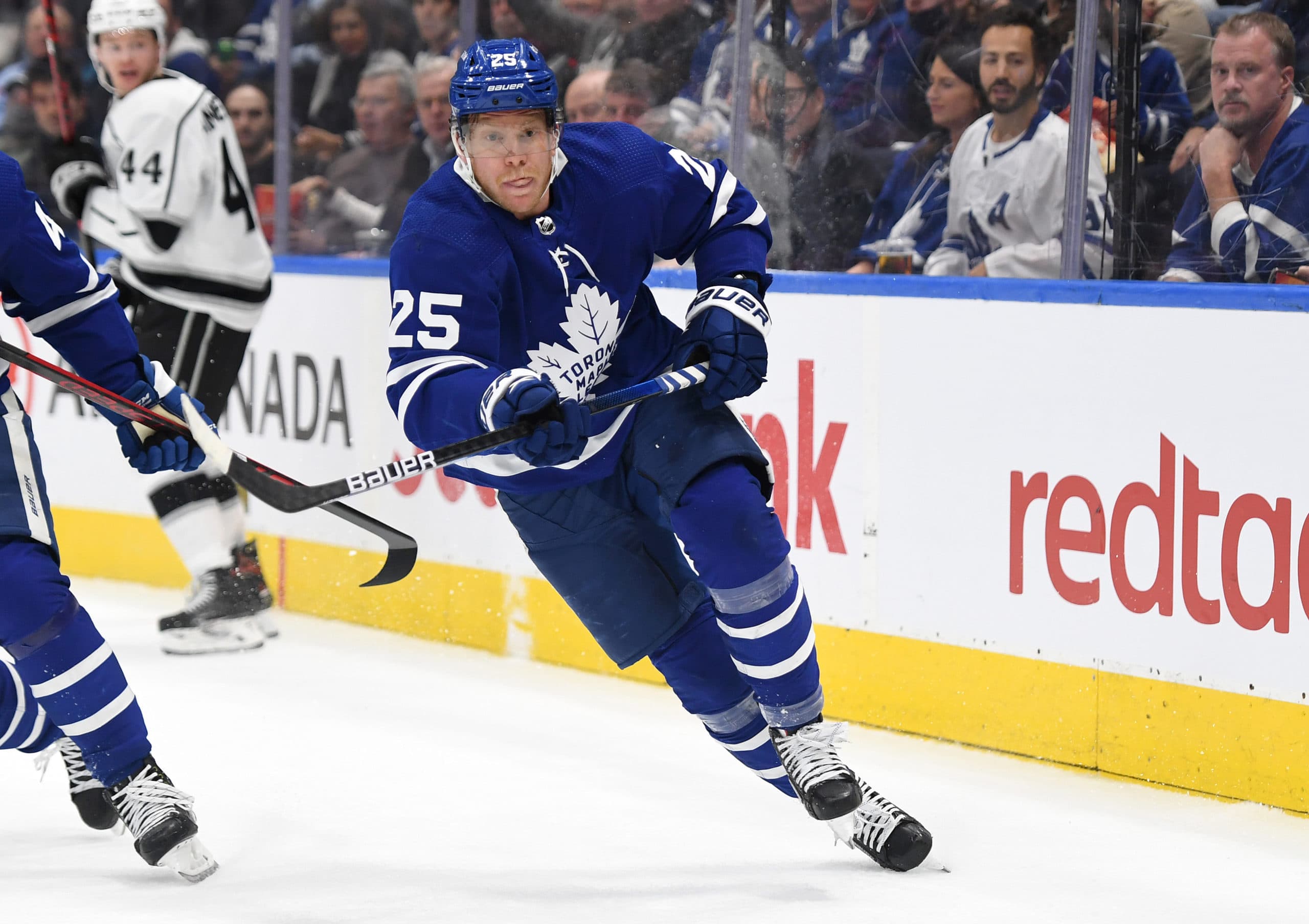 Photo credit:© Dan Hamilton-USA TODAY Sports
The Toronto Maple Leafs could have Ondrej Kase in the lineup for their playoff opener when the team hosts the Tampa Bay Lightning in Game 1 on their first-round Stanley Cup Playoffs series on Monday.
"Kase looks close, we'll make a decision with what we're calling a game-time decision," Maple Leafs head coach Sheldon Keefe said following practice on Sunday.
It's a positive development for Kase, who took part during the team's final regular-season practice on Thursday while donning a red non-contact sweater. The Czech forward has been out since Mar. 19 with a concussion, but he skated on the team's second line with forwards Ilya Mikheyev and John Tavares in a full contact session.
The preparation was such that barring any unforeseen developments overnight and before Monday's game, that the player will likely make his return.
"I think it's a big credit to him and how hard he's worked," Tavares said of Kase. "Obviously he fits in really well with our style of play and our identity as a team. I think it's great to see the way he is progressing."
Kase has been in and out of the lineup all season long with various injuries, but when healthy the speedy player has been productive with 14 goals and 13 assists in 50 regular-season games. His versatility has been demonstrated by playing in both top-six and bottom-six roles this season. He's also played on both sides of special teams.
During practice, Kase skated in the bumper spot of the second power-play unit, a further indication that Leafs are planning for their forward to be in the lineup.
Although the news is good for Kase, the same can't be said for Michael Bunting, who doesn't appear to fully recovered from an undisclosed injury he suffered on Apr. 23 in a 3-2 overtime loss to the Florida Panthers.
"Bunting also is close, they (training/medical staff) wanted to see how he responded today," Keefe said. "I would say he's doubtful for tomorrow but we certainly expect to see him in the series."
The Toronto-native departed practice before his teammate, but he also put time in with skills coach and former Leaf Nik Antropov before practice began.
Although the Leafs have never announced Bunting's injury, the forward was seen shaking out his right leg on his way to the bench and dressing room after falling awkwardly on the ice in what ended up being his final regular-season game.
With Bunting out, the Maple Leafs had Alex Kerfoot filling his spot on the first line with Auston Matthews and Mitch Marner at practice.
The trio also skated together during the team's penultimate game of the regular season, in which they defeated the Detroit Red Wings 3-0.
"Bunts is a little more fiery and stuff but Footer see's the ice extremely well, Matthews said for the difference between Bunting and Kerfoot. "He moves the puck, I think his IQ really jumps out. I just find he's extremely easy to play with, as is Bunts, but obviously they're different players."
Bunting has been a perfect fit on the first line this season. The 26-year-old rookie has amassed 23 goals and 63 points this season. The Leafs have tried different forwards at times with Bunting out of the lineup and appeared to settle on Kerfoot there, for now.
Last week, Keefe discussed Kerfoot's versatility as a key asset for situations like this one. But he also mentioned that the team was missing elements to their bottom-six during Kerfoot's first-line assignment against Detroit. However, with Kase's potential return, the depth issue created by Kerfoot's promotion appears to be remedied to Keefe's satisfaction.
Of course, it should also be noted that the playoffs can make for some interesting lineup changes. What's announced and shown in practice isn't always what the Leafs do come game time. There's a secrecy and strategy that surrounds the postseason. So expect the unexpected.
But for now, it should be interesting to see how the Leafs deploy their offence against the two-time defending Stanley Cup Champions.
Sandin not an option
Out since Mar. 19 with a knee injury, defenceman Rasmus Sandin continues to practice but has been ruled out for Game 1.
"I think he's close but he hasn't had enough of a workload to consider him an option at this point.
Sandin and Justin Holl are slated to be the scratches on defence for the opening game of the series.
POINTSBET IS LIVE IN ONTARIO
PointsBet Canada has officially launched in Ontario! Get a $25 free bet just for 
signing up right here!