Marner pots OT winner as Leafs take a juicy bite out of the Big Apple: Muzzy's Muzings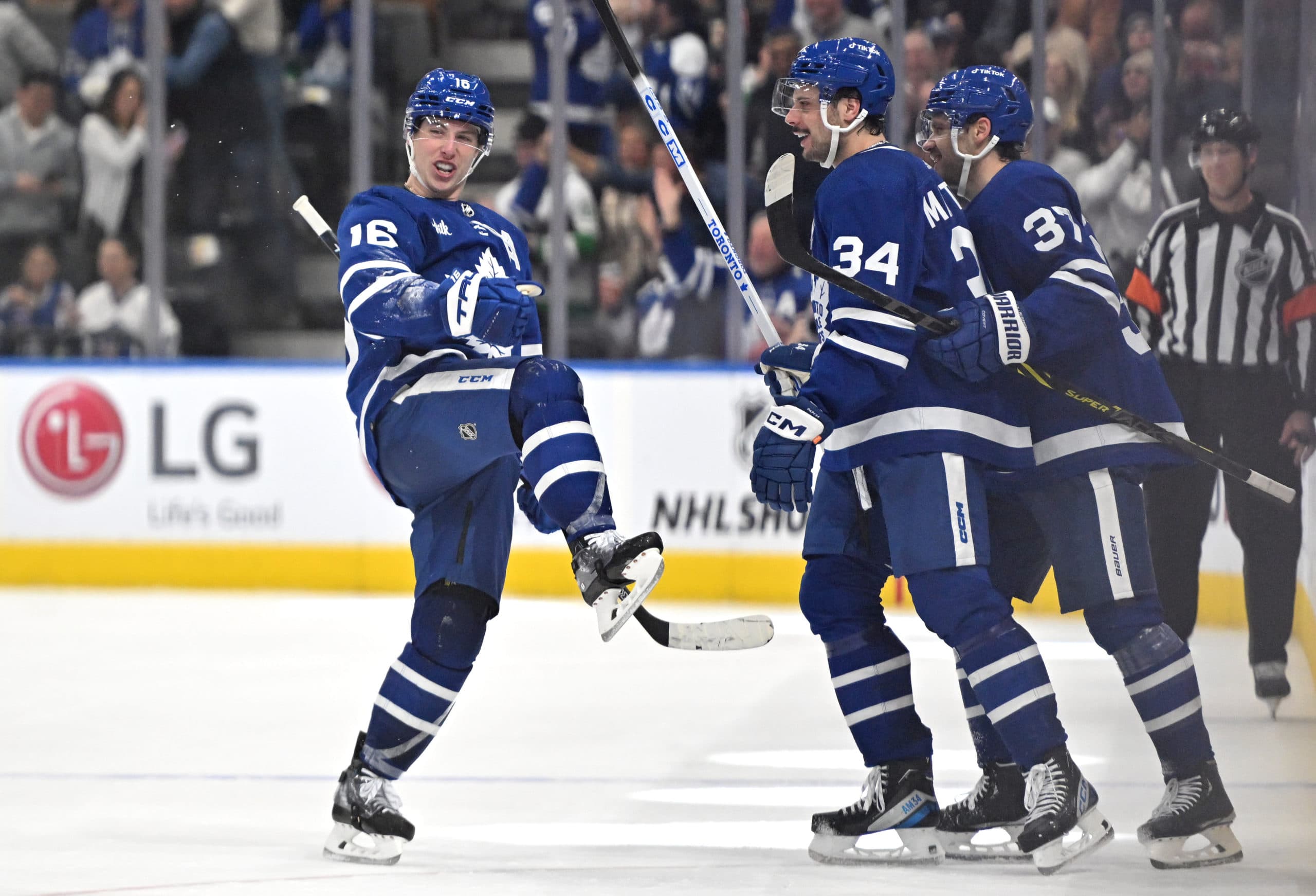 Photo credit:Dan Hamilton-USA TODAY Sports
Another night, another Maple Leafs victory against a premier NHL netminder.
Mitch Marner potted the OT winner while Ilya Samsonov made 27 stops to improve to 14-0-1 on home ice as Toronto upended the Rangers 3-2.
Furthermore, the Leafs, who upped their OT record to 5-8, extended their point streak to five games (4-0-1). Igor Shesterkin turned aside 32 shots in the loss.
With an assist on Timothy Liljegren's tying goal late in regulation, William Nylander picked up his 400th career point. Pontus Holmberg kicked off the scoring in the first period with a beauty backhand, Filip Chytil responded with a pair in the second.
Meantime, no TNT bump for Auston Matthews. The mic'd up reigning Hart Trophy winner was held pointless on the night, which marked the end of both his overall 10-game point streak and his 16-game home point streak. Both were unofficial, so whatever.
Toronto's now 19-3-4 at Scotiabank Arena this season.
MUZZY'S MUZINGS:
 HOLMBERG GETS LEAFS OFF TO HOT START
If the playoffs started tomorrow, Pontus Holmberg would be in my bottom-six for Game 1. Every time he's in the lineup, he does something to impress me more and more. Weirdly enough, he reminds me a lot of Sami Pahlsson, who played nearly 800 games in the NHL. Furthermore, I think Holmberg has a higher offensive upside and pedigree than people think. That was a pretty elite finish on a semi-breakaway in the first period —against Igor Shesterkin no less. All in all, the Leafs had a much better showing in the first period than they did back in Monday's victory against the Islanders. They didn't give the Rangers much.
MILLER HIT
I'm sorry, since it happened, I can't stop laughing at this clip.
For what it's worth, that's the best comedy act I've seen since Schitt's Creek. Don't get me wrong, I completely comprehend what Toronto's brand is, but my goodness, could someone even breath in Miller's direction? Remarkable stuff. I could feel Jay Rosehill clenching his fist from 700 KM away.
SLEEPY SECOND
Similar to the game against Montreal last Saturday night, Toronto had a wicked first and a terrible second. They were snoozing. Furthermore, there's no question that was a cheeky play by Chytil to shoot right off the faceoff on the first goal to catch Samsonov flat-footed and off-guard. That said, he's got to be ready for that. That's the type of stuff you see in beer leagues. Additionally, his second goal came off a flurry of defensive zone turnovers, something that just can't happen if you expect to beat a perennial contender like the New York Rangers. For my money, it's never a bad play to put the puck off the glass sometimes. Sometimes, I feel like they get carried away with this puck possession stuff and forget they're playing hockey. Keep it simple.
SOLID FINISH
After a sluggish second, I thought Toronto stuck with the program in the third period. Unfortunately, they were stuck with the unenviable task of trying to solve Shesterkin, but full credit to them, they persevered. That was a great job by Liljegren on the tying goal to follow up on the play. Additionally, it's not being spoken about a lot, but the Leafs have looked much better in OT in recent outings. It actually seems like they have a plan. Kudos to Sheldon Keefe, the whole starting David Kampf thing has really worked out in Toronto's favour.
HIGHLIGHT OF THE NIGHT:
 WHAT'S NEXT?
 Game three of the five game homestand will take place on Friday night as the Leafs host the Ottawa Senators for another instalment of the Battle of Ontario. Toronto took the opener of the season series also on home ice, 3-2, back on October 15th.