Matt Murray has 'something to prove' as he enters new chapter with Maple Leafs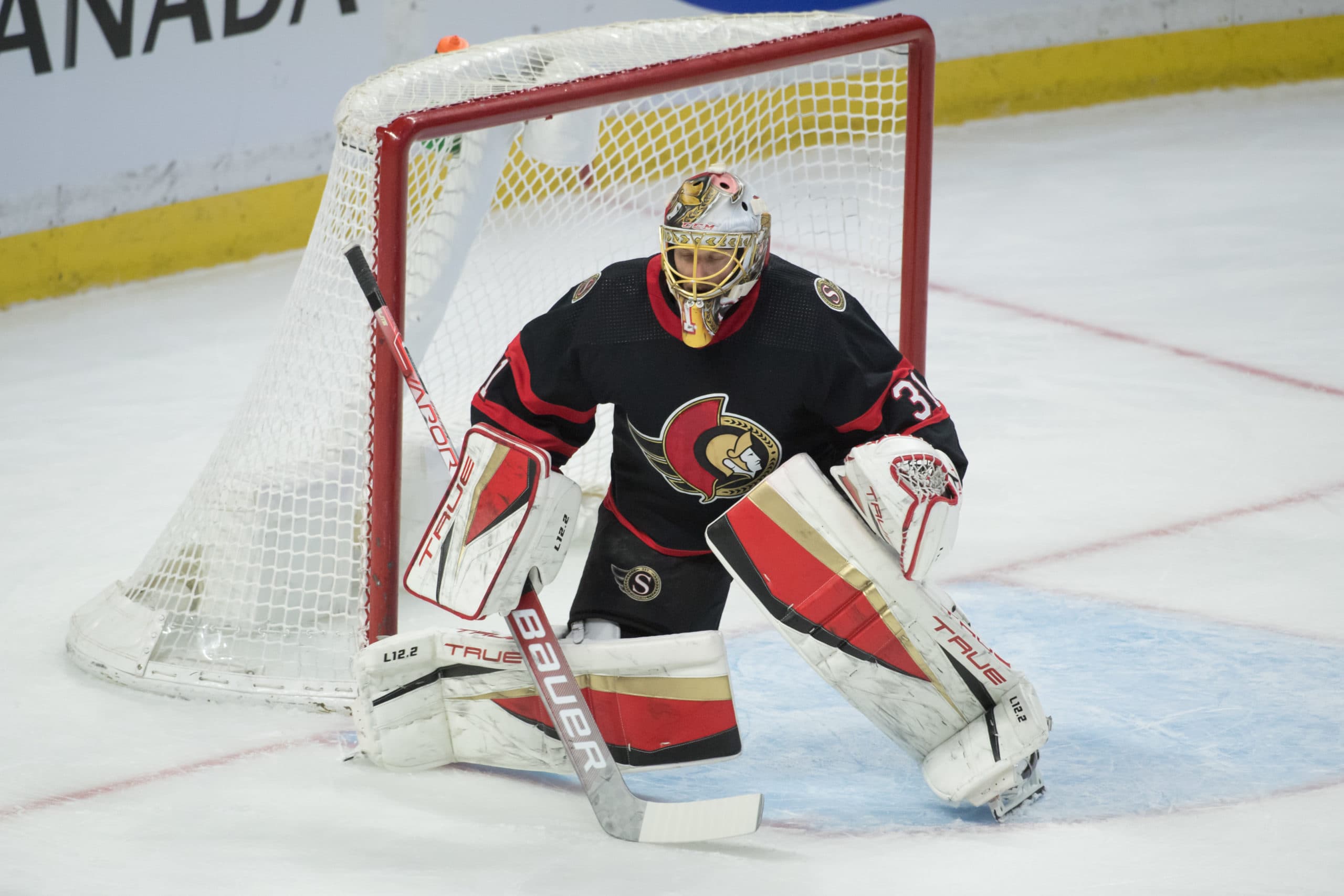 Photo credit:Marc DesRosiers-USA TODAY Sports
Before he took a questions from a number of interested reporters during his media availability, Matt Murray opened with a statement talking about how impressed he was with the Toronto Maple Leafs support team.
"It's a place where I really feel like I can thrive," Murray said.
Perhaps a change of scenery is enough to restart the career of an oft-injured goaltender.
In his two seasons with the Ottawa Senators, Murray posted an .899 save percentage and while he had a decent run of games down the stretch that allowed him to finish the 2021-22 season with a save percentage of .906, the major question that surrounds Murray is health. He wound up on the team's injured list seven times during his time with Ottawa. Earlier this season the season, the goaltender was placed on waivers.
But Toronto, in his mind, is different.
The Maple Leafs are contending team that feels it's a piece or two away from fulfilling it's goal of winning a Stanley Cup, something that Murray has done twice with the Pittsburgh Penguins in 2016 and 2017.
"A huge thing that those Cup runs taught me was it's all about the day-to-day process," Murray said. "It's the end result of a continuous, day-to-day endeavour. That's the approach I've always taken and that's the approach I intend to take once again to try and push myself."
The right people will be around — according to Murray — to help him find another gear.
He'll have Jon Elkin around. The Maple Leafs lead evaluator of goaltending has worked extensively with Murray every year. And of course, there will be the familiarity of Leafs GM Kyle Dubas and head coach Sheldon Keefe, who both had those roles with the Sault Ste. Marie Greyhounds when Murray was in goal during his junior days.
"These are guys I know and guys that know how to push me," Murray said. "I'll just try to do everything I can to maximize my potential."
Murray will also work with newly-hired Leafs goaltending coach Curtis Sanford, who he met for the first time in Toronto over the weekend as the Maple Leafs as the goaltender had a medical evaluation.
And that — again — is where the big question lies.
Can Murray stay healthy?
Without getting into specifics, Murray re-iterated on numerous occasions when pressed about his health that Toronto's team of medical and conditioning experts give him the best chance to stay in the lineup.
"They have every aspect of that covered in terms of medical, physical, diet and I intend to keep in touch with those people as much as I possibly can," Murray said.
From Thunder Bay, Ontario, Murray grew up watching the Maple Leafs with his late father, Jim, who passed on in January, 2018.
"I think he'd be super happy," Murray said of his dad.
Murray is eager to put on the jersey for the first time in a game. Speaking with reporters from his home in Ottawa, Murray has begun the process of looking for a new home in Toronto to move his family down into the area. That will occupy some of his off-season as he spends the rest of it getting ready to maximize his time in Toronto before the season begins.
It's a big gamble by the Maple Leafs. They are committed to Murray for the next two seasons  at a salary cap charge of $4.6875 million. From a term standpoint, that's not terrible in the event it doesn't work.
But there's also the question of how long Toronto's window is open for playoffs success. That's where the Leafs will ultimately be judged in the Murray deal.
It's the playoffs performance.
Unable to win a playoff round since 2004, the Maple Leafs are hoping an established postseason performer is that missing piece.
With two Stanley Cups and a .921 save percentage over 51 playoff games, there's something to be said about the way he performs in a pressure-packed situation.
But he has to stay healthy and help guide the Maple Leafs to a playoff position first. While that seems like a slam dunk given a 115-point season, there's no sure thing. And Toronto will likely need to pick up some sort of insurance policy in a backup should Murray falter.