Practice Shenanigans: Hyman and Nash resume skating, Foligno absent, Holl wearing a face shield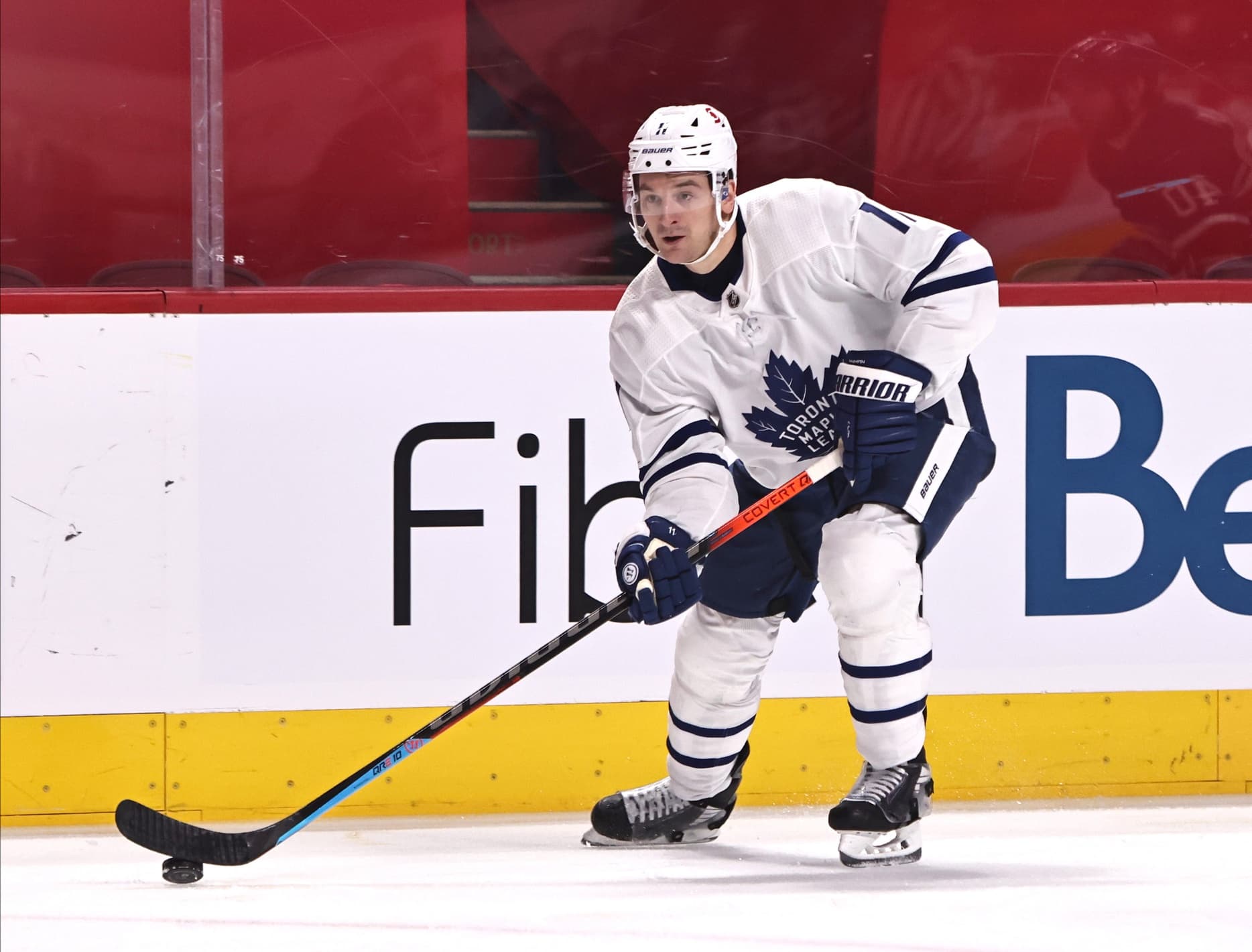 Photo credit:© Jean-Yves Ahern-USA TODAY Sports
When the Leafs face the Canadiens on Thursday night, they will ice a new-look lineup that includes a player that is set to make his debut with the Blue and White:
@Stefan Noesen was acquired in the @Nick Foligno trade near the trade deadline and has primarily been skating with the team since clearing quarantine protocols. He figures to be a serviceable bottom-six forward who will slot in should there be injuries the rest of the way. This opportunity came about due to Foligno's injury that will keep him out of the lineup for the time being (more on that later). Noesen has played five games with the Sharks this season and has yet to record a point.
@Zach Hyman and @Riley Nash making progress
Hyman suffered a sprained MCL and
was expected to miss a minimum of two weeks,
so this somewhat aligns with the recovery period. I imagine that he may get into a game next week before the start of the playoffs unless the Leafs want to be patient with him.
As for Nash, this was his first practice with the Leafs since being acquired from the Blue Jackets. He is also wearing a no-contact jersey but the fact he is even skating with the team is an encouraging sign he will be ready to go for the beginning of the playoffs. At the start of practice,
he and Hyman got a warm welcome from their teammates
so it's clear they are happy to have them closer towards getting into game action.
Nick Foligno not present
As mentioned earlier, Foligno did not practice on Wednesday due to
suffering an injury towards the end of the second period
during Monday's loss to the Canadiens. He has been playing well alongside @Auston Matthews and @Mitch Marner as he has recorded four assists in his first five games donning the Blue and White.
The tweet above offers some good news for Leafs fans as Sheldon Keefe said Foligno could return as early as next week when they face the Senators. That would give him plenty of time to rest up and fully recover from whatever is bothering him. It certainly helps that the Leafs have secured their spot in the playoffs and can afford to sit out players to get them fully ready for the postseason.
@Justin Holl now wearing a full shield
After sitting out Monday's game, Holl made his return to the Leafs' practice with a full shield on his helmet.
He took a puck to the face
during Saturday's win over the Canucks and was badly cut, which forced him to make an early exit.
While it appears that things went well in regards to patching up the open wound, the team decided to give Holl the previous game off to provide him extra time to heal. Now he will be wearing the full shield for the time being since the stitches are still fresh.
Holl is now the second Leafs' defenceman to rock a full shield this season after @Jake Muzzin spent weeks wearing one when he returned from an injury caused by a broken bone in his face.
@Frederik Andersen inching closer to his return
Another day, another appearance from Andersen at practice but no clear answer on when he will make his next NHL start. This time though, we now know he is well enough to get into an AHL game on a conditioning stint.
It is great to see him getting back into game action after missing the last month and a half of playing time. How he does during his time with the Marlies remains to be seen, but getting him back into game action is nothing but good news. His return will provide some stability in the crease and give Keefe a reliable fallback option should @Jack Campbell begin to falter in the playoffs.
The Leafs are inching closer to icing a fully healthy lineup for the first time since the season started and it couldn't have come at a better time with the spring hockey fast approaching. It will be interesting to see how the lines shake-up for Thursday's game and beyond.
Further Reading: