The Leafs wanted Jack Campbell tonight, but sadly, it doesn't look like they'll get him: Leafs Tailgate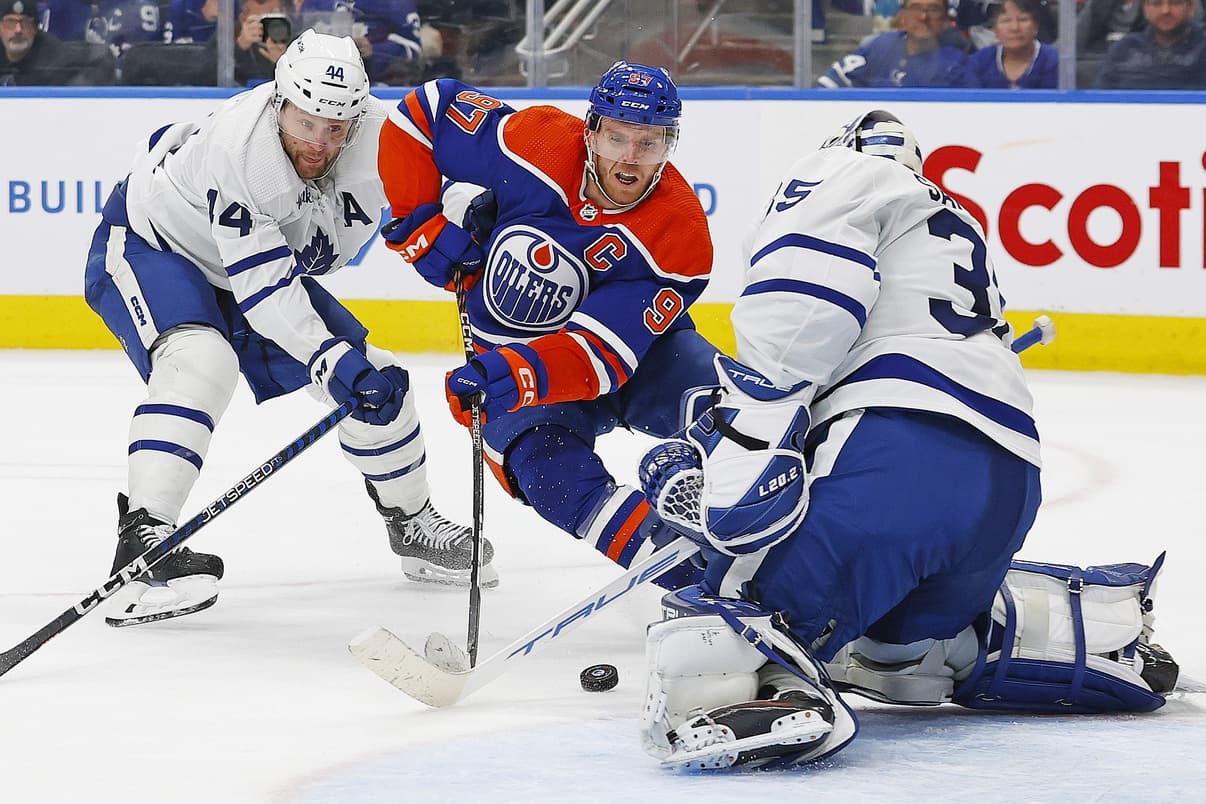 Photo credit:Perry Nelson-USA TODAY Sports
For the first time since February 24th, the Toronto Maple Leafs (39-17-8) will be in action tonight at Scotiabank Arena when they host the Edmonton Oilers (36-22-8).
Toronto's been off since Tuesday night's gutsy 4-3 victory in New Jersey, one that capped off a 3-2-0 five-game road trip. Speaking of which, game two of said road trip was an ugly 5-2 loss at Rogers Place in Edmonton. Unsurprisingly, back on March 1st, Richmond Hill native Connor McDavid led the way for the Oilers with two goals and one assist. Yeah, he's pretty good at hockey.
Meantime, while it's already been confirmed that Matt Murray will get the call for the Maple Leafs, unfortunately, the guy he replaced – Jack Campbell – is expected to back up the red-hot Stuart Skinner in his return to Toronto. So much for the REVENGE narrative. At least he'll get to watch his video tribute pressure-free with a towel around his neck.
Furthermore, after missing one game for "precautionary reasons", John Tavares is expected to make his return to the Leafs lineup tonight. Love it!
Edmonton has won four of five to kick off the month of March. With 18 regular season games remaining, the Leafs are four points up on Tampa for second in the Atlantic Division with a game in hand.
TIME: 7 PM ET (CBC, Sportsnet)
STARTING GOALIES:
EDM Stuart Skinner – LIKELY (19-13-4, 2.83, 0.913)
@
TOR Matt Murray – CONFIRMED (11-6-2, 2.80, 0.908, 1 SO)
PROJECTED LINEUPS:
THREE STORYLINES:
CAN THE LEAFS LIMIT NO. 97?
The first time around wasn't so pretty, let's see what the Leafs can do for the encore. Back on March 1st, as per usual, Connor McDavid had his way, especially in the first period. If you're Toronto, you know he's going to get his, it's all about limiting everyone else around No. 97, which obviously is easier said than done. Without question, if the Leafs are going to come away with two points tonight, they'll have to be much better defensively than they were two weeks ago in Edmonton. Start till finish, that game was a train wreck. It'll be interesting to see how they modify their game plan tonight, because the last one wasn't so effective. That goes without saying.
JACK CAMPBELL'S RETURN
If you wanted to see Jack Campbell square off against the Leafs for the first time since leaving, sadly, it won't be tonight. Stuart Skinner started on March 1st, and he's expected to get the call again tonight. And I don't blame the Oilers one bit. Far and away, he's their best option in between the pipes right now. Additionally, they're still jockeying for playoff positioning in the Western Conference, so all Jay Woodcroft cares about right now is notching the two points. He could care less about the cushy feel good stuff. Too bad, so sad —it would've been nice to see Campbell in there. Unfortunately, the 31-year-old has had a dreadful first season with Edmonton. He's been really fighting it. Thankfully, Kyle Dubas steered clear last summer.
KEEFE CONTINUES TO EXPERIMENT
Personally, I think people are making way too much out of Sheldon Keefe's ongoing experimentation with the lines. As I've been stating for weeks, now's the time to tinker with things and see what you have, especially when you factor in all the changes Toronto's made over the past little while. It might not benefit the team short-term, but I can respect the long-term approach here. We all love Connor McDavid and company, but tonight's game has minimal bearing on the season. Furthermore, I like the Lafferty line staying together for another game. They were fantastic on Tuesday night in New Jersey. If you can believe it, the returning John Tavares will centre the third line tonight —at least to start. Load management, baby. Something like that. In short, everyone chill out, these games don't matter.
BETTING:
(As of Noon EDT)
PROP PLAY:
Auston Matthews Anytime Goal