The Maple Leafs will have an open competition in goal in what could essentially be a coin-flip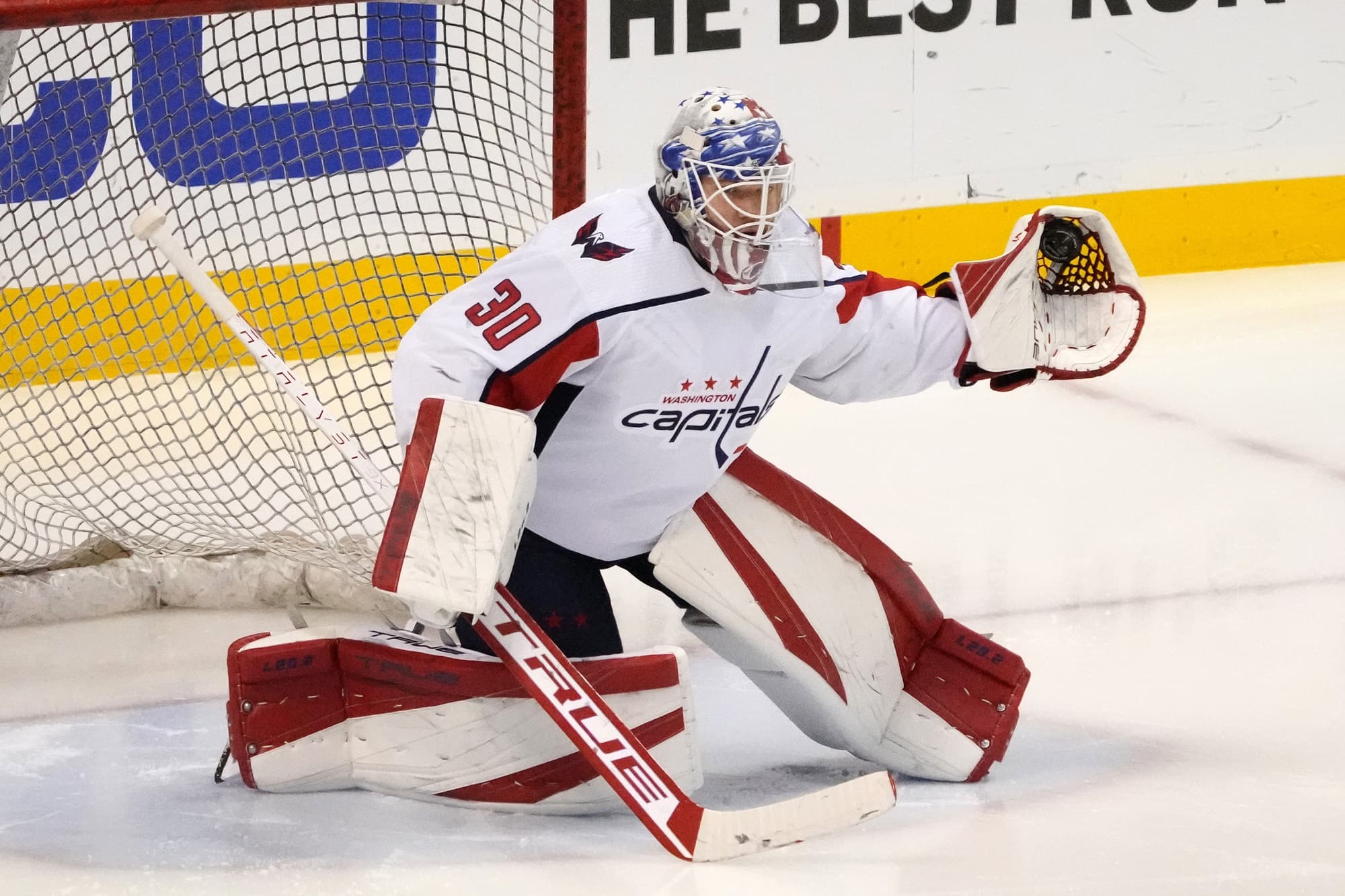 Photo credit:Jasen Vinlove-USA TODAY Sports
The Toronto Maple Leafs' options in goal looked a lot better following the first day of NHL free agency. On Wednesday, they signed former Washington Capitals goaltender Ilya Samsonov to a one-year, $1.8 million contract.
The Russian played in 44 games last season and he essentially split the goaltending duties with Vitek Vanecek. But with Washington's need to improve their situation in goal, they went out and signed free agent Darcy Kuemper to a five-year, $26.25 million. Two days prior, they relinquished the rights to Samsonov by not tendering him a qualifying offer.
"The thing that really stood out to me more than anything was that he really wanted it to be a one-year show me, bet-on-yourself type deal, which is not always common with players coming of this shock of being non Q-O'd when he wasn't expecting it," Maple Leafs GM Kyle Dubas said of Samsonov. "That was impressive to me and combined with the evaluation of our goaltending department of what he can become if we can work with him, get him and get him on the right track."
Samsonov is the other half of a massive bet in goal that the Leafs made this week. On Monday, they acquired Matt Murray from the Ottawa Senators in exchange for a third-round pick and a seventh rounder. In addition, the Senators agreed to retain 25 per cent of Murray's $6.25 million cap hit.
While some were hoping for 50 per cent, Dubas admitted that was what was on the table and the Leafs had to make a decision whether or not to proceed.
Murray on it's own would have been a huge risk for Toronto, but adding a first-rounder coming off a down year in which he posted an .896 save percentage in Samsonov makes Toronto's gamble in net more palatable.
Essentially, they really only have to hit on one of the goaltenders here.
"It'll be wide open to competition," Dubas said about who would be the starting goaltender. "We'll give them both a good run here and our hope is that they both play well as they can and we'll get to work with them in mid-September and get them rolling. I think that'd be a great thing for us if both of them play the way we think they can."
At a cap hit of $4.675 million in Murray, it wouldn't have cost the Leafs much more to retain Jack Campbell, who signed a five-year, $25 million deal with the Edmonton Oilers.
But Dubas admitted this call came down to term.
When the Leafs signed Petr Mrazek to a three-year, $11.4 million contract, they only had to move down in the 2022 NHL Draft by 13 spots in order to unload the remaining two years of the contract to the Chicago Blackhawks.
Should Murray not work out, moving that contract for one more season might be just as easy.
But everything is about deferring anything that isn't a sure thing.
The Leafs didn't believe enough in Campbell to commit to him for five years. There wasn't anyone on the open market they wanted to make that similar commitment to.
In two years, Auston Matthews and William Nylander become free agents and there will need to be some money there to retain those guys.
Outside of their core players, the Leafs continue to sell opportunity and that's what Samsonov and Murray now have.
Toronto also had a glut depth players available on the open market, thanks to a large amount of young players who were not tendered qualifying offers.
In addition to Samsonov, the Leafs signed forwards Nicolas Aube-Kubel and Adam Gaudette to one-year deals. Both players were not tendered by their previous NHL clubs.
Dubas is hoping those types of players see how forwards like David Kampf, Michael Bunting and others flourished with an opportunity to play with the likes of Matthews and Nylander.
It might work again? But it's a big ask.
Getting Samsonov certainly helped Toronto's goaltending situation look better. The combined cap it for their tandem this season is $6.4875 million.
There's a lot riding on the Maple Leafs this season. You can make the argument that their starting goaltending option this season got worse and their backup option got better.
Those don't really come out in the wash.
It's really going to be a coin flip in goal and that speaks a lot to what can happen this season.