Timothy Liljegren poised to have another strong season with Maple Leafs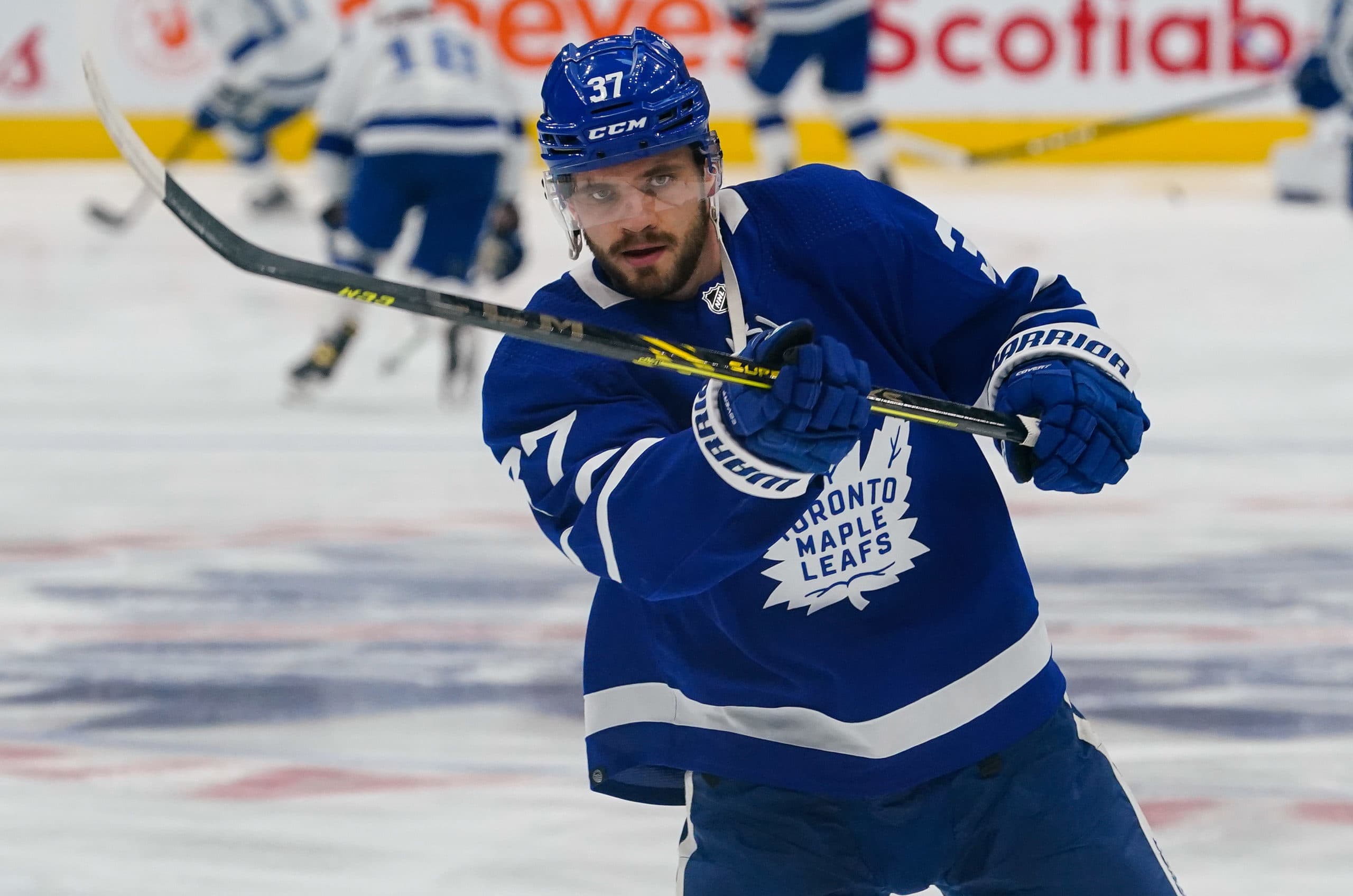 Photo credit:John E. Sokolowski-USA TODAY Sports
The Maple Leafs got a good one in Timothy Liljegren, and he might just get even better this year.
Entering the 2021-22 season, it was a mystery as to what the 22-year-old might be. Going from the AHL to the NHL is no easy task — it was always going to be a big jump for Liljegren. Nobody knew if he'd take the opportunity and run with it, or succumb to the pressure of being an NHL defenceman.
But we all know what he's done now.
Last summer, before the 2021-22 season, Liljegren was able to level up a number of his attributes. The 22-year-old added plenty of strength and physicality to his game, while also growing his hockey IQ in the process.
One of Liljegren's mystery attributes is his speed. In the clip above, you can see the 22-year-old give up the puck at the blue line, but is able to make a nice recovery, outmuscling Ondrej Palat for the puck.
His speed is such a secret because he makes it look so effortless while he's on the ice. The skating of Liljegren is what makes his speed unpredictable. While he's backchecking against Palat, the 22-year-old has to turn his body after giving up the puck — all while at a standstill.
After Liljegren turns, he only takes five strides compared to Palat's eight and is able to beat him to the puck. This was one of the moments last season where he proved to plenty of people that he's a capable NHL defenceman.
Here's yet another clip of him stopping a potential breakaway, this time on Jeff Skinner in the Heritage Classic in Hamilton. Although the 22-year-old is using his strong skating in this play, where he's really shining is in his stick play.
Liljegren is able to catch up to Skinner, but just as he does, he wraps his stick around and is able to tie him up, not allowing a shot to be taken.
This is a scenario from earlier on last season that demonstrates his hockey IQ. On two separate occasions, Liljegren is able to make strong plays with the puck. First, flipping the puck with ease to Rasmus Sandin as three players approach him, and then later throwing the puck on net, resulting in a goal for the Maple Leafs.
The 22-year-old spent a lot of time on the power play with the Marlies because of his knowledge of where players are on the ice. Using his hockey IQ and his strong passing abilities, Liljegren makes for the perfect defenceman in the offensive zone.
It isn't just in the offensive zone where his passing shines, though. The 22-year-old is able to make passing plays wherever he might be on the ice. The offensive zone, neutral zone, defensive zone — you name it — Liljegren is able to make plays anywhere.
He makes a lot of this happen when his confidence is high.
Similar to a number of younger players within the Maple Leafs organization, when they have an abundance of confidence, they can't be stopped. It rings true in the clip above, where you can see Liljegren get around two players before trying to get a pass over to Auston Matthews for a scoring chance.
But when his confidence isn't there, there are concerns about the 22-year-old's physicality. Although there are moments where Liljegren does use his body, to me, he could be using it a lot more, especially with his six-foot frame.
He used his body plenty in the AHL with the Marlies, but since getting to the NHL he's been shy with it. With more experience likely comes a lot more physicality in the future.
Another part of Liljegren's game that needs improvement is his decision making in the defensive zone. In the AHL, there's a bit more time to make a decision with the puck, but it's not entirely the same in the NHL.
It's similar to physicality — experience will help the 22-year-old a good amount. The more he gives up the puck, the more he'll learn how to keep it and make the better play next time around. Everyone makes mistakes, it's just about learning from them.
Where will he begin the 2022-23 season?
Aside from the small adjustments he needs to make in his game, it shouldn't be understated that he took huge steps this past season.
While he spent most of his time last year on the bottom pairing, Liljegren did get a chance higher in the lineup. And other than in the playoffs where it was a bit more difficult, the 22-year-old impressed many when he moved up the ranks.
From 2020-21 to the 2021-22 season, there was plenty improvement in almost every underlying statistic aside from CA/60. His offensive capabilities clearly show with his best numbers coming in that category last year.
Liljegren led all Maple Leafs defencemen at five-on-five with a 3.14 xGF/60 and came second in GF/60, only behind his defence partner, Mark Giordano. On the defensive side, the 22-year-old had the third-best HDGA/60 (1.48) at five-on-five, trailing Giordano and Ilya Lybushkin.
He even held the spot for the second-best xGA/60 (2.13) at five-on-five, again, only behind his partner, Giordano.
I do believe that while it is time for Liljegren to move up within the lineup, I'm not sure if it should be alongside the 38-year-old Norris-winning defenceman. Don't get me wrong, they're great together — that's proven. But putting them alongside each other will place Muzzin back with Justin Holl and I'm not sure many want that.
It's such a difficult decision because there might be something if you try the 22-year-old alongside Morgan Rielly. That pairing could very well be something that works in the future. And I'm not too sure Liljegren would be the perfect partner for Muzzin.
But if there's one conclusion that's clear, it's that Liljegren shouldn't be a third-pairing NHL defenceman anymore. He's proved plenty that he deserves to be a bit higher in the lineup.
The real test to see if he's ready to take the next step will begin in a few weeks, once training camp opens up. That's where he'll either make his mark, or show that he might need a bit more time.
(Charts via Evolving-Hockey.com & Statistics via NaturalStatTrick.com)