Who's left and who's leaving from Leafs camp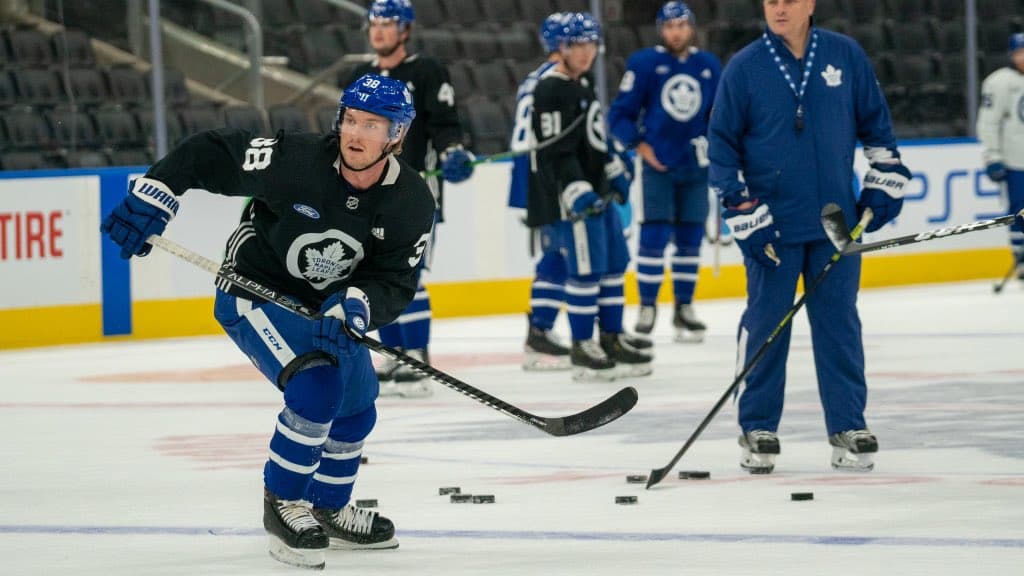 Photo credit:@mapleleafs Twitter
[extreme Sheryl Crow voice] The first cut is the deepest…
My stupidity aside, the Leafs have been hacking away at their training camp roster over the past couple of days, and with the Marlies camp opening, it looks like they'll have actual Marlies attending it.
So far we've focused on who's gone and you can find that info here:
Right now we're going to focus on who is still around and what chances they have of making the Leafs.
Forwards:
| | | | |
| --- | --- | --- | --- |
| Locks | Likely | Longshots | Will be cut |
| Matthews | Mikheyev | Engvall | Amadio |
| Tavares | Simmonds | Brooks | Seney |
| Marner | Semyonov | Gabriel | Anderson |
| Nylander | | | |
| Kerfoot | | | |
| Spezza | | | |
| Bunting | | | |
| Ritchie | | | |
| Kampf | | | |
| Kase | | | |
When it comes to forward group it looks like most of the tough decisions have already been made. Robertson didn't show enough in training camp to make the Leafs, Ho-Sang is going to require a bit more time with the Marlies before he's ready to join the Leafs, and Nikita Gusev was essentially a bust. That puts things down to 10 absolute locks and 3 likely candidates to make the Leafs.
The fact that Kirill Semyonov doesn't require waivers, and is the only player on that list that doesn't require waivers could see him sent to the Marlies even if he's been stronger than players like Engvall, Brooks, or Gabriel. There's also no guarantee that the Leafs will want to carry 13 forwards to start the year, and could opt to go with 12 forwards, 7 defenseman, or not carry a reserve player at all and bank the cap space.
Amadio has had a surprisingly strong camp, but other than potentially earning himself a callup over the course of the season it's hard to imagine he's played his way into the Leafs conversation, and the same can also be said for Kurtis Gabriel, who has likely earned himself a spot on the callup list when Sheldon Keefe and Kyle Dubas are looking to insert some toughness into the bottom six.
While there are worries about what could happen to Engvall or Brooks if they are waived, I think the idea of completely clearing Engvall's contract might be looked at as positive by the organization, and while Brooks is very serviceable in the depth center role, it's unlikely that teams are ready to prioritize him over their own depth at this point. Joey Anderson could be another interesting player to sneak through waivers, but in reality he hasn't shown enough that he's worth a claim at a time when teams are finalizing rosters.
Defense:
| | | | |
| --- | --- | --- | --- |
| Locks | Likely | Longshots | Will be cut |
| Rielly | Sandin | Menell | Dahlstrom |
| Muzzin | Liljegren | | Biega |
| Brodie | | | |
| Dermott | | | |
| Holl | | | |
So in reality we can probably assume that Rasmus Sandin is as close to a lock as possible, and Liljegren stands a very good chance of being the 7D to start the year. The one thing that could see him cut is the fact that he doesn't require waivers and there could be interest in making sure he still plays every day. That's not a bad decision, although I'm not sure that all Leafs fans will welcome it.
Menell is potentially the next in line for the 7D spot if Liljegren is out, and Biega and Dahlstrom certainly seem to be Marlies bound, with Dahlstrom having a particularly rough camp and preseason.
Goaltenders:
| | | | |
| --- | --- | --- | --- |
| Locks | Likely | Longshots | Will be cut |
| Campbell | | | Hutchinson |
| Mrazek | | | Cormier |
I'm just including goaltenders for the purpose of being thorough about this, but we know what's happening here. The only potential interesting twist is if Hutchinson gets claimed off waivers today and Toronto needs to explore depth goaltending options. It's worth noting there are some really bad teams out there this year that could look at Hutchinson as a viable backup option for them.
With one preseason game remaining we are getting quite close to a finalized Leafs roster. We're also entering the stage of training camp were the Leafs are potentially waiving nine players in the coming days which will keep things interesting as well.