Wild Bill notches OT winner as Leafs come from behind to take down Panthers: Muzzy's Muzings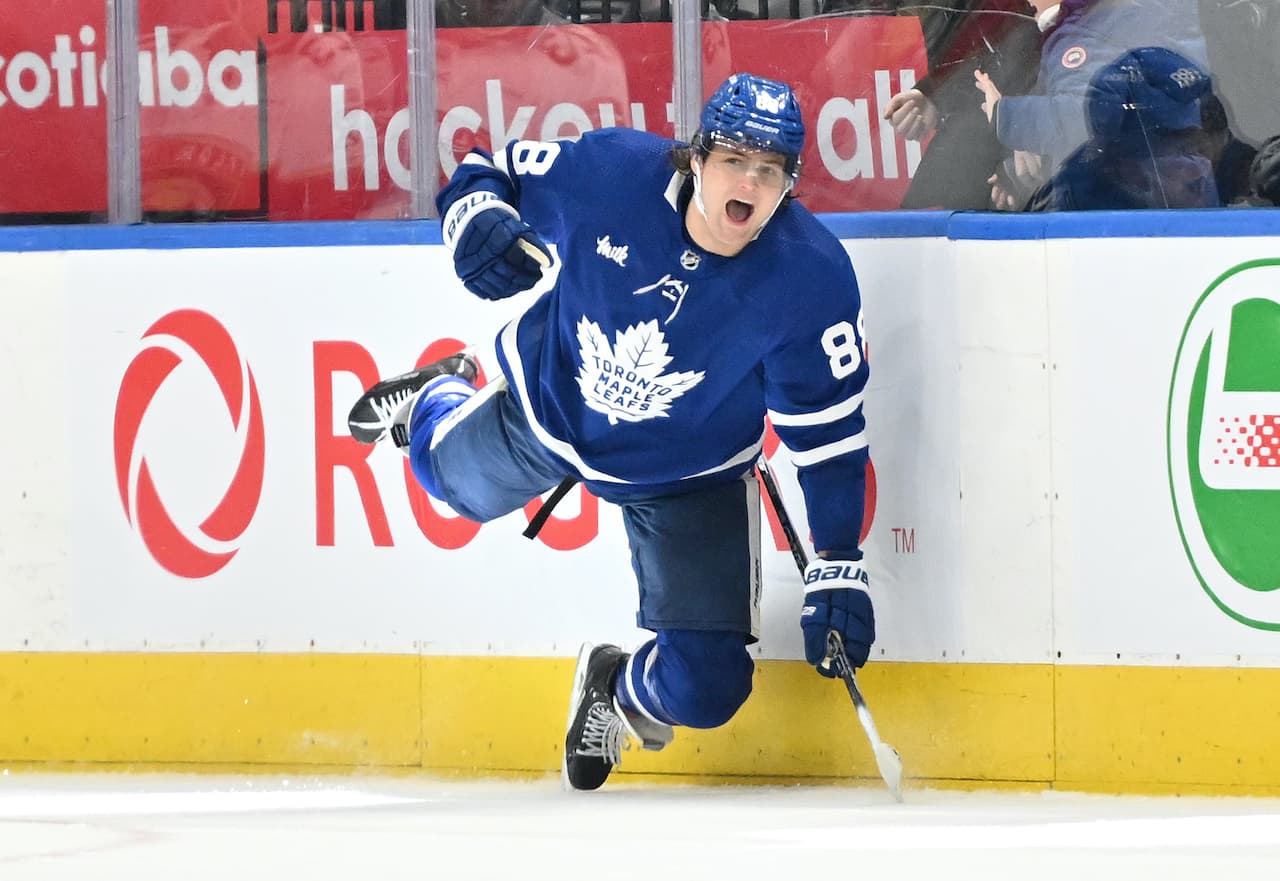 Photo credit:Dan Hamilton-USA TODAY Sports
You can't stop William Nylander, you can only hope to contain him.
What a wild night at Scotiabank Arena.
Nylander potted both the game tying goal and the OT winner plus he added an assist to lead the Leafs (27-11-7) to a come from behind 5-4 victory against the Florida Panthers (21-20-5).
It was 4-1.
So, down 4-3 in the third period, Nylander was awarded a penalty shot. He missed the net. But full credit to him, the winger stuck with the program and ended up having a puck go in off him about five minutes later to tie the game up. Talk about good hockey karma.
This game literally had it all —including a goalie pull.
After surrendering four goals on eight shots, Matt Murray got the hook in the second period after Aleksander Barkov's 12th of the campaign gave the Cats a seemingly commanding 4-1 lead. And full credit to Ilya Samsonov. The 25-year-old went 11-for-11 in relief – including two big stops on Gustav Forsling and Carter Verhaeghe in the third – to improve to 12-0-1 on home ice this season.
Meantime, Mitch Marner racked up another two assists. With his first apple, the 25-year-old extended his home point streak to 19 games, which is now a franchise record.
In total, there were 10 power plays on the night; Toronto went 2-for-7, Florida went 1-for-3. Honestly, you almost started to feel for Paul Maurice, who was having a full-blown conniption behind the Panthers bench.
The Leafs are now 8-0-0 against opponents playing in the second game of a back-to-bck. Over and above that, they're now 4-7-0 in overtime.
MUZZY'S MUZINGS:
PARADE TO THE PENALTY BOX
I'm not usually one to rag on officials – because I don't envy the job – but my goodness, they lost complete control of that game. Simply put, it was a hot mess. When Radko Gudas is turtling on Zach Aston-Reese in an attempt to draw a call, you know there's a big problem. Personally, it was the mass confusion on several occasions that incensed me. Like, get with the program. This is the National League. At any rate, no one's perfect. We all have our off days/nights, and that's what I'll simply chalk this one up to for the officials. For what it's worth, I would've felt this way even if the Leafs lost the game. Inexcusable.
 MATT MURRAY
After surrendering four goals on eight shots, the 28-year-old got the hook for the first time as a member of the Maple Leafs. And there's no question it was warranted, too. He just wasn't good. I thought he let some stinkers in against the Bruins on Saturday night, and that continued against the Panthers on Tuesday night. Over his past 10 appearances, Murray has registered a pedestrian 0.888 save-percentage. Additionally, since the holiday break, he's allowed four or more goals in four of his seven starts. Alarming stats, yes. Panic time, hell no. It's a long season, but indisputably, the team in front of him has to do a better job defensively, too. To take a positive from an ugly situation, Ilya Samsonov did a tremendous job in relief. He shut the door in true Jordan Romano fashion.
WILD BILL
What more can I say about Nylander? He's been downright incredible this season. For me, the biggest difference has been the consistency. There have been few outings where he's been a passenger. Even when he doesn't have his best game, it seems like he's been finding ways to get involved and make a difference. All things being equal, that's what sets good players apart from elite players. Without question, Nylander's taken that next step this season and has put himself in a fantastic position to hit the jackpot financially once again next summer.
BETTER MO
Following a forgettable outing in Boston, I thought Morgan Rielly was much better. Furthermore, that was a filthy pass to set up Dryden Hunt early on for his first goal as a Maple Leaf. From a skating standpoint, I noticed a bit more zip in Rielly's step too. Considering how he's played since coming back, it was a positive night. We'll leave it at that. Love it.
HIGHLIGHT OF THE NIGHT:
WHAT'S NEXT?
Coming up on Thursday night at Scotiabank Arena, the Leafs will host the Jets to wrap up their two game season series with them. Toronto took the opener in Winnipeg, 4-1, on October 22nd.