5 European Free Agent Forwards the Leafs should sign in 2022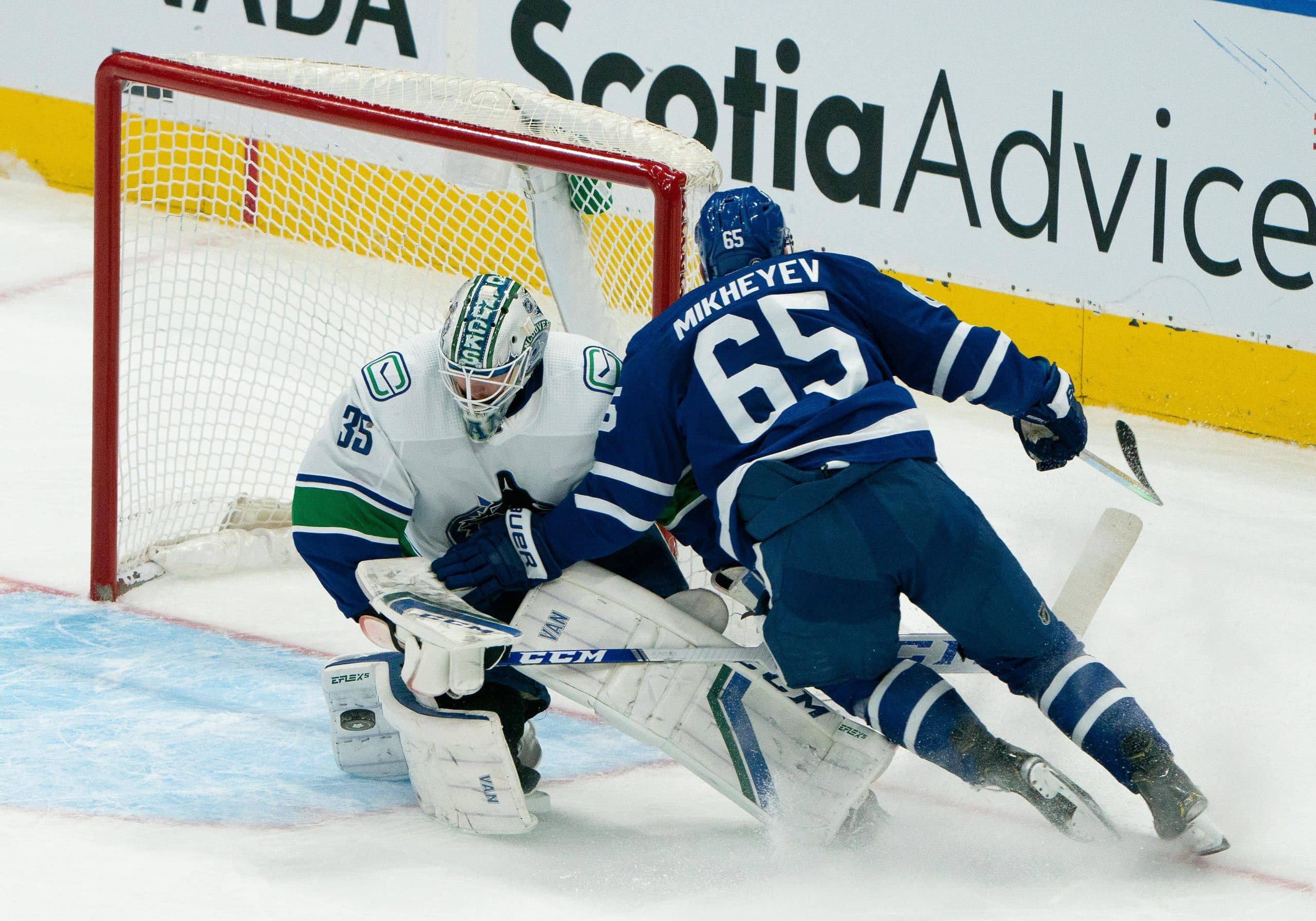 Photo credit:© Nick Turchiaro-USA TODAY Sports
Okay, no team is signing five European free agents in one offseason. There are still at least five forwards worthy of signing in my opinion, defence is a story for another day. I follow six European leagues, the Russian KHL, Swedish SHL, Finnish Liiga, Swiss NLA, German DEL, and Czech Extraliga. I look at u27 players, because the ELC system goes up to age 26 for (some) Europeans.
Since points are the most reliable and repeatable indicator of skill across leagues, I take players points per game and compare it to every FA who has signed out of that league since 2000. This allows me to quantify their point production in comparison to a group of players NHL teams have deemed worthy of a contract. This inherently builds in some of the biases of NHL teams, for example players 6'3″ or taller tend to drag down the average p/g because teams prefer to sign a depth player with size. Therefore I cannot hold the same expectation that an excellent winger like 5'8″ Kristian Tanus will sign as his teammate 6'3″ Joona Luoto did, despite being on pace to triple his point production at age 21.
Those leagues are in their 2nd Euro hockey tour break, meaning I've also had just over half the regular season to catch a few games from each player, plus Karjala Cup and now Channel One. All of these players are age 24-26, for them what you see is what you get, and hopefully they can drive play for cheap on an NHL roster. Each of them could find a role on the Leafs, like Zaitsev, Soshnikov, Borgman, Ozhiganov, and Mikheyev in the past, to varying degrees of success. I was excited about Lehtonen and Barabanov last year, and I still believe they had more to offer the Leafs if given the chance. I guess that's half true with Barabanov playing well in San Jose, and Lehtonen back in the KHL.
I'm going to detail what type of contract each player is eligible for, what connection they have to the Leafs, what role they could play, and how their stats compare to European FAs that have signed NHL contracts in the past.
1. Andrei Kuzmenko
12. This year's Russian free agent to watch is right-shot winger Andrei Kuzmenko. Sixth in KHL scoring (28 points in 25 games) for perennial power St. Petersburg. Never drafted, he will be 26 in February. There's a lot of interest.
This is Kuzmenko's seventh straight season improving his KHL point totals, and he now sits 2nd in league scoring for 21-22. His p/g has been above the KHL FA average for five of the past six seasons, a big reason why there is so much NHL interest surrounding him. Relatively stocky at 5'11", 194 lbs, he uses his leverage in puck battles and getting off a heavy shot from tight to his body.
As of now, there are only five players with more points before their 26th birthday in KHL history. Radulov, Gusev, Kaprizov, Golyshev, and Shipachyov, that's pretty impressive company. By the end of the season it will likely only be the first three, as Kuzmenko continues to rack up points like very few KHL player before him. The most impressive part is that he has done it all while getting 2nd/3rd line minutes, because he has played on very deep SKA teams.
Overall, Kuzmenko has excellent puck skills and a strong shot, but produces in spite of his foot speed rather than because of it. I think that will limit him to a 3rd line role in the NHL, but we're talking about a player who is ready to step into the NHL and generate scoring chances night after night. Just to give you a glimpse:
Kuzmenko is eligible for a 1 year ELC in 22-23, which would expire UFA. He is represented by Dan Milstein, who has a long list of clients that have signed with the Leafs. In the past year the Leafs have traded three of them in order to give them a better shot at NHL ice time. I have commented on it before, but that goes a long way in maintaining a relationship with an agent, and therefore their other clients. If the Leafs are looking for someone to contribute for $925k, there is no better fit than Kuzmenko.
2. Sergei Tolchinsky
Tolchinsky was drafted by Kyle Dubas in the OHL, went undrafted in the NHL, and eventually signed an ELC with Carolina. After a grand total of 4 NHL games on that 3 year ELC, he was not given a qualifying offer by the Hurricanes, and subsequently returned to Russia with CSKA. Much like Kuzmenko with SKA, Tolchinsky struggled to get the top 6 minutes he was used to in the OHL. It was 20-21 when he joined Avangard Omsk that the diminutive winger showed how explosive he can be offensively.
At 5'8″ and 159 lbs, Tolchinsky embraces the reckless style of play he must employ to compete for pucks with much larger defenders. He was 2nd on Avangard in points last season while playing 2nd line minutes, then went on to lead them in playoff scoring en route to the Gagarin Cup, and KHL playoff MVP. Tolchinsky loves to use the entire offensive zone, forcing defenders to move around before deciding on his time to strike. Often times I will see him lose the puck attempting a dangerous pass, only to spring to the puck carrier and keep it in the zone with his tenacious puck pursuit.
Having already completed an ELC, Tolchinsky is a complete UFA, and is eligible to negotiate any contract he wants. It is pretty rare for KHL free agents to command more than $1m, but it happens, as was the case with Dimitrij Jaskin last offseason. He really holds the cards if he wants to come to the NHL, but Tolchinsky has already spent 6 years in North America, and has an existing relationship with Dubas, playing in the Soo.
He would need to be put in the right situations to succeed, but Tolchinsky compares to former Leaf Tyler Ennis. Someone who is incredibly opportunistic, and can produce goals from the 4th line like few others. In a pinch he has plenty of experience on the PP, and uses his speed to get zone entries at 5v4. Here his is using that speed to bury a breakaway goal on an assist from Barabanov:
Those puck skills I talked about? His hands are disgusting:
He is still easing back from an injury he sustained getting kneed, but sits 3rd on Omsk with 22 points in 25 games. If he does choose to return to NA, Tolchinsky won't be in a role that sees him with the puck on the stick nearly as often as it is now. His success or lack thereof would be dictated by how effective he can be off the puck, but by all accounts Sergei is an incredibly hard worker and has the ability to adapt to a new role. If he does sign with the Leafs, Tolchinsky is a guy who can also step up in the lineup, he has incredible offensive vision and can maintain possession long enough to make elite passes. He would really thrive playing with players more talented than him, as he has shown at the World Championship.
3. Denis Alexeyev
I went into
great length
on Alexeyev last year when he was a Free Agent (and in the
FA primer
before that), but he chose to remain with Lokomotiv on a 1 year contract. From a CBA perspective that moves him from a 2 year ELC to a 1 year, in either case his ELC would expire after 22-23, so he chose to stay home for another year. I'll borrow from those articles:
Denis Alexeyev is a 5'11", 190lb C playing for Lokomotiv Yaroslavl of the KHL. At 23 years old he has spent parts of the past 5 seasons in the KHL, with 97 points in 189 career games to date. He has increased his production steadily each year, with almost no powerplay time on a deep Loko team.

In the 20-21 season, Alexeyev is tied for the team lead in scoring with 21 points in 30 games. He's tied with Leafs prospect Egor Korshkov, who is actually a year older. The pair has 7 points more than anyone else on the team, and they're playing on the 2nd line, again with little PP time.

Alexeyev is mostly known for being a playmaker, he sinks into the offensive zone and waits for open ice. Once he's below the circles he can draw a defender in and capitalize on the opened pass lane, often to Korshkov's benefit. He has quick feet but doesn't often beat a defender clean on the outside, preferring to look for the pass. Given his production I think Alexeyev could step straight into an NHL lineup in 21-22, but the main reason to sign him is his long-term potential.
I compared Alexeyev to Alexander Kerfoot, a smaller center who moves well East-West, pass first offence, smart positionally, who understands the space and timing of the offensive zone. He doesn't make singular game breaking plays like Tolchinsky, but consistently makes smart passes that add up to scoring chances over time.
In 21-22 Alexeyev started off hot, but got bumped down the depth chart when Lokomotiv added Artem Anisimov. 21 points in 38 games for Alexeyev is a lower p/g than his past two KHL seasons, but still close to the average for players signing out of the KHL in their age 23 season. I still believe that he can step straight in to an NHL lineup, but I don't think he would be effective on the 4th line of most teams. If Alexeyev is willing to start in the AHL, I don't think it would be long until he forced his way into the NHL lineup.
4. Jiri Smejkal
The first three Russians I listed would honestly form a good NHL 3rd line with some seasoning, but none of them fill the role of a typical 4th liner with size. At 6'4″ 203lbs, Smejkal does that and more. He has represented the Czech Republic at the World Juniors and World Championship, and was one of the top young players in the Czech league before moving to the Finnish Liiga in 20-21. He was on a very deep Tappara team in his first season, bouncing between the 2nd and 3rd line.
This season he swapped Liiga teams for the Lahti Pelicans, where Leaf prospect Mikko Kokkonen plays. Smejkal has 27 points in 23 games to start the season, tied for 3rd in the league. He plays the net front really well on the powerplay, while I don't envision him getting that opportunity at the NHL level, it's still really valuable to have a big man with hands to screen the goalie. He gets a nice tip at the WC that way:
You can also see him at the net a lot in this highlight package (#96):
Smejkal will be eligible for a 1 year ELC this offseason, and the Leafs will have seen lots of him as he plays with Kokkonen. He outscored guys like Jakob Pour and Radim Zohorna while still in the Czech league, those guys would go on to sign in the NHL. The fact that he was able to rise to the top of two pro leagues is evidence that Smejkal drives his own offence, even if he does score a lot on clean up duty and rebounds. I don't think Smejkal is a lock to come to NA this offseason, but all it takes is one NHL club who notices him at the top of Liiga scoring and likes him as a depth option.
5. Filip Chlapik
I'm not going to go into too much depth on a guy who has already played over 200 professional games in NA, but I was surprised when the Senators terminated Chlapik's contract, and since returning to Czech it seems like he has been on a mission to prove them unwise. Still just 24 years old, Chlapik has 17 goals (2nd in Czech) and 37 points (1st) in 29 games.  He is miles ahead of David Krejci and Tomas Plekanec, not far removed from their NHL careers.
The 6'2″ Center averaged 0.59 p/g in the AHL from age 20-22, primarily generating offence from his excellent wrist shot. Prior to that he had an excellent junior career in the QMJHL, maxing out at 91 points in 16-17, good for 4th in league scoring. I caught glimpses of him in Belleville, he showed flashes of dynamic offense but was ultimately stuck on an AHL team with a very poor track record of developing prospects to that point. Chlapik signed a 1 year contract with the Sens after his ELC, but finished the season bouncing from Finland to the Czech Republic after leaving the Sens.
Chlapik actually signed a 2 year deal with Sparta Praha, but the Czech Extraliga has an IIHF transfer agreement in place and he can be signed to an SPC. Having completed his ELC, Chlapik is free to negotiate any contract he wants, but signing a 1 year contract would give a team his RFA rights. This is a former 2nd round pick who got pushed into the NHL too soon, but he clearly has all the talent to make it work, he would be a great low-risk high-reward signing.
Ranking the Five
I originally started this list with eight forwards and worked my way down to five, and I chose to include the players most likely to a) sign in the NHL, and b) play NHL games in 22-23. Chlapik already has NHL experience and he is fifth, but that is in part because his contract with Sparta Praha runs through 2023.
Overall I think there is a good crop of European FAs this year, as some strategically signed KHL contracts to become FAs in 2022 when NHL escrow is low, and there is more certainty surrounding the schedule. Since I started really getting into the KHL, I could never understand why Kuzmenko and Alexeyev especially were never drafted or signed to NHL contracts. This offseason represents the best chance there ever will be to sign either of them, as their respective KHL teams will do everything in their power to keep them there.
Tolchinsky and Chlapik have already played NHL games, I think given the both of them would be glad to sign with an NHL team that guarantees them minutes. Smejkal has been across the Atlantic before in the WHL, and plays a NA style game, but I don't think he's generating anywhere near the attention the other guys are from Finland.
The below charts are first their career points per game, regardless of what European league it was in. Second is their p/g compared to the average European FA in that league at that age, Y-axis being standard deviations. To me, it shows that Kuzmenko and Alexeyev have been building up their status year over year, playing in the 2nd best league in the world from a young age, and they're ripe for the NHL. Smejkal and Chlapik are putting up a ton of points in a smaller sample size, but each of them have a unique way of scoring goals that translates well to the NHL. Tolchinsky has been electric from the first time he hit the ice with Omsk, won a championship with them, played for the Soo Greyhounds, and was drafted by Dubas (in the OHL).
If you enjoy my numbers-based approach to scouting European hockey, follow me on
Twitter
for more frequent insights.
Recent articles from Earl Schwartz