5 questions for John Tavares this season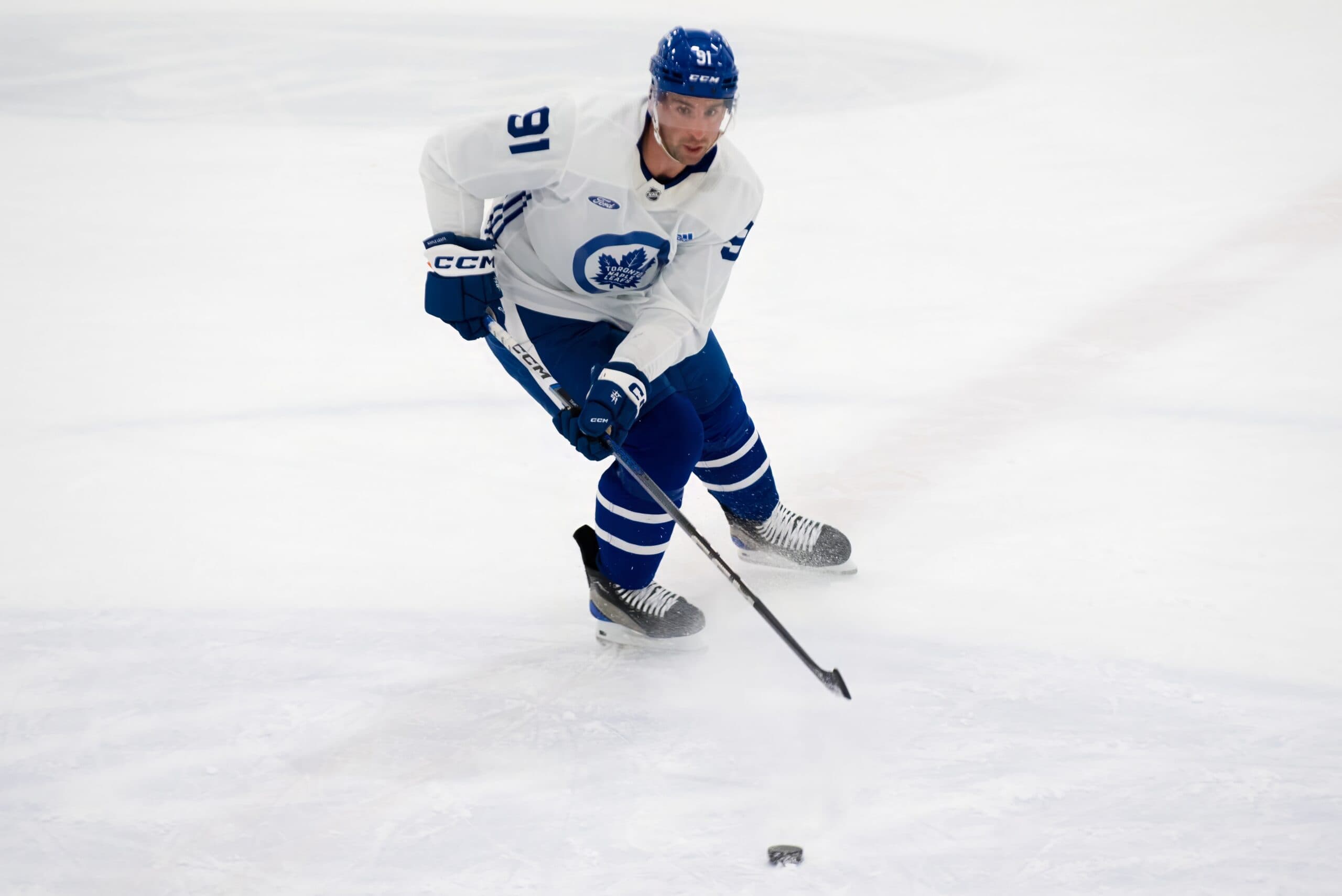 Photo credit:(Photo from Steven Ellis/Daily Faceoff)
Welcome back to another edition of '5 Questions'. After showcasing the likes of
Auston Matthews
and
Mitch Marner
of the Toronto Maple Leafs, let's turn our attention to team captain John Tavares.
Tavares has had to listen to some doubters within the past few years and all he continues to do is lead the Leafs on and off the ice and go about his business in the most professional manner. Toronto is lucky to have him leading the ship and if you ask any of his teammates, he's the perfect guy to be setting the tone of the rest of the group.
Here's five questions for the Maple Leafs captain:
Will Sam Lafferty and Matthew Knies stick?
Based on early line rushes in preseason, Sam Lafferty and Matthew Knies appear to be two contenders to play alongside the 33 year-old in 2023-24. While Knies in the top-six doesn't surprise anyone, Lafferty being included on the line has turned some heads.
While he has blazing speed and is defensively sound, Lafferty hasn't displayed the offense for a top-six role, and hasn't been asked to play this type of role in the past. Is he capable? That's to be determined as Tavares has a history of getting more production out of wingers than first anticipated. Matt Moulson on Long Island is the perfect example. Moulson went from not being able to make the LA Kings to potting 30 goals in three straight seasons with the Islanders. Tavares was the one of the bigger reasons for that, if not the only one.
Lafferty could be given a look, and it's certainly something to keep an eye on as October passes. If he doesn't stick, look for Nick Robertson or Calle Jarnkrok to get a shot, or for the William Nylander experiment to end.
Is a point-a-game season on the horizon?
Throughout the past four seasons, Tavares has averaged just under a point-a-game. Last season of course, he did hit 80-in-80, so are we feeling at least an 82-point season?
If you're into placing bets, take the over. Tavares is going to once again load up on the power-play points, he led the Leafs with 39 last season and having Knies on his left wing could do wonders. The super rookie is going to have a massive first full season in the show and I know I mentioned getting the most out of Lafferty earlier, it could actually be Knies who turns into the new-age Moulson.
Tavares worked on his stamina and foot speed throughout the summer and is as healthy as he's ever been heading into training camp. Healthy, motivated and with some fresh blood on his line. It's setting up to be a big season for Toronto's captain.
Will playing the wing be an option again?
After the Maple Leafs acquired Ryan O'Reilly last season in a in-season blockbuster with the St Louis Blues, Tavares played some time on the wing. Is this
once again something we could see
late in the season?
To me, it's interesting that Treliving was the one who suggested moving William Nylander to centre. Perhaps moving Tavares to the wing could be next?
For now, he's a centre, and I don't feel that's going to change any time soon. Come March when the trade deadline creeps into the picture? Then perhaps, but at this point Keefe is happy having Matthews, Tavares, Nylander and David Kampf down the middle. Keefe has Max Domi who can also play down the middle, and Pontus Holmberg who is waivers exempt as a depth option.
Can Tavares be a 'plus' player?
While some feel it's the most meaningless stat in hockey, and they're likely not wrong, it's worth noting that Tavares was a minus -7 rating last season. A year where Matthews, Marner and Michael Bunting were a +70 combined.
Don't read too much into plus/minus ratings, but it's worth pointing out that Tavares' line needs to be more responsible defensively and it makes sense why Lafferty gets the start on the wing. He has the speed and defensive smarts to play responsibly and Knies is going to be a force on both sides of the puck.
Perhaps the Maple Leafs can get to new heights with Tavares focusing more as a shut-down centre than one who lights up the score sheet? Who knows, but just make sure you're on the ice more times for goals than goals against.
Does the noise fuel the fire?
Over the past couple of seasons, it feels like Tavares has started to fall on the microscope more often. His foot speed has come under question, and occasionally his ability to lead the Maple Leafs. Tavares worked all summer long to ensure his feet can keep up to the younger generation of NHL talent and at 33 years old, he could be primed for one of the biggest seasons of his career.
As far as the debate goes about giving Matthews the 'C' instead, that's ludicrous and something the team wants no part of. Ask Matthews and he'll be the first to tell you he looks up to Tavares as a mentor and he's the perfect leader for the group. He's as consistently professional as they come, he handles all of the community aspects of the job like a champ and he continues to lead by example each and every day.
Tavares is going to score a ton of goals in the blue paint once again this season and you can expect the Maple Leafs' power play to be even stronger having John Klingberg join the fold. His ability to get shots through will be music to the ears of Tavares, who will be in tight looking for rebounds.
The Maple Leafs are in very good hands with Tavares leading the way. #91 in Toronto is set for a monster season and he's the perfect leader who can help push this team to the mountaintop.