Know Your Enemy: Shesterkin and a few elite skaters the only real concern for the Maple Leafs tonight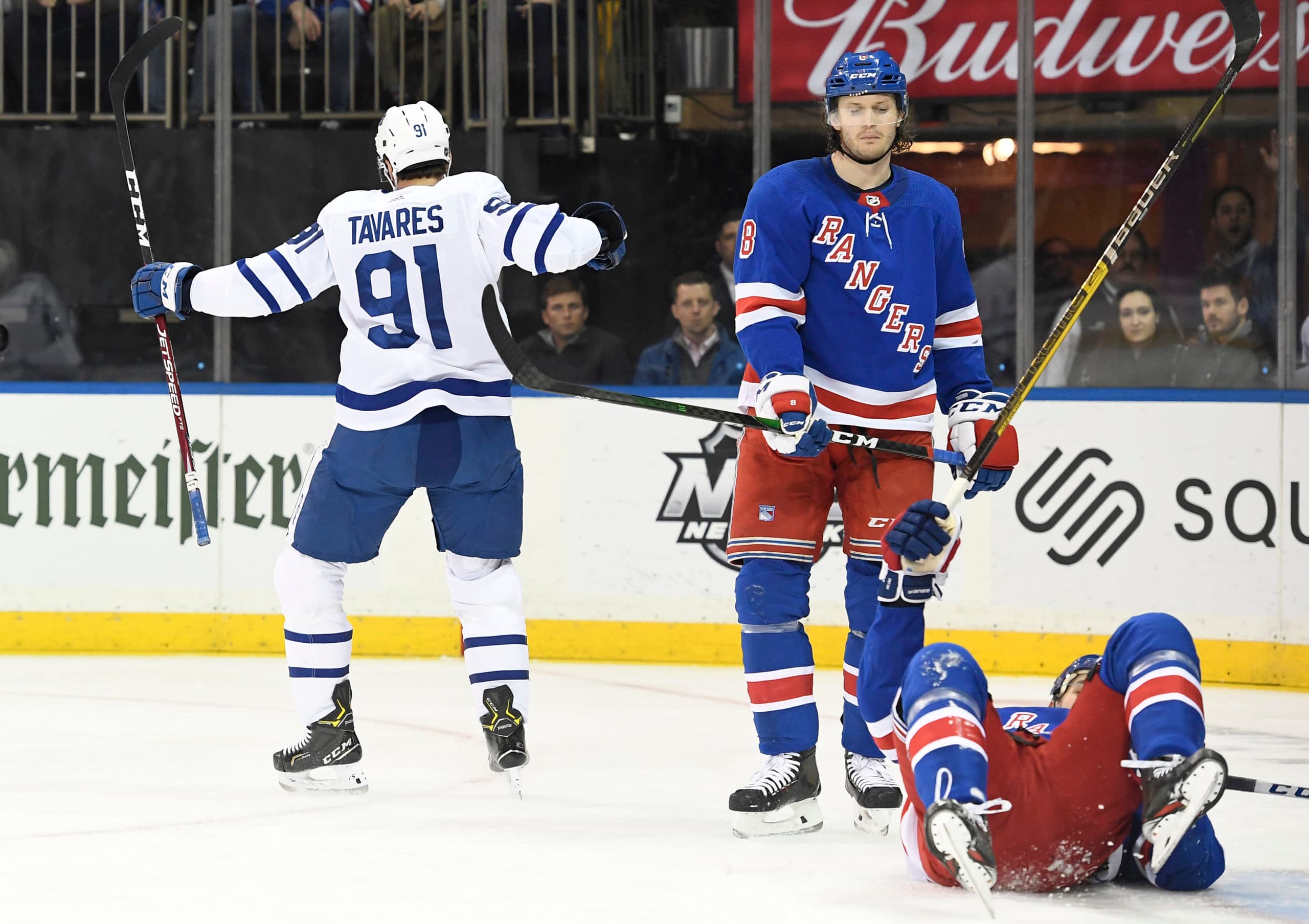 Photo credit:Sarah Stier-USA TODAY Sports
Every season, there's always a team that plays well above what they're capable of. The most famous examples are the 2014-15 Calgary Flames, 2013-14 Colorado Avalanche, and of course, the 2012-13 Toronto Maple Leafs, and this year, that team is the New York Rangers. While they have some solid pieces in @Adam Fox, @Igor Shesterkin, @Artemi Panarin, and @Mika Zibanejad, they're attempts to go a tougher route this season means that the team pretty much struggles when they aren't on the ice. Shesterkin has masked a lot of that for them in net, bailing them out on many occasions to give them wins, but when he isn't on his game, this team is usually in tough to get wins.
Note: This is based on projected lines and starters at the time of publishing. Coaches really love to surprise us right before game time, so there's a solid chance that some of the matchups aren't accurate for the actual game because of that.
Tale of the Tape (via Mark Norman)
Lineups
Toronto Maple Leafs
New York Rangers
Forwards
The first line of @Chris Kreider, @Kaapo Kakko, and Zibanejad is one of the few line combinations that actually work well together for the Rangers this year, generating a 52.61% CF% and a 56.08% xGF% in almost 250 minutes together this season. Kreider is having a resurgence this season on that line, living up to what was thought to be a very pricey contract up to this point, finding himself fourth in the NHL in goals, and aside from a lack of discipline, doing very well in most facets of the game. Zibanejad has established himself as a strong first line center from a points perspective for a few years now, but he struggles to drive play on a consistent basis at both ends of the ice. Kakko is in a similar boat, except he also doesn't put up points, and just struggles to live up to his draft pedigree at any part of the game up to this point in his career. Kreider clearly carries the line from a possession standpoint, but between him and Zibanejad, it has the potential to burn you every now and then, so it's still one to keep an eye on.
@Filip Chytil isn't the normal candidate on the second line next to @Ryan Strome and Panarin, but with the current injuries, that seems to be the case, although it's not a pretty one, as the combo finds themselves on the wrong end of the ice more often than not with a 44.74% CF% and a 27.95% xGF%. It speaks to Panarin's skill then that the line has a 68.87% GF%. While his defense leaves much to be desired, he's one of the best playmakers in the game, and his ability to create offense out of nothing more than makes up for his defensive game. Strome has found a home next to Panarin these past few seasons, and rediscovered his game after a disappointing stint with the Oilers, at least offensively. And going with Chytil on this line shows their going all in on offense, who while he doesn't put up points on the scoreboard, he can somewhat drive offense, so he won't hold back Panarin and Strome in that regard. Still, none of them can defend, so if you can put a strong offensive line that can defend up against them, you can take advantage of them.
The third line of @Barclay Goodrow, @Dryden Hunt, and @Julien Gauthier is one that hasn't got much time together, so their results are a little bit all over the place with a 33.57% CF%, but a 55% xGF%, so not much to go off of their. Goodrow was one of the Rangers big additions this offseason, as they wanted a piece of the infamous third line from the Tampa Bay Lightning's Cup runs. The problem is, they picked the wrong piece, as Goodrow was definitely the beneficiary of that line's results. He's okay defensively, but he can't carry a shutdown line like the Rangers think he can. Hunt actually can, so he saves the line a little bit, but he lacks a bit in other aspects of his game, so overall he still isn't quite as effective as the Rangers probably want in a third line shutdown role. Meanwhile Gauthier is here pretty much because of draft pedigree, as the former first round pick really hasn't established much of an NHL game aside from hints of driving offense, and playmaking, but he really struggles elsewhere, making it for an investment that overall isn't worth it. This all amounts to what the Rangers will probably want to use as their shutdown line, although the Leafs probably shouldn't worry too much about actually getting shutdown by them.
While I think you could match up the Matthews and Kämpf lines against either of the top six for the Rangers, it might be an advantage to go Matthews vs. Panarin as I alluded to earlier. They're good offensively, but really weak defensively, so it's an opportunity to take a line that can both defend and score and try to neutralize their offense while exploiting their defense. The Kämpf line should be able to hold off the offense of the Zibanejad line, while that line's slightly better defense means the line the Leafs match up against could get shutdown, so might as well go with the line that doesn't score as much. That once again Leafs the Tavares line to feast on the third line, and that's a matchup the Rangers will probably invite because they seem to think the third line is capable of shutting down top lines.
There's a case to be made that the @Greg McKegg, @Kevin Rooney, and @Ryan Reaves line might be the worst in the league, or at least among lines that have at least 30 minutes together. They are dead last in CF% with 20.08% and the fourth worst xGF% with 21.34%, and a 0% GF%. That's right, 0. McKegg, a former Leaf, provides almost nothing of value on the ice except for some strong penalty killing, Rooney is at least competent defensively but pretty much loses anything he gains on the offensive side of the puck, and Reaves does nothing except compensate for the Rangers size problem that they felt like was an issue after the @Tom Wilson debacle. Even as a fourth line, it's really not one that should be in the NHL. It's unfortunate too, as with @Kyle Clifford being in the lineup for the Leafs tonight, the fourth line for the Leafs that normally dominates other fourth lines will be a lot weaker, so it could've been an opportunity for the Rangers to exploit a matchup they normally couldn't win against the Leafs.
Defense
The top pair of Fox and @Ryan Lindgren is probably one the Leafs should take seriously, even if their results have been a bit mixed so far this season with a 47.88% CF% and 52.63%. That said, the fact that their the only pairing with more than 30 minutes together with either of those metrics above 50% speaks a lot about how bad the rest of the team is. Fox surprised the hockey world with his Norris trophy win last season, but not because he didn't deserve it, more because people tend to give it to players who've played longer like @Victor Hedman. He's about as flawless as they come on the blueline, with the only thing you could look for improvement is his penalty killing, so if you're going to beat him anywhere, it's on the power play. Lindgren is also a strong complementary piece for him, as he's an excellent defensive defenseman, even against top competition. The duo does well despite the fact that the rest of the team struggles, so they'll make it tough for the Leafs regardless tonight.
@Jacob Trouba and @K'Andre Miller, however, are not that for the Rangers. They've logged almost 600 minutes together, and have struggled despite the top pair taking the tough competition for them with a 46.29% CF% and a 44.68% xGF%. Trouba is far removed from his days as an underrated elite defenseman with the Winnipeg Jets, as he's struggled defensively since joining the Rangers, although his offense is still solid. You can't entirely fault Miller for his results these past couple of years, considering what he had to deal with last year when @Tony DeAngelo was on the team, but he hasn't established himself as a top four defenseman just yet in the NHL, and would probably be better suited for a bottom pair role to find his form.
The Leafs find themselves without both @Jake Muzzin and @Justin Holl tonight, so they'll look to @Timothy Liljegren and @Rasmus Sandin as a top four pair tonight. They've normally dominated weak competition, so there's potential for that to carry over to a top four role, although it's not guaranteed. I'd still give them the Trouba and Miller matchup to help ease them in, while you give @Morgan Rielly and @T.J. Brodie the Fox and Lindgren pair since they're better equipped to handle it.
2020 first round pick @Brayden Schneider is playing in just his third NHL game, but has already played over 23 minutes with @Patrik Nemeth, so they've managed to establish a bit of chemistry already. Nemeth is a solid partner to have as a rookie, as he is a really strong bottom pair defensive defenseman and can help disguise the mistakes a rookie defenseman will probably make, even if he can't really generate offense. Schneider obviously has just two games to his name so you can't come to any real conclusions, but with a goal already and good underlying numbers (when you consider the fact that he's playing on the Rangers), there's some promise to his game already. The duo has a 47.99% CF% and a 47.26% xGF% together, but again, that looks a lot better when you remember they're playing on the Rangers. With Muzzin and Holl out, the Leafs don't have the dominant bottom pair they normally do, but @Travis Dermott and @Alex Biega have had a game together before, with a 47.14% CF% and 59.57% xGF%, so the duo shouldn't cause too many problems.
Once again, no goalie confirmations, but if the Rangers opt to go with Shesterkin, it'll be one of the few goalie matchups that might not be in favour of @Jack Campbell. That said, @Alex Georgiev has a history of playing out of his mind against the Leafs, so that could cause some problems as well.
Overall
At the end of the day, there are a lot of opportunities for the Leafs to take advantage of the Rangers tonight, but that could very easily not matter if Shesterkin or Georgiev is on their game tonight. It's how the Rangers have won most of their games, along with opportune scoring from their top six and Fox, so they will still cause the Leafs problems tonight, even if they shouldn't on paper. But if you can hold off their offense, that second pair and bottom nine lines are super vulnerable, and could make it difficult for the Rangers to pull off a win even if the goaltending is strong.