A similar situation arises if the Maple Leafs were to take a gamble on Mackenzie Blackwood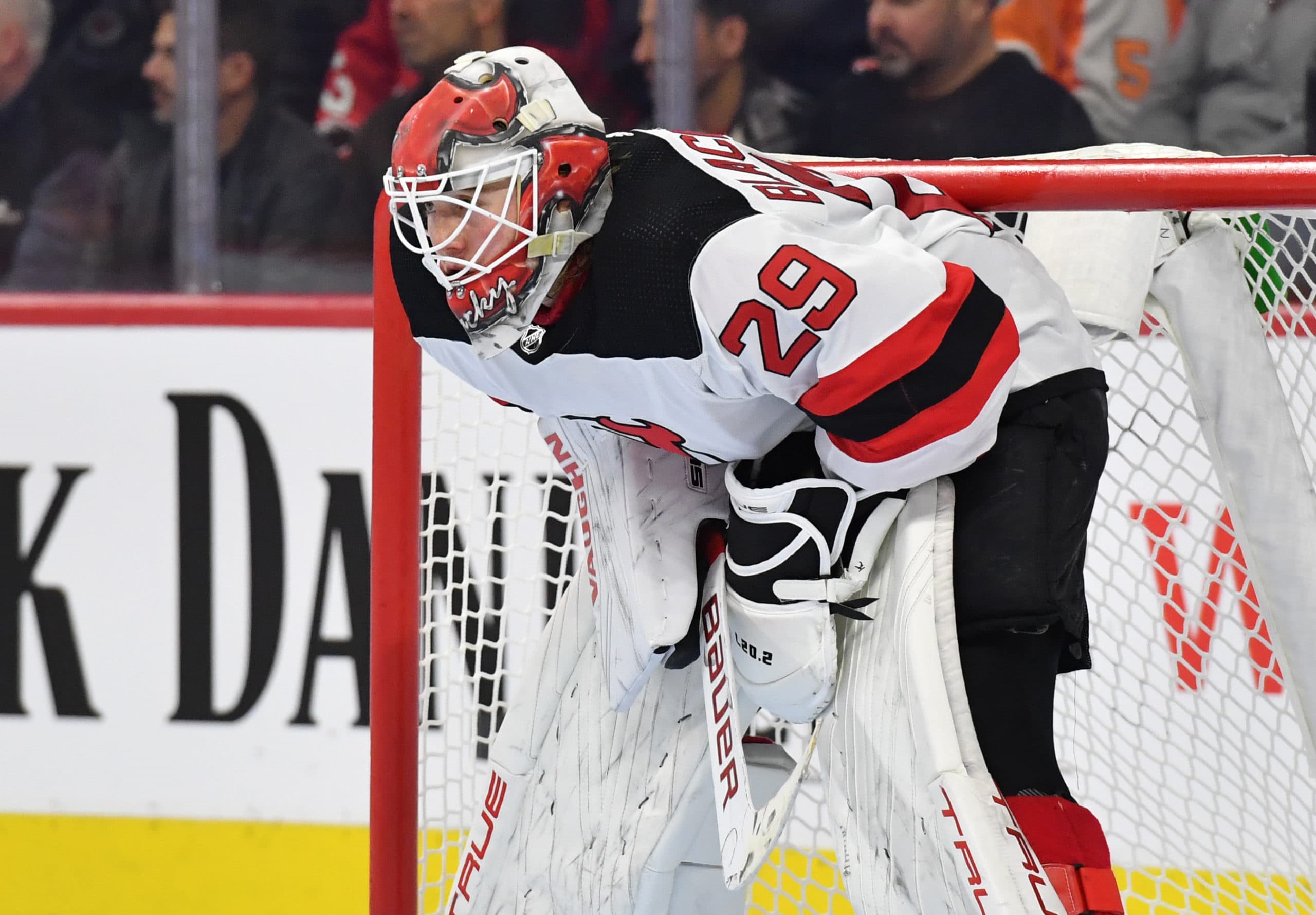 Photo credit:Eric Hartline-USA TODAY Sports
Many have discussed the Maple Leafs signing a free agent goaltender, but what about a trade that isn't for John Gibson?
Last week, DailyFaceoff's Frank Seravalli released a
Trade Targets list
which featured a number of high-profile names. Players like J.T. Miller, Alex DeBrincat, and Kevin Fiala rounded out the top of the list, but there were some interesting pieces at the bottom too.
Just last night, though, Seravalli added a few more names to his list — Jesper Bratt, Anthony Beauvillier, and Mackenzie Blackwood. We're going to look a little bit closer into the 25-year-old netminder because, well, the Maple Leafs might need both a starter and a backup, and Blackwood could make sense.
From Seravalli's Trade Targets article on Blackwood:

"Scoop: It wasn't long ago that Blackwood was considered the next hot, young netminder. He has the pedigree as a high second-round pick and his first 70 NHL games were excellent from 2018 to 2020. Blackwood struggled with a heel injury last season and his numbers have struggled for two seasons now. The sense is the Devils, who can ill afford another season with shoddy goaltending, have lost faith in Blackwood. He could be a great option for a bounce back campaign in tandem with a veteran on a strong team with limited salary cap resources."
Let's start off with saying that Blackwood has one more year remaining on his deal with New Jersey at $2.8 million. Looking at how much money that is, a deal with the Devils already scares me a little bit.
Similar to what Seravalli said, the 25-year-old had an incredible start to his career, posting a .916 save percentage in the first two seasons. Blackwood sort of fell off after that, only having an .898 save percentage across his next 60 games while also holding a losing record of 23-27.
Now, some might say that his declining numbers could be because of a struggling New Jersey team and in part, I agree with that. But it's hard to justify bringing in someone who brings in almost $3 million and is ranked 52nd among NHL goaltenders (who played 20+ games) with a Goals Saved Above Expected of -12.7.
Above him on the list, too, is Mrazek, so what would be the point of even bringing Blackwood in?
It's the first two seasons that make him an interesting target because if the 25-year-old can return to that form, you're a very lucky team. And with a heel injury keeping him out for a lot of this season, his value is likely at an all-time low.
This is a situation similar to last season with Mrazek. It's a bit different because Mrazek was signed out of free agency, but the scenario is almost exact. Toronto would be bringing in a struggling goaltender who's had a number of good games in his past — a gamble that I'm not sure the Maple Leafs are willing to take.
Part of that is because his cap hit of $2.8 million and another is just the sheer mystery behind him. Can he return to form and be good in a tandem for Toronto? Will his injuries hold him back from being a great goaltender again?
All of that, plus the fact that you'll need to send assets to New Jersey for the 25-year-old.
In all honesty, I believe Toronto would be best to at least check in with the Devils and see what their price tag is. If it's pretty low, go for him. If it's more than expected, there's really no point in bringing in a netminder who has a short-term injury history similar to Mrazek and is at a cap hit of almost $3 million.
The Maple Leafs have been down that road once and I don't believe they'd like to go down it again.
(Salary information via PuckPedia.com & goalie statistics via MoneyPuck.com and Hockey-Reference.com)