Adam Gaudette could provide a lot of value to the Maple Leafs if everything works out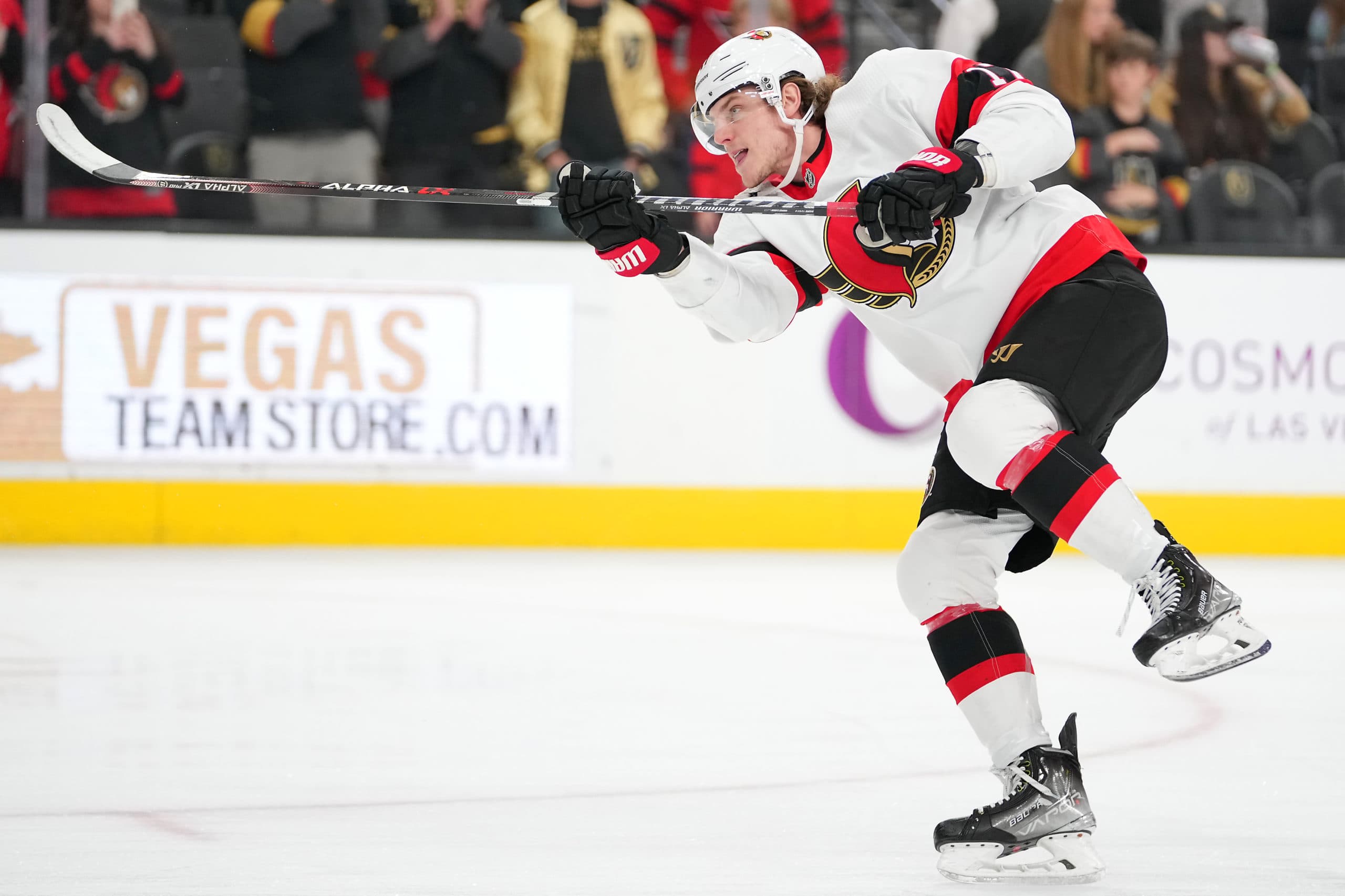 Photo credit:Stephen R. Sylvanie-USA TODAY Sports
The signing of Adam Gaudette took a lot of Maple Leafs fans by surprise.
At a time where many were looking for the big fish free agent signing, Toronto went out and secured a couple of little fish instead. And in reality, that wasn't a bad thing.
Maple Leafs GM Kyle Dubas always has a way of sneaking around and not getting the most interesting player available. Eventually, after the dust within free agency settles, that's when Toronto signs a player who nobody has thought about.
This summer, Calle Jarnkrok was that addition. However, it might be safe to say every addition made was one out of left field. Nicolas Aube-Kubel was likely the most intriguing signing of all, but so were insertions of Victor Mete and Jordie Benn.
We cannot forget Gaudette, though.
The 25-year-old centre split last season with both the Chicago Blackhawks and Ottawa Senators. He arrived in Canada's capital at the end of November after being claimed by the Senators off of waivers. Spending the rest of the season with Ottawa, Gaudette finished with 12 points in 50 games.
Although it wasn't the best total in the NHL, he did have a great stint with Team USA at the World Championships once his season concluded. In ten games, the 25-year-old had six goals and two assists for eight points — a much different total than he had with the Senators.
At six-foot-one, Guadette won't bring much offensive or defensive upside. He's a player who spent most of last year centring Ottawa's fourth line and you should likely expect the same in Toronto. Gaudette is still pretty young, at 25, so there might be a few things the Maple Leafs can do to help build his game a bit more.
However, it's not like he hasn't shown some possible upside before. In the 2019-20 season, prior to the pandemic ruining everything, Gaudette was on a good run scoring 33 points in 59 games with Vancouver.
While it could be a one-off, I wouldn't count it out of the question just yet. Every team he's been on at the NHL level has struggled at one point or another and he hasn't been on a legitimate contender.
The 25-year-old thrives on the rush — something that Toronto was missing during parts of last season. Gaudette is able to get up the ice rather quickly in the transition, and at times, can use his hands to get around defenders. I wouldn't say he's the prettiest skater out there, but he's able to push off his edges and be a quick player.
Gaudette can also usually be found wide open in the slot, which is where he's scored a lot of his goals.
But the biggest question mark isn't if he can produce on this Maple Leafs team — it's whether or not he'll make the opening night squad out of training camp.
At the moment, Toronto is over the cap by $1,493,116 which means they'll likely need to send down two to three players to become compliant. It's also worth remembering that Rasmus Sandin hasn't been signed yet, and there might be more who need to be sent down after that number comes in.
Gaudette will have to work incredibly hard if he wants an opening night roster spot, but I do think there's a scenario where he makes it.
The 25-year-old is a right-shot centre which Toronto might need throughout games. Going down the lineup, each of their three current centremen shoot left, so Gaudette could bring some value in that spot. The downfall about that is the fact that he hasn't had a face off percentage over 50% throughout the span of a season in his career.
In reality though, a lot of this hangs on whatever number Sandin comes in at. Obviously, there could be a trade that comes shortly after, or even before, but either way a few players are going to get waived. Gaudette could be one of them.
Although that's not entirely the worst thing in the world, who knows if the 25-year-old even clears waivers. It's been said before that teams like to claim Maple Leafs off the wire just because, so I wouldn't be surprised if it happened.
However, if Gaudette can have a good showing at Toronto's training camp, who knows where he might end up come opening night. He might not even have to clear waivers.
(Salary information via PuckPedia.com & chart via Evolving-Hockey.com)