Around the Atlantic: Senators love their coach, Tomkins first NHL win & Holl back to earth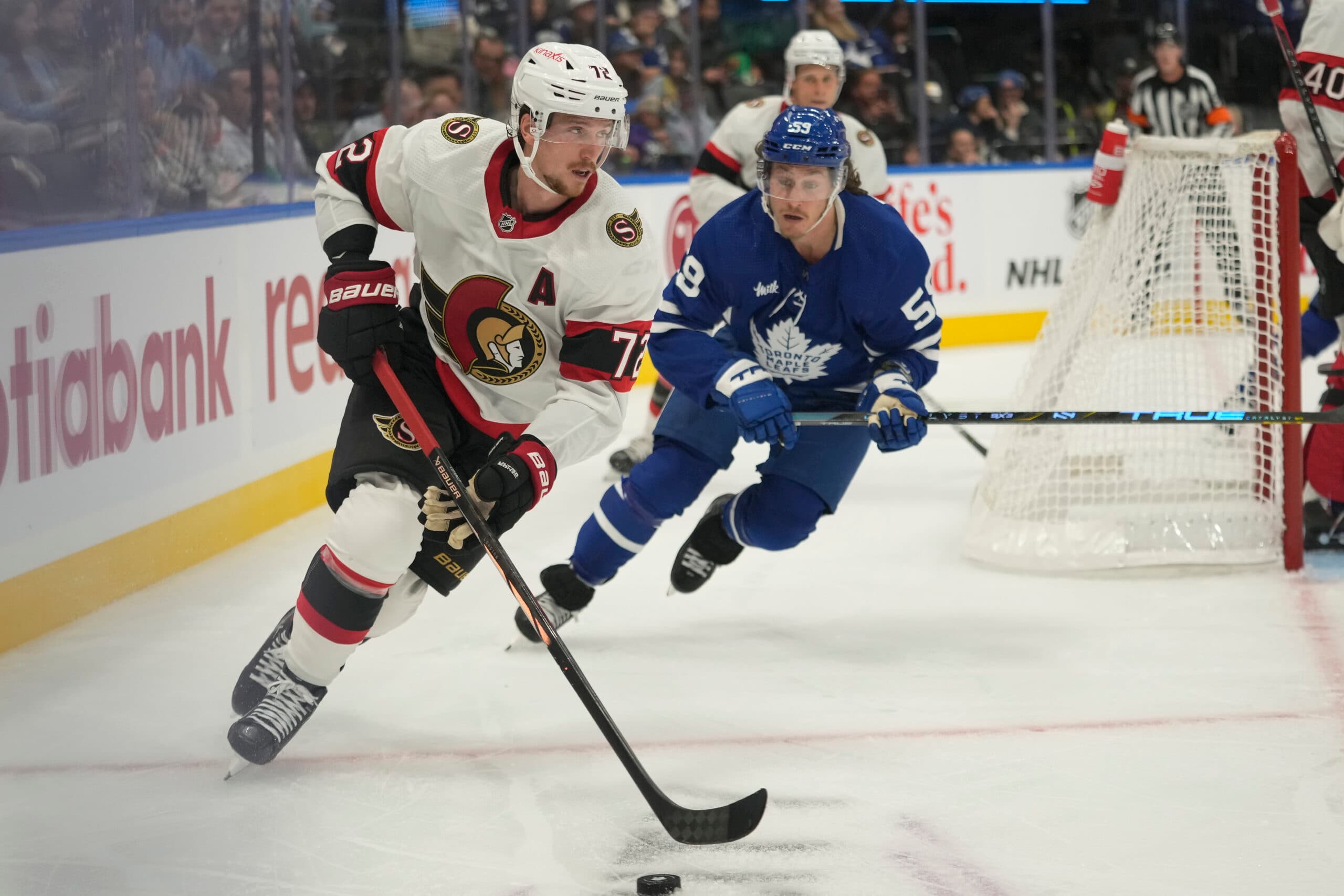 Photo credit:John E. Sokolowski-USA TODAY Sports
Welcome back for another edition of Around the Atlantic, our Wednesday column that will showcase any trending news surrounding the Atlantic division and of course, the impact it may have on the Toronto Maple Leafs.
This week takes us to stops in Ottawa to check in on the Senators, we'll discuss Tampa Bay Lightning netminder Matt Tomkins and his special night, and also check in on Leafs Nation's favourite ex-defenseman, Justin Holl.
Senators Vouch for DJ Smith to Stay
While the home crowd may be booing head coach DJ Smith and chanting for him to be fired, the Ottawa Senators players want nothing to do with a coaching change. So much so, Claude Giroux went public with his love for Smith and reiterated the fact how much the Sens players love him and want to continue to play for him.
"It's getting pretty old, the fans and the media talking about D.J. (It's) pretty frustrating, actually. He's our coach. He's not going anywhere. We want to play for him. It's just a distraction that we don't need right now, and I think we've done a pretty good job of not getting caught up into that. In the room, guys care a lot, and I don't think we're a team that's going to quit or stop working hard."
After long-time general manager Pierre Dorion was fired, it's natural for the Senators fans to turn their attention to the head coach as the team's struggles continue. The Senators are 4-6-0 on the season and head to Toronto to take on the Maple Leafs on Wednesday night. The Leafs normally bring out the Senators best effort so certainly expect to see a fired up Sens squad looking to jump on Toronto early. After a crazy 6-5 game against the Tampa Bay Lightning, expect to see a lower-scoring bang-and-crash game from the two teams.
Lightning's Tomkins 'Special' First NHL Win
Speaking of the Tampa Bay Lightning, it was a great sight in Montreal last night as the Bolts bounced back in a major way after
blowing a 4-1 lead against the Maple Leafs
on Monday night. And while the Lightning were able to win 5-3 against the Habs, the story was all about goaltender Matt Tomkins collecting his first NHL win.
Tomkins has waited a very long time for this. The 29-year-old was a former seventh-round draft pick in 2012, and yes, he just made his NHL debut in October. What a story. He spent time in the ECHL, the AHL and he even spent some time playing over in Sweden. Fun fact, he shared the net with current Leafs prospect goaltender Dennis Hildeby in Sweden. Now the two are division rivals (technically). Needless to say he's stuck it out, believed in himself and it finally paid off as he can tell his grandkids he won a game in the NHL and backstopped his team to victory.
The Lightning have had to lean on their offence this season, scoring a divisional leading 50 goals. Tomkins and Jonas Johansson have been carrying the workload in the crease as Andrei Vasilevskiy recovers from a back injury. It does sound like he's still a few weeks away from being close to returning, so the Bolts will have to keep trucking along with the two inexperienced netminders leading the way.
The Maple Leafs don't play the Lightning again until two games in a two-week span to end the season. There's a very good chance the games in the spring mean a ton for the standings so it will be interesting to watch the journey of both teams this year as they look to get back into the Stanley Cup contending picture. The Leafs have managed to beat the Lightning in both games so far this season, both in overtime, and a crazy stat to end on is the fact Tampa Bay has lost 11 straight games which have gone into overtime. Seems like a team normally able to handle it's fair share of pressure is more vulnerable than expected.
Red Wings Justin Holl Levelling Out
After starting the season like a house on fire, Detroit Red Wings defenseman Justin Holl has been very quiet of late. The Wings sit 7-5-1 on the season and after a blazing start, find themselves 5-4-1 in their last 10 games.
For Holl, he's recorded one game where he collected three assists and nine others where he didn't get a point. Looking at his last five games, Holl is a -4 rating and has only managed to chip in with one shot on net. Not ideal to say the least, even for a defensive defenceman. However, given the struggles of John Klingberg this season and with the bottom pair of the Maple Leafs being in shambles right now. Answer me this – would you take
Holl for three years at $3.4 million
or one year of Klingberg at $4.1 million and then potentially wipe your hands clean?
Holl and Klingberg are eerily similar at times for two blueliners who have very different games. The biggest thing the Leafs miss about Holl's game is his penalty killing abilities as the Leafs sit 24th in the league in this category. Look for GM Brad Treliving to address his defence at some point this season as the Maple Leafs are far from a finished product.
There we have it folks, another edition of Around the Atlantic in the books. The Leafs currently sit fourth in the division and can stretch their six-point lead on the Senators on Wednesday night as another Battle of Ontario is upon us.