Auston Matthews is embracing physical game with Maple Leafs early in season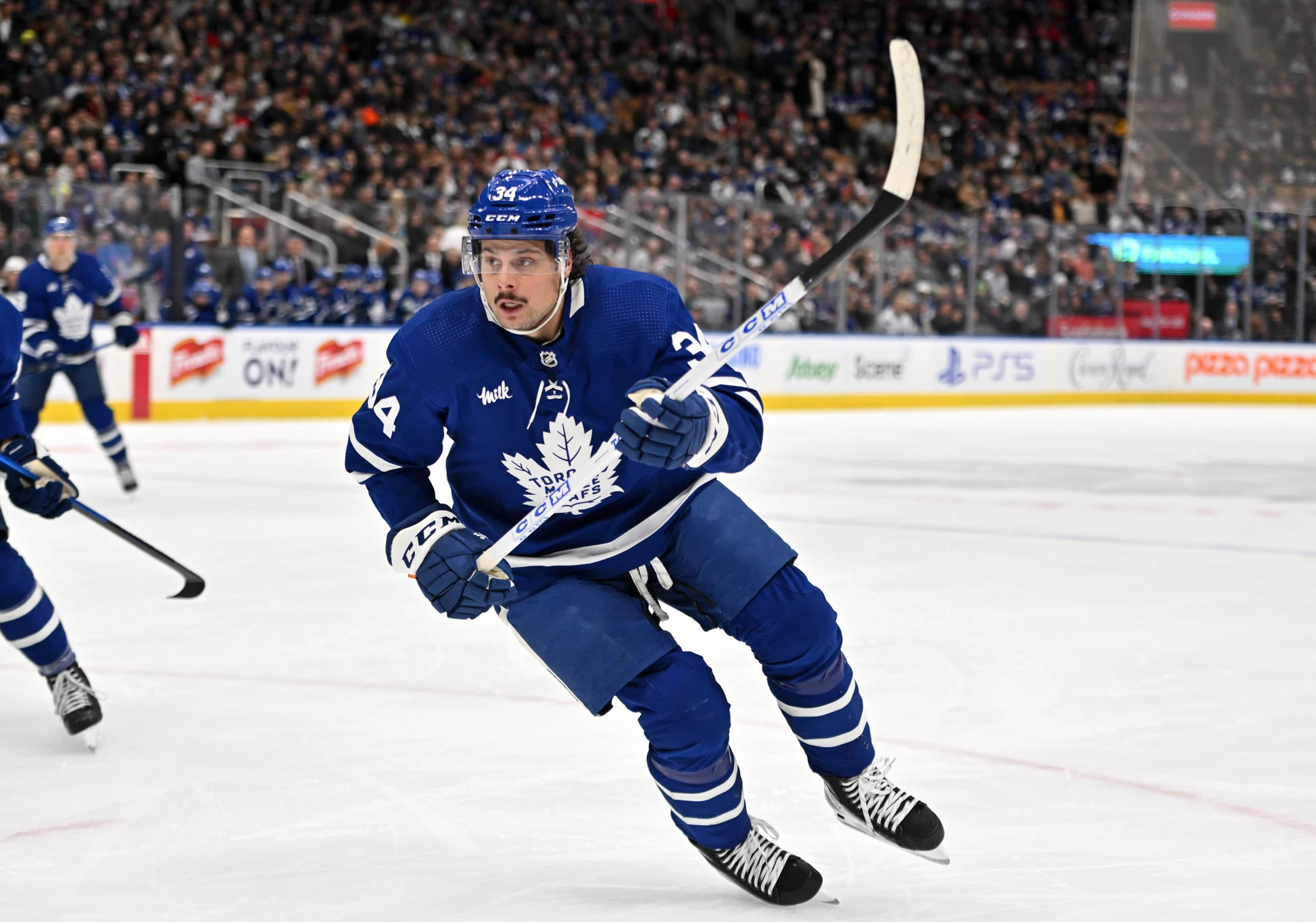 Photo credit:Dan Hamilton-USA TODAY Sports
Auston Matthews is on pace to finish the season with 35 goals — the lowest total he's had since his second year with the Maple Leafs.
It's tough to judge where the 25-year-old is at with his scoring because we all understand what he's capable of. Everyone knows that he could be on pace for 35 goals this week, and then be on stride for 60 by the next.
When looking at his numbers early on, there's one facet of his game that stands out more than anything else. Through 19 games this season, Matthews only has two goals at five-on-five, while the rest have come on the power play.
The 25-year-old — throughout his career in the NHL — has always dominated offensively at five-on-five. Last year, he was able to score 38 goals across 73 games within those situations. There hasn't been a season where Matthews has scored less than 20 goals at five-on-five in his career.
Though as we arrive at the quarter point of the 2022-23 season, he's on pace to hit eight goals at five-on-five by the conclusion of the year.
Weird, isn't it?
There are two reasons for this, though, in my opinion. First, is his 9.8 shooting percentage, which is 6% lower than his career average. He's not going to score goals at the pace he has in recent years with a shooting percentage that low.
If you pair that together with the focus that Matthews has had on his defensive play this season, you could effectively see his goal totals drop. And that's what I've noticed early on in the season.
When Toronto played Buffalo on Saturday night, Matthews began the game with William Nylander on his wing. Though as the game continued on, Maple Leafs head coach Sheldon Keefe decided that Mitch Marner might be better alongside Matthews in the defensive end against a line that featured Tage Thompson.
"With a matchup that challenging, I thought it was important to put those guys (Matthews and Marner) together." Keefe said after Toronto's 5-2 win over Buffalo. "While we're all talking about the offense and all those kinds of things, you forget that Matthews and Marner are two of the best defensive players in the league."
I think we can all agree that Matthews has been more physical this season. The 25-year-old wanted to bring more physicality to his game this year, but after looking at the numbers early on, I'd say he's taken that challenge to another level.
Matthews has averaged 38 hits a season since he's entered the NHL. And with every new year, he's tried to ramp it up, bit by bit (57 hits in 2020-21, 67 hits in 2021-22). This year though, Matthews has one more hit than his career average in a season with 39. At game 19.
That puts him on pace for 168 hits through an entire 82-game schedule. The most he's ever had in a season. By a large margin. Matthews is also second on the Maple Leafs in terms of hits this year, only behind Rasmus Sandin (surprisingly), who has 46 on the season.
When it comes to the 25-year-old's scoring, though, I wouldn't be too worried. I think when looking at his situation, it feels like you can either have the focus more on defensive play and physicality, or the goal-scoring.
I believe there's definitely a world where having both is possible, though. But even currently, Matthews is still producing well offensively, currently over a point-per-game pace.
His shooting percentage is bound to go up eventually, and with that likely comes him scoring at a regular level again. If Matthews is able to keep his physicality and defence when scoring more goals, I think the Maple Leafs have an entirely different beast on their hands.
Statistics via Hockey-Reference.com