Auston Matthews scores twice to set Maple Leafs single-season goal record and this time he savoured it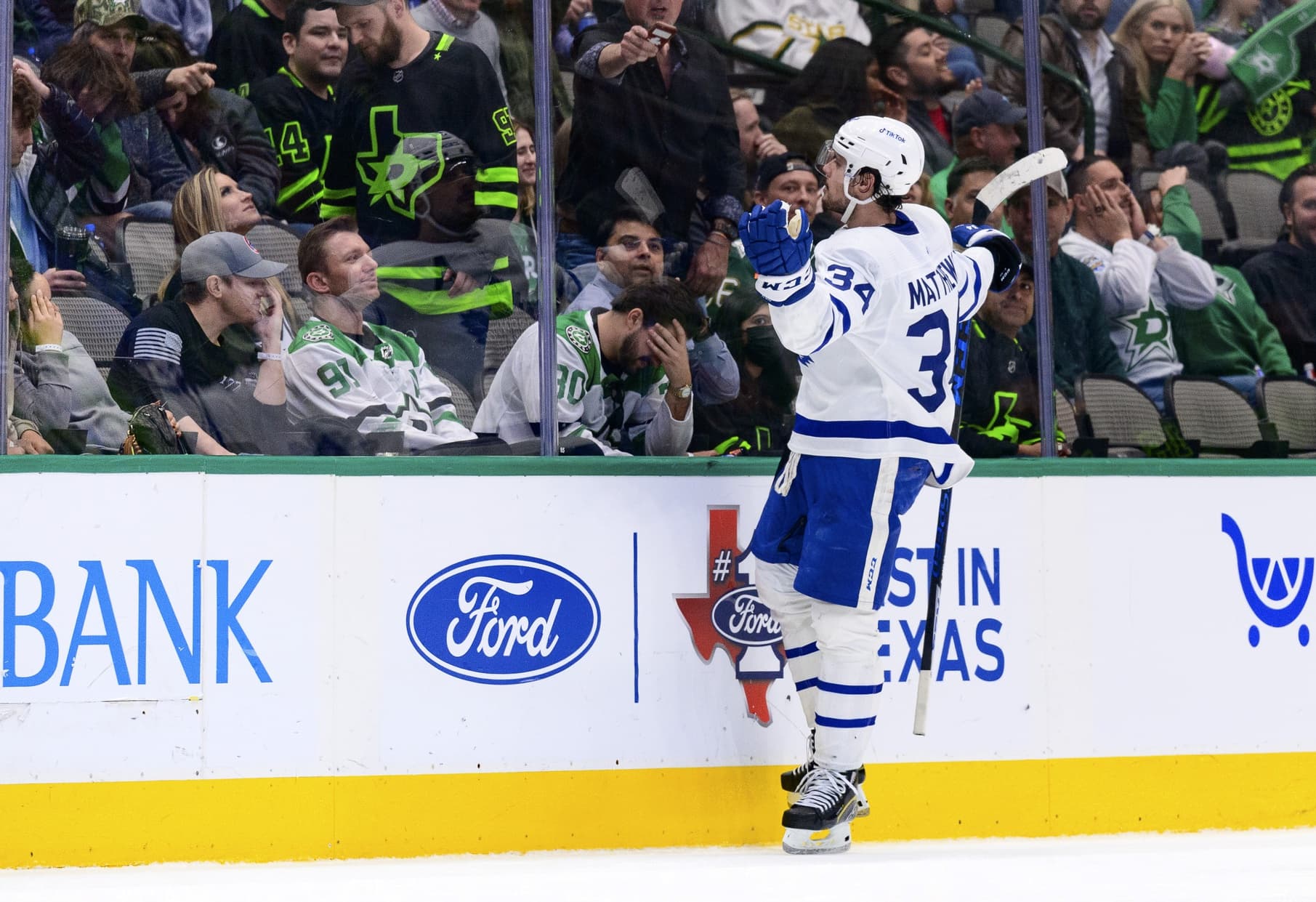 Photo credit:Jerome Miron-USA TODAY Sports
DALLAS — When Auston Matthews reached the 50-goal mark for the first time in his NHL career, he barely allowed himself to bask in his glory.
When he recorded his seventh-career hat trick to score his 52nd, 53rd, and 54th goal to match the Maple Leafs' single-season goal record set by Rick Vaive during the 1981-82 season, it was more of the same.
This time, the superstar centre allowed himself to have a moment.
"It felt good, I think a lot of emotions running through your mind and running through your body when the puck goes in, Matthews said. "I just saw the puck go in and I was so excited."
Matthews scored twice as the Toronto Maple Leafs completed a four-game road trip with a 4-3 overtime win against the Dallas Stars on Thursday. The Arizona-born Matthews broke Vaive's record on the power-play when he finished off a one-timer set up by teammate Mark Giordano.
"I told him I get to be on the plaque now and he'll never forget me," joked Giordano, who as a Leafs fan remembered watching Dave Andreychuk reach the 50-goal plateau during the 1992-93 season. "I'm sure there's a ton of kids that are obviously going to remember Matty breaking the record tonight."
Matthews picked up goal No. 56 of the season when he called his own shot by carrying the puck into the Stars' zone and deked past Dallas goaltender Scott Wedgewood for the overtime winner.
"This is Auston's night tonight," Maple Leafs coach Sheldon Keefe said. "Much deserved and to finish it with an exclamation point, I think you write it like that. It's pretty good."
Matthews broke two records on Thursday. In addition to setting the new franchise record, he broke the single-season goal record by any American-born NHL player, beating the previous mark of 55 goals shared by Jimmy Carson (55 goals with the Los Angeles Kings in 1987-88) and Kevin Stevens (55 goals with the Pittsburgh Penguins in 1992-93).
When Matthews scored the first goal, Keefe had some words for Matthews as he returned to the bench,
"I just told him it's a great accomplishment," Keefe said. "This Leafs organization has been around for a long time. A lot of great players. It's pretty special for him to be at the top of that list."
Up until Thursday night, Matthews had tempered his enthusiasm when talking about his individual accomplishments. Apart from saying he was "humbled" for reaching new heights, he kept his focus on team aspirations.
That didn't change much on Thursday.
"This feels really nice but obviously we're focusing on working towards something bigger than this," Matthews said. "It's a nice stepping stone but there's a lot more work to be done."
Matthews set a new career-high for shots on goal in a game with 12. At one point, Matthews' eight shots on goal had matched what the Stars had accumulated during the game.
"I think he was just that dominant," Giordano said of Matthews' shot totals.
Toronto finished with 41 shots on goal against a Stars team that was desperate for points. They occupy the last playoff position in the Western Conference.
When Matthews scored three goals to tie Vaive's record in Tampa on Monday, teammate Mitch Marner called it a "proud brother moment". The duo have been through a lot together as they both broke into the NHL during the season five years ago.
"It means a lot coming from him," Matthews said of Marner's comment before the game. "I think our relationship has really grown over the last couple of years, but this year we've taken it to another level."
Marner picked up an assist to extend his point streak to 12 games (eight goals, 19 assists). Both players continue to ramp up their performances as the Maple Leafs finish out the remaining 11 games in the regular season.
Performing well in the playoffs is clearly front of mind for this team.
Regular-season accomplishments are part of that journey," Keefe said. These are the games you have to play and they're making them count, but they know what they're building towards."
POINTSBET IS LIVE IN ONTARIO
PointsBet Canada has officially launched in Ontario! Get a $25 free bet just for 
signing up right here!