Calgary Flames emerging as a potential trade partner for the Maple Leafs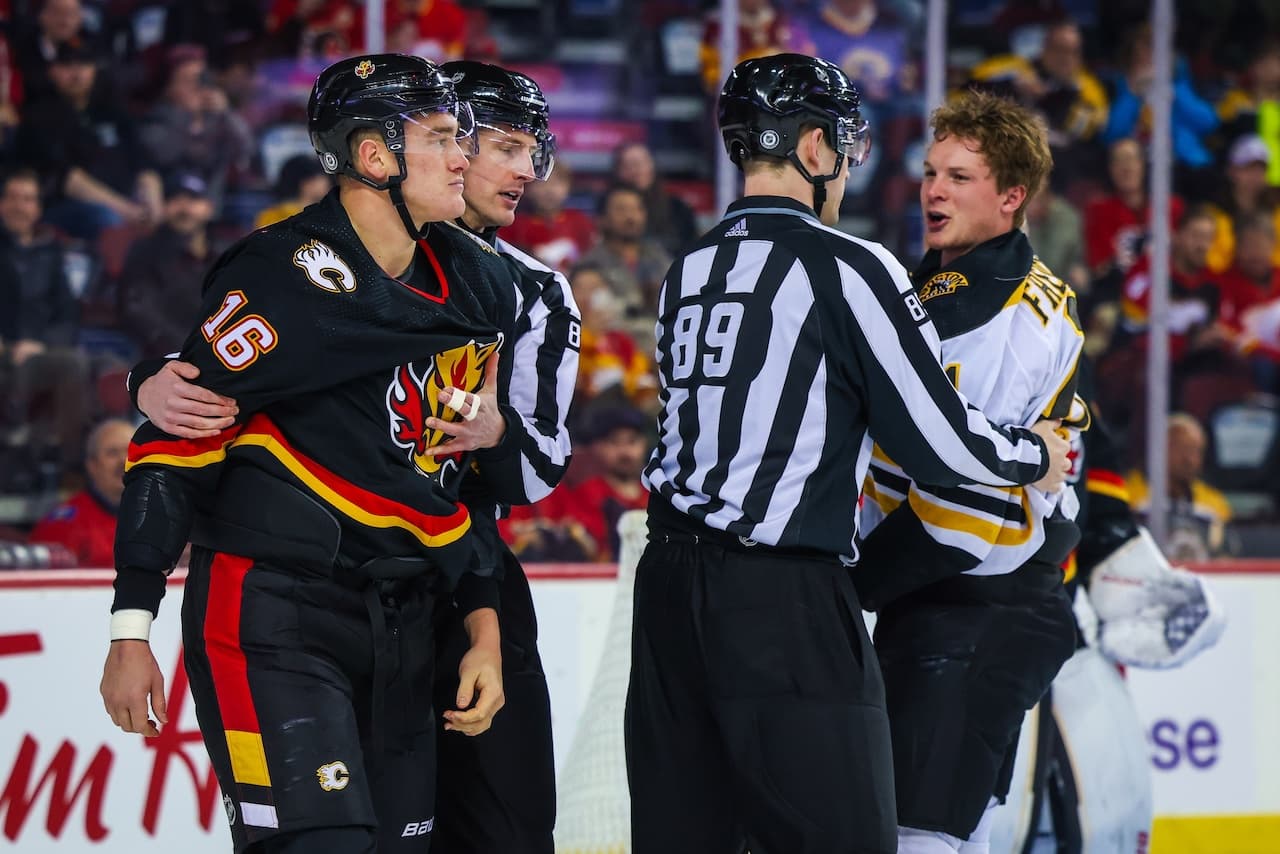 Photo credit:Sergei Belski-USA TODAY Sports
The Calgary Flames are a hot mess. The team has started the season 2-6-1 and sits second last in their division, only ahead of the San Jose Sharks who have yet to win a hockey game.
Toronto Maple Leafs general manager Brad Treliving
is of course tied to the Flames given his long tenure in Calgary and as Leafs GM, he should be keeping a close eye on what's shaping up in Calgary.
The Flames have managed only 19 goals in nine games, good for 28th in the league in offensive output. Nazem Kadri has one goal, Mikael Backlund hasn't scored yet, and their goaltending has been shaky, to say the least. And while the on-ice product is rough, the off-ice business is getting messy as well.
Eric Francis of Sportsnet
reported the Flames have halted contract extension talks with Elias Lindholm and Noah Hanifin, as it sounds like management needs to figure out what kind of direction the team is headed given their start to this season. A full rebuild could be on the way in Calgary.
Treliving and the Leafs should be keeping close watch as the Flames have a few players who could help the Maple Leafs for their Stanley Cup Playoff run. Some names to keep an eye on include:
Nikita Zadorov
Perhaps one of the most well-suited defencemen for the Maple Leafs, Zadorov is a nasty blueliner who loves the physical side of the game. Toronto needs much more of that on their back end, and he could fill that role.
Treliving knows Zadorov's game very well and was the one responsible for acquiring the big blueliner in Calgary via a trade with the Chicago Blackhawks in 2021 which resulted in a third-round pick heading back to the windy city.
One of the most appealing factors when it comes to Zadorov is the fact he's a pending unrestricted free agent and is someone who can be brought in on a short-term showcase for the Leafs playoff run. The 6-foot-6, 235-pounder is set to make $3.75 million against the cap this season and does not hold any trade protection.
Zadorov has been vocal this season
in Calgary, letting out his frustration about his team's performance. He wants to win and you can't blame him there after what went on with Darryl Sutter and the Flames stars last season. This was supposed to be a bounce-back year in Calgary and that hasn't been the case at all. Zadorov has this to say about his team earlier this season:
"We're only six games into the season and we're trying to figure out who wants to be here, who wants to play for who. We're just not working as a unit. We have too many individuals playing as themselves. We have to figure out if we wanna play as a team or play as our own guy. We can't feel sorry for ourselves. Come back, time difference, who cares? Just go out there and play."
Yikes, things are pretty rough in Calgary but that could work out perfectly for the Maple Leafs. There's little doubt in my mind that Treliving isn't watching this situation closely as Zadorov is exactly what the Leafs' blue line needs more of.
Noah Hanifin & Elias Lindholm
While the Leafs could likely land Zadorov for a third-round pick and mid-level prospect, the likes of Noah Hanifin and Elias Lindholm would be a little trickier to acquire. They both make just under $5 million for the remainder of this season, which could be tough for the Leafs to fit in under their salary cap. Even Zadorov's $3.75 million won't be easy for the cash-strapped Maple Leafs.
Any deal involving Hanifin or Lindholm would need to include a high-end prospect and likely a first-round pick. Like what Kyle Dubas pulled off last season, look for a Treliving in-season trade to involve a third team to help facilitate the financials, which makes the acquisition price even steeper. Yes, lots to ponder for the Leafs GM.
Hanifin is a pure top-four defender who can play in all situations. Lindholm would give the Leafs a stud at third-line center and someone who can move to the wing if needed. There's no doubt adding either could cost the team someone like Nick Robertson, but it is a price that may be worth paying. If they up the price and pursue somebody such as Fraser Minten or Easton Cowan instead, talks probably plummet through the floor.
Flames defenseman Chris Tanev is also worth keeping an eye on as
Treliving signed Tanev
to a four-year deal back in 2020. Tanev makes $4.5 million and is also like the other three Flames mentioned, an unrestricted free agent at season's end. He holds a no-trade clause which protects him from 10 teams of his choice, however, a move to Toronto to reunite with Treliving and make a run at the Stanley Cup is something he'd likely be interested in.
Nonetheless, Leafs Nation, don't expect much for blockbuster trades this season until closer to the trade deadline as the Maple Leafs need to figure out their cap situation and find ways to create space. Having a third team involved will help and so will some salary retention. All things which make the acquisition price increase, but if Treliving wants to bring a Cup to Toronto and bulk up for the playoff run, he'll need to get off his wallet eventually.