Could Ottawa push for a playoff spot?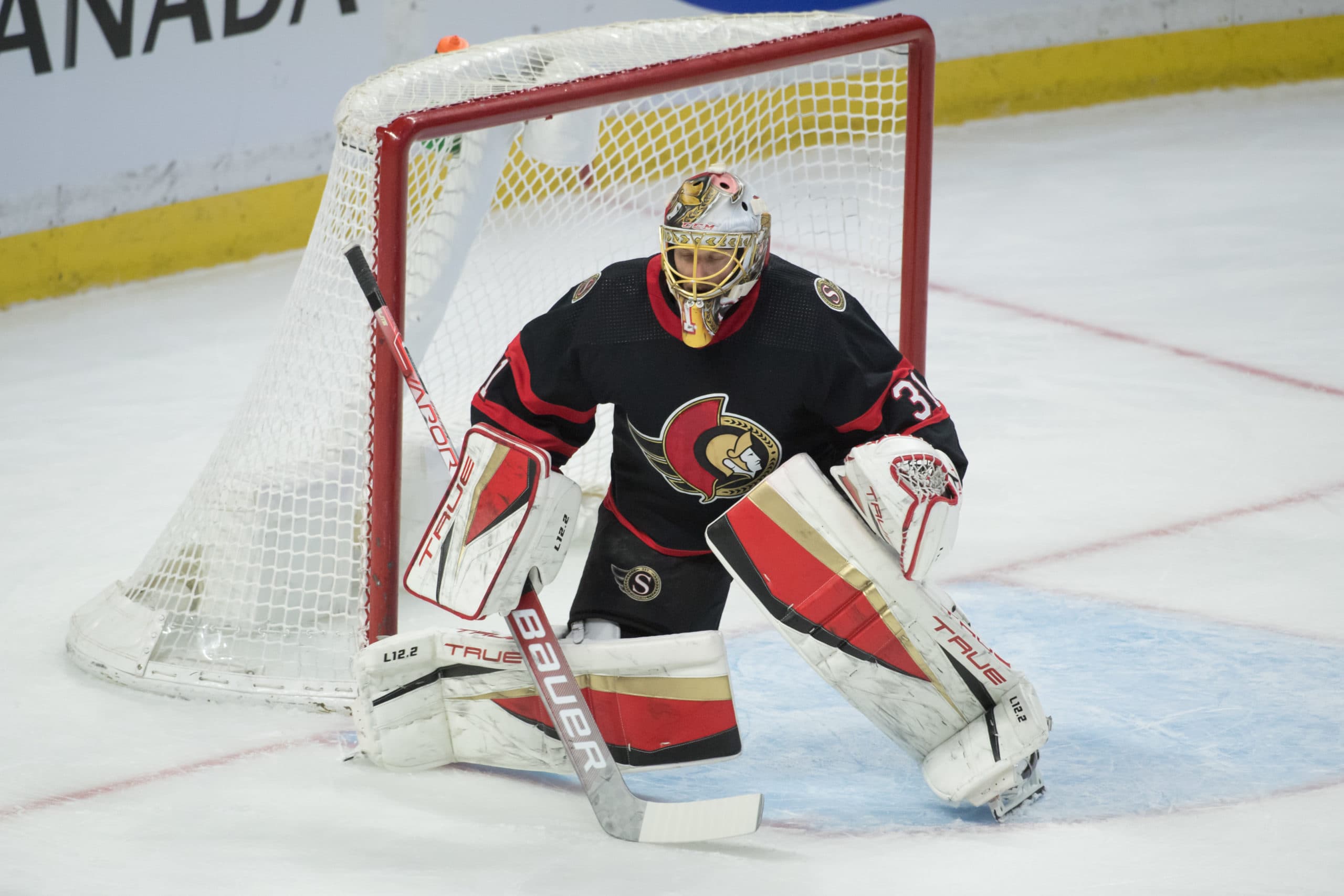 Photo credit:Marc DesRosiers-USA TODAY Sports
Overview:
There are many that believe Ottawa won the off season. It's hard to deny that they improved. The last few seasons have felt melancholy at best, but going into this year, there is hope in the nation's capital. While some question marks still remain, particularly on the back end, there is a sense of optimism amongst Sens fans that this could be a playoff team.
Stats from last year:
Atlantic Standing: 7/8
Points: 73 (26th)
CF%: 47.88% (21st)
GF%: 45.65 (22nd)
PP%: 19.3% (20th)
PK%: 80.3% (13th)
Interestingly enough, all these stats suggest Ottawa should have been better than their 26th place finish last year.
Internal Moves:
First and foremost, this will be the first season without Eugene Melnyk. The polarizing owner passed away in March. This begins a new chapter, with new leadership for the club.
Part of that new leadership will come in the form of Claude Giroux. Giroux joins Thomas Chabot as the assistant captains this year. Rounding out the on ice leadership is Brady Tkachuk, who remains captain.
Tim Stutzle signed a massive 8 year contract, and Mathieu Joseph earned himself a 4 year deal. Both forwards should be playing with clear minds now, and Stutzle particularly will be looking to vault himself into an elite NHL forward. With his contract out of the way, I would bet that his 3rd season will be by far his most productive.
Player Moves:
There were lots. The Ottawa Senators were the biggest movers and shakers this summer. Let's begin with the trades. Alex DeBrincat was brought in for the 7th and 39th overall picks in this past draft, and a 3rd round pick in 2024. It's not very common to see a multi year 40 goal scorer that's 24 years old get traded. DeBrincat is a serious addition to a talented offensive group. He will help on the power play, and can also mentor a couple of younger forwards that will be looking to replicate his scoring success.
Ottawa made a major shakeup in net this summer, sending Matt Murray and a couple of draft picks to Toronto. They also flipped netminder Filip Gustavsson for Cam Talbot. The 35 year old Talbot will be relied upon to steady the ship, but his debut will have to wait. Unfortunately for the Sens, Talbot will miss the first part of the season due to injury. He is in the final year of a 3 year contract.
There were also some notable free agent signings, starting with Claude Giroux. The hometown product will come in hungry to lead Ottawa to the post season. Giroux has played over a thousand games in the NHL and has over 900 points. He would be a welcomed addition to any roster.
An under the radar move, but Tyler Motte signed a 1 year deal. I had Motte circled as someone I was hoping Kyle Dubas would target, he will be an annoying bottom 6 forward for the Sens this year. Derick Brassard made good on his PTO, and is an option for their 4th line.
Keys:
The biggest key for Ottawa this year will be for their important young players to continue taking steps forward. Many players have found success in their early careers, and will be looking to prove they can do it consistently.
The top 6 is a young group besides Giroux. They are dynamic and talented, and many of them should be ready for their best season ahead. The Sens also have a solid 3rd line that will look to play difficult minutes against other top opponents, and still provide some secondary scoring. I personally really like this top 9 group, it stacks up well against most in the NHL. The 4th line is where some of the quality drops off, where there are many players proving they have what it takes to play.
There are question marks on defence, with some very exciting young players looking to make their mark. This d core is likely the Achilles heel, and I have a hunch that a trade is likely to happen at some point. Could it perhaps be Jakob Chychrun? Let's not speculate too much, and focus on the pieces that they currently have.
Big question marks will loom over where the squad goes from here. Pierre Dorion had a great summer and will likely want to see how his team looks. That being said, it's obvious an upgrade is needed somehow on the back end, and Nikita Zaitsev's contract is a sore spot (who knew).
The goaltending is also key. Can Anton Forsberg provide solid enough goaltending throughout the year? He will obviously get a chance with Talbot hurt. Talbot has a rib injury, which could keep him out anywhere from 1-2 months. Beyond them, Magnus Hellberg is next up, and he should get some opportunities to back up to start the season.
What Success Will Look Like:
Success will look like positive development. Ottawa needs to take a massive step forward this year, and put pressure on the elite teams in the Atlantic, which they should be able to do. At the end of the season, they should be close to the wildcard spots. If they aren't within touching distance of the playoffs, many in Ottawa will deem this year unsuccessful.
Many players will be looking to breakout, so why not start with the captain. Brady Tkachuk scored 30 goals last year, and will look to do it again. I bet that with a settled Tim Stutzle, he eclipses his career high. Stutzle will also be looking to fill the stat sheet, alongside Tkachuk and Batherson.
Speaking of Batherson, it's probably time to address a massive question mark above his head. Alex Formenton's head too, although he is still an RFA without a contract. Both were members of the 2018 Canadian Junior team that is facing some horrific sexual assault allegations. Without speculating on any individuals innocence or guilt, it should be mentioned that both are at the forefront of the ongoing investigations. Nothing more needs to be said for now on this matter.
Moving on, DeBrincat and Giroux will look to settle in beside 35 goal scorer Josh Norris. This could be one of the best 2nd lines in the NHL. All 3 will look to be close to leading the Sens in scoring, and should put some serious pressure on the '1st line'.
Tyler Motte and Mathieu Joseph will be wingers on the Sens 3rd line. Motte is a candidate to be flipped at the deadline depending on where the Sens are, and Joseph will look to play with more clarity having signed his extension. Their centerman, Shane Pinto, will look to stay healthy. He is probably the biggest wildcard of the group, and Sens fans will be eager to see how his season develops.
The 4th line will be comprised of Parker Kelly, Mark Kastelic, and Austin Watson. The former 2 will be looking to prove they belong in the NHL, and with Derick Brassard signing a 1 year deal, the pressure to perform will be on.
The back end starts and ends with Thomas Chabot. He is the out and out anchor, and is a candidate to lead the league in ice time. His partner on the first pair is Artem Zub, and they will look to set the tone. Chabot has had a drop off in points the last couple seasons since putting up 55, I bet he eclipses the 40 point mark this season.
The second pair will consist of Travis Hamonic, and Jake Sanderson. Hamonic will look to provide a steady and reliable presence, which should enable his partner, the 5th overall pick from 2020 to take more risks and show off his capabilities. Sens fens will be salivating in anticipation of the rookies debut. He has all the tools to be a tremendous player in this league.
The third pair looks to be veteran Nick Holden, and Erik Brannstrom. Holden is the obvious elder statesman of the group, and his presence off the ice will be equally as important as his contributions on it. Brannstrom will be looking to have a solid year. The former 15th overall draft pick has definitely not ascended to the heights many thought he would, could he break out this year?
Finally, the goaltending. Forsberg will need to steady the ship until Talbot returns. The tandem is probably considered mediocre around the league, and the Sens will require at least one of them to take the lead as the season rolls forward.
Projection:
5th place in the Atlantic, 92 points.
They will miss out on the wildcard, but there is a lot of promise in Ottawa.
Possible lineup:
Tkachuk – Stutzle – Batherson
DeBrincat – Norris – Giroux
Motte – Pinto – Joseph
Kelly – Kastelic – Watson
*Brassard extra
Chabot – Zub
Sanderson – Hamonic
Brannstrom – Holden
*Zaitsev extra
Forsberg – Hellberg
*Talbot hurt