Despite what Chris Wideman thinks, the Leafs did right by giving Jett Alexander his moment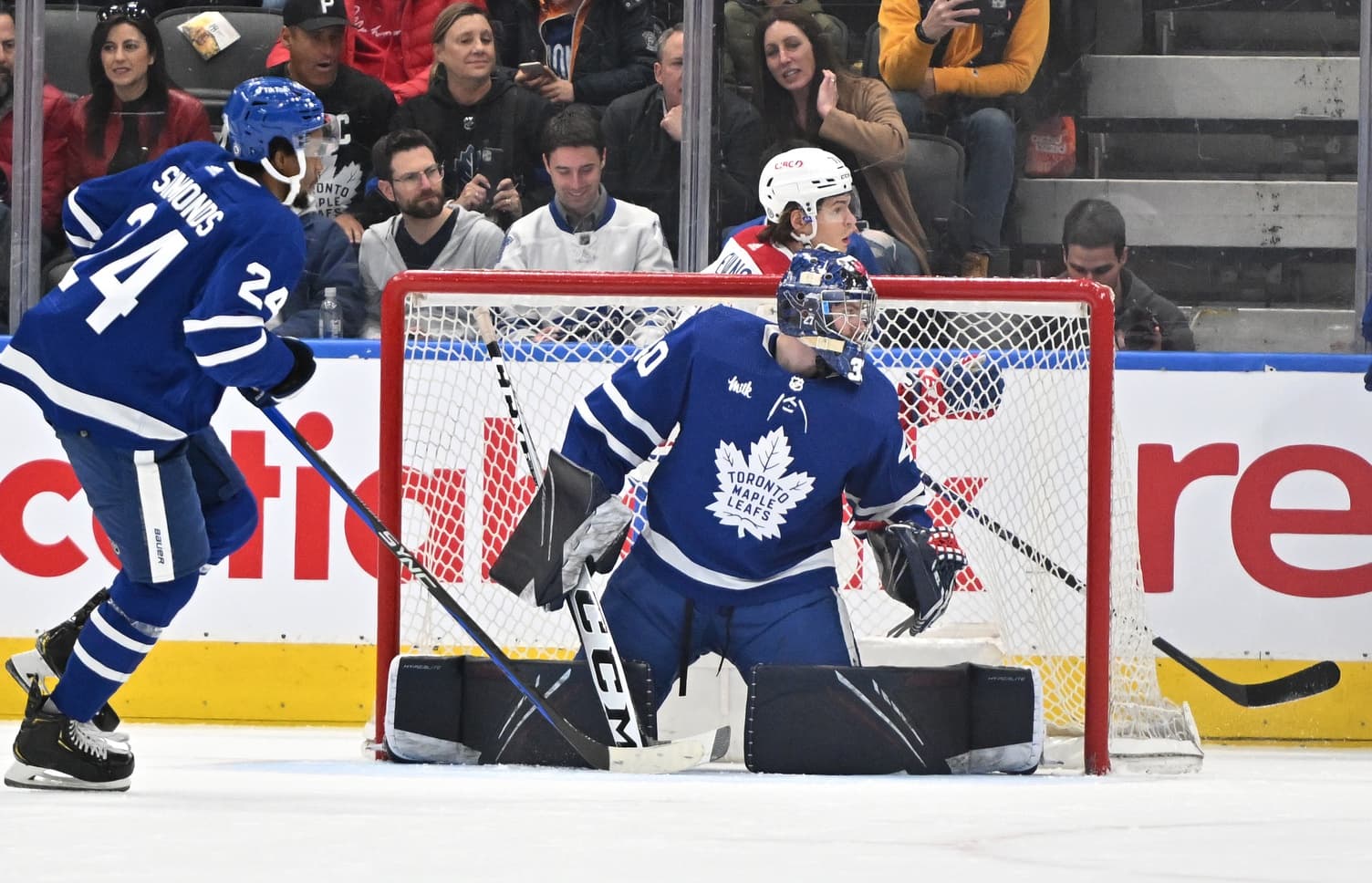 Photo credit:© Dan Hamilton-USA TODAY Sports
While last night's game was ultimately a meaningless one in regards to the standings, there were
quite a lot of memorable moments
from the Leafs' win over the Canadiens.
David Kampf attempted the Michigan, Wayne Simmonds turned back the clock with a strong outing, and the star players were at their best when they needed to be.
No moment from this game stood out more than in the final 70 seconds when the Leafs, with the game well out of reach and the win all but confirmed, decided to let
Jett Alexander finish the night
and get his first taste of NHL action. It garnered a warm reception from the fans in attendance, the players loved it, and it provided Alexander with a memory that will last a lifetime. Given the strenuous circumstances that resulted in
him being signed to an ATO contract
in the first place, having him get a minute and change of game time was a great way to end a dominant showing.
You would think that a cool and fun moment like this would be universally praised by everyone in the hockey community, but sadly it wasn't. There were
some members of the media
who took offence to the Leafs
having the audacity
to provide a U of T goalie with a feel-good moment at the end of a pointless game. But perhaps no one was more outraged by this move than Habs defenceman Chris Wideman, who had this to say when asked about it:
While he has every right to be frustrated with how poorly his team did in that game, the Leafs putting in Alexander for the final 70 seconds was
not a way for them to further embarrass Montreal
. It was nothing more than a heartwarming moment at the end of Toronto's regular-season finale at Scotiabank Arena.
It's not like Alexander was some random guy who they just luckily found off the street, he is a quality goaltender who could one-day turn pro after he finishes up his time at U of T.
He is coming off a strong sophomore season with the Toronto Varsity Blues by going 12-7-2 while posting a .927 SV% and a 2.21 GAA, then took his team to the decisive Game 3 of OUAA quarter-finals before falling to the Lakehead Thunderwolves.
Before that
, he had one of the best Junior A seasons ever for a goalie as a member of the North Bay Rangers (better than Devon Levi) and was selected in the 12th round of the 2015 OHL draft.
You even saw
some make a big fuss
over
Sheldon Keefe saying that it was not his decision
to put in Alexander when it's not important to try and figure out who made the call. Regardless of who it was, what matters is the end result which was that the Leafs were able to allow a U of T goalie his first taste of the NHL without making a save to cap off a game that was already decided by that point.
Alexander was not the first EBUG/goalie signed to an ATO that took to the ice in an NHL game and he won't be the last. These types of goaltenders have long been part of hockey lore since the inception of the league and the rarity of such moments makes it all the more special when it does take place. Why else do people still talk about
the time that David Ayres filled in for both Hurricanes goalies
in a game against the Leafs and stopped eight of 10 shots?
Don't let Wideman convince you otherwise: the Leafs did the right thing by making this happen and it was an awesome way to conclude their home schedule for the regular season.