The Leafs should consider trading for Alexey Toropchenko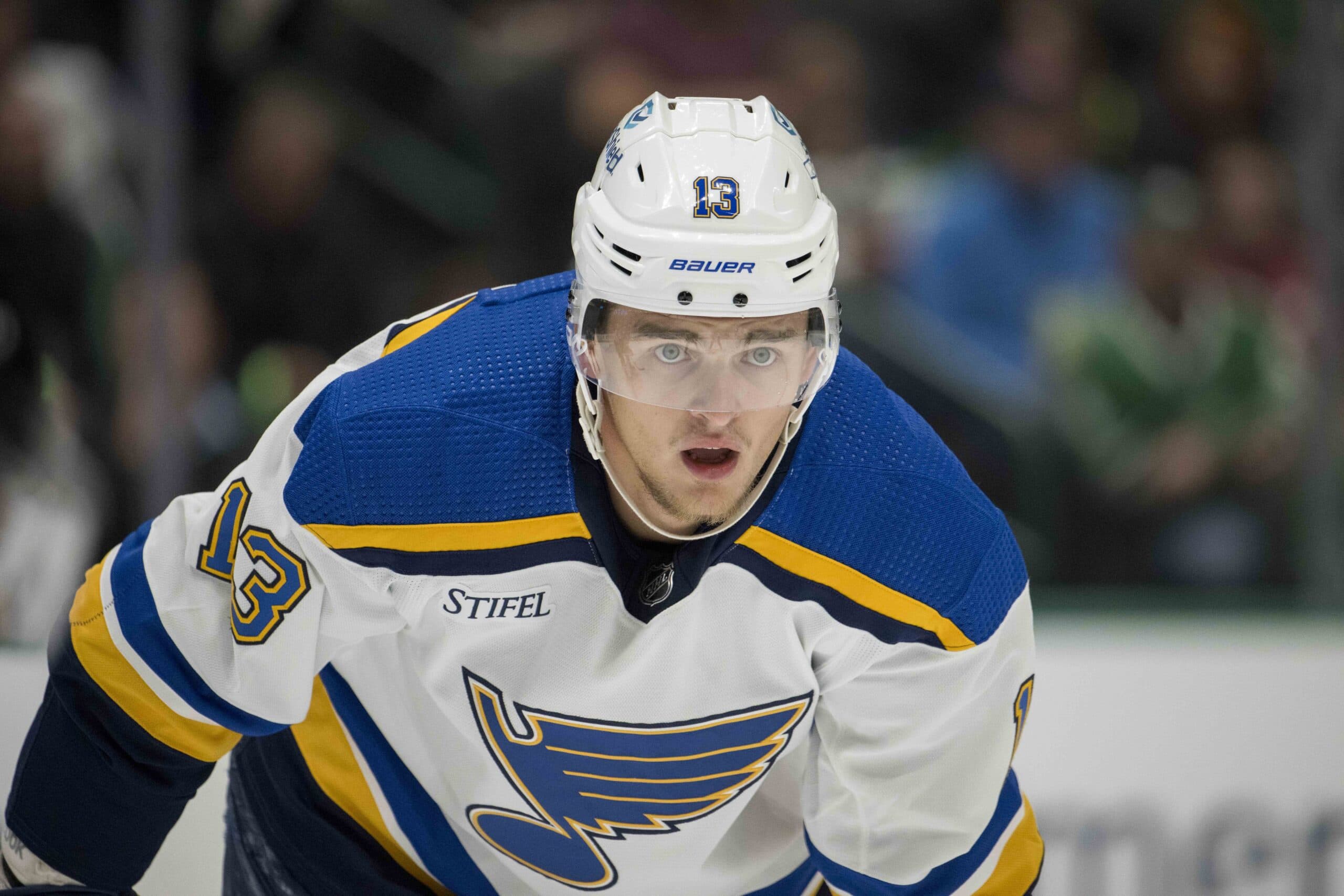 Photo credit:© Jerome Miron-USA TODAY Sports
An important challenge that every team that has aspirations of going deep into spring is establishing the identity of their bottom six.
For the entire duration of Kyle Dubas' tenure as Leafs GM, he built the bottom six to be filled with an emphasis on two-way players who are defensively responsible and can make the safe play. This certainly helped lead to a team that can roll four lines and minimize the damage in their own end, but this also came at the expense of some additional scoring.
The same cannot be said since Brad Treliving took over, as the identity has not yet been defined.
While there have been some additional offensive weapons added to the mix that have generated more offence, their play in their own end has taken a hit. But beyond the makeup of the bottom six not being fleshed out, there is certainly a need for an impactful forward who can provide some responsible defensive play in all situations while also throwing hits and occasionally chipping in offensively. In other words, they have sorely missed Noel Acciari.
So what if they could fill that void with a player from the Blues who is not only younger but also significantly taller than Acciari? Enter Alexey Toropchenko.
Toropchenko is 24 years old standing at 6'6″ and weighing 222 pounds. Originally drafted in the fourth round of the 2017 NHL Draft, the right winger is coming off his second full season in the league where he established himself as a dependable checking forward on the bottom six where he earned himself a two-year extension.
He won't provide a lot of offence as he only mustered 19 points (10 goals and nine assists) in 69 games played last year. But what Toropchenko does provide is a lot of hits and reliable play in his own end.
His skating is above average
compared to the rest of the league, which is impressive considering his height. This allows him to keep up with the play in the defensive end and use his large play to either block shots, collect rebounds, or bring it up the other way as evident in the above clip.
The advanced metrics at 5v5 from last season reflect that of a player who is primarily given defensive minutes on a team that struggled all year long:
| | | | | | | | | |
| --- | --- | --- | --- | --- | --- | --- | --- | --- |
| CF% | FF% | SF% | GF% | XGF% | SCF% | HDCF% | HDGF% | PDO |
| 43.88 | 45.89 | 47.31 | 56.00 | 45.37 | 44.99 | 47.31 | 48.28 | 1.028 |
While the obvious outliers here are the GF% and PDO, the rest are just about what you would expect given the type of player Toropchenko is and the situation he was in. Where he truly shines is in terms of the defensive numbers where
he is ranked above average
in that department and
saw his market value
be noticeably above his $750K salary from a year ago.
Although he does have the ability to provide the occasional scoring (
especially while shorthanded
), he is not going to wow you with his offensive skillset as evidenced by his two assists in seven games to begin the season. Although he is on a Blues team that is struggling to generate offence so far, Toropchenko is not supposed to be an offensive dynamo so you can't fault him for his team's scoring woes.
As mentioned earlier, Toropchenko's primary task is to be a steady player in his own end of the ice, play physically, and bring that energy on the forecheck with his great size. His 122 hits a season ago had him finish fourth in St. Louis in that department and he laid 46 blocks, the second-most for Blues forwards behind only Acciari. At the time of writing, he currently has 15 hits and is on pace for roughly 152 of them
which would have had him tied for 80th in the NHL last season
.
One aspect of him as a player that some might not realize is that he is not afraid to use his voice and hold himself and his teammates accountable. This was evident when
he did not mince words
after an overtime loss to the Canucks back in February.
"Even if we are not in a playoff spot, I will do everything,"
Toropchenko said to the media that day
. "It's a hockey game, you cannot leave, especially if you're playing in the NHL. You're not playing somewhere else in a beer league or something like that. You need to show something. You need to show heart, and character and to be strong everywhere. Just play from your heart."
After reading those quotes, it's hard not to root for a player like that. Not only is Toropchenko going to play a dependable game and be physical when needed, but he will give it his all every night and do whatever it takes to win the game. You can never have too many players who have the drive and determination to pull out all the stops every single night and a guy like Toropchenko would be useful add to further boost that department.
If the Leafs want to acquire his services, they will need to engage in some cap shenanigans because he is on the books at $1.25 million a season for the next two years. That cap hit is certainly not the most difficult one to manage but a hypothetical trade would need to involve salary being sent the other way either in a one-for-one swap or as part of a bigger deal. If they want to keep it simple, they would need to move out Conor Timmins and his $1.1 million cap hit and deal with the roster maneuvering later. You could also have Toropchenko be one of the pieces in a trade that also sees the Leafs get one of the Blues' many defencemen such as Robert Bortuzzo and then the cap situation would be easier to work around.
Should Brad Trelving find a way to add Toropchenko into the fold, the most obvious place to slot him would be in a bottom-six role. More specifically, he would be rotated back and forth between the third and fourth lines so that the Leafs don't have to play Ryan Reaves every single night. Imagine how effective a fourth line of Toropchenko, David Kampf, and Noah Gregor could be a from a defensive perspective?
Simply put, Toropchenko would be a nice boost to help shore up the Leafs' depth and improve their defensive play both at even strength and on the penalty kill. His big size, a tendency to play physically, and the occasional offensive output would make him a worthy replacement for Acciari while also being younger.
The cap hit will certainly be a tricky one to fit in, but it will be worth it when the end result is bringing in a guy like Toropchenko.