Five things we would like to see from the Leafs in their last 30 games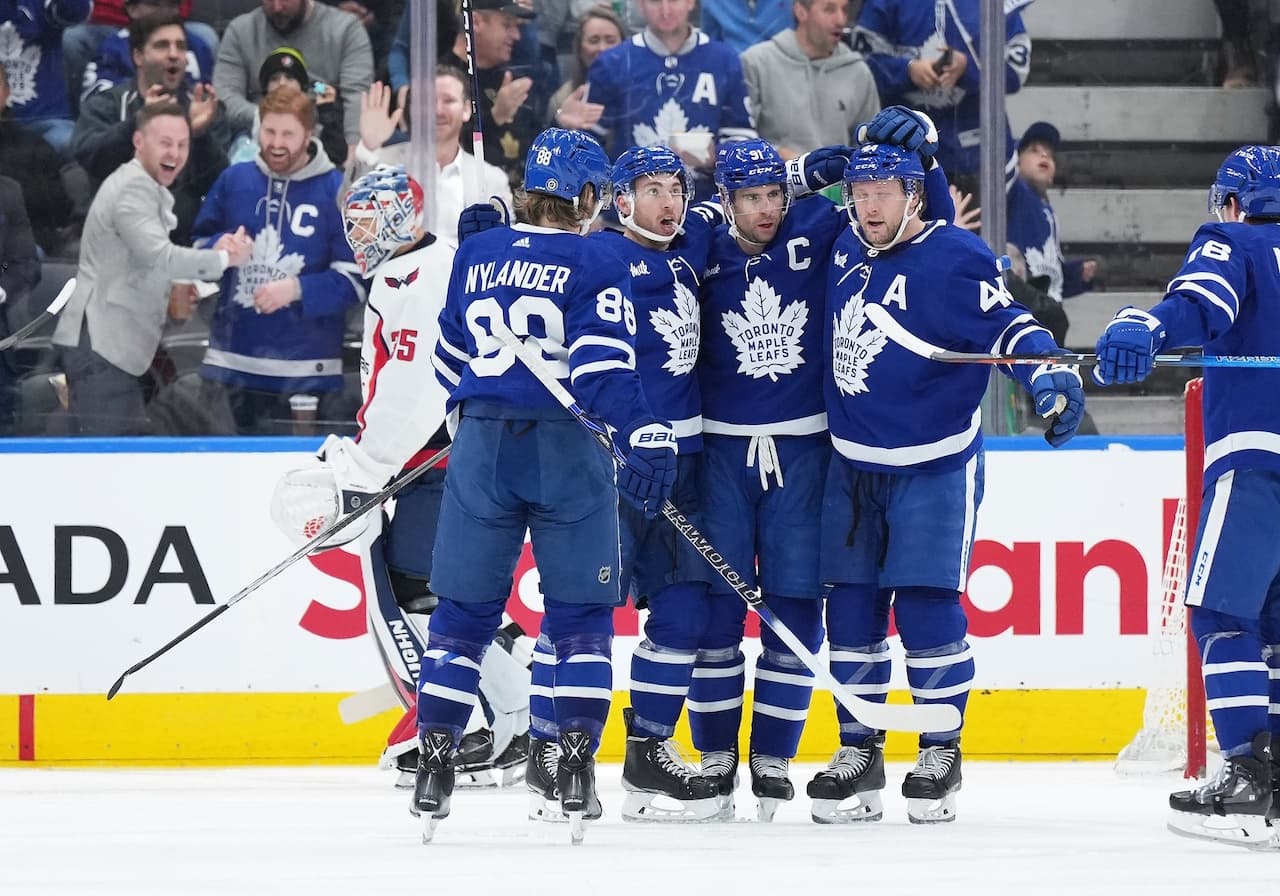 Photo credit:Nick Turchiaro-USA TODAY Sports
Tonight's game against the Blue Jackets will kickstart the Leafs' unofficial second half of the season.
While they have less than half of the regular season games left, there is still quite a lot to play for in their last 30 games as they currently sit second in the Atlantic Division with 70 points.
Catching up to the Bruins will be a tall order while the Lightning are closing in on the Leafs with a two-point deficit and a game in hand. So unless something drastic happens down the stretch, the Leafs should qualify for the playoffs for the seventh straight season and will likely have to play Tampa Bay in the first round yet again.
With a little over two months to go until the second season kicks off and Toronto tries to overcome its postseason demons, here are five things we would like to see from the Leafs in their last 30 games of the season.
1. Get Morgan Rielly back on track
To say that Morgan Rielly has had a subpar season to this point would be a massive understatement.
Having only appeared in 37 games due to a knee injury, he has one goal, 22 assists, and 23 points. His lone goal came on January 29th after a 35-game drought, 14 of his assists are secondary, and has just nine points on the man advantage. All of this while on the first season of an eight-year contract with a $7.5 million cap hit.
Fans have understandably been frustrated with Rielly's lacklustre showing, with some going as far as wanting him traded. I highly doubt the Leafs will want to move their longest-tenured player on the active roster who will be part of their defensive core for a long time to come. Instead, Sheldon Keefe and the coaching staff need to do everything in their power to get Rielly back on track and in a position to succeed.
A good place to start would be easing his minutes to help get him back to full strength since it is evident that Rielly has not been himself since coming back from the aforementioned knee injury. He is currently averaging 22:39 minutes a night, so getting that down to between 20 and 21 minutes for the time being could help. Stapling him alongside TJ Brodie the rest of the way will also go a long way in ensuring Rielly is comfortable on the ice.
In terms of the power play, the Leafs need to find a different spot for him on the top unit. Rielly tends to go for wrist shots instead of slap shots from the point, so perhaps swapping places with Mitch Marner (who has been tested out as the defenceman on the five-forward unit) could help make Rielly more lethal and produce more offensively.
2. Load manage Mark Giordano
By contrast to Rielly, Mark Giordano has had a phenomenal season thus far and has proven he has plenty left in the tank.
It was especially apparent when the Leafs were ravaged by injuries on their blue line and had to play some of their AHL defenders such as Mac Hollowell and Filip Kral. Toronto could have struggled to hold their heads above water during that stretch, but their winning ways continued and Giordano was a big factor in that maintained success.
His 19 points are second among Leafs' defencemen and ninth on the team in scoring, his underlying metrics remain solid, and has been able to do all of this while averaging under 20 minutes a night. He is a critical component of why the Leafs have had another strong season, which is why his workload needs to be eased in the final 30 games.
Toronto is blessed with incredible depth on defence and has at least eight NHL defenders on their roster right now. This is the time to give longer looks to some of the other options so Keefe has an idea of what other combinations can work in the event of injuries or lacklustre results. That means giving Timothy Liljegren and Rasmus Sandin a longer leash while giving more games to the likes of Conor Timmins (
who signed a two-year extension yesterday
) and Jordie Benn.
The Leafs cannot afford to lose Giordano in the playoffs for any amount of time, so ensuring he remains fresh for the two-month grind will be crucial. Sitting him for around half of the remaining games could do wonders to keeping him at his best when it matters.
3. Find a permanent solution for the second line left wing
This is not breaking news, but the Leafs still haven't figured out who their left winger on the second line will be long-term.
Keefe has been trying different options for the spot throughout the campaign and has yet to find an option that he can trust for a long stretch of time. Whether it has been Nick Robertson, Calle Jarnkrok, or Alex Kerfoot, they have not done enough to secure that spot going forward.
It's an area that will likely be addressed leading up to the trade deadline, which is why you have been hearing fans clamouring for the Leafs to get players like Timo Meier, Patrick Kane, Conor Garland, Brock Boeser, and Troy Terry, or
even calling up Matthew Knies
. This is integral for the Leafs to determine because they cannot afford to be put in a position where they are clamouring for offence in critical moments and don't have enough options beyond their big four.
Their biggest flaw in the playoffs has been their lack of scoring depth. Bringing in the permanent fix on the second line could go a long way in fixing that.
4. Start leaning on their Game 1 starter down the stretch
When Matt Murray and Ilya Samsonov are healthy, both of them have been reliable and have done enough to earn the confidence of the fans that the Leafs will be in good hands in the crease. But with the former
being placed on injured reserve yesterday
, the Leafs' Game 1 starter is becoming more apparent with each passing day.
The goal the rest of the way is to begin giving Samsonov the bulk of the starts down the stretch until Murray returns from his latest setback. It would obviously have to be a reasonable amount since going into spring with a tandem of Joseph Woll and Erik Kallgren would be less than ideal, but enough that keeps Samsonov focused for the critical games.
Don't be surprised if Samsonov starts at least 15 games or more the rest of the way because the net for Game 1 of the playoffs is his to lose.
5. Secure home-ice advantage
Above all else, the Leafs need to remain focused and not take their foot off the gas peddle.
Although it did not work out in their favour last season against the Lightning, having their first playoff game of 2023 in Toronto will be crucial because they can assure they will have home-ice advantage for the majority of the postseason (unless they have to face Boston again). While Tampa is two points back at the time of writing, other teams like the Sabres and Panthers are gaining some momentum which could make the Leafs' position in second place feel less secure if they begin to slip.
As I mentioned at the beginning, the Bruins are running away with the Atlantic and will be a tough task for Toronto to catch up or even surpass them. However, they should maintain the mindset of trying to overtake Boston for the division title as it will help ensure they remain attentive to being at their best every single night.
With the Atlantic Division remaining competitive from top to bottom, the Leafs need to keep up their momentum to ensure they remain in the upper echelon by the time the regular season wraps up.