Free agent departures: Zach Hyman returns from the COVID protocol list, Zach Bogosian hit with injury bug again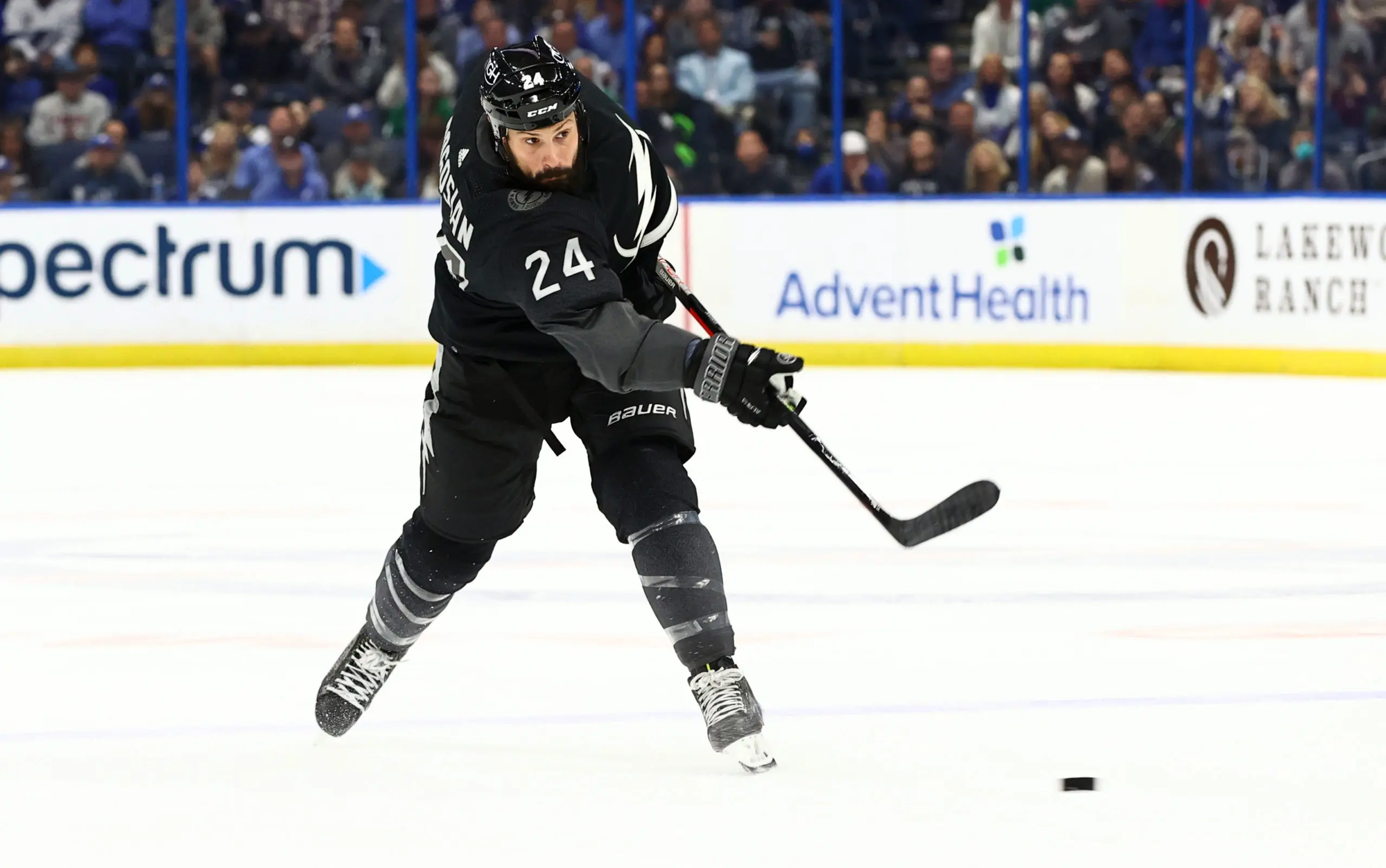 Photo credit:Kim Klement-USA TODAY Sports
The 2021-22 NHL season is now at the midway point and we now have a clear view as to how these six former Maple Leafs have been performing with the new team that they signed with during the last off-season.
From Zach Hyman signing with the Edmonton Oilers to Nick Foligno signing with the rival Boston Bruins to even Alex Galchenyuk returning to Arizona on a one-year deal, all these former Leafs have had their ups and downs this season, including some who have just not found their groove at all with their new squad.
Some of these players have been hit with injuries more than once and some have been even hit with being placed on the COVID protocol list, so their games played this month compared to others are kind of all over the place depending on who they are.
1. Zach Hyman – EDM – 29 years old – LW/RW
January 2022 stats: 7 GP – 2 G – 4 A – 6 PTS – 17:57 TOI
2021-22 stats: 35 GP – 13 G – 12 A – 25 PTS – 18:53 TOI
Contract: 7 years x $5.5M
It's kind of been an up and down season so far for Zach Hyman with his new squad, the Edmonton Oilers. He came out of the gates hot and scored almost every game it seemed like, but obviously, that has slowed down tremendously but he is still finding ways to show up on the scoresheet for this Oilers team. He was hit with an injury that kept him out of the lineup for a couple of weeks in December and then once he returned to the lineup, he played in some games and then he ended up in the NHL's COVID protocol list.
He was in COVID protocol for three games and made his return to the Oilers lineup on January 27th against the Nashville Predators where they picked up a 3-2 win. Hyman didn't show up anywhere on the scoresheet but did register four shots and two hits in his return. It's the next two games where Hyman has made an immediate impact in his return where he had himself a three-point night against the Montreal Canadiens and then tallied an assist against the Ottawa Senators last night.
With four points in his last two games, Hyman has registered six points in seven games in the month of January and has improved his season total to 25 points in 35 games which is a 54 point pace if he plays all the remaining games in the schedule, given he's already missed six games due to injury/COVID protocol.
2. Frederik Andersen – CAR – 32 years old – G
January 2022 stats: 9 GP – 8-1-0 – 2.10 GAA – .927 SV% – 0 SO
2021-22 stats: 30 GP – 24-6-0 – 2.01 GAA – .929 SV% – 1 SO 
Contract: 2 years x $4.5M
After a bounce-back month in December, the Danish netminder has done it again and had himself an incredible month of January for himself and the Carolina Hurricanes. Frederik Andersen had a down month in November but bounced back big in December by going 5-0-0 with a 1.60 GAA and a .937 SV%. He then followed up December with a pretty darn good January as he picked up a record of 8-1-0 as well as a pretty attractive 2.01 GAA and a .929 SV%.
Andersen, who, just like Jack Campbell has pretty much been in Vezina Trophy conversation all season long along with a couple of other world-class goalies and goalies who are just simply breaking out in the league this season. After two and a half seasons of poor play from Andersen in his final seasons in Toronto due to injuries and simply just not playing well, it's very nice to see him bouncing back in a big way on a very, very good Hurricanes team in Carolina.
Frederik Andersen currently ranks second in the NHL with a 2.01 goals-against average (GAA), third in the NHL with a .929 save percentage (SV%) and is tied first in the NHL with 24 wins along with Tampa Bay's Andrei Vasilevskiy. So after a strong December and a pretty similar January, Andersen is now top three in those three goalie categories and has a record of 24-6-0 on the third place Carolina Hurricanes.
3. Nick Foligno – BOS – 34 years old – LW/C/RW
January 2022 stats: 8 GP – 1 G – 2 A – 3 PTS – 11:17 TOI
2021-22 stats: 26 GP – 1 G – 6 A – 7 PTS – 14:07 TOI
Contract: 2 years x $3.8M
It really hasn't gone to plan for Nick Foligno and the Boston Bruins so far this season, to say the least. After being acquired by Toronto right before the trade deadline from the Columbus Blue Jackets last season, Foligno was brought in for his two-way play along with the physicality he brings to a lineup every night. However, in Boston, after signing a two-year deal this past off-season, the offensive side really hasn't been there for Nick and his ice-time has been dropping more as the season rolls along here.
Although, on top of his struggles offensively, Foligno has also been hit with the injury bug a couple of times and really hasn't had the chance to string together a decent stretch of games in the lineup due to that fact. It's unfortunate that Foligno has been hit with some injuries, given that he was also hit with a couple with the Maple Leafs last season and into the playoffs and it really sucked because he's the type of player you want to be playing in close games down the stretch of the season and of course, in the playoffs too.
In the month of January, Foligno played in eight games and finally found the back of the net as he scored his first as a Bruin and also tallied two assists to collect three points in those eight games. With those three points in eight games, Foligno's season total now sits at seven points in 26 games while averaging just above 14 minutes of ice-time a night with this Bruins team.
4. Zach Bogosian – TB – 31 years old – D
January 2022 stats: 3 GP – 0 G – 0 A – 0 PTS – 18:44 TOI
2021-22 stats: 23 GP – 2 G – 4 A – 6 PTS – 17:25 TOI
Contract: 3 years x $850K
It's been kind of a tough season so far for the former Stanley Cup champion, Zach Bogosian. After coming to Toronto last season, Bogosian signed a three-year deal to return back to Tampa Bay after winning the 2020 Stanley Cup with them and hasn't really had the ideal season so far due to multiple injuries keeping him about of the lineup off and on so far through half the season.
Bogosian has only suited up for 23 games out of the 45 games the Lightning have played so far and the reason for that is, as I said above, injuries that keep taking Bogosian out of the lineup for Tampa Bay. He was able to play in just three games in the month of January and in those three games put up zero points, but averaged north of 18 and a half minutes and gave the Lightning good defensive presence back there on the back end.
It's very unfortunate that he's been held out of the lineup multiple times due to injuries that keep happening, but as long as Bogosian is resting and healing up, he'll be back on the ice in no time and will help give depth to Tampa Bay as they're hoping that they can three-peat as Stanley Cup champions.
5. Joe Thornton – FLA – 42 years old – C/LW
January 2022 stats: 6 GP – 1 G – 0 A – 1 PTS – 11:21 TOI
2021-22 stats: 24 GP – 4 G – 2 A – 6 PTS – 11:01 TOI
Contract: 1-year x $750K
"Jumbo" Joe Thornton is still kicking around the league and has been able to get in a decent amount of games with the Florida Panthers this season. Despite being 42 years old and being on one of the best teams in the entire league and arguably the best offensive team in the league too, he has found a way to get into the lineup and play fourth-line centre minutes for this Panthers team.
He's played in 24 games this season out of the 46 games Florida has played so far and he has actually provided decent numbers offensively for someone who is 42 years old and only averages 11 minutes of ice-time a night whenever he does get into the lineup. In the month of January, Thornton suited up for just six games and registered just a single goal which he scored on January 4th against the Calgary Flames – which ended up being the game-winning goal too in a 6-2 win for the Panthers.
There really isn't that much else to say about Thornton other than he may score or tally an assist here and there along the way towards the end of the season on this very talented Panthers team and hopefully has a chance to go far in the playoffs for maybe one last time.
6. Alex Galchenyuk – ARI – 27 years old – LW/C/RW
January 2022 stats: 10 GP – 0 G – 3 A – 3 PTS – 11:17 TOI
2021-22 stats: 23 GP – 0 G – 5 A – 5 PTS – 12:40 TOI
Contract: 1-year x $750K
Just like in my previous articles, there really isn't much to talk about with Alex Galchenyuk this season and his Arizona Coyotes squad. We all know how poor of a season Arizona is having, but for someone who has bounced around the league a number of times as he has and someone who got the chance to play in Toronto's top-six last season, he really hasn't found a spot on this Coyotes team this season and he struggled to produce for them too.
He's only suited up for 23 games so far this season and that is due to him being injured to start the season and being placed on the COVID protocol list when pretty much almost the entire league also entered protocol. However, in the 10 games he played in during the month of January, he registered three points which is kind of a good sign if you think about it because he only has five points this entire season and has been playing bottom-six minutes constantly.
One of those points (assist) came against his former team, the Toronto Maple Leafs back on January 12th when Toronto came into Arizona to play the Coyotes. He helped set up Ryan Dzingel's second goal of the night just over midway through the third period which would ultimately be the game-winning goal and give the Coyotes a 2-1 win over the Maple Leafs.
It's unfortunate Galchenyuk isn't producing more on this bad coyotes team and is constantly being played in the bottom-six, but he also only signed a one-year deal so who knows where he lands next season, or if he gets traded towards the deadline given his very cheap cap hit.