Game #3 Recap: Maple Leafs' depth and Jack Campbell come up big in 5-2 win over the Lightning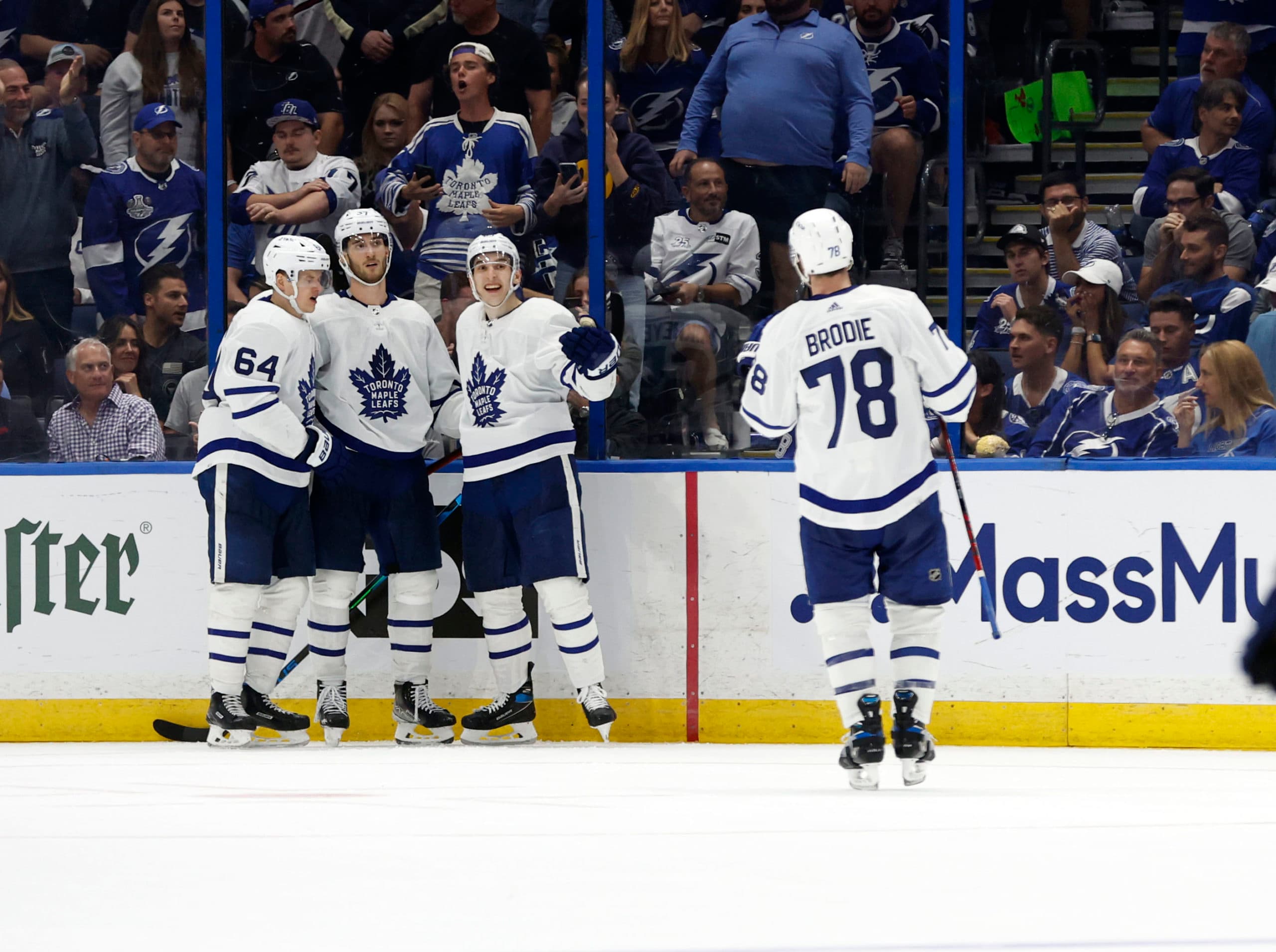 Photo credit:Kim Klement-USA TODAY Sports
If there was any game to remember between the Toronto Maple Leafs and Tampa Bay Lightning, it's this one.
This matchup had everything from hits, goals, power play goals, empty net goals, and even a few massive saves from Jack Campbell. In the end, the Maple Leafs took Game Three 5-2 and now lead the series 2-1. Game Four is on Sunday night.
Before I get started discussing the game, I wanted to take a moment in highlighting what being at Maple Leaf Square has been like. I've been there shooting video for The Leafs Nation's social accounts since Game One and it's been nuts.
This was after Ilya Mikheyev's first empty net goal on Friday night.
I've been at Maple Leaf Square for plenty of playoff games, but for some reason, Friday night's game had a vibe that I've never felt before. Now, it may be because of COVID and how amazing it was to just be around people again, but like I said, this felt incredibly different to past playoff years.
There was an event called 'Stars on Ice' being held inside Scotiabank Arena and as the crowd was filtering out, they were standing outside the doors recording Maple Leaf Sqaure. It felt like I was shooting a movie in all honesty.
Do you remember when people would call the 1920s the 'roaring 20s', well you better gear up because we're going to be experiencing that for the next eight years.
The Gifs
The Maple Leafs began this game like they did for the past two games — hungry to get the game started with a goal of their own.
After Pat Maroon shot the puck out of play, Toronto got a power play and who else but Morgan Rielly gets the Maple Leafs on the board with the first goal in Tampa Bay.
Incredible smarts by the 28-year-old to recognize that he was okay to jump in for a scoring chance of his own. With an assist on that goal, Mitch Marner is tied with Connor McDavid and Evander Kane for playoff points at six.
Did you ever think we would be saying that in the playoffs?
Shortly after Rielly's goal, Mikhail Sergachev dumps the puck into the Maple Leafs' zone and Ross Colton is there to set up a scoring chance. However, Jake Muzzin also gets back and makes a nice defensive play to cut off the pass in front.
I'll be honest — I was interested to see how Muzzin would fair throughout the playoffs and I'm quite surprised with how good he's been playing. Maybe I shouldn't be, though, since he is a Stanley Cup Champion.
Do you know what else I didn't think I'd be saying in a playoff game? Ilya Lyubushkin sets up Colin Blackwell for a goal.
Both Lyubushkin and Blackwell get their first-ever points in the Stanley Cup Playoffs on that goal. The two trades Kyle Dubas made prior to the trade deadline are doing dividends.
Toronto has a 2-0 lead heading into the second period — what could go wrong? Well, obviously nothing.
Five minutes into the second, David Kampf brings the puck up the ice and snaps the puck past Andrei Vasilevskiy for his second goal of the Stanley Cup Playoffs.
An unbelievable rush up the ice and an even more impressive shot by the 27-year-old to put the Maple Leafs up 3-0 (!!!).
Maple Leafs head coach Sheldon Keefe had some big words for Kampf after the game-winning goal in the third matchup of the series.
Later in the second period, after an unfortunate penalty by Justin Holl, the Lightning go to the power play and put the puck into the back of the net. Just a wicked shot by Ross Colton that I don't think Jack Campbell had a chance on.
This goal starts from Alex Kerfoot not dumping the puck in on the penalty kill. It took Tampa ten seconds after stealing the puck from Kerfoot to coming down and scoring a power play goal.
Things became a little more tense after that as the Lightning would continue to apply the pressure throughout the final minutes of the second. But some big stops by Campbell and no other than TJ Brodie to help keep the Maple Leafs in front 3-1 after two periods of play.
The third period began with an incredible pass from Rielly to Auston Matthews who had two chances to score but both were stopped by Vasilevskiy.
Marner would then put the puck off the crossbar and the post to which a lot of people reacted as if Toronto scored their fourth goal of the game at that moment. Boy was it close.
Ondrej Palat, though, would find a way to beat a hot Campbell and get the Lightning within a goal.
After the Lightning scored, Toronto went into desperation mode and it was incredible to watch. First, it was Marner making a massive block on a shot.
Then, it was Campbell making multiple saves to keep the game at 3-2. The 30-year-old played incredible on Friday night and the fans at Maple Leaf Square loved it.
This save below, in particular, may be the best save from a Maple Leafs goaltender in the playoffs since Frederik Andersen's stick save against Boston a few years back.
Ilya Mikheyev would then go onto score two empty-netters to seal the deal and allow Toronto to leave Game Three with a 2-1 lead in the series.
The Numbers
It's worth beginning this segment with a check-in on Campbell's save percentage which is now up to .924 in this series. Just some incredible play by the 30-year-old throughout the three games so far.
We also need to give some love to Pierre Engvall, who assisted on the second goal of the night, plus on both of Mikheyev's empty-net goals. The 25-year-old now has three points in this series.
It was almost as even as it gets in Friday night's game with Tampa and Toronto almost splitting CF% 50/50 in all situations. The biggest thing was that the Maple Leafs led the Lightning in xGF5 by a large margin — 66.75% for Toronto and 33.25% for Tampa.
While the analytics are always important in hockey, I believe the most important statistic tonight was Campbell's save percentage.
Going into next game, the two main points to look for are whether or not the Maple Leafs can play a consistent game, plus if they do that and Campbell has another great night, it'll be a success down in Florida.