How can the Leafs activate Jake Muzzin from LTIR?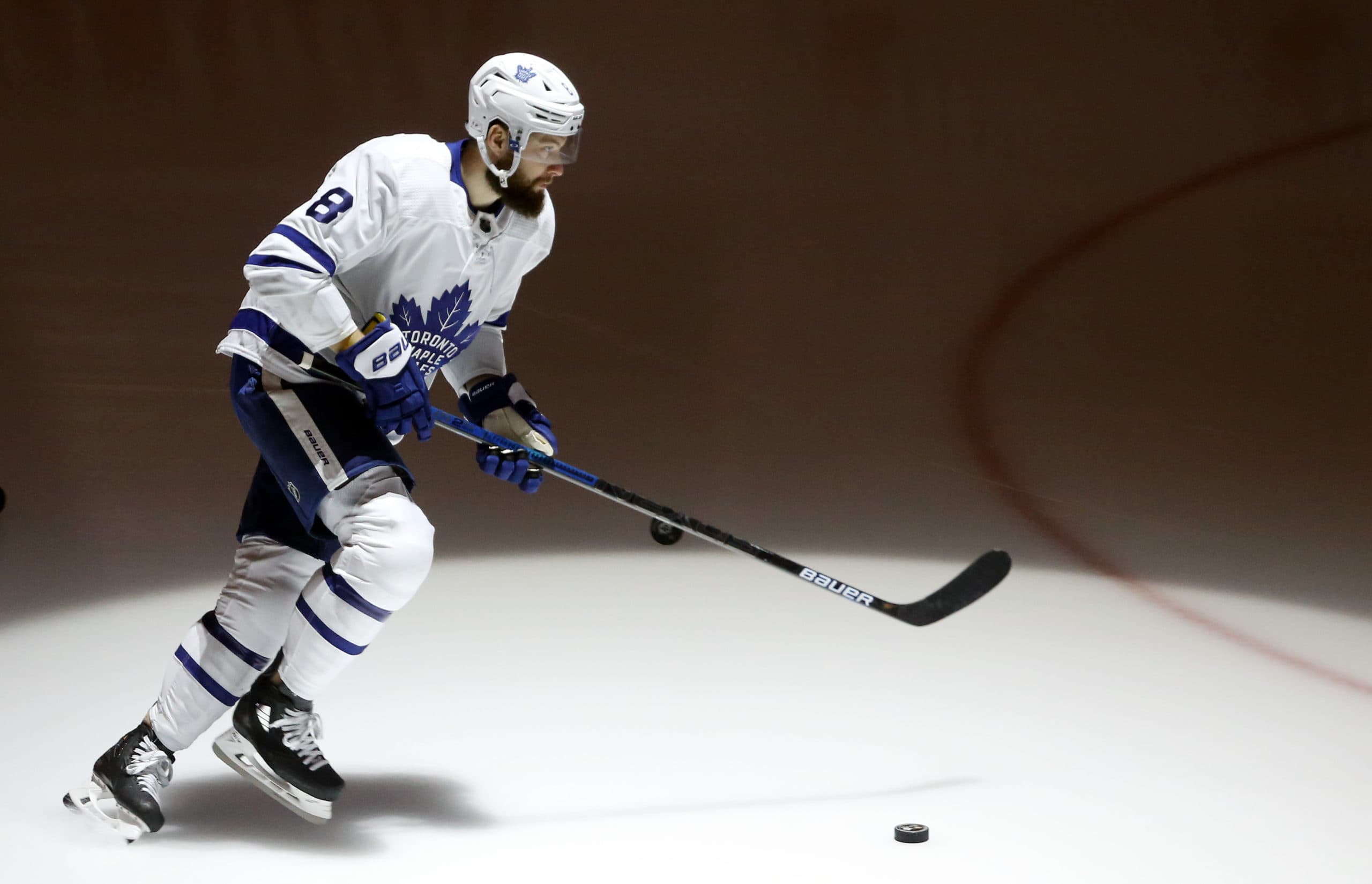 Photo credit:© Charles LeClaire-USA TODAY Sports
At his post-trade deadline press conference, Maple Leafs GM Kyle Dubas mentioned that Rasmus Sandin had been placed on Injured Reserve. Turns out he was actually placed on LTIR, but there was no mention of that on the Leafs social media to my knowledge. That means the earliest he can return is April 14 vs. the Capitals, at which point there will only be 9 regular season games remaining.
Timothy Liljegren and Petr Mrazek were very briefly loaned to the Marlies roster on deadline day, making them eligible to be sent down post-deadline. Mrazek can't be sent down without another active goalie on the roster, Jack Campbell is skating again though so that won't be an issue much longer. With those two sent down, the Leafs are just under $1m away from being able to activate Muzzin from LTIR. With Sandin on LTIR, they're ~$100k away.
I should mention that Jake Muzzin is back to practice as well, and it seems as though the Leafs intend to activate him. Without a way to make up that $100k however, they do not have the cap space. The only other player that could be removed from the roster is Erik Kallgren, as he is up on Emergency Loan. The trouble is that he's already making the league minimum, and there's no goalie they could fit under the cap for $648,495 to keep 2 active Gs on the roster.
This is why I wondered if the Leafs could get Seattle to retain on Colin Blackwell's contract in addition to Mark Giordano's, which would allow Toronto to activate Muzzin from LTIR as long as Sandin remains there. It's possible the asking price for that was too high, as Seattle would later need their 3rd and final retention slot to send Marcus Johansson to Washington.
Long story short, another player needs to go on LTIR before Muzzin can come off. One possibility is Jack Campbell going on LTIR retroactive to March 10, when he was originally placed on IR. Mrazek and Kallgren would remain the tandem while Muzzin gets some reps in, with ~$423k in cap space. That allows Campbell to still come back as soon as April 4 vs. Tampa Bay but only kicks the can down the road as another player would need to go on LTIR in order for Campbell to come off. It doesn't seem like Campbell is in any condition to get shut down until playoffs, so someone else must go on LTIR.
The only other roster player currently absent from practices is Ondrej Kase, who suffered a head injury on March 19th against Nashville. It's been noted that the Leafs medical staff are being especially cautious with him given his injury history. With him on LTIR (and Campbell/Kallgren in net) the Leafs can activate both Muzzin and Sandin, with $254,328 in cap space.  I'm hesitant to speculate on injuries, but this is a front office that understands the cap intimately, and the numbers just line up if Kase is out until playoffs.
If that's the case, I would expect Toronto to recall 4 players at some point before Muzzin is activated from LTIR. Liljegren and Mrazek already count towards this limit, and Kallgren would have to be converted to a regular recall once Campbell is healthy, giving the Leafs 13F, 8D, and 3G. The last spot comes down to Kyle Clifford and Nick Robertson. Once Muzzin is activated they won't have the space to make any recalls, and you have to be recalled after the deadline to be eligible for the playoff roster.
That would give the Leafs 14F: Matthews, Marner, Nylander, Tavares, Bunting, Kerfoot, Mikheyev, Engvall, Kampf, Kase, Spezza, Blackwell, Simmonds, Clifford/Robertson.
8D: Rielly, Brodie, Muzzin, Giordano, Holl, Lyubushkin, Sandin, Liljegren
3G: Campbell, Mrazek, Kallgren
I believe this is why Toronto finds it so important to sign Matthew Knies and Nick Abruzzese to ELCs because teams that are so tight to the cap don't have the luxury of carrying a full roster. A team would normally have 23 players on their roster for deadline day, plus 4 recalls after the deadline is 27 men going into playoffs. If A) Kase is out until playoffs, and B) the Leafs have no other players on LTIR, they will have to wait until the NHL regular season (and salary cap) ends to sign the pair of college prospects.
This all hinges on Kase being the player on LTIR, however, some people I've talked to have said that Ondrej is 'feeling fine'. I'm not certain that he will be out until playoffs, but people have been asking me how Muzzin can be activated from LTIR and this is the most likely scenario I can imagine. It's also the best explanation for the deadline moves the Leafs made, if Kase is healthy they simply do not have enough cap space for Muzzin and Giordano on the roster. It's either Muzzin is out until playoffs or you can't afford Giordano without double retention.
I'm not quick to judge a front office because we don't know so much of what goes on in the lead-up to the trade deadline. However, if Giordano and Blackwell were the Leafs targets from the outset, they had the opportunity to maintain enough accrued cap space to roll into playoffs with nobody on LTIR. Kase's injury happened on March 19th and it's possible the Leafs were still pursuing MA Fleury at that time. If that falls apart and the Leafs look at Seattle knowing that Kase is out until playoffs, there's no reason to seek out double retention on Giordano. At least that's what the math says.
Recent articles from Earl Schwartz