Jordie Benn's physical playstyle will help solidify the Leafs' defensive depth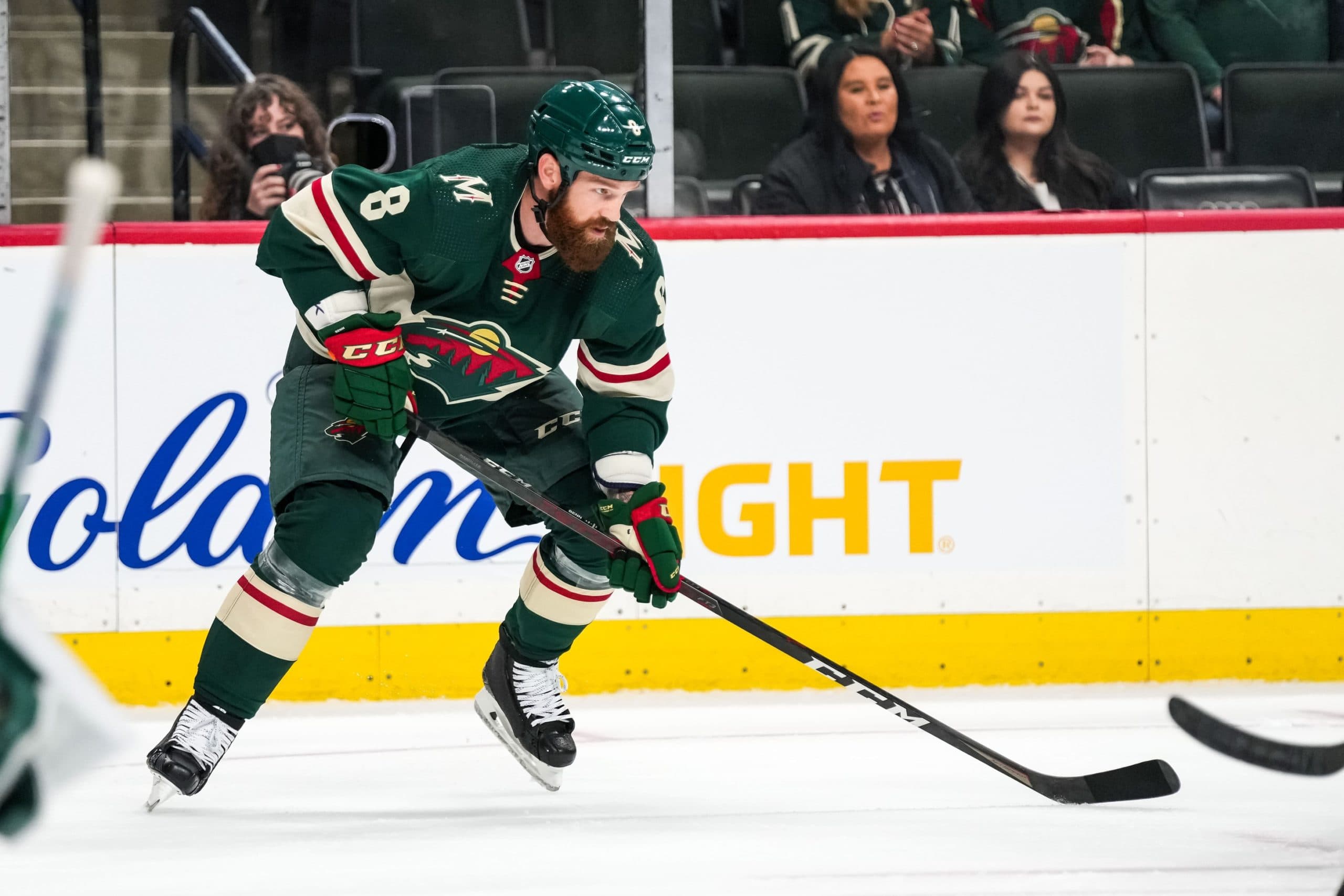 Photo credit:© Brace Hemmelgarn-USA TODAY Sports
That area was addressed on the second day of free agency when Toronto signed veteran blueliner @Jordie Benn to a one-year contract with a $750K AAV.
At first glance, Benn doesn't seem like the kind of player Dubas would want to acquire. Not only is he listed as a left-shot defenceman, but he is soon to be 35 and has yet to play a full year since 2018-19. But him not being an everyday player anymore combined with his playstyle was precisely what the Leafs needed in their defensive depth.
He spent the past year with the Wild and only appeared in 39 games where he recorded one goal and seven assists for eight points. Benn's underlying numbers are about what you would expect from a stay-at-home defenceman averaging around 15 minutes a night:
| | | | | | | | | |
| --- | --- | --- | --- | --- | --- | --- | --- | --- |
| CF% | FF% | SF% | GF% | XGF% | SCF% | HDCF% | HDGF% | PDO |
| 45.75 | 45.12 | 45.63 | 50.00 | 48.32 | 48.81 | 44.26 | 50.00 | 1.018 |
But Benn is not supposed to be an analytical darling: he is instead supposed to get the opposing team off the puck and help get it moving towards the offensive end.
He recorded 51 hits and 41 blocks in 2021-22, which would have placed him 18th and ninth respectively. Benn may not have had a season where he recorded over 100 blocks and hits in four years now, but what he brings will help in making the team tougher to play against. It is what the Leafs sorely missed when they lost @Zach Bogosian to free agency last summer, hence why they traded for Lyubushkin. Benn should have no trouble filling that role while also not needing to play every game.
Benn's days as an everyday player are well behind him and will best be utilized as an extra defenceman coming in occasionally. When he does get into game action, I could see Sheldon Keefe wanting to place him beside @Morgan Rielly since he had some positive results slotted alongside Lyubushkin.
Once he finally gets his contract signed
, it wouldn't be shocking if @Rasmus Sandin shares the ice with Benn. In the event that @Mark Giordano needs a maintenance day, Benn could also be slotted alongside @Timothy Liljegren in his natural position.
No matter who he lines up with when he does get into games, he won't look out of place and should be able to allow the roving defenders to do their thing. That is something the Leafs would love to have in their back pocket so it is unlikely he gets sent down to the Marlies at the risk of losing him to waivers.
Benn was brought in to provide some additional insurance on the blueline while providing that physical playstyle that will make things difficult for the opposition around the Leafs' net. There is no question that his decreased mobility and declining efficiency in defending the rush will hold him back, but it shouldn't be a major concern since he won't play the full 82 games. When he does play, it will be further down the lineup in a supporting role to help support the more skilled defenders. So don't be surprised if he plays in around 30 NHL games this season while getting reps on the penalty kill.
The Leafs' blueline was already crowded before they signed Benn and that is with Sandin not locked up to an extension. Given what he brings to an NHL team at this stage of his career, he should fit the role of the team's extra defenceman perfectly. They could decide to send him down to the AHL to begin the year, but that would be perilous since his versatility could be seen as an asset to many teams who would be able to snag him up for free. And it is
a foregone conclusion that the Leafs are going to lose players on waivers
before opening night so I would imagine they would not want Benn to be one of them.
Benn is not going to significantly move the needle, but his sandpaper playstyle will be helpful in solidifying the Leafs' defensive depth.