Has Joseph Woll given the Maple Leafs the luxury of a short leash on Ilya Samsonov?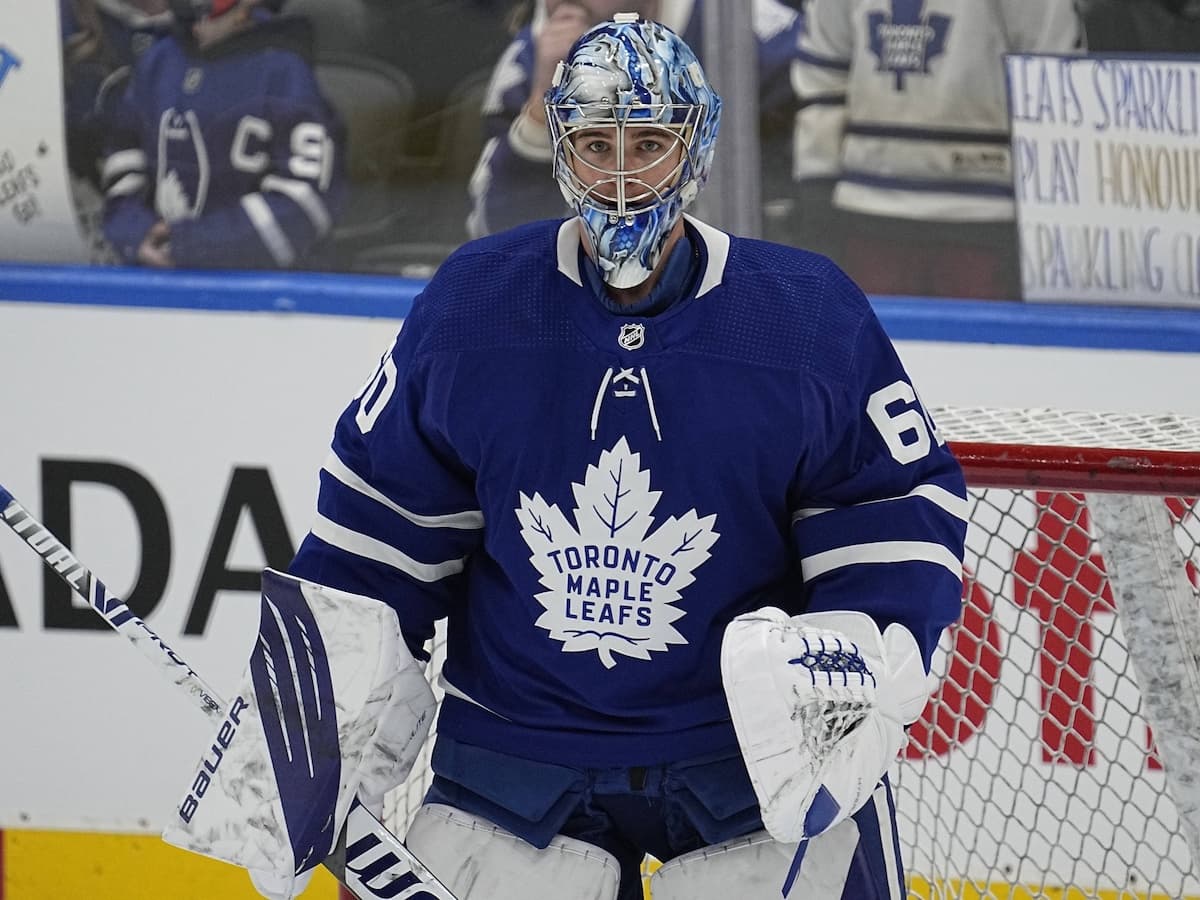 Photo credit:John E. Sokolowski-USA TODAY Sports
It's time to overreact to small sample sizes, which is what us sports fans and analysts do best.
It's impossible to deny the success of Joseph Woll's season thus far. Starting the year as a hazy fourth on the Toronto Maple Leafs' goaltending depth chart, he turned a hot start with the Toronto Marlies, that included a team-record 11-game win streak, into earning an opportunity to prove he could handle himself at the NHL level, which he has thus far passed with flying colours.
Now entering the playoffs, and a first round rematch against the Tampa Bay Lightning, Joseph Woll seems to have entrenched himself as the defacto backup to Ilya Samsonov due to a Matt Murray injury, and some stellar play to close out the season from Woll including a 45 save performance in a hard fought win against the Lightning.
It's been a long journey for the young netminder, who despite his string of starts to end the season, still played less often than Erik Kallgren for the Maple Leafs in 2022/2023. That being said, with playoffs starting it's hard to ignore what Joseph Woll has provided for Toronto during his limited time here. For the first time since Curtis McElhinney, the Maple Leafs appear to be entering the playoffs with one of the league's most underrated assets – a backup goaltender that they can be confident in.
Over the past two seasons, across both the AHL and NHL, Joseph Woll has been nothing less than stellar, culminating in a stunning .932 save percentage across seven NHL games this year. If that number were to stay consistent across the 25 cutoff the NHL uses to measure goaltending stats on its website, it would put him second in the entire league. Perhaps more impressive, is that even if his save percentage took a drop of ten points while playing more games as teams start to figure him out, it would still be top five in the NHL.
Is this to say that Joseph Woll should be the starter over Ilya Samsonov throughout the playoffs? No, of course not. However, Woll's play – including his dominant performance across the Lightning – has given Toronto the luxury of a short leash on their starting netminder. In year's past, if Jack Campbell or Freddy Andersen was struggling, the team was left with no option other than hoping they bounce back, as the backup was often considered a non-factor heading into the playoffs. 
Knowing that the health and performance of Ilya Samsonov won't be the sole factor in the series takes a lot of pressure off management, the team, the fanbase, and the goaltender himself to simply play his natural game and know that there is support available if it's needed. Should a minor injury occur, Samsonov won't have to play through it, as Woll has shown he's capable of stealing a win when needed. Likewise, if Sammy gets lit up early, Toronto won't seem like they're forfeiting the game by pulling him in favour of the young backup.
Of course, playoffs are a different beast, and it's entirely possible that Woll's hot performance this year has been nothing but a flash in the pan. That being said, the mood around Toronto's goaltending heading into round one is a complete reversal over last year, and it's a factor that deserves more attention than it's been getting.
With the way Jack Campbell ended last season, posting sub .900 numbers after his all-star break appearance, the expectation headed into playoffs was that Toronto would need him to rise to the occasion in a big way, as Erik Kallgren was considered a non option as the next in line. And while Andrei Vasilevskiy still gives Tampa Bay the advantage in net over any of Toronto's options, the difference in goaltending quality between the two franchises doesn't feel quite as staggering as it did 12 months ago, and Toronto's depth in net is a large part of the reason why.
Joseph Woll may never see the ice these playoffs, and if Murray recovers, there's even a chance that he's not on the bench for a number of games. However, simply by having the option to turn to him if necessary, Toronto has an advantage in this series unlike any they've had in years past. Their fate no longer relies on the talent and health of a single netminder, as the next kid in line has shown he's ready to step up for the next challenge, and what better place to do so than the largest stage of a playoff game for the Toronto Maple Leafs.