Kyle Dubas' 5 best moves during his time with the Toronto Maple Leafs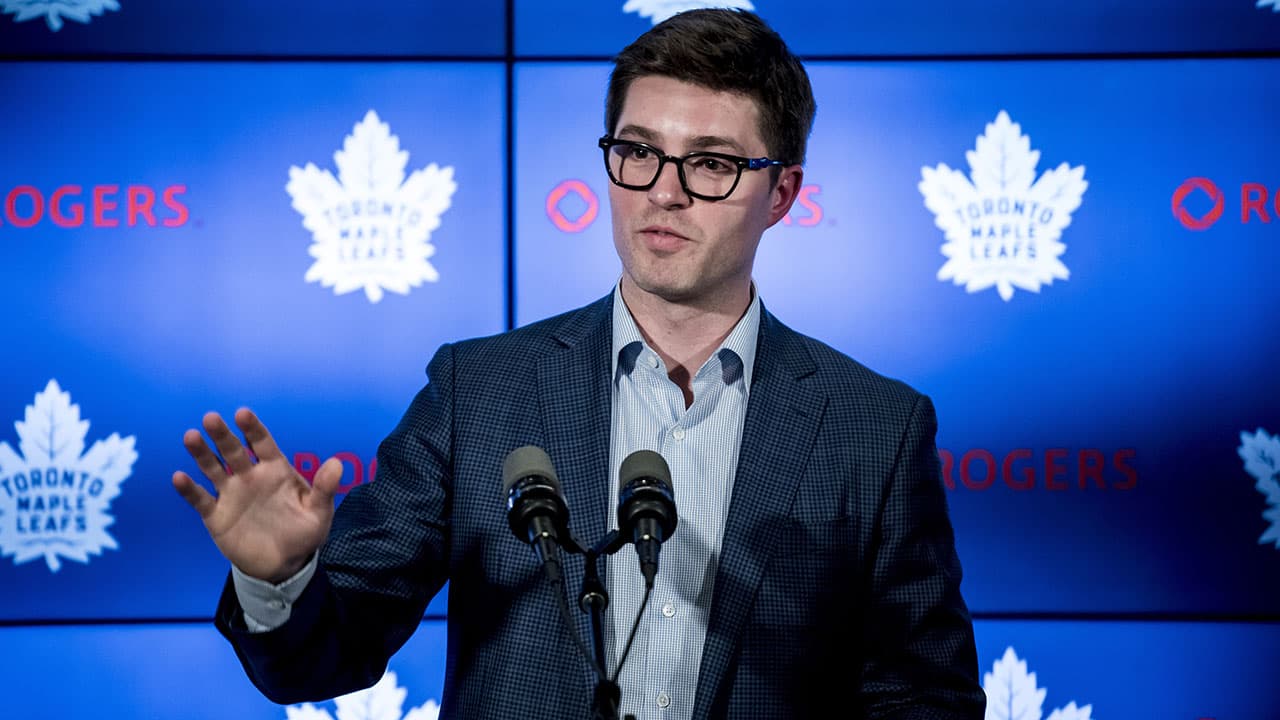 After being hired by the organization at the age of 28 back in 2014 as an assistant general manager, the Kyle Dubas era in Toronto has officially come to and end after nine years with the organization.
As we all know by now, the news broke recently that the Toronto Maple Leafs will not be extending the contract of Kyle Dubas and will now be looking elsewhere for a new general manager to take over arguably the biggest hockey market in the world with the 2023 NHL draft and free agency both just around the corner.
Whether you liked the job Kyle Dubas did throughout his five years as general manager and four years as assistant general manager or not, it's no secret that he did some good things for this organization  — and yes, even some questionable things for this organization that at the time and even looking back at it now, were a bad idea.
What I'll classify as a "move" in this article is simply trades, free-agent signings and even some draft picks that Dubas made. I am not counting re-signings with the players having already been part of the organization.
Before we start, let me say this, this is my top five, not yours. Yours may be a little different than mine or a lot different. You may agree with some of my moves in this top five or not. That's okay.
Let's now look at Kyle Dubas' five best moves during his time with the Toronto Maple Leafs…
Honourable mention 1: Toronto Maple Leafs acquire Jake Muzzin from the Los Angeles Kings in exchange for a 2019 1st-round pick (Tobias Bjornfot), Sean Durzi and Carl Grundstrom
This January 2019 trade is an honourable mention and not ranked higher because of how it turned out in the last couple of years for the Toronto Maple Leafs.
It's no secret that at the time of this trade, it was a massive win for the Maple Leafs and even a great return for the Kings – who at the time were in a rebuilding phase – because they get a first-round pick, a young defenseman who was just drafted the prior year and a 21-year-old winger who was Toronto's second-round pick just three drafts before the trade took place.
However, ever since Muzzin played a full season with Toronto, injuries have just gotten the best of him and it has sidelined the Woodstock native countless times in either regular season games or playoff games as we've seen in the last couple of years.
If Muzzin wasn't currently sidelined and with his playing career kind of still up in the air (even though it's probably looking like he'll never play hockey again), this trade could be ranked higher than just an honourable mention.
When Muzzin was acquired by the Maple Leafs, the team was getting a fantastic two-way defenseman in his prime who helped lead his prior team to the 2014 Stanley Cup. He was also a defenseman who wasn't afraid to throw his body around and made some highlight reel hits along the boards that had fans jumping out of their seats when he landed them to opposing players.
However, he was in the last year and a half of his deal when he arrived in Toronto and when the 2020 NHL trade deadline hit, Kyle Dubas re-signed him to a four-year, $22.5M contract which carried a cap hit of $5.625M, which is pretty fair value at the time, but with the flat cap that happened to every team when COVID-19 hit and the injury history to Muzzin that soon happened after, this deal has hurt Toronto, it's no question.
Muzzin is currently on LTIR and entering the last year of his four-year deal that he signed in early 2020.
The 34-year-old has played 187 games with the Maple Leafs over the last five years. In those 187 games, Muzzin has 18 goals and 63 assists for 81 points. He also has 316 blocks and 387 hits as well with the franchise.
Honourable mention 2: Toronto Maple Leafs acquire Conor Timmins from the Arizona Coyotes in exchange for Curtis Douglas
Although this trade just happened in November 2022, I think it deserves some love right now.
The Maple Leafs were hit with the injury bug to start last season and it affected their blue line unlike we've ever seen before. Between Muzzin, Rielly, Brodie, Liljegren and Sandin, it felt like the Maple Leafs were inserting different bodies on the back end almost every other night for the first couple of months of the season in place of those injured guys.
They relied heavily on 38-year-old Mark Giordano to eat more minutes than he was used to with the Maple Leafs and although Justin Holl can be a headache at times, he was relied upon heavily as well.
That's when Kyle Dubas struck a deal with the Arizona Coyotes sending them 6'9 AHL forward Curtis Douglas in exchange for 22-year-old right-handed defenseman Conor Timmins.
There was a lot to like about this trade if you were a Maple Leafs fan. For starters, you get help on the blue line for the price of basically nothing (no offence Curtis Douglas) and Timmins is only 22 years old and was recently drafted 32nd overall in the 2017 draft. There is still a lot of upside with this young player, despite not finding a ton of playing time/success in the early days with Colorado and Arizona.
Not soon after being acquired by Toronto, Dubas came to terms with Timmins on a two-year contract extension worth $2.2M ($1.1M AAV) and has all but certainly locked up a defenseman on the blue line for next season's team.
Timmins played in just 25 games with the Maple Leafs during the 2022-23 season, but he made the most of it as he scored two goals – including his first career goal – and added 12 assists for 14 points. With Holl and Schenn set to become UFA's, it's safe to say Timmins will probably be getting a lot more playing time next season than just 25 games.
5. Kyle Dubas' drafting history
I know this isn't a trade or a free-agent signing, but we can't overlook the drafting Kyle Dubas has done while being the general manager of this team.
Since being named general manager in May of 2018, Dubas has been a part of five drafts with this team and over those five years has drafted 35 players – seven of them being in the first two rounds of the draft.
Out of the 35 players drafted by the Maple Leafs during Dubas' time as general manager, eight of them have played at least one NHL game with Toronto (nine have played at least one game in the NHL if you count Durzi with Los Angeles) and 21 of the players are currently under contract with either the organization or a different team via trade.
Mikhail Abramov signed his ELC with Toronto but has since been traded to St. Louis as part of the Ryan O'Reilly/Noel Acciari trade and Sean Durzi is also a draft pick of Toronto that is now under contract with a different team as part of the Jake Muzzin trade.
2018 draft: Rasmus Sandin (29), Sean Durzi (52), Semyon Der-Arguchintsev (76), Riley Stotts (83), Mac Hollowell (118), Filip Kral (149), Pontus Holmberg (156), Zachary Bouthillier (209), Semyon Kizimov (211)
2019 draft: Nicholas Robertson (53), Mikko Kokkonen (84), Mikhail Abramov (115), Nick Abruzzese (124), Michael Koster (146), Kalle Loponen (204)
2020 draft: Rodion Amirov (15), Roni Hirvonen (59), Topi Niemela (64), Artur Akhtyamov (106), William Villeneuve (122), Dmitry Ovchinnikov (137), Veeti Miettinen (168), Axel Rindell (177), Joe Miller (180), John Fusco (189), Wyatt Schingoethe (195), Ryan Tverberg (213)
2021 draft: Matthew Knies (57), Ty Voit (153), Vyacheslav Peksa (185)
2022 draft: Fraser Minten (38), Nick Moldenhauer (95), Dennis Hildeby (122), Nikita Grebenkin (135), Brandon Lisowksy (218)
All 35 names above are every single draft selection Toronto made under Kyle Dubas. The names bolded and italicised are the players under contract with the Maple Leafs organization and the names that are just bolded are players under contract with a different team.
60% of Dubas' draft choices are under contract in the NHL and 22.8% of them have played at least one NHL game. That is a pretty good percentage given that some of these draft choices date back to just 2018.
The nine players taken by the Maple Leafs that have played in the NHL have combined for 383 career games and 153 points.
The eight players that have played at least one game with the Maple Leafs have combined for 228 games with the franchise and 73 points.
It shouldn't be overlooked how encouraging these draft picks have looked so far either in the Maple Leafs system or in junior still. Although there are still plenty of them who have yet to play a game in the NHL, the organization is doing a good job developing them and allowing some of the players to continue playing with their current clubs in North America or Europe until it's time to come to Toronto.
If they continue to develop the right way in this organization and continue to mature with their game, it won't be a surprise whatsoever if many of these draft picks are up with the big club within the next year to three years, that's for sure.
4. Toronto Maple Leafs acquire Mark Giordano and Colin Blackwell from the Seattle Kraken in exchange for a 2022 2nd-round pick, a 2023 2nd-round pick, a 2024 3rd-round pick
The 2022 NHL trade deadline was approaching, and with the Maple Leafs in the middle of the best regular season in franchise history, they were looking to make a trade to help bolster their team.
They did just that on March 20th, 2022.
Kyle Dubas went out and made a trade with the first-year Seattle Kraken sending them three draft picks in exchange for Mark Giordano at 50% salary retained and bottom-six forward Colin Blackwell.
It was a trade that immediately helped Toronto's blue line with the addition of Giordano and gave them another option for the bottom six with the versatile Blackwell.
Although both players were pending UFA's at the end of the season, Toronto native Mark Giordano signed probably the biggest hometown discount of hometown discounts as he re-signed with Toronto on a two-year, $1.6M contract ($800K AAV) and as I said when I spoke about the Timmins addition, Giordano was relied on heavily during the first half of the 2022-23 season with all of the injuries on their blue line and without a doubt played way above the price tag he was signed to.
However, it's no secret that he struggled in the playoffs against not only the Lightning in the first round but against the Panthers in the second round as well and for someone who is 39 years old now, it's not surprising at all.
The reason why this trade is above the Timmins one is simply due to his play to end the 2021-22 season with Toronto, him being relied upon heavily to start last season – and doing a great job at it too – as well as signing way below market value in the off-season after coming off of a six-year contract that saw him get paid $6.75M per season.
3. Toronto Maple Leafs sign free agent John Tavares to a seven-year, $77M contract ($11M AAV)
This one might be questionable to a lot of people, but for me, it's without a doubt a top-five move during his time with the Toronto Maple Leafs organization.
On July 1, 2018 – just two months on the job as general manager of the Maple Leafs – Kyle Dubas pulled off the biggest free agent signing of the summer as he signed John Tavares to a seven-year deal which brought the Mississauga, Ontario native back home and a chance to play for his childhood team.
Now, I know it's easy to look back on that deal now and say, $11M a year for Tavares is an overpayment and the team is in cap hell – along with the entire league too – because of the flat cap for the past three seasons, but when a player like Tavares' calibre makes it to the open market, you're going to have numerous teams out there offering at or around the price tag Toronto paid for him.
$11M a season for any player is a lot of money, yes, but compared to some of the rumoured price tags some other teams were willing to pay for Tavares in the summer of 2018 doesn't compare to the deal Toronto ultimately signed him to.
Not only did Toronto get the first overall pick from the 2008 NHL draft to come home and play for their team, but within a year of him being there, they named him the 14th captain in franchise history and he's had some pretty good seasons throughout the first five years of his deal here.
It has hurt Toronto when you look at their salary cap space given the flat cap we've been experiencing for the last three years, but it's at least a good sign that the salary cap is supposed to be rising starting next season and beyond.
Would it have been a lot nicer if Toronto signed him to a cheaper cap hit? Of course. But at the time of this signing, I know every single Maple Leafs fan was beyond excited to see him come home and play with that jersey on.
2. Toronto Maple Leafs sign free agent TJ Brodie to a four-year, $20M contract ($5M AAV)
I don't know where this signing would be on a lot of other people's top five Dubas moves, but for me, I had to put it fairly high for obvious reasons.
Although it wasn't a trade and it was a free agent signing in the 2020 off-season, TJ Brodie signing with the Toronto Maple Leafs and being paired up primarily with Morgan Rielly through his first three seasons as a Maple Leaf has been a treat to watch.
We've been waiting for someone who could slide into the lineup and be paired up with Morgan Rielly and not have them play more minutes than they can handle.
Over the years, we've seen this team experiment with a handful of different defensemen but none of them worked. The two prior partners before TJ Brodie were Cody Ceci and Ron Hainsey in his late 30s, and that's all you need to know about that.
Brodie isn't the flashiest defenseman out there on the ice every night, but he knows his role and does it very well. But he was that steady presence on the back end this team was missing over the handful of years during this era and Rielly finally got the defence partner he was probably looking for.
Brodie's contract with Toronto has flown by, and he is heading into the last year of his contract in the 2023-24 season. Whether they bring him back after his deal expires is yet to be determined, but for now, Brodie has been as consistent as it gets on the Maple Leafs blue line and has been one of, if not their best defender for three seasons now.
1. Toronto Maple Leafs acquire Zach Hyman and a 2017 cond. 7th-round pick from the Florida Panthers in exchange for Greg McKegg
The best move Kyle Dubas made during his time with the Toronto Maple Leafs has to be a trade he made while he was the assistant general manager back in June 2015.
Dubas traded Greg McKegg to the Panthers in exchange for 23-year-old Zach Hyman and a 2017 cond. 7th-round pick. The condition on the pick was if Hyman were to re-sign with Toronto, Florida would keep their pick. If he didn't, well, Toronto would then receive the pick.
Hyman did indeed re-sign with his hometown team on a two-year, $1.8M contract ($900K AAV) and the rest was history.
Not only was Hyman a great complimentary player in the top nine for this team and a hard worker, but he was a huge fan favourite in this city for many years and it was sad to see him leave in free agency when he signed a long-term contract with the Edmonton Oilers.
Anyways, the Hyman trade itself was a massive win in the end for Toronto. What once was a trade for the Toronto Marlies before the start of the 2015-16 season turned into Hyman finding himself playing in 16 games during that same season with the Maple Leafs. Fast forward a season later to the 2016-17 campaign, the team has three elite talent players in Matthews, Marner and Nylander making their full season debut with the Maple Leafs along with Hyman. From that season onwards, Hyman established himself as an everyday NHL player and a pretty good one too.
He would go on to play in 345 career games with the franchise recording 86 goals and 99 assists for 185 points before leaving for the Edmonton Oilers in the 2021 off-season.