Maple Leafs begin quest for Lord Stanley: Leafs Tailgate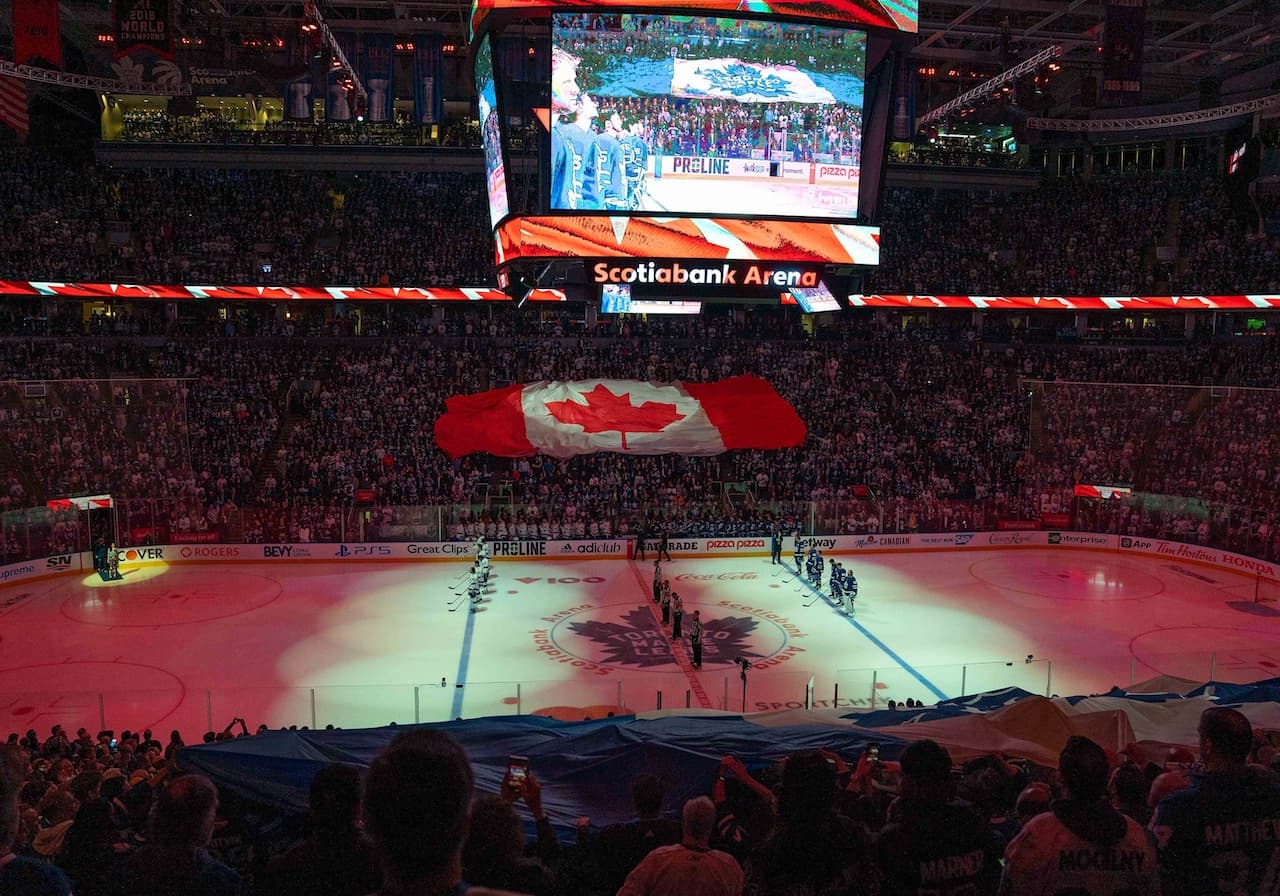 Photo credit:Nick Turchiaro-USA TODAY Sports
339 days later, it all begins again.
Since May 14th, 2022, Sheldon Keefe and company have been waiting for the opportunity to get another crack at escaping Round 1 of the Stanley Cup Playoffs. Well, a new journey will begin tonight at Scotiabank Arena as the Leafs host the Lightning in Game 1 for the second consecutive season.
Not that it means much but Toronto went 2-0-1 against Tampa in the regular season. Furthermore, the Leafs won Game 1 last spring 5-0, so suffice it is to say, I wouldn't put too much stock into tonight's result —one way or another.
In the regular season, the Leafs finished 13 points ahead of the Bolts for second in the Atlantic Division.
Giddy up.
TIME: 7:30 PM ET (CBC, Sportsnet)
STARTING GOALIES:
TBL Andrei Vasilevskiy – CONFIRMED (34-22-4, 2.65, 0.915, 4 SO)
@
TOR Ilya Samsonov – CONFIRMED (27-10-5, 2.33, 0.919, 4 SO)
PROJECTED LINEUPS:
Bunting-Matthews-Marner
Tavares-O'Reilly-Nylander
Kerfoot-Acciari-Jarnkrok
Aston-Reese-Kampf-Lafferty
McCabe-Brodie
Giordano-Holl
Rielly-Schenn
Stamkos-Points-Kucherov
Hagel-Cirelli-Killorn
Eyssimont-Paul-Colton
Maroon-Bellemare-Perry
Hedman-Perbix
Sergachev-Raddysh
Cole-Cernak
3 KEYS TO VICTORY:
SCORE FIRST
At the end of the day, it's a battle of attrition. From the get-go, I think it's important for the Leafs to set the tone early and often. Over the past few months, I really felt like they did a good job scoring the first goal. In fact, in 20 outings since the trade deadline, Toronto scored first 15 times. Against a team like Tampa, getting on the board first is so imperative, especially with you know who in their crease. Additionally, obviously, it's a much simpler game when you can play with the lead. Let's hope the late season trend transfers over to the postseason.
WIN THE SPECIAL TEAMS BATTLE
It almost goes without saying but the special teams battle will likely go a long way in deciding not only this game but the series. Looking back at last May's seven game thriller, Toronto went 4-for-28 on the PP in the series and Tampa went 7-for-33. Aside from the discipline aspect and staying out of the box, the Leafs need to find a way to have their power play be a momentum booster and not a killer. That's easier said than done, of course. Also, I don't mind the play by Sheldon Keefe deploying William Nylander on PP2 and Ryan O'Reilly on PP1 —at least to start the series.
TAKE ADVANTAGE OF THE LAST CHANCE
I should preface by saying that Sheldon Keefe hasn't really been a huge line-matching guy during his tenure as Maple Leafs head coach. That said, I wouldn't be surprised to see the McCabe-Brodie pairing get a ton of time against Tampa's big boys. On top of that, undoubtedly, there's a way to utilize the last change to your benefit to get Auston Matthews, among others, into favourable situations. Personally, I think it's so important for the core four to get off to get a good start.
Ryan O'Reilly Over 0.5 Points
Discover Betano.ca
 – a premium Sports Betting and Online Casino experience. Offering numerous unique and dynamic betting options along with diverse digital and live casino games, Betano is where The Game Starts Now. 19+. Please play responsibly.
MITCH'S DISHES:
Order Mitch's Dishes now
, exclusively on Skip the Dishes! Use promo code TLN15 to get $15 off when you spend $30 or more on Skip the Dishes. If Mitch likes it, it's gotta be great! A portion of proceeds will be donated to the Marner Assist Fund to combat food insecurity. Skip is serving up game time eats to the GTA and Ontario with Mitch's Dishes, ready for you to enjoy during tonight's Leafs game!